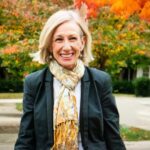 By Stephanie Leese Emrich
Fourteen years ago this month, at Chicago's City Hall, we went for our marriage license. The clerk asked for the bride's profession, to which I replied "Concierge." To which she responded, "that's not a job." Half miffed and 1/2 crestfallen, I was determined and, on a mission, to let the world know the goodness of the noble Concierge profession.
Stephanie with Jeff Emrich at Chicago's City Hall
So, what is a Concierge?
The perception of concierges continues to evolve. What is constant is a professional who is loyal, exceptionally well-networked, solution-driven, proactive, hospitable, humorous, energetic and willing to go the extra (Magnificent) mile. Local Concierges are quintessentially Chicago, encyclopedic with wisdom, facts and lore about the city to captivate guests and visitors. The deeper and more obscure the details, the better. Concierges are built to eagerly share what they know and are always looking for a curious audience. They thrive on finding that perfect nugget for each guest's experience!
Now presenting ServiceSpeaks keynote talks (www.servicespeakssolutions.com) and as an instructor of the Customer Experience to a variety of industries, I can attest that hotels are authentically rooted in service. Non-hospitality businesses aspire to be hotel-like and seek talent who deliver, initiate and delight in that Customer Experience as part of the organization's culture. It is the Concierges who are the brand ambassadors of Chicago's welcoming spirit and Midwest charm.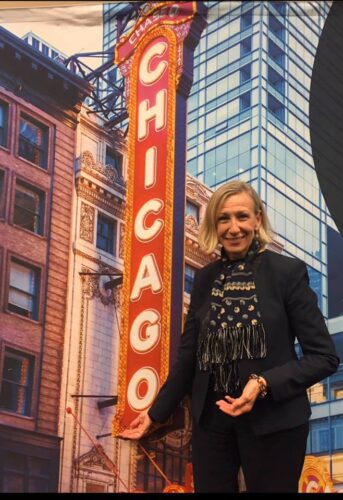 Stephanie with Chicago Theatre sign 
A story about the indelible imprint of Concierge-style service … [A chapter from my book, Service Still Speaks: A Constant in a Changing World]
Tiffany & Company's™ signature bunny bank has long been a personal favorite baby gift. In the way-back tradition of pink and blue, I purchased one in pink for my friend Allison's baby shower. Allison delivered a baby boy two months later, and I volunteered to exchange the pink bank for the blue one.
Upon entering Tiffany on Michigan Avenue, I was greeted at the door by an elegant and intuitive sales associate, Gracell. She was the same professional that assisted me two months earlier. She noticed the signature Tiffany blue bag, greeting me with: "Hello Stephanie. (recalling my name) You are here for the blue bank and wish to make an exchange after your friend's child was born." I was floored. My eyes welled with tears, feeling heard, recognized and in the moment. Such intuition is a natural talent akin to Concierges and their approach to a variety of situations.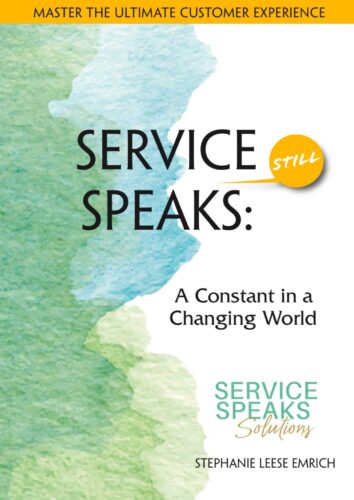 Cover of the book, Service Still Speaks: A Constant in a Changing World
Concierges Have the Best Stories and Advice
We all have stories. You have a story. In fact, sharing service stories and comparing notes about service is a frequent social topic. Business topic too. Service stories run the gamut from iconic brands like Nordstrom and Disney to Pete's garage and your favorite cupcake place. What they all have in common is: Either offering an endorsement ("must-try") or a negative review ("stay away.") This communication can go viral, even by word of mouth, with the right type of press or a downward spiral complaint. They can make or break a business.
Tips to the Wise:
Partner with concierges before your visit. Get to know their name, follow their blog and public social media for better understanding of their expertise.

Double-up on your communication. Follow up with an email/text. Remember to call outside of traditional business hours – at 4PM or slightly after, instead of at 5 or 6PM, the dinner hour. Skip Fridays and you may not reach restaurants on Mondays. Voice mails are less often returned.

Try to be specific about asking for what you want. French cuisine now means a variety of options – a bistro or brasserie, country French, gourmet, et cetera. Be honest about your price point and be sure to add gratuities to recognize those who make your experience more enjoyable. Come with cash, singles and fives still have meaning.

Be realistic and optimistic! Consider that life can be a negotiation triangle. When planning, think of the Date / Space / Rate. When requesting the corner table, early arrival times help the service team – reduce anxiety on both ends for that perfect view. Be prepared to give in for greater gains in the long run.

Don't always believe the Internet. Hours change, so do policies such as parking which might be contracted. Make a friend along the way, and that team member may be the one welcoming you when you arrive.

A touch of etiquette — business decorum goes a long way. Never accept complimentary tickets and do the following three things. One: Sell them! (You might be surprised who does this!) Two: Avoid gifting to someone else without your host's permission. Three: Don't skip the event and let the seats go empty.

Be generous with your compliments. Remember names and provide commendations to the numerous layers of service, from valet parking to coat check to bartenders and the service team at the table. Ask to say hello to the chef – s/he will come out if there is time. The same holds true up the chain of command at a theatre. From the ushers to the house manager, they are all part of your experience.
"Who You Gonna Call?" (Ghostbusters film theme song) 
Concierges travel inside of a giant web, a sophisticated, well-networked system. Les Clefs d'Or (LCD) is the distinguished international organization for hotel lobby concierges. Passing an extensive membership entry exam and keeping up with service education, LCD Concierges are at the top of the profession. In fact, their motto is "In Service Through Friendship." Similarly, members of the Chicago Hotel Concierge Association (CHCA), regularly meet with area vendors and service providers to offer the ultimate experience for Windy City visitors. These professionals are serious about the fun of tourism and also in step with business travelers' sometimes last-minute and complex requests.
Michigan family's artful animation of Steph at Concierge Desk
Concierges and Hotel Service Teams
The best-known smile on Delaware Place belongs to Charles, Head Doorman of The Talbott. Charles has welcomed guests of all ages, managed SUVs full of luggage, held traffic in a downpour for a businesswoman heading to her press conference.
"Concierge Life" is full circle. I recently heard my name called from across the street. It only took a second to know it was Charles and his welcoming way. Like family, he proudly displayed his 20th anniversary photos. This encounter proves that hotels and their close-knit teams endure. Many moments in life remind us of our "why." This was most definitely one of those times.
Stephanie with Charles, Head Doorman of The Talbott Hotel
Please visit www.servicespeakssolutions.com for more information