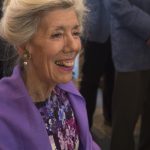 BY JUDY CARMACK BROSS
The Ryan Licht Sang Bipolar Foundation welcomed nearly 200 friends and supporters as well as a distinguished panel of experts in the field of bipolar disorder to its 13th Annual Chicago Medical Briefing Luncheon recently.  In-depth in learning opportunities and always gloriously Springtime in flowers and décor, the luncheon added popular breakout sessions where guests could further explore the latest research findings of each panel member.
 Leslie Kennedy, Marla London, Abby O'Neill and Mamie Walton chaired the Medical Briefing luncheon titled this year "Unlocking the Secrets and the Silence". Amy Morro and Alice Tucker served as Honorary Chairs.  Joyce and Dusty Sang, who establish the foundation in honor of their late son Ryan, make the mission of the foundation—to address the problems of early-onset Bipolar Disorder through research funding, awareness and understanding and finding an empirical test to make early detection and rapid intervention possible—their life mission.  Beloved to the audience that day, the Sangs' presence and dedication filled the room with joy.
Joyce presented Mary Ellen McGrath presented with the Shining Star Award, the Foundation's highest honor, for her commitment to supporting the Foundation and raising awareness for bipolar disorder.  An attorney with the Paris-based Publicis Groupe, McGrath is the mother of twin girls, one of whom has bipolar disorder.  She has served as a panelist at both the Palm Beach and the Chicago Early-Onset Medical Briefing Luncheons for the Foundation, courageously sharing her family's personal story of bipolar disorder.
Past Shining star recipients in Chicago are Marla London, Paul Dalio, Mamie Walton, Amy Morro and Abby O'Neill.
Renowned clinicians and researchers Dr. Jennifer Coughlin and Dr. Karen Swartz of Johns Hopkins, Dr. Robin Nusslock of Northwestern, presented their latest findings on early-onset bipolar disorder.  Dr. Swartz told of the Adolescent Depression Awareness Program and how in the past 18 years it has helped de-stigmatize mental illness by training 728 teachers and working with 108,000 students, including 33,000 in Chicago.  Dr. Ellen Frank from the University of Pittsburgh served as moderator, noting that the "panelists bear a heavy burden in working to change the course of the brain".
Guests of the Luncheon also had the opportunity to view select pieces from INSIGHTS II, the  art exhibition produced by the Foundation that features the work of artists with bipolar disorder.  Artists Victoria Loeb and Kelly Mathews, whose work was featured, were on-hand to meet guests and provide special insight into their artistic process. Moving pieces by Ryan Sang were also featured in last year's show. INSIGHTS III, the next in the Foundation's art exhibition series, will be held at Zolla/Lieberman Gallery in Chicago October 24-26.
Since its founding in 2004, the Foundation has awarded 35 grants both in education and in research; the Foundation's proof-of-concept funding has subsequently led to government grants totaling $27 million.
For more information, please visit  http://www.questforthetest.org.
Photos by Francis Son.