By Stuart Dyer
Stuart Dyer, model Maddie Yerkes and Jim Wetzel. Maddie is wearing a Proenza Schouler knit dress from SPACE 519 with a Ladybug Vintage Saint Laurent necklace from the 2000s, a 1960s Trifari snake bracelet and a 1960s Pierre Cardin lion brooch. 
I recently did a pop-up with my company, Ladybug Vintage at the Chicago boutique SPACE 519. Jim Wetzel, the co-owner of SPACE 519 and I were on-hand to demonstrate how to mix vintage pieces with new ones – a concept that is sometimes overwhelming or confusing to people. Jim is masterful at styling and he and I had a lot of fun putting outfits together by combining new pieces from SPACE 519 with vintage pieces from Ladybug Vintage.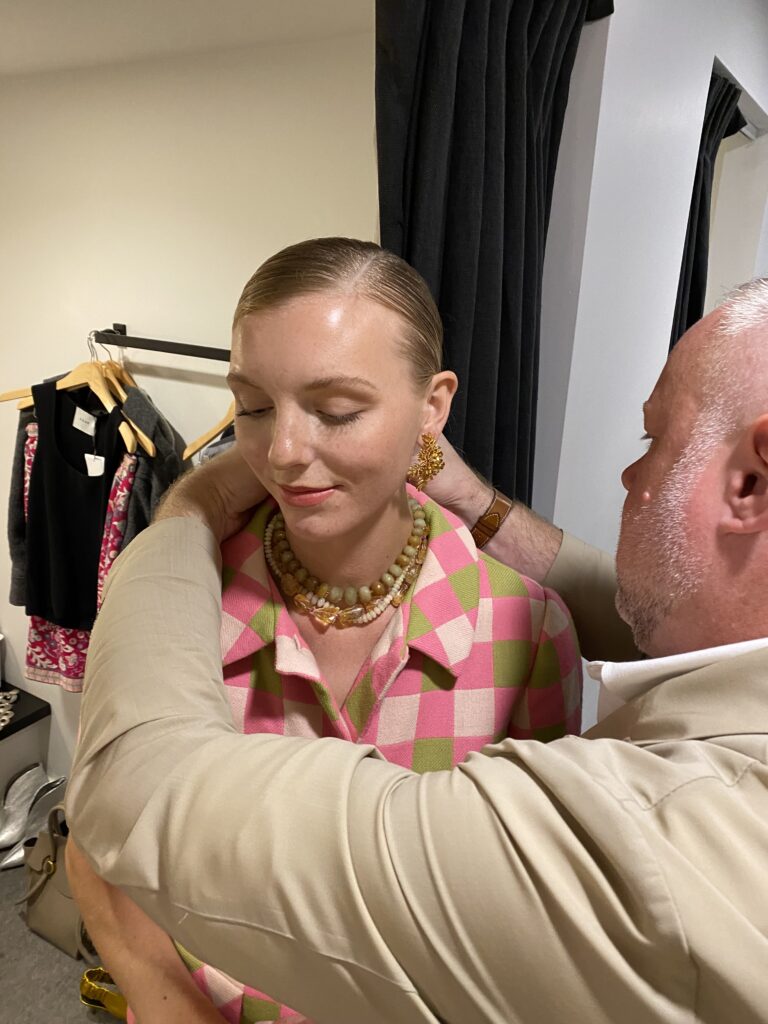 Jim Wetzel styles the model who is wearing a 1960s Bill Blass suit from Ladybug Vintage with modern Jennifer Behr Earrings, and Lizzie Fortunato Necklaces from SPACE 519. 
To me a well-designed outfit artfully fuses together a mix of vintage and modern pieces. It's a way of dressing that seems relevant for right now – combining favorite looks from the past with modern investment pieces, acting sustainably and creating a look that is individual to the wearer. The wearer is able to achieve a unique look and will not see herself coming and going.
Selection of vintage pieces from Ladybug Vintage .
The looks created for the television series, 'And Just Like That' are very much examples of this way of dressing. The show's costume designers create memorable looks for the cast by combining vintage and new pieces. The characters look fabulous and yet you can't necessarily put your finger on which designer they are wearing or what era the pieces are from. The characters just look pulled together, modern and uniquely themselves.
Carrie Bradshaw in the 2023 season of 'And Just Like That' wearing a French 1970s ski jacket and a repurposed vintage dress with a modern necklace, modern handbag and modern shoes. 
Jim and I mixed vintage clothing from the Ladybug Vintage collection with modern accessories from SPACE 519; and mixed modern clothing from SPACE 519 with vintage accessories from Ladybug Vintage.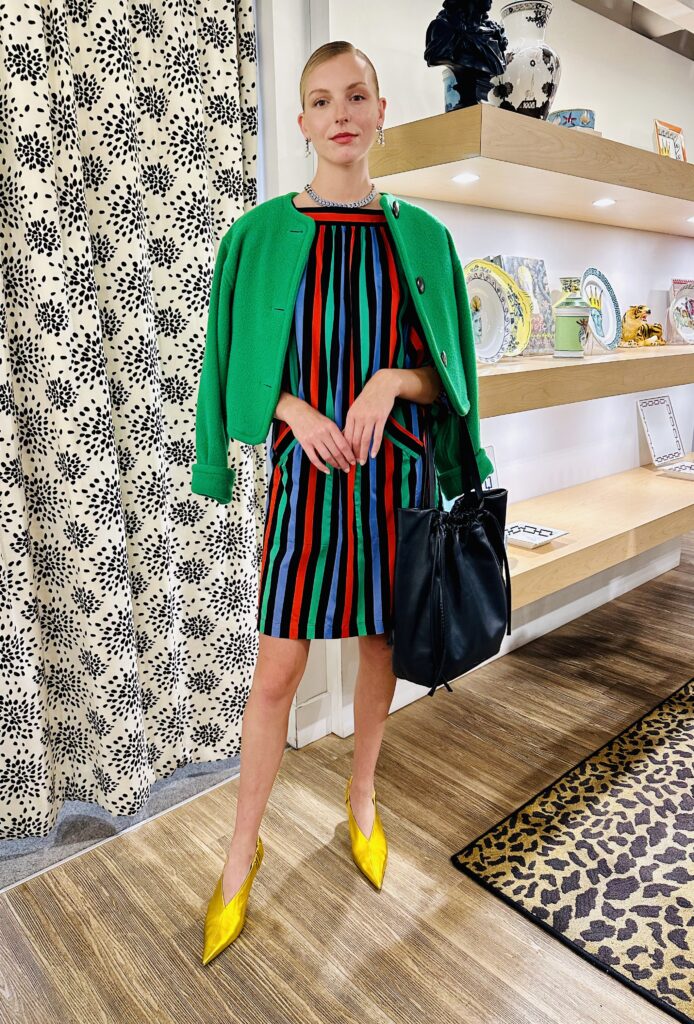 The look above features a green wool 1980s jacket from Guy Laroche worn over a striped cotton 1980s Yves Saint Laurent dress. Both pieces are from Ladybug Vintage. We mixed these with modern pieces from SPACE 519 which include Nakard 'Siren' earrings, an ombre enamel necklace from Fry Powers and a navy bag from Proenza Schouler.
Here the model is wearing a 1960s printed velvet skirt by Emilio Pucci with a modern Proenza Schouler wool jersey jacket. She wears a vintage 1970s Whiting & Davis bib necklace and 1980s crystal earrings from Ladybug Vintage and tops the look off with a modern Savette Tondo 22 bag from SPACE 519.
In this look modern clothing from SPACE 519 is featured including a Nili Lotan jacket, a Nili Lotan striped button-down shirt and Isabel Marant wide legged jeans. These are paired with Ladybug Vintage pieces which include 1980s Yves Saint Laurent Rive Gauche wooden earrings, a 1970s necklace designed for Castlecliff by Larry VRBA and a vintage Hermes red leather belt bag.
This look features Ladybug Vintage's 1980s Kenneth Jay Lane art deco style brooch and a pair of 1980s crystal knot shaped earrings. They are worn with SPACE 519's Philosophy di Lorenzo Serafini faux fur jacket, a Philosophy di Lorenzo Serafini red stretch tulle dress and Proenza Schouler boots.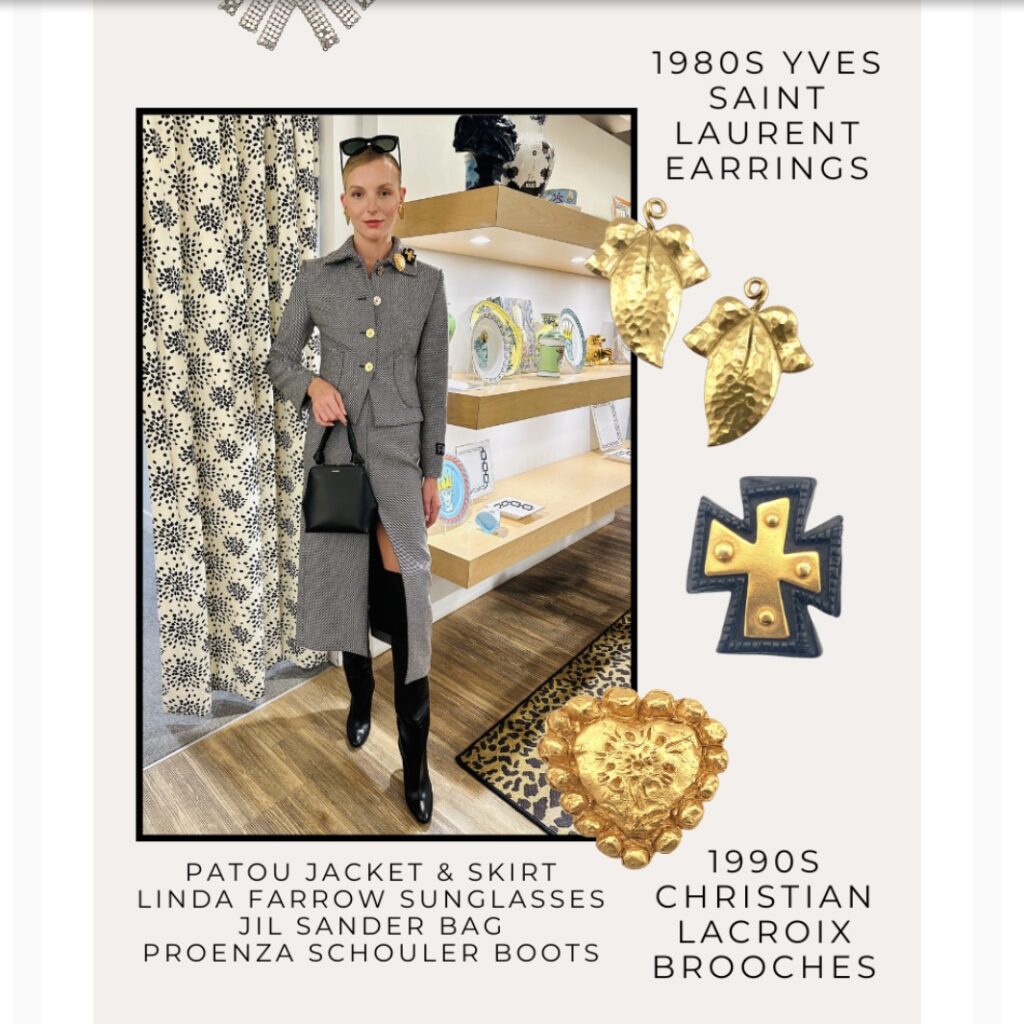 This final outfit features pieces from SPACE 519 which include a jacket and skirt by Jean Patou, a Jill Sander bag and Proenza Schouler boots. They are accessorized with vintage 1980s Yves Saint Laurent lemon shaped earrings, a 1990s Christian LaCroix heart brooch and a 1990s Christian LaCroix black and gold cross brooch – all from Ladybug Vintage.
I hope that these looks have inspired you to do a little mixing of vintage and new pieces yourself. Just have fun, experiment, don't take the process too seriously and don't be afraid to take chances!
For information on the vintage pieces featured here go to https://ladybugvintage.com and follow @ladybugvintage on Instagram
For more information on the SPACE 519 items go to
https://www.space519.com/ and @space_519 on Instagram