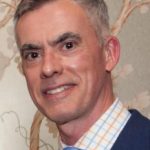 By Philip Vidal
May is a marvelous month, when things warm up.  Flora and fauna thrive.  To wit:  beavers, bobcats, and coyotes are making a comeback in the Chicago area.  Coyotes' mating and birthing season lasts until near the end of May, so keep a watchful eye on small family pets if they're outside.  I have a friend who always accompanies her small dog when she lets him out in her backyard.  After a few coyote sightings in her neighborhood in the western suburbs, another friend's cats are now skittish about venturing outside.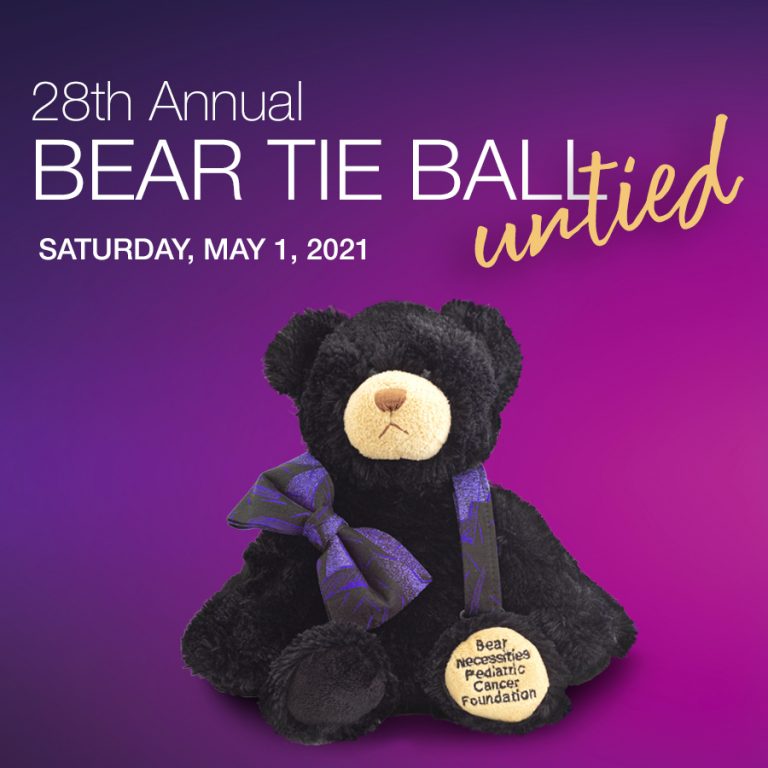 The 28th annual Bear Tie Ball, "Bear Tie Ball:  Untied" will be virtual this year and held on May 1. Photo by Bear Necessities.
Coyotes and beavers might not be entirely welcome…but still, support animal care and conservation by signing-up for the Brookfield Zoo's 40th annual Whirl, which this year will be the virtual Virtu-Whirl on May 1.   The 28th annual Bear Tie Ball, "Bear Tie Ball:  Untied" is also May 1 and virtual.  The 'bear' isn't a reference to the furry ursine one, but to Barrett "Bear" Krupa, an eight-year-old who died from cancer and was the inspiration for the founding of the Bear Necessities Pediatric Cancer Foundation, which both supports kids battling cancer and funds research to end pediatric cancer. 
It looks like the Anti-Cruelty Society's annual "Bark in the Park" walk and fundraiser has now morphed into the monthlong "Bark from the Heart" fundraiser.  
Cruella de Vil of "One Hundred and One Dalmatians" is the poster girl for animal cruelty.  "Cruella," starring Emma Stone, opens in theaters and on Disney+ on May 28.   When I was a kid rummaging through family photos in our basement, I found a pre-WWI photograph of my German great-grandfather surrounded by dozens of Dalmatians.  Since they're not hunting dogs, I've always wondered why there were so many in the photo.  Unfortunately, the photo disappeared, or I would have included it with this article.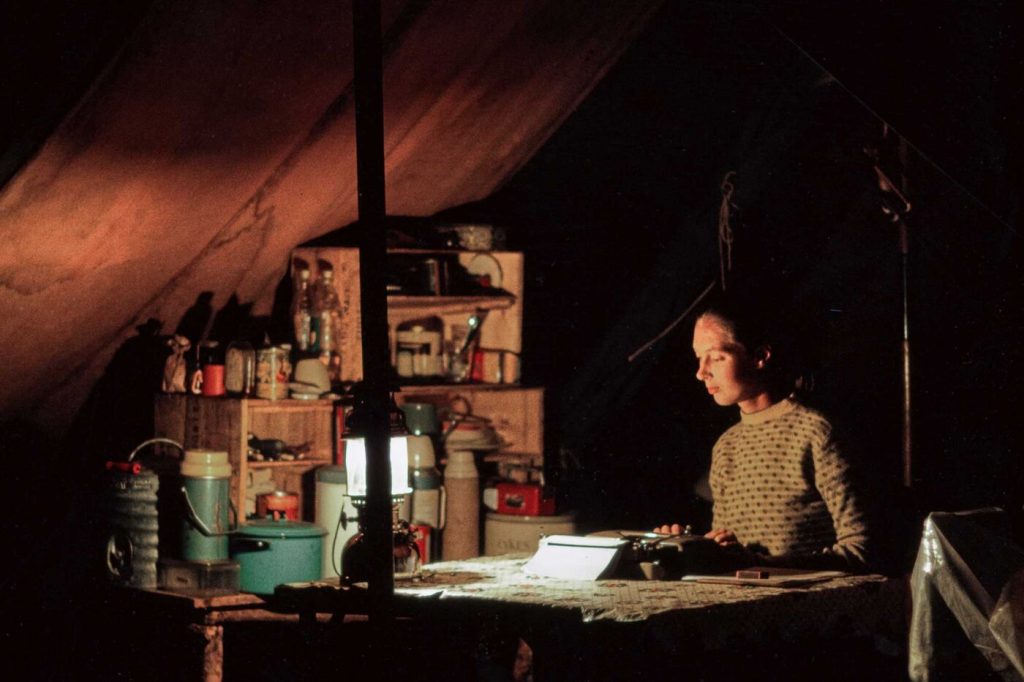 Starting May 21 through September 6 is the Field Museum's "Becoming Jane: The Evolution of Dr. Jane Goodall." Photo by Hugo Van Lawick and Jane Goodall Institute.
For those interested in primates, a must-see is "Becoming Jane: The Evolution of Dr. Jane Goodall," an exhibition at the Field Museum that runs May 21-September 6.  The exhibition includes a hologram of the famed primatologist.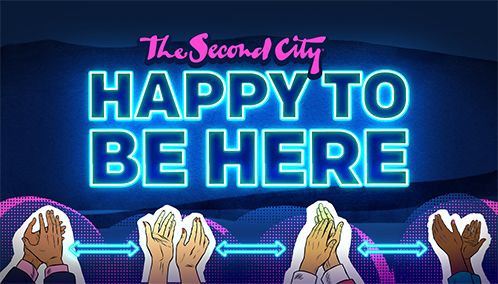 Second City reopens May 7 for in-person, live comedy shows. Photo by The Second City.
The Field Museum is just one of many venerable Chicago institutions that add so much to the cultural landscape of Chicago.   Just as the flora and fauna re-awaken, Chicago's institutions are too:   Second City reopens on May 7 with live comedy shows.  "Vivian Maier: In Color" opens at the Chicago History Museum on May 8 and features 65 color photographs taken in and around Chicago during the 1950s through 1970s by this enigmatic photographer. Many of the photos have never been exhibited before.
Tiffany Studios captured the colors and luminosity of New Hampshire's White Mountains in their Hartwell Memorial Window (1917).  The Art Institute of Chicago acquired the stained-glass window from a Rhode Island church and restored it.   "Landscape in Light: Tiffany Window at the Art Institute of Chicago" is on view beginning May 28.
Since 1939 the Hyde Park Art Center has been a focal point for contemporary art.  The Center's new solo exhibition, "The Metamorphosis of Gabriel Villa," runs April 26-July 17.  Villa, a Chicago artist, draws upon his Mexican American heritage and Chicago's South Side for inspiration.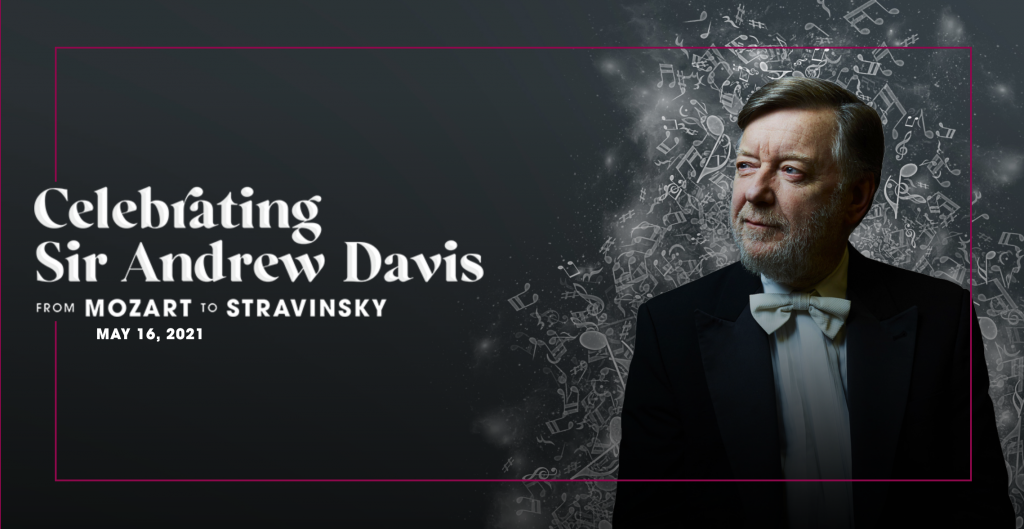 The Lyric Opera of Chicago hosts "Celebrating Sir Andrew Davis: From Mozart to Stravinsky," a virtual concert honoring Sir Andrew Davis, May 16. Photo by Lyric Opera of Chicago.
The  WTTW/WFMT virtual gala honoring the 70th anniversary of WFMT, Chicago's only classical radio station, is May 5.  Maestro Zubin Mehta is recipient of this year's Duskin Award at the Music Institute of Chicago's 90th anniversary gala on May 10.  The event will be virtual and in-person.  The Lyric Opera of Chicago hosts a virtual concert, "Celebrating Sir Andrew Davis: From Mozart to Stravinsky," honoring its outgoing music director and principal conductor, Sir Andrew Davis, on May 16.
The Newberry Library honors Lonnie G. Bunch III, secretary of the Smithsonian, at the virtual 2021 Newberry Library Award celebration on May 24.  The Newberry Library is working on an exhibit to open in spring 2024 with artifacts from the legendary Mister Kelly's, London House and The Happy Medium nightclubs, but in the meantime, on May 27, watch the documentary "Live at Mister Kelly's" on WTTW.  David Marienthal, son and nephew of the brothers who owned and ran the clubs, produced the documentary and donated the artifacts to the Newberry Library. 
The Newberry Library was founded in 1887.   By comparison, Wrightwood 659, established in 2018, is a relatively new Chicago institution. I've enjoyed every show I've seen at this exhibition space.  "Yannis Tsarouchis: Dancing in Real Life" runs May 7-July 31.   This is the first U.S. exhibition showcasing the work of this important 20th century Greek painter. Admission is by advance ticket only.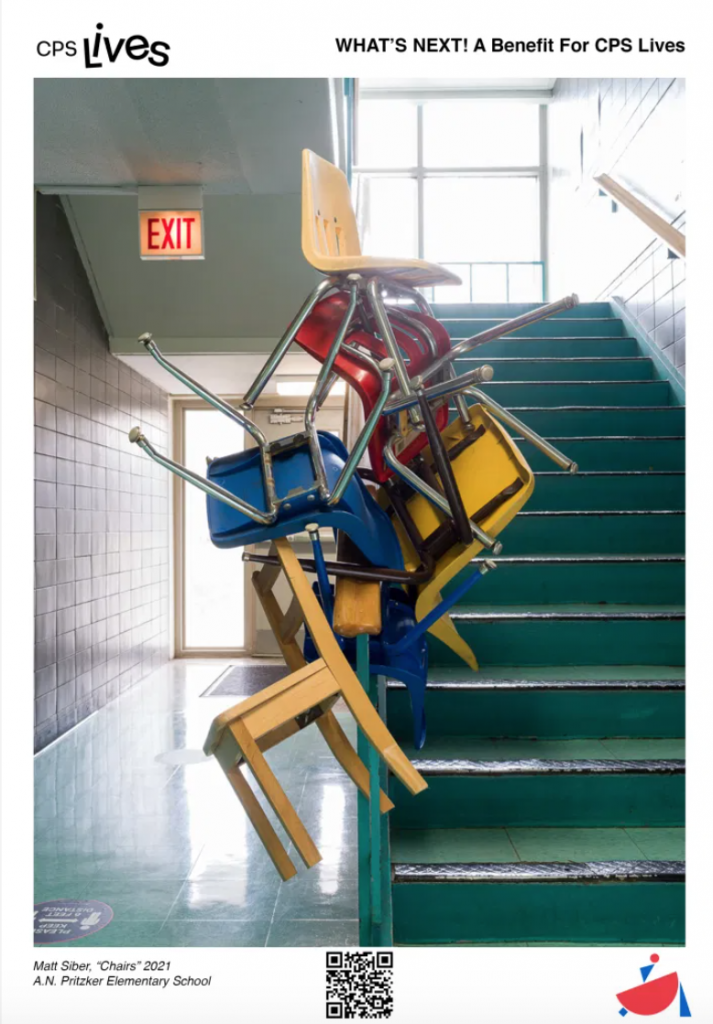 CPS Lives hosts their first virtual fundraiser, "What's Next! A Benefit for CPS Lives," May 5-12. Photo by CPS Lives.
The new non-profit CPS Lives pairs members of Chicago's creative community with Chicago Public Schools (CPS) to support the Chicago Public School system's mission to provide a high-quality, well-rounded education for every child in Chicago.  CPS Lives hosts their first virtual fundraiser, "What's Next! A Benefit for CPS Lives," May 5-12.  The fundraiser, a live and silent auction, featuring works by CPS Lives artists ends, on May 12 with a live panel discussion, "Getting Ready to Bloom: The Future of Art and Education." 
Another new Chicago institution is Chicago Gamespace  — a gallery and museum, of sorts, dedicated to video games.   Its current exhibition, "Nom Nom: 40 years of Pac-Man Design and History," runs through May 30. 
A Chicago institution close to my heart and my stomach is Dinkel's Bakery in Lakeview, which will be celebrating its 100th anniversary next year.   I'll have to make a pilgrimage there in celebration of the feast of Saint Honoré, the patron saint of bakers and pastry chefs, on May 16.  
I grew up in East Lakeview, which figures prominently in Rebecca Makkai's "The Great Believers," one of the New York Times' ten best books of 2018.  She talks about her book with Tracy Baim, co-publisher of the Chicago Reader and co-founder and former publisher of Windy City Times, during this month's Chicago Reader Book Club's author talk on May 26.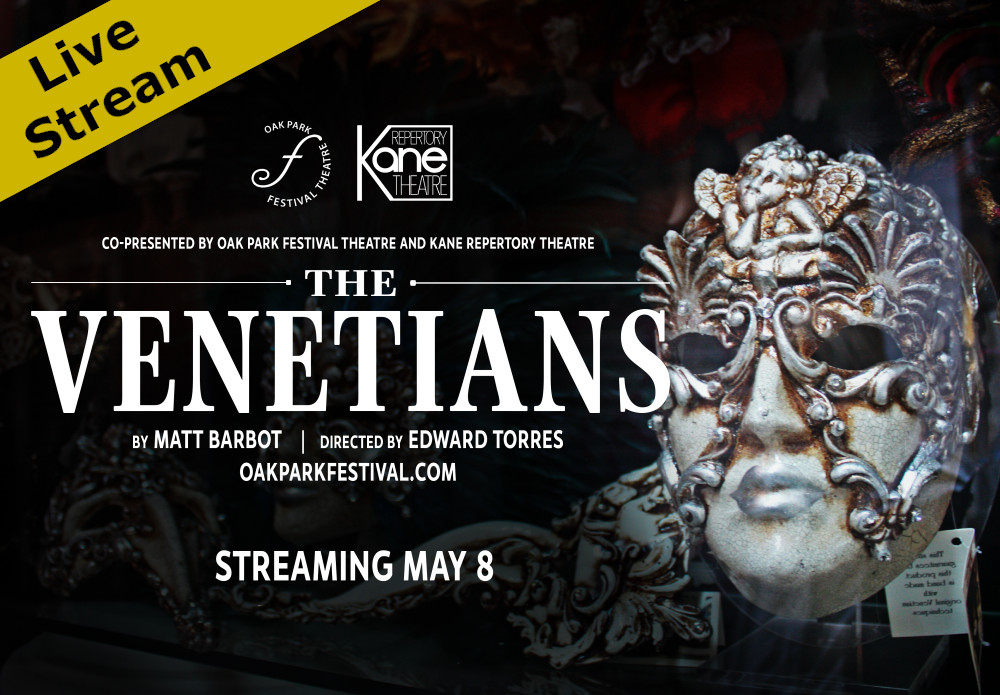 Matthew Barbot's "The Venetians" streams May 8 and is available on demand May 10-16. Photo by  Oak Park Festival Theatre.
Matthew Barbot's "The Venetians" streams May 8 and is available on demand May 10-16.   This collaboration between the Kane Repertory Theatre and Oak Park Festival Theatre is a cross between Shakespeare's "Othello" and "The Merchant of Venice."  Oak Park Festival Theatre plans to start in-person performances on July 15 with Shakespeare's "The Tempest."
Theater, music, dance, video, and puppetry are all a part of "Reimaging Utopia," the 9th annual Pivots Art Festival presented live at several indoor and outdoor locations May 21-June 6. 
On May 21, the Elgin Symphony Orchestra presents the first of its three "Fridays on the Farm" summer concerts at The Venue at Goebbert's.  The "Fridays on the Farm: Four Seasons" program (performed at 2:00 PM and 7:00 PM) includes Astor Piazzolla's "The Four Seasons of Buenos Aires" and Tchaikovsky's "Serenade for Strings, op 48" with Karen Gomyo on violin.
Farmers markets return – Yeah!  Six French Markets continue in the suburbs (Geneva, Glen Ellyn, Lisle, Western Springs, Wheaton and Wilmette) through the fall.  I attended kindergarten at Nettelhorst Elementary School in Lakeview.  The Nettelhorst French Market in front of the school is on Saturdays through October 30.  I'm looking forward to the Chicago City Markets when they open for the season.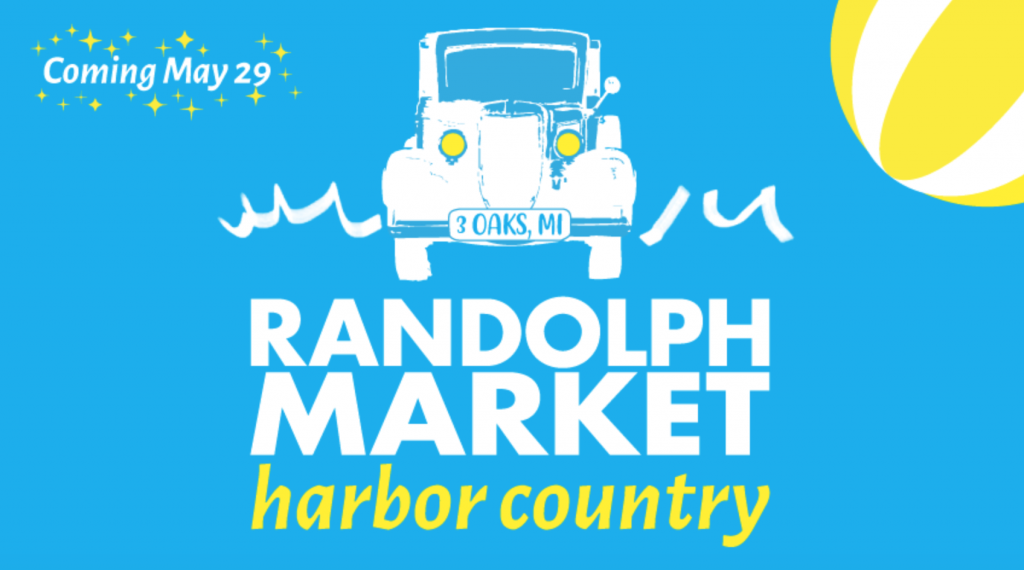 The Randolph Street Market moves to its new location in Three Oaks, Michigan and is open for five weekends this year starting May 29-30. Photo by Randolph Street Market.
The Randolph Street Market has been a popular place to shop for antiques, vintage clothing and jewelry.  It moves from the West Loop to its new location in Three Oaks, Michigan, this year for five weekends beginning May 29-30. 
Just as the coyotes are calming down at the end of May, the very loud mating call of the male 17-year cicada hits a crescendo around Memorial Day. 
Dates, times, locations and availability are subject to change.  Please stay healthy and safe and keep up with the latest COVID-19 information and guidelines.