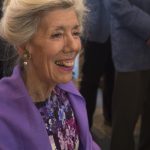 BY JUDY CARMACK BROSS
The Joffrey Ballet and Neiman Marcus kept finding that they had more and more in common: in a flurry of fashion and fun at a recent luncheon, the first in-person event since the pandemic for both since the pandemic began, the pair discovered how much beauty and design are integral parts of their worlds.
How did the venerable ballet company and shopping destination come together? We asked someone who has always been able to make wonderful events happen at incredible places, whether in parks, conservatories, on ballet stages, or in this case, live at three Neiman Marcus locations and on Zoom: Joffrey's immediate past Women's Board President, Noren Ungaretti, who chaired "Fashion for a Passion."
Over centerpieces of yellow roses, be-ribboned lunch boxes of tea sandwiches and strawberry panna cotta, and favor boxes filled with many treats at the Michigan Avenue store, Ungaretti and Joffrey President CEO Greg Cameron explained the origins of this perfect pairing. "It was exhilarating and daunting!" said Ungaretti. "This was the first time Neiman's had held simultaneous events in all three Chicago locations and when Tina Koegel, Brand Experience Manager for Neiman Marcus, first contacted me, only a few Chicagoans had been vaccinated. The event format kept evolving. First, we were having only a Zoom fashion presentation with shopping via phone. Each week Neiman's added a wonderful surprise and by the week before the event, we were already at capacity in two of our three venues!"
Guests at the Michigan Avenue location included Joffrey Women's Board President Sandi Hartstein; Farissa Knox, WB 2nd Vice President; past WB President Melissa Babcock; and Liz Sharp. Marcie Wright hosted the Oakbrook luncheon and Camille Rudy, Heather Martin, Joan Malliband, and Jenelle Chalmers served as hosts of the Northbrook event. Guests were welcomed by the General Managers at each store: Wendy Krimins, Michigan Avenue; Linda Piepho, Northbrook; and Michelle Distasio-Flinn, Oakbrook.
Ungaretti credits members of the Joffrey Women's Board (JWB) for making this event a true success, jumping in and spreading the word—over 70 guests showed up in person to the three Neiman's locations, with an additional 30 Zooming in. "Everyone got busy," Ungaretti explained. "Our Women's Board President, Sandi Hartstein, made all the little Joffrey Ballet bow pins herself!"
She shared that on the day of the event, the overriding feeling was joy: "Our staff and volunteers have become very good friends over the years, and it was a delight to be somewhere in person, with our favorite people, in a beautiful space, with lovely food, and one another talking about some of our favorite things!"
Koegel added, "I'm proud of our longstanding support of the Joffrey Ballet and our wonderful relationship with their incredibly successful Women's Board. Fashion for a Passion also included a virtual fashion presentation of spring trends hosted by Neiman Marcus contemporary buyer Lori Caplin. The fashion show took place at the NM store at the Northpark Mall in Dallas. Four fabulous models showcased 20 looks ranging from casual to daytime and concluded with glamorous evening looks.  Some highlights of the show included a stunning Oscar de la Renta red satin dress and a Dries van Noten metallic foil jacket."
Guests, some of whom remarked that their feet were numb after this first outing in stilettos, were happy to see that boots, sneakers, and comfortable sandals were paired with most items in the show.
Following the fashion show presented on Zoom, Cameron equated the beauty of ballet and fashion: "It has been a year filled with loss and ambiguity. It has caused me to reflect back on our beginnings in Chicago 25 years ago. I remember Maureen Smith, who has played such an important role with the Joffrey, telling us that we had to create a women's board to 'stand tall with the boards of the Symphony and the Art Institute.' We have had a long and fruitful relationship with Neiman Marcus, which also celebrates beauty and costume."
Cameron also revealed that the recent partnership between the Lyric Opera and the Joffrey will bring the ballet to the Lyric stage in the fall. Ungaretti added, "I can't wait! I think this is an ideal partnership of synergistic art forms. The backstage and lighting technologies at the Lyric are state-of-the-art and offer tremendous opportunities for new ideas in staging and presentation for The Joffrey."
In addition to the innovative staging being set for the upcoming season, Ungaretti has been wowed by the adaptability and creativity the ballet company has shown over this past year: "I have been very impressed with the Joffrey's nimble pivot to a digital platform, including the Joffrey Studio Series, after they lost half of their income almost overnight with the cancelation of performances. But the enforced downtime seemed to spark a new level of creativity in our artists, such as Company Member Yoshihisa Arai's original work set to Ravel's Boléro. The goal was to keep the company together and fit. We arranged for practice areas with the right type of flooring. Several members of the company went home to their native countries, one married and had a baby, but they all found ways to work in their pods and return with joy."
The Women's Board, too, has pivoted adeptly over the pandemic: "We worked hard to transform our usual activities into tech-based ones. We had a hugely successful fall luncheon, which tripled our past income, and a winter Women's Night performance viewing of Yoshi's Boléro that was unique. For the first time, the artists could 'join' us after the broadcast in private chat groups. It is always energizing to socialize with our talented and charming athletes."
The Joffrey's Julia Doherty told us more about the Company experience during quarantine: "The company artists have been engaged in classes and rehearsal for nearly the entire pandemic. At first, company class was offered via Zoom for them to take at home. In September they returned to the studios for socially distanced class and eventually rehearsals for Bolero, Under the Trees' Voices, and two new works to be released in the coming weeks. The Joffrey also created the Company Artist Partnership Program (CAPP) that gave the artists opportunities for professional development in the space of arts administration including Marketing, HR, Development, Finance, IT, and Facilities. Company artists also assumed teaching roles in the Academy and Community Engagement programs, as well as working on special projects and collaboration."
Access to the Joffrey's stunning performances, even through our computer screens, has helped brighten our lives during these uncertain times. "Dance is a physical expression of emotion, experience, or ideas that affects multiple senses. We see, hear, and feel the music, the lighting, the movements. When done well, dance can communicate the commonality of human experience and help us understand the stories of others," Ungaretti explained.
"Robert Joffrey was the child of immigrant parents. His family originated in Afghanistan and settled in Seattle, where Robert was born. When he founded The Company in 1956, he envisioned an establishment that would reflect the dynamic America he lived in, with artist athletes from all backgrounds. What better vision for the future post-COVID."
Ungaretti ended the luncheon and fashion show at Neiman's with an enthusiastic "get to the registers" and all headed off to shop. The three Chicago Metro stores, Michigan Avenue, Northbrook, and Oakbrook generously donated 10% of all eligible sales over the course of five days.
For more information on the Joffrey Ballet and its current and upcoming programming, visit joffrey.org.
Event photos by John Reilly Photography.