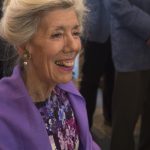 By  Brian White with Judy Bross
Editor's Note: We salute the intimate party comeback.  With an emphasis on social distancing and other COVID precautions, we begin a series on planning a small dinner party starting with tips from one of Chicago's top hosts Brian White.  We thank Brian for the photo album and his photo captions.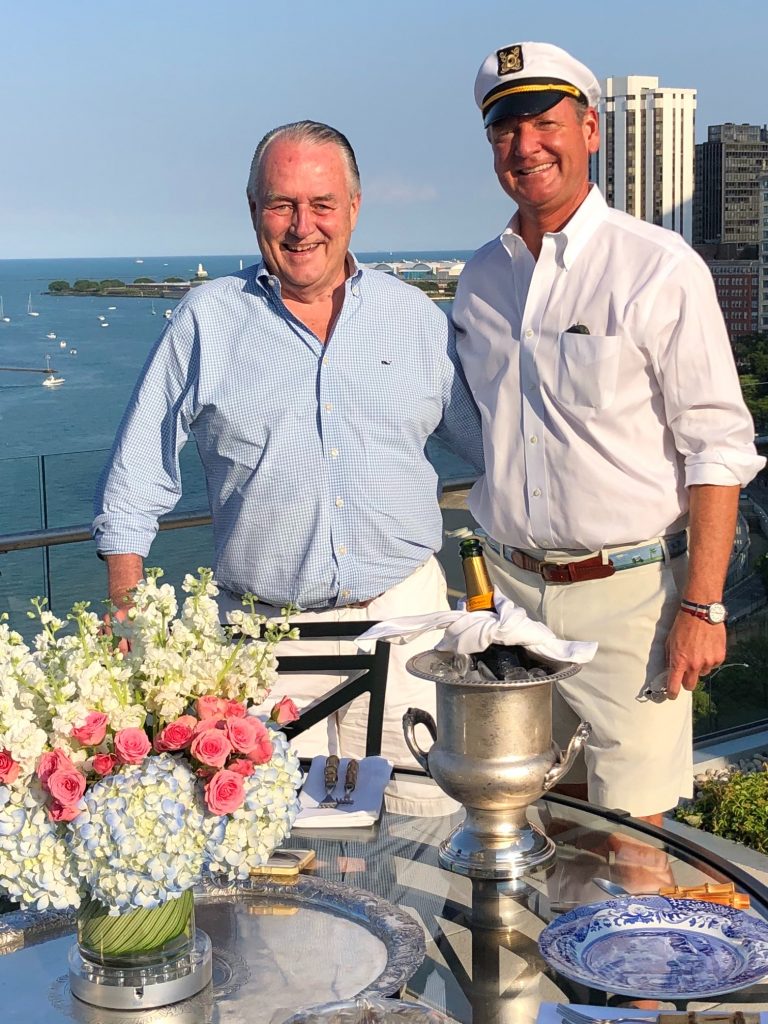 James M. Kinney & Brian D. White- ready for a rooftop dinner party
"When lockdown came last March, my husband Jim Kinney and I felt the real need to feel civilized, to dress up in a coat and tie and attend the weekly dinner parties on zoom offered by the Social Register. How much we looked forward to those Thursdays and the opportunity to see friends and feel normal again."—Brian White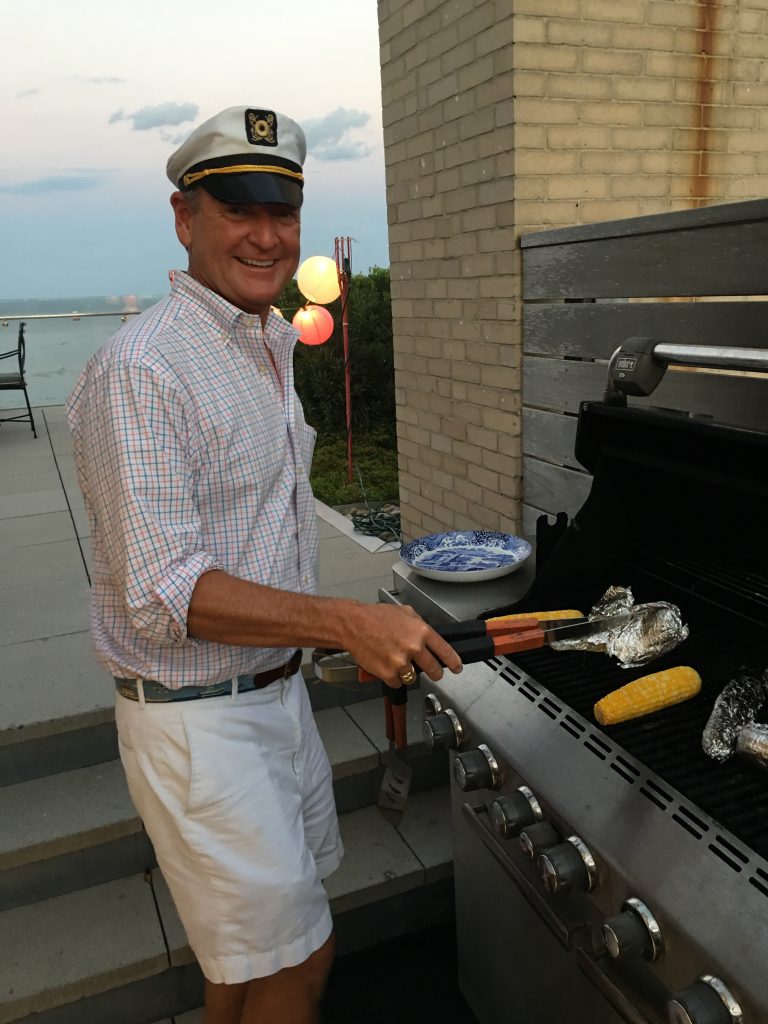 Brian at the grill.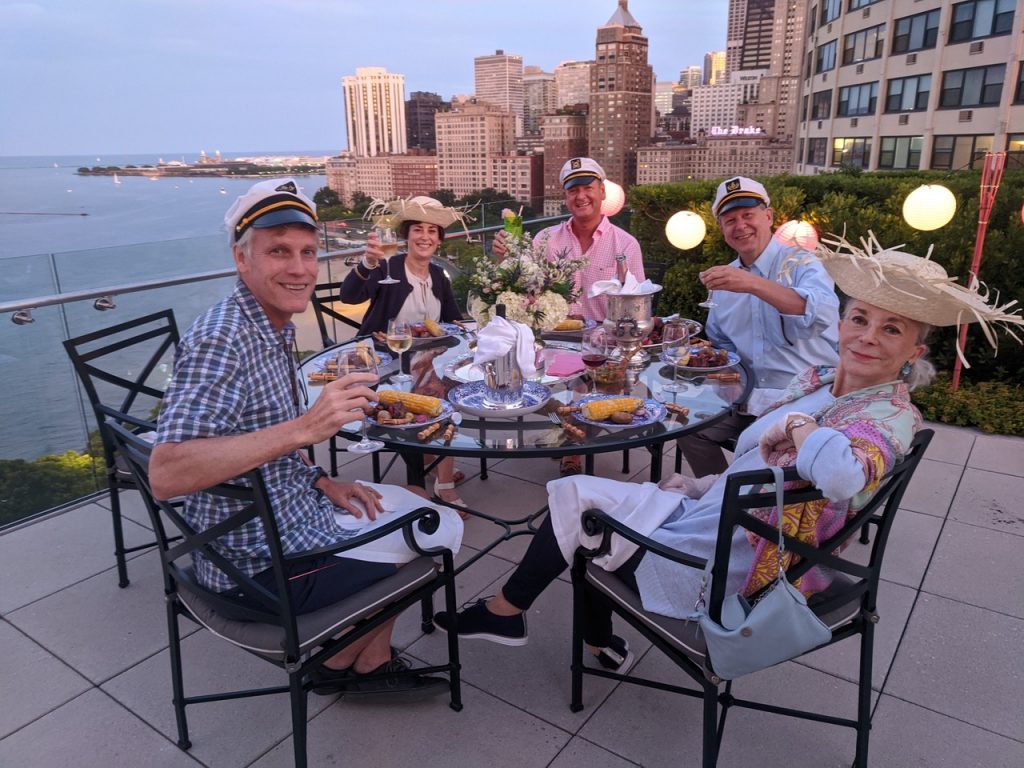 (L to R) Brian J. White, Peggy White, Brian D. White, Alex deFrise and Cynthia Olson- for rooftop dinner/steak kabobs, rosemary potatoes & corn on the cob.
In July, their rooftop terrace overlooking Lake Michigan beckoned and Brian developed a no-fail way to celebrate friendships in a flexible and festive manner while navigating guests' comfort level and local pandemic guidelines.
"Instead of a large summer party, we had 20 dinner parties for six people at each, all summer long.  We included party touches such as fun hats, Calypso and Jimmy Buffet music, fresh flowers, and Japanese lanterns."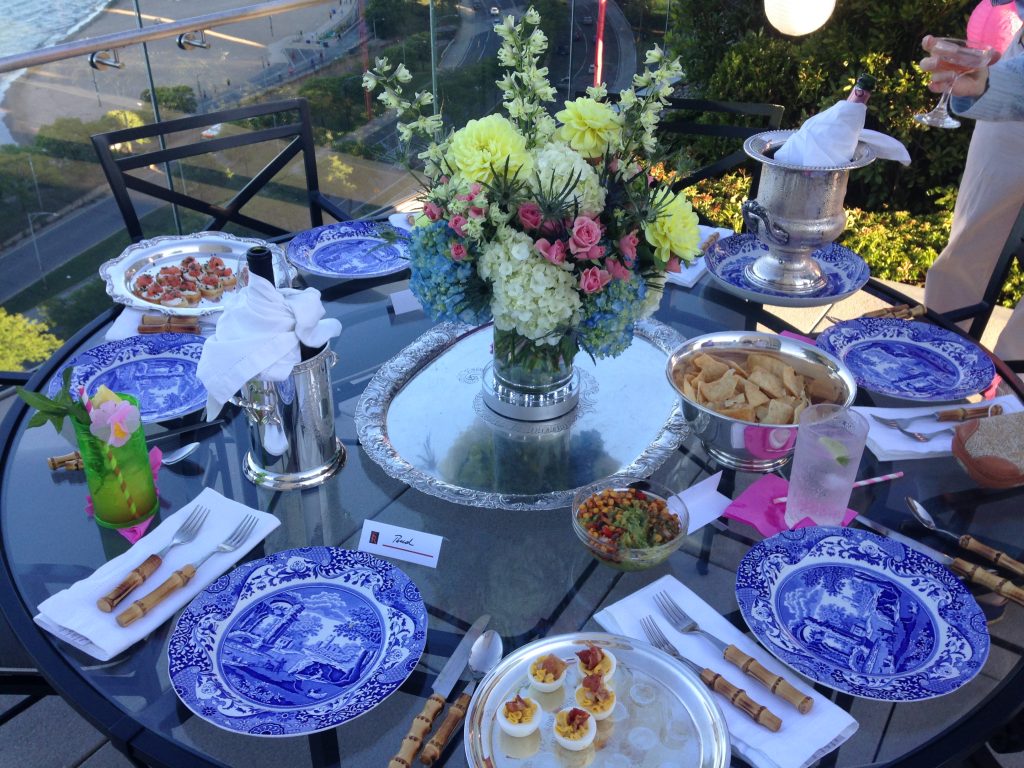 Table setting with place cards on the rooftop using bamboo flatware, my just out of college Spode China and silver tea set tray that's been in my family for 5 generations- and flowers I put together.
| | |
| --- | --- |
| Fresh flowers I put together | for rooftop centerpieces. |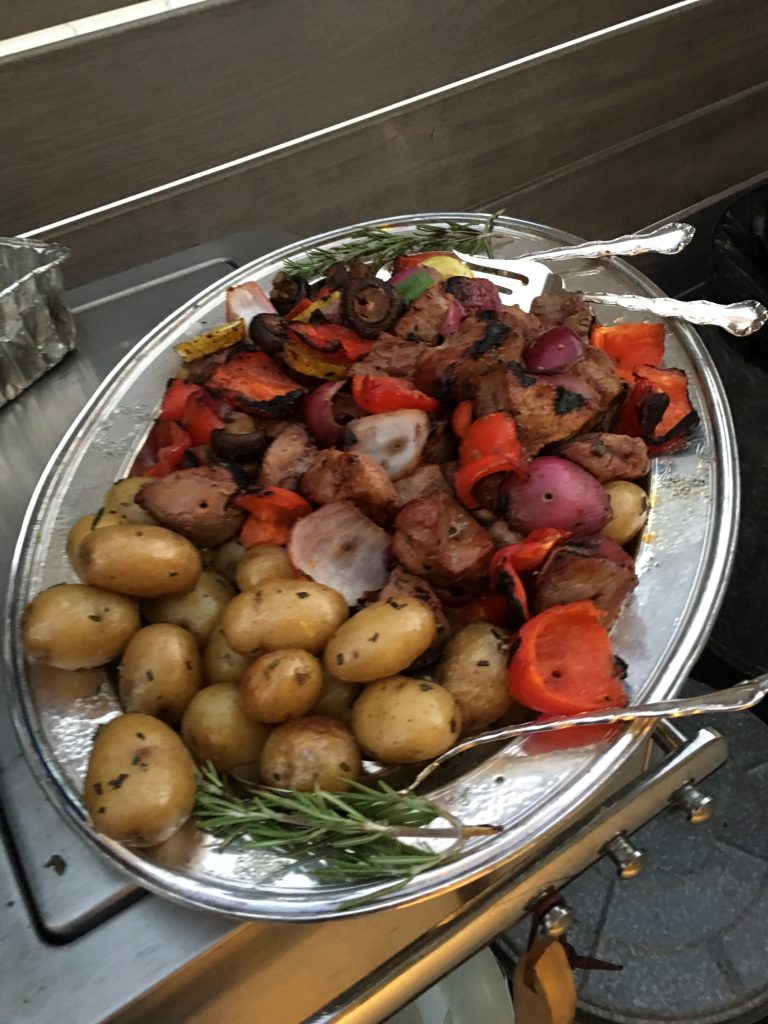 I prepare all the steak kabobs and rosemary potatoes & vegetables on one large silver tray with fresh rosemary garnish and take around to guests.
Brian developed four menus: grilled salmon, Cornish hen, his very favorite lobster Thermidor, and rib-eye steaks.  Bacon-wrapped water chestnuts which he had prepared the day before and a soup from Dirk's Fish and Gourmet Shop also graced the menu. While he makes the entrée, White often purchases desserts from Bittersweet or Sweet Mandy B's.
Easy dessert – strawberry cake with fresh strawberries, whip cream, and mint garnish.

xxx  xxxx xxx xxxxxxxx

An AMAZING "Passion Fruit" cake from Bittersweet Bakery- garnished with "golden berries" passion fruit puree, whip cream, and fresh mint.
| | |
| --- | --- |
| A slice with chocolate malt balls, chocolate fudge, whip cream, and fresh mint. | A gorgeous yellow cake with strawberry preserves made by Sweet Mandy B's-. |
"It was important to know everyone's comfort level, and we social distanced and provided hand sanitizer.  Someone even brought a little bottle of Closys, the sanitizer dentists use and we put it in cordial glasses just for fun, not for drinking."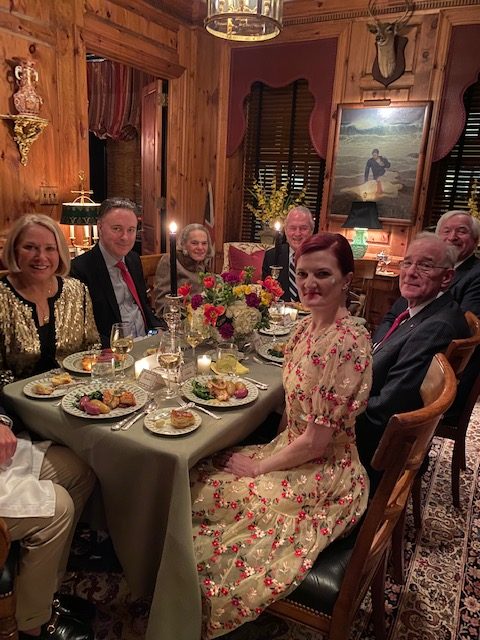 Dinner in our Library with (L to R) Karen Zupko, Dan Hildebrand, Nancy Spain, James M. Kinney, Mike McCahon, Rick Spain, and Nicola Jackson.
(L to R) Andy Wright and Zack Sudler at a black-tie dinner.
"As people are getting vaccinated we will also be transitioning to parties in our home with dinners for from four to six people.  I think people feel safer in your home more so than in a larger setting. There's more intimacy. 
"A small dinner party is the ultimate compliment to close friends. You can feel your most vulnerable when you bring in people because they are seeing what you collect and family pieces that you treasure, but there can be a deeper level of friendship at a party in your own home. It is a lot of work but it is worth it to see your friends in person after zooming last year."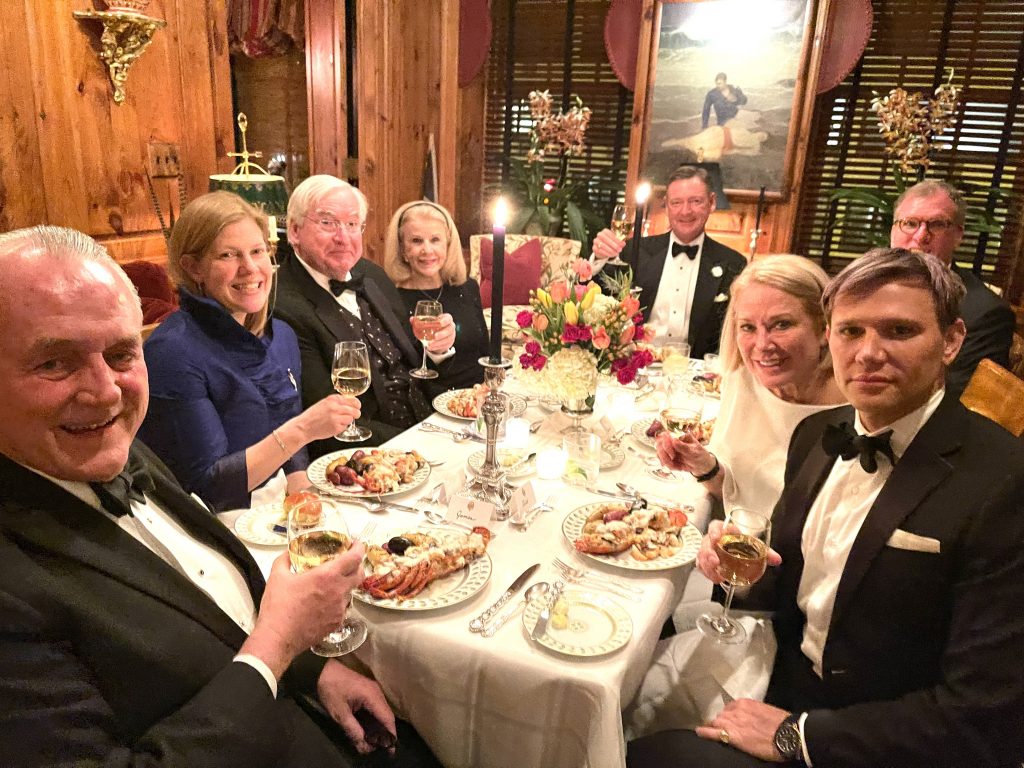 A black-tie dinner with (L to R) James M. Kinney, Ginny Van Alyea, Mike McCahon, Peggy Snorf, Brian D. White, Alby Van Alyea, Karen Zupko, and Bill Fox.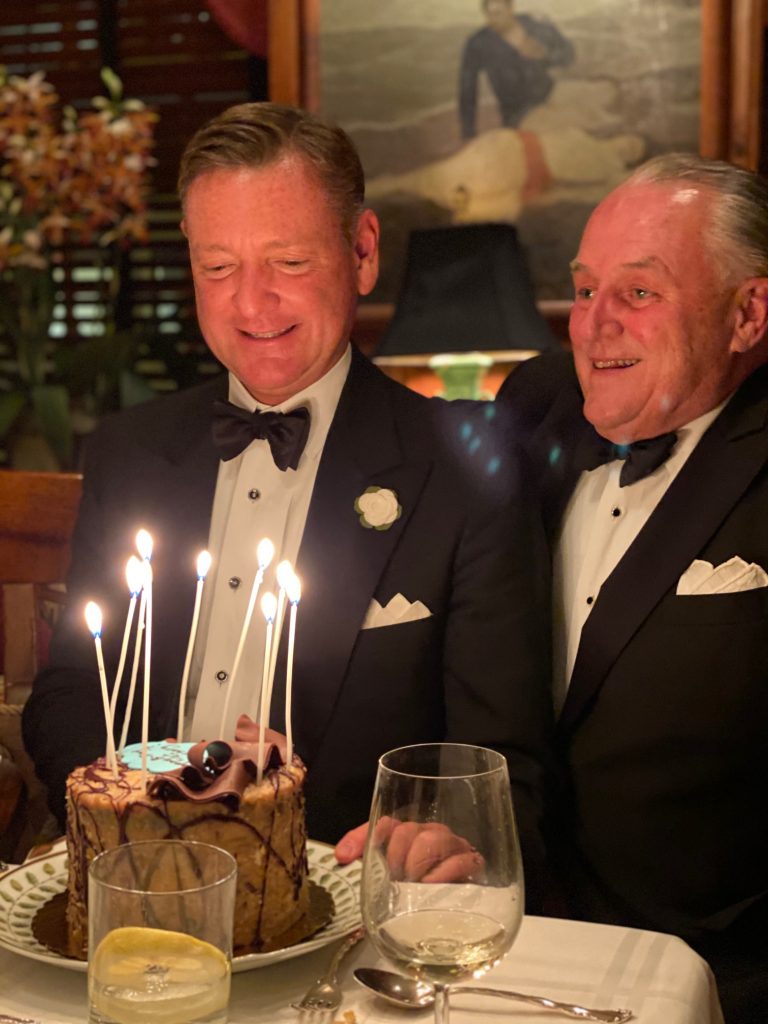 A German Chocolate Birthday cake from Bittersweet – to celebrate both of our birthdays with friends.
Here are some tips that White shared:
"I save my shopping list after each party so I know at a glance what I need to purchase. I am always looking for ways to streamline.  I have a checklist from 10 a.m. when I set the table to 5:45 when we are all set to go.  It tells me even when to put in my contacts and tie my tie."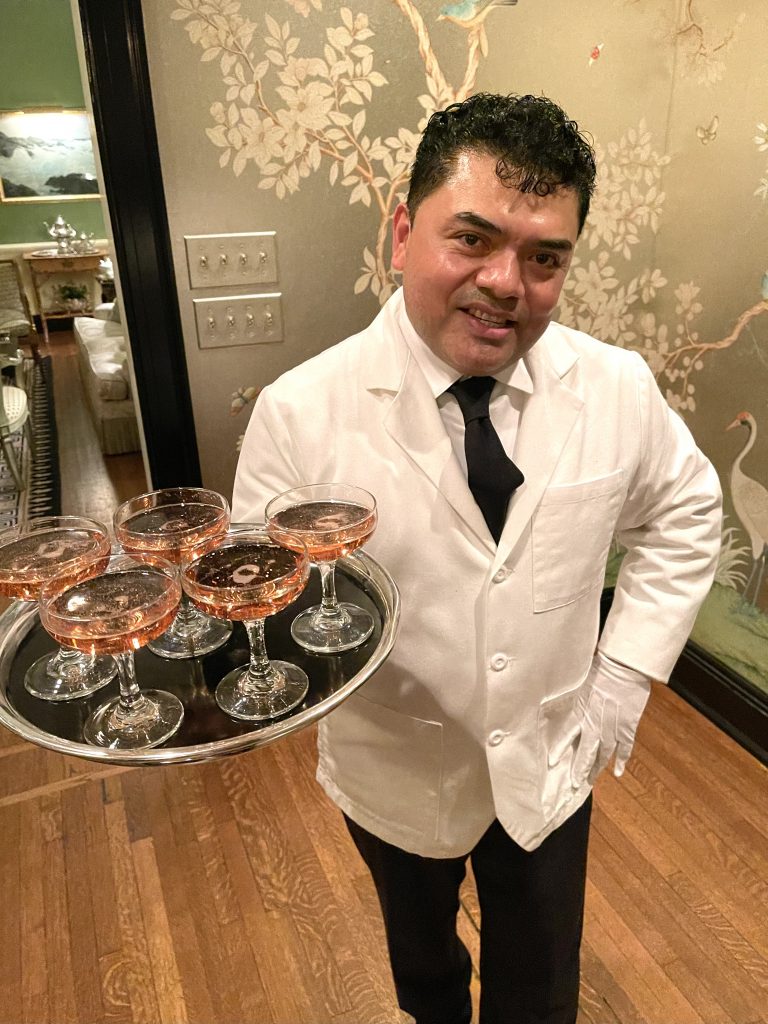 Our helper Lorenzo with after dinner rose champagne as we adjourn from our Library to The Living Room- for after-dinner drinks & dancing!
White and Kinney's dinner parties are almost always scheduled for Saturday nights and the day before Brian heads to his favorite stores:  Trader Joe's, Whole Foods, the Jewel, and Dirk's.
"I always let guests know what I will be serving in case there are food allergies.  I do all the prep work for a dinner but when there are six people we depend on Lorenzo to help."
| | |
| --- | --- |
| A grilled salmon with lemon butter dill sauce and fresh dill- served with fingerling potatoes & garlic spinach. x x x | My favorite Coquille St. Jacques- served in a shell- on the Spode china I grew up with- that my mother just gave me. |
| Cornish Hens, maple bacon brussels sprouts, and balsamic glazed baby carrots. | Lobster Thermidor with rosemary potatoes I prepared for 8 – using my Society of the Cincinnati place cards. |
"Jim and I will have tried the party's entrée probably six times before we serve it to guests just so I know the right cooking time and that the recipe is no-fail. One time I had made the lobster Thermidor and left it in the refrigerator overnight then discovered that our oven wasn't working. I ran it upstairs to a neighbor's kitchen to heat it and the guests never knew.  We ran out of club soda recently and a quick CVS trip solved that.  Entertaining frequently keeps you flexible."
Keeping the same timing helps the hosts.  White and Kinney's dinner parties begin at 6:00 for cocktails, followed by dinner at 7:15 sharp.  White sends out a party reminder to guests, usually in the form of a festive party photograph.
And often late in the evening, there's time for post-dessert fun, whether is rooftop or indoor dancing.
Other tips from Chicagoans who love to entertain follow in further articles on the small dinner party comeback.  If you would like to contribute your party ideas, please send them to judycbross@aol.com