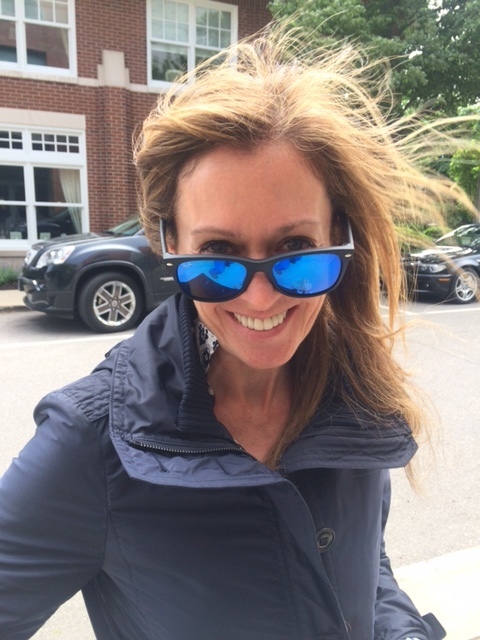 By Wendy Wood-Prince
The lonely streets of August
Yes, Paris in August does seem like an oxymoron, with much of the city taking their vacation and a lingering pandemic, but life has been anything but predictable in the last year and a half so my daughter, Eleanor, and I decided we would venture forth and visit one of our favorite cities anyway.
The official August theme in Paris
Upon arrival, the weather had a slight chill and the gloomy, cloudy sky hovered low over the city. As one Parisian said to me "Paris never really has a summer, it teases but doesn't ever actually arrive"
The charming courtyard of Relais Christine in the Left Bank
We settled into our cozy room at the luxe Relais Christine. This former abbey is located in heart of the ever chic Left Bank,  a small hotel with just 48 rooms and generous common areas that are opulent, with deep downy sofas covered in brocades and velvets ready to envelop, as you enjoy the honor bar or a leisurely breakfast. The many little nooks are so inviting that any feelings of urgency regarding your day's agenda can easily evaporate into a cloud of comfort.
The ultra luxurious Spa Guerlain in the lowerlevel of Relais Christine
A wonderful surprise tucked below the main level of the hotel, is the Spa Guerlain. Located in the former kitchens of the 13th century Saint Denis College of the Grands-Augustins Abbey, the vaulted ceilings and stone walls are a magnificent contrast to the muffled quiet and calm of the Spa lounge, Finnish sauna and compact workout area. The enormous and opulent bottles of Guerlain  perfumes took me back to my childhood and reminded me of my grandmother, who always left hints of L'heure Bleue in her wake.
Luxembourg Gardens
Admittedly, it was difficult to drag ourselves away from the hotel but we did eventually venture out. Many museums were closed so we had to find other ways to amuse ourselves. Thankfully, in 1612, King Henry IV's widow, Queen Marie de Medici missed her childhood park and gardens in Florence so much that she created Luxembourg Gardens right within the 6th arrondissement. We set off and wandered through this 25 hectare park inspired by Marie's beloved Boboli Gardens.
Ponies in the park
Split into French and English gardens, Luxembourg includes 106 statues, an apiary, tennis courts (which were in full swing as we wandered through) and a central pond with remote controlled boats for rent. To my American eye, there are parts of France that seem unreal and this was one of them, the soft crunch of gravel underfoot, moody skies and unexpected surprises like the small herd of miniature ponies guided by their keepers in the garden was like wandering into a dreamy movie set. Being immersed in such orderly and opulent nature gave us renewed energy and a sense of calm.
The Tuileries Garden
Continuing with the Grand Garden theme, we took a day to visit The Tuileries Garden. Tuileries are more formal than the Luxembourg gardens and located on the right bank in between the Louvre and the Place de la Concorde. Jean Le Notre, the original rock star of French landscape designers (and the father of Andre Le Notre who created the gardens at Versailles), gave the Tuileries a re-design in 1664, which is primarily intact to this day.  Another surreal and magical setting, wandering through lush plantings and statuary by Rodin and Giacometti is sensory overload, and it was not lost on us that Parisians can enjoy their lunch or take a break on a daily basis in this incredible splendor.
Drama, Drama, Drama at the Tuileries Garden
Given the uncertainty and restrictions in place for travel we felt lucky to be able to visit one of our favorite places, especially as we head into late summer and more and more cautions are advised. We were grateful for the warm welcome we experienced by the locals and of course we can't wait to get back for another adventure.