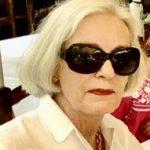 By Cheryl Anderson
"Go out into the sunlight and be happy with what you see…Painting is complete as a distraction. I know of nothing which, without exhausting the body, more entirely absorbs the mind."                                                                        
                                                                        Winston Churchill
Winston Churchill, wartime leader, statesman, and one of history's lions, is not usually associated with the word painter, but he was that and a good one by all accounts.  It's thought by experts that he could have developed into a professional if he had had the time.
His brushes, pots, and metal cups. Picture from Winston Churchill: Painting on The French Riviera.
Churchill wrote two essays that were published in, The Strand Magazine, in December, 1921 and January,1922.  He was offered, and he accepted, £1000 to write them.  In 1948, after he was elected Honorary Academician Extraordinary by the Royal Academy, he was persuaded by Odham Press to publish the two essays in book form, it became, Painting as a Pastime, including eighteen recent color plates, works to that date.  (All of the paintings shown in this article appeared in that book except, La Montagne, St. Victoire painted in 1948 during a trip to Aix-en-Provence.)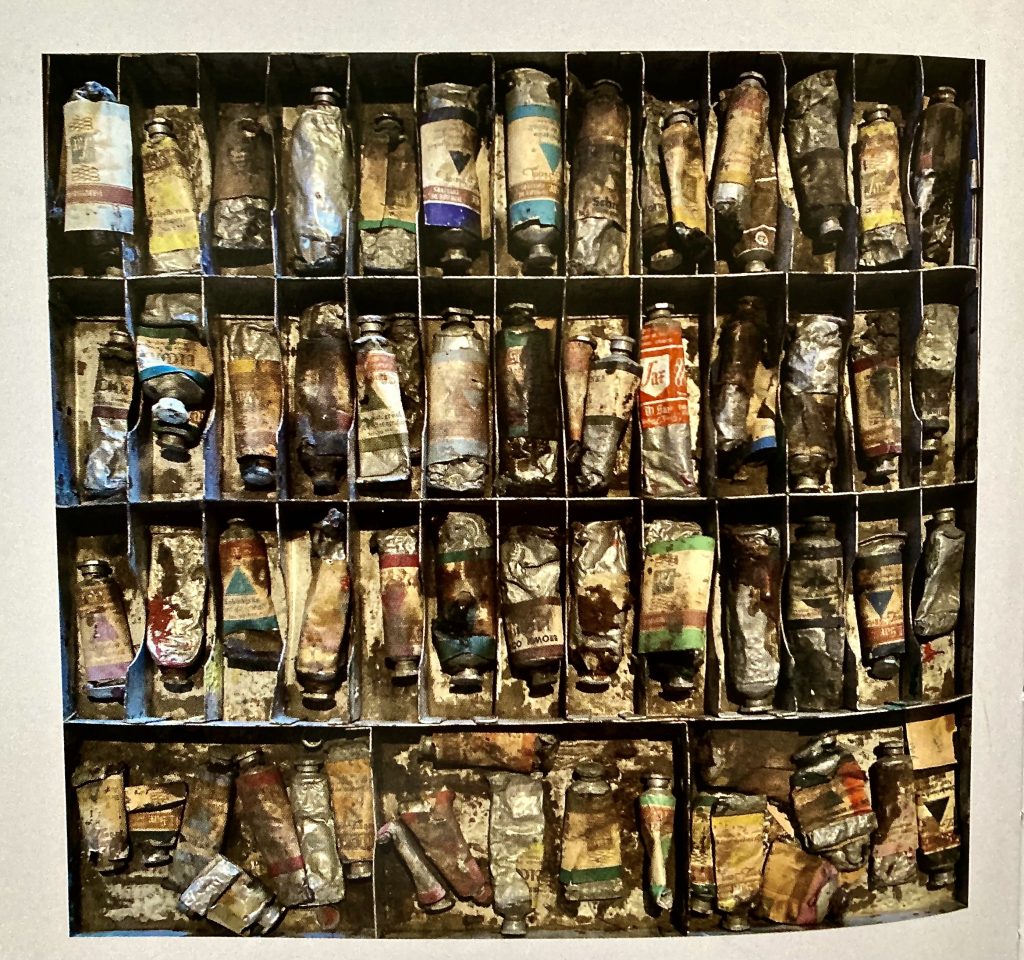 Paints, "delicious to squeeze out". Picture from Winston Churchill: Painting on The French Riviera.
In these two essays, he imparts his philosophy about the importance of having a hobby, and his discovery of painting as one of his worthwhile hobbies giving the reader a glimpse into the man, in his own words, a side of Winston Churchill not widely familiar. His paintings had been on display at the Academy's 1948 summer exhibitions.  According to Richard M. Langworth; "it has had the widest circulation of any of his postwar single volume works."
Willy Sax shows Churchill how it's done. Picture from Winston Churchill: Painting on The French Riviera.
Churchill found; "Painting is a companion with whom one may hope to walk a great part of Life's journey."  I recall reading about and seeing pictures of Renoir with paint brushes tied to his crippled hand late in his life—he painted everyday.
In the words of Churchill's daughter, Mary, about her father's book, Painting as a Pastime; (it) "is pure enchantment to read…throbbing as it does with enthusiasm and encouragement to others to seize brush and canvas and 'have a go', as Winston himself had done before, when, under the flail of misfortune, he had discovered in painting a companion with whom he was to walk for the greater part of the long years which remained to him." 
Churchill's studio kidney shaped palette . He began in 1915 using this sort of palette, but rarely did later on–preferring instead the paints be placed on a table top. Picture from Winston Churchill: Painting on The French Riviera
Churchill began painting at the age of 40, an age he considered late in life, created over 500 works of art in his lifetime—it's thought that at least 150 of them were of sites somewhere in the South of France. I read that none were put up for sale by himself, but one was made available for a charity auction. At first, he exhibited under a pseudonym.  He hated parting with his paintings, but enjoyed giving them away, carefully choosing which one to give to each recipient—it was best not to ask for one, but often one was given if the recipient showed an enthusiastic liking of what Churchill called them, "my little daubs". Most of his collection remains in Chartwell.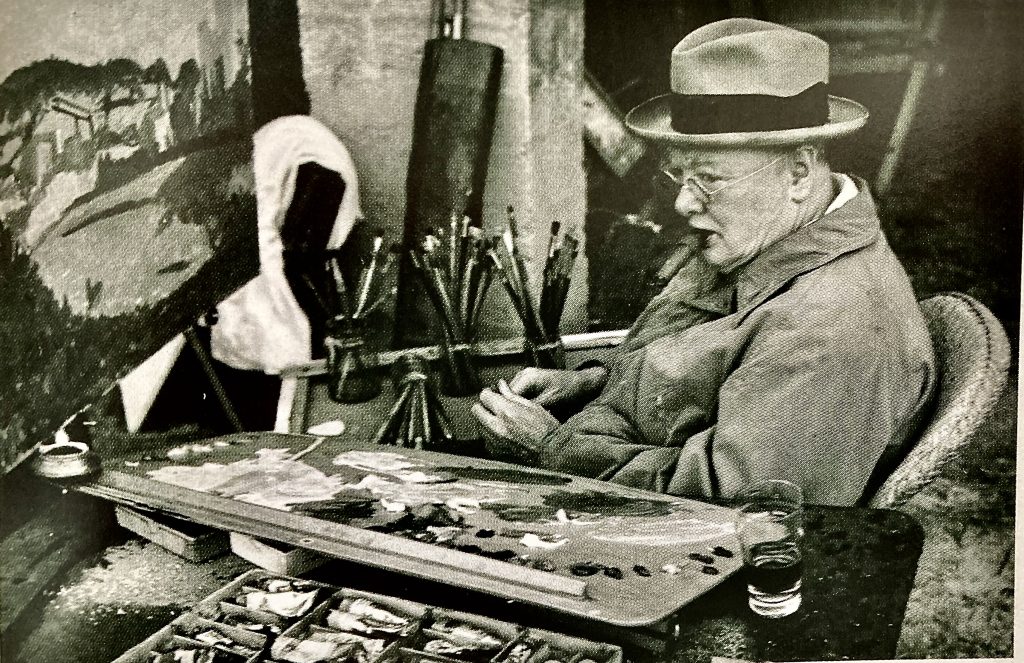 Gone was the kidney-shaped palette. Picture from Winston Churchill: Painting on The French Riviera.
Once, Churchill said to his wife, Clementine, when out with friends and family at the Hôtel de Roi in Aix-en-Provence, 1948; "I am not a great painter." Churchill was lamenting that among all his successes, painting was not among them.  During this trip he  painted the Montagne St-Victoire.  In his essays, he had written; "We cannot aspire to masterpieces.  We may content ourselves with a joyride in a paint-box and for this Audacity is the only ticket."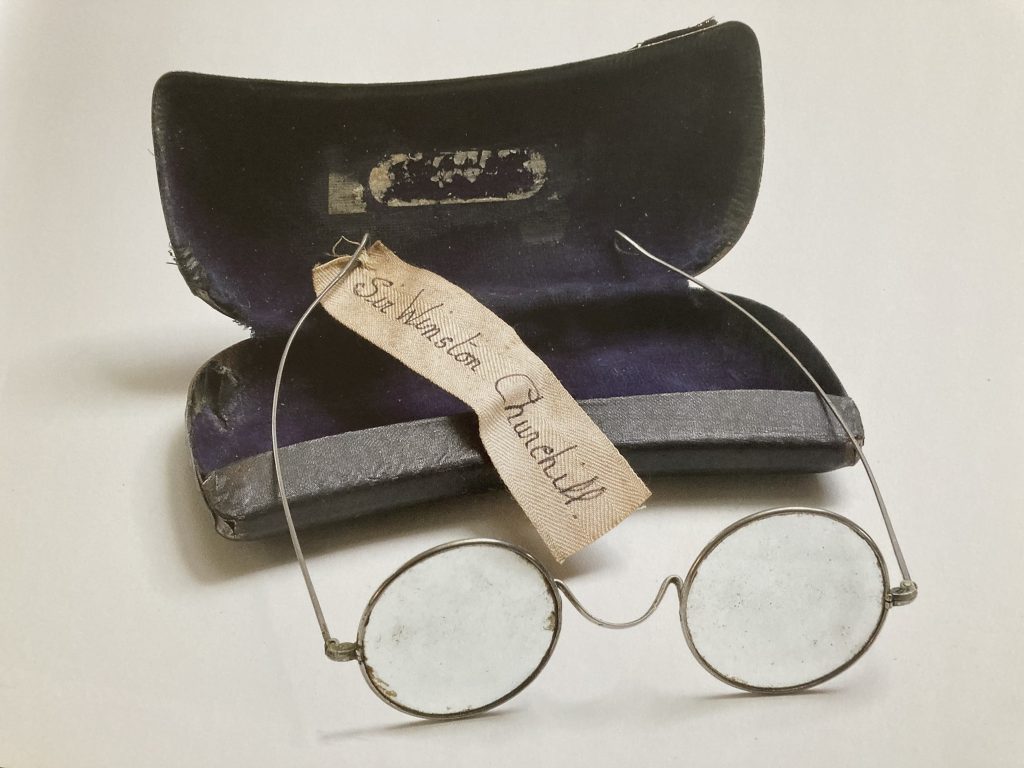 Winston Churchill's eye glasses he used while painting. Picture from Winston Churchill: Painting on The French Riviera.
Generally, his style was impressionistic, but within its parameters  he inserted a style uniquely his own.  His medium, oil-on-canvas, predominately landscapes, candidly saying; "Trees don't complain." However, he did have impressive aptitude in painting still life and portraiture.  He took lessons from Sir John and Lady Lavery, Richard Sickert, and Paul Maze, but for the most part was self-taught. He credits Sir William Nicholson saying; "I think he was the person who taught me most about painting." Churchill is quoted as saying; "I am always ready to learn, although I do not always like to be taught."
Churchill created a trend among prominent people, wartime generals, admirals and ministers—there was a universal up-tick in the sale of easels and paints.   He was well known towards the end of WWI for his "hobby".  Another hobby of his was bricklaying—getting an apprentice card in the Amalgamated  Union of Building Trade Workers.  In Painting as a Pastime, he suggests people have two or three hobbies.
The book with Winston S. Churchill's two essays, Painting as a Pastime.
There were periods in Winston's life when he suffered from depression, referring to it as his "black dog"—times when he was struck with lethargy and despair from "unwonted leisure".  Writing, of course, was where he often put his mind from the demands of leadership, he was a prolific writer, given a Nobel Prize for Literature in 1953.  He read, but with painting he found peace in the dark times. Long hours were spent, sometimes into the night, in his studio painting—strict instructions were given not to disturb him.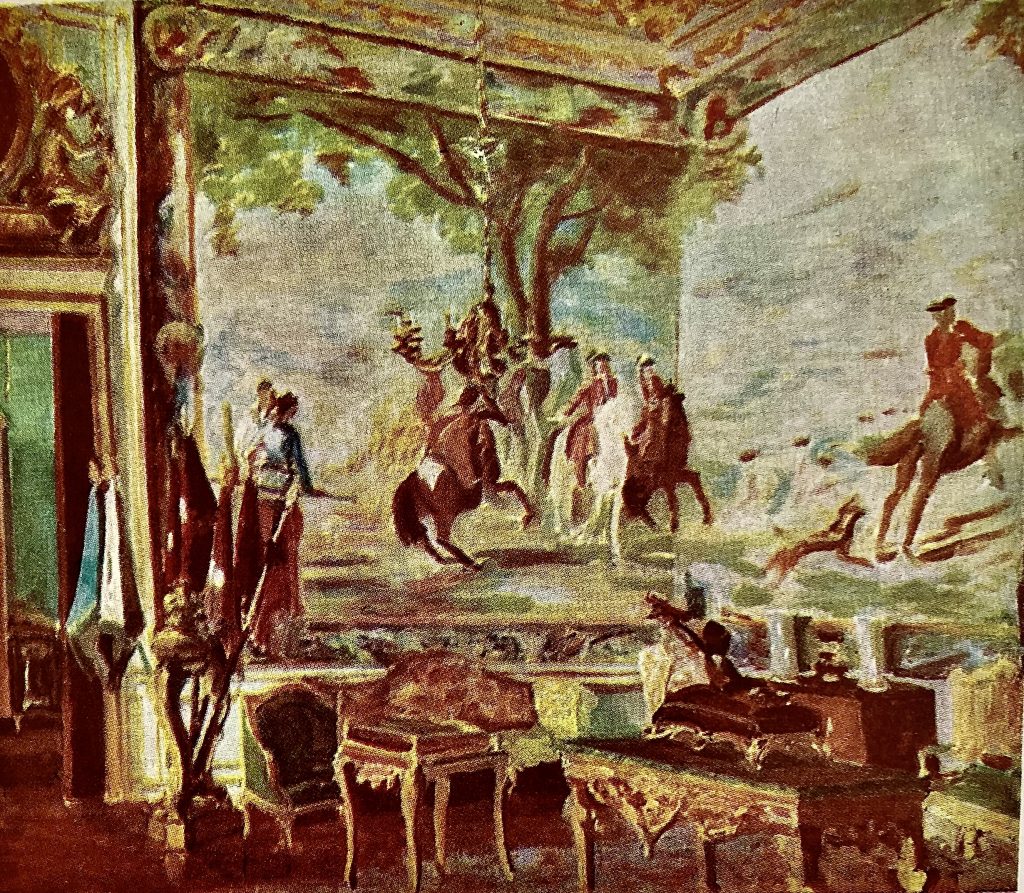 'The Tapestries at Blenheim Palace' was given to his daughter, Mary. Exhibited at the Royal Academy, 1948.  Picture from Painting as a Pastime.
At the end of May,1915 he had left the Admiralty in despair and shame—Gallipoli had gone horribly awry. He remained a member of the Cabinet and of the War Council.
"In this position I knew everything and could do nothing.  The change from the intense executive activities of each day's work at the Admiralty to the narrowly measured duties of a councilor left me gasping.  Like a sea-beast fished up from the depths, or a diver too suddenly hoisted, my veins threatened to burst from the fall in pressure.  I had great anxiety and no means of relieving it; I had vehement convictions and small power to give effect to them…I had long hours of utterly unwonted leisure in which to contemplate the frightful unfolding of the War…And then it was that the Muse of Painting came to my rescue—out of charity and out of chivalry, because after all she had nothing to do with me—and said, 'Are these toys any good to you? They amuse some people.' "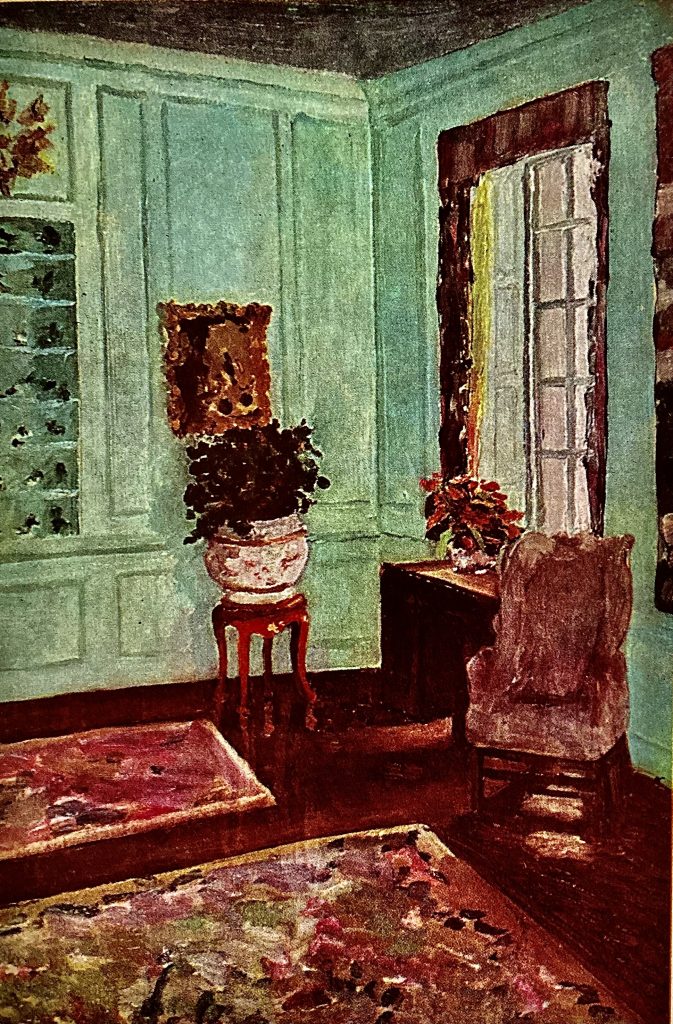 The Blue Room, Trent Park.  Exhibited at the Royal Academy, 1948. Picture from Painting as a Pastime
"Broadly speaking, human beings may be divided into three classes: those who are toiled to death, those who are worried to death and those who are bored to death."
In whichever class one falls, his advice to everyone is to find a hobby, there must be a change.  He wrote in, Painting as a Pastime; "Change is the master key. A man can wear out a particular part of his mind by continually using it and tiring it, just in the same way as he can wear out the elbows of his coat." Churchill found painting a remedy to quiet his "black dog" from nipping at his heels.
Olive Grove, La Dragonière near Monte Carlo.  Picture from Painting as a Pastime.
Winston's recollection as to how he started painting is explained by him in the essays and goes like this: "Some experiments one Sunday with the children's paint-box led me to procure the next morning a complete outfit for painting in oils…Having bought the  colours, an easel, and a canvas, the next step was to begin. But what a step to take!"  I have stared at a blank white canvas and much like a blank page, now on the computer, one is forced to begin—but how?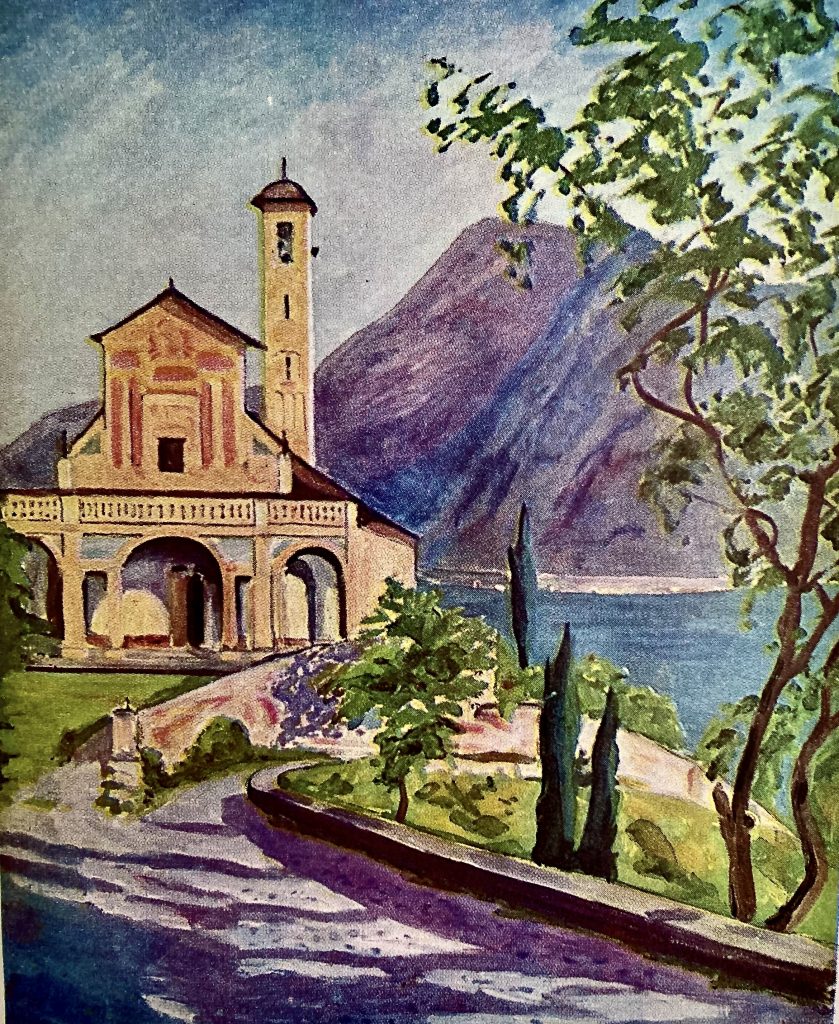 Church by Lake Como, 1945. Picture from Painting as a Pastime.
Now imagine, Winston Churchill is standing in front of the blank canvas; "The palette gleamed with the beads of colour; fair and white rose the canvas."  It's a beautiful day, his hand seemed not to move as it hovered; "the empty brush hung poised, heavy with destiny, irresolute in the air."
The Weald of Kent under snow, at Chartwell was given to his daughter, Mary, in 1937.  Picture from Painting as a Pastime.
That day, he noticed the sky was blue, a pail blue, and even one not being an artist can see that mixing blue with white will get the desired results—he chose a small brush to begin  The wife of Sir John Lavey, Hazel, came upon the scene at Hoe Farm, his holiday retreat in Hascombe, Surrey.  She questioned her friend, Winston; "why the hesitation?"  She grabbed a big brush.  Winston describes what she does and writes; "Splash into the turpentine , wallop into the blue and the white, frantic flourish on the palette—clean no longer—and then several large, fierce strokes and slashes of blue on the absolutely cowering canvas."
The Goldfish Pond, at Chartwell.  Exhibited at the Royal Academy, 1948. Picture from Painting as a Pastime.
His inhibitions were thus removed, and forever more there would be no more fear of a blank canvas, writing; "I seized the largest brush and fell upon my victim with Berserk fury. I have never felt any awe of a canvas since…This beginning with Audacity, or being thrown into the middle of it, is already a very great part of the art of painting."
St-Jean-Cap-Ferrat. 1945. Picture from Sir Winston Churchill's Life Through his Paintings.
Water-colour painting is an art form I never came close to mastering, so I fully understand his turning to oil-on-canvas. There is no scrapping paper clean for a fresh start.
"I write no word in disparagement of water-colours. But there really is nothing like oils…One sweep of the palette-knife "lifts" the blood and tears of a morning from the canvas and enables a fresh start to be made; indeed the canvas is all the better for past impressions."  More times than I can remember I have done just that—oil paint frees me to make mistakes. Churchill continues; "You can build on layer after layer if you like.  You can keep on experimenting. You can  change your plan to meet the exigencies of time or weather. And always remember you can scrape it all away."
Near Antibes. Picture from Painting as a Pastime.
"Just to paint is great fun. The colours are lovely to look at and delicious to squeeze out.  Matching them, however crudely, with what you see is fascinating and absolutely absorbing…I cannot pretend to feel impartial about the colours. I rejoice with the brilliant ones, and am genuinely sorry for the poor browns."
The Mill, Saint-Georges-Motel.  Normandy. Picture from Painting as a Pastime
He loved lively colours, for they were uplifting, admired Manet, Monet, Cézanne and Matisse.  He would oft times travel to locations where these artists painted, where they found the light and locations that moved and inspired them—Winston would come to understand what they saw and felt.  Painting en plein air as the Impressionists especially appealed to Churchill—finishing in the studio in Chartwell, or sometimes returning to the site if time permitted to continue or complete the work.  His canvases were often quite large, he was fast, quickly covering the canvas in an hour or two during the first sitting.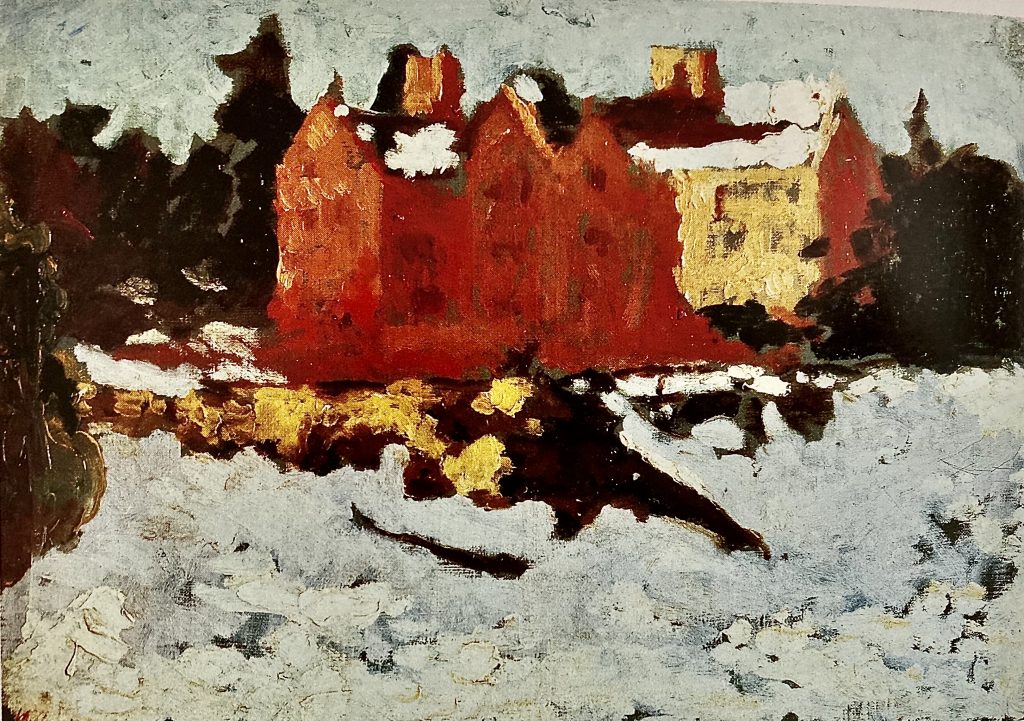 Winter Sunshine, Chartwell.  First entered anonymously in 1925 at a London exhibition and won first prize. In 1947, under a pseudonym and was his first entry at the Royal Academy's Summer Exhibition. Picture from Sir Winston Churchill's Life Through his Paintings.
"His paintings come from the same place. His brilliant mind, his vision, his power of observation informed him as a statesman, a writer, a reader, and as a painter." Timothy Riley, director and chief curator of the National Churchill Museum in Missouri.
A Vase of Flowers  (Mallows)  Picture from Sir Winston Churchill's Life Through his Paintings.
He painted during his travels to Egypt, Italy, Morocco, the South of France, and more—of course the grounds of his family home, Chartwell, provided beautiful subject matter.  Churchill painted only one canvas during World War II that being in Marrakech—he gave the painting, The Tower of the Koutoubia Mosque, to President Franklin D. Roosevelt. Katherine Carter, project curator and collections manager at Chartwell, says of the gift; "a souvenir of their time together during that very brief moment of respite." Their time together was at the Casablanca Conference in 1943.
The Mediterranean, near Genoa from the Villa Pirelli September, 1945. Picture from Sir Winston Churchill's Life Through his Paintings.
"Lastly, let me say a word on painting as a spur to travel.  There is really nothing like it. Every day and all day is provided with its expedition and its occupation—cheap, attainable, innocent, absorbing, recuperative…Every country where the sun shines and every district in it, has a theme of its own."
Clementine watching Winston one summer weekend in 1915 at Hoe Farm.  Picture from Sir Winston Churchill's Life Through his Paintings.
In my past, I have taken brushes and paints to the Côte d'Azur, fashioning an easel once I arrived, and bought canvases at my favorite art supply store in Menton.  Truly, it is a perfect way to wile away the sun drenched days—or wherever your days may take you.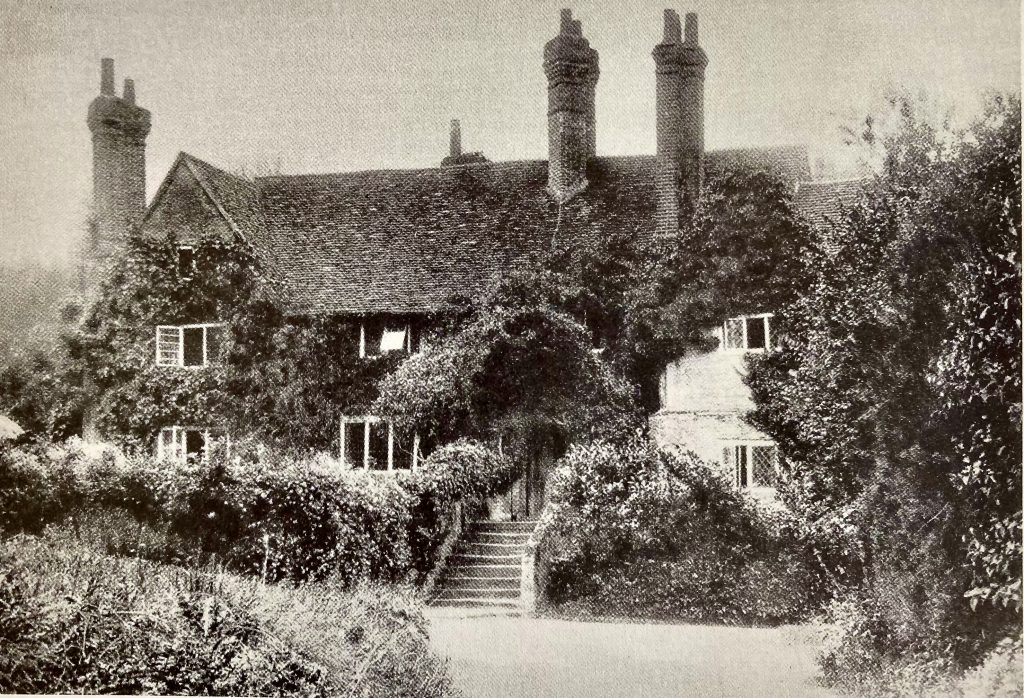 Hoe Farm in Hascomb, Surrey.  Picture from Sir Winston Churchill's Life Through hi Paintings.
In the coming months, I will share with you Winston Churchill painting in towns I am familiar with on the Côte d'Azur—where the light draws you in and I marvel, as Churchill did, writing; "Look at the Mediterranean. How can you you depict and record it? Certainly not by any single colour that was ever manufactured.  The only way in which that luminous intensity of blue can be simulated is by this multitude of tiny points of varied colour all in true relation to the rest of the scheme. Difficult? Fascinating!"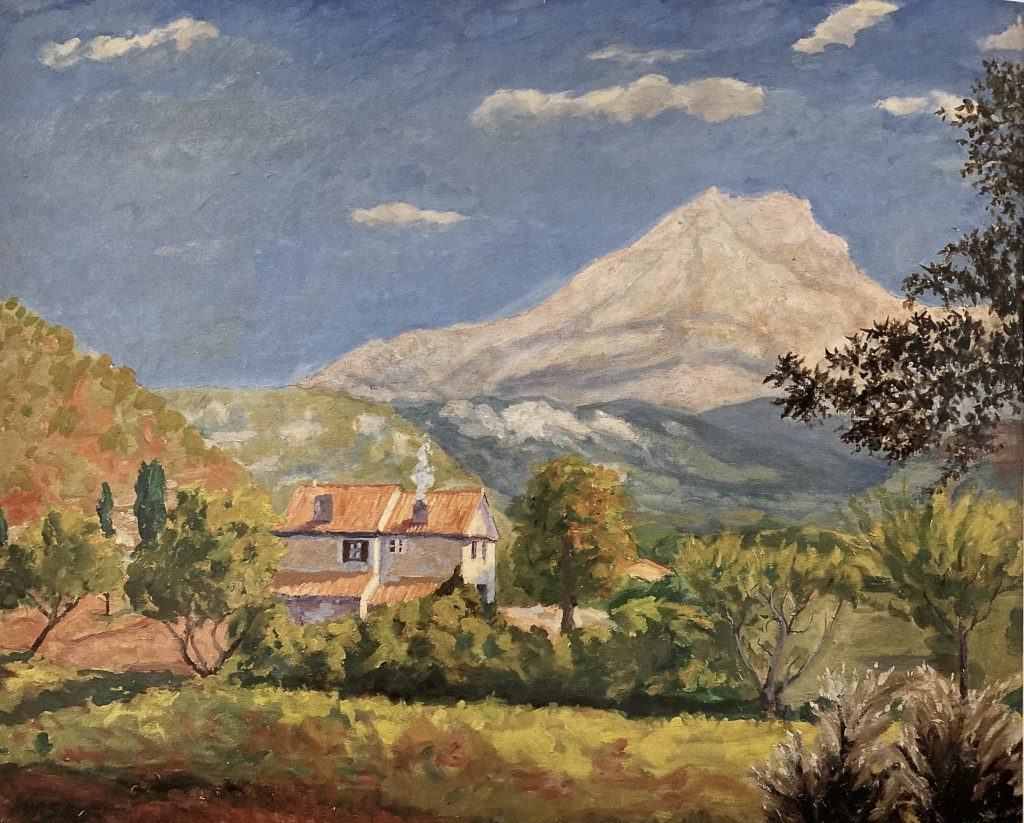 La Montagne, St. Victoire  (Not in Painting as a Pastime, but shows the painting he did in Aix-en Provence 1948.)  Picture from Sir Winston Churchill's Life Through his Paintings.           
"Happy are the painters for they shall not be lonely. Light and colour, peace and hope, will keep them company to the end, or almost to the end, of the day."  Winston Churchill, 1925. 
À bientôt.
Quotes and Pictures:
Painting as a Pastime, by The Right Honourable Sir Winston Churchill, published in1965 by Cornerstone Library, New York.
Winston Churchill-Painting on the French Riviera, by Paul Rafferty, published by Unicorn.
Churchill on the Riviera, by Nancy Smith, published by Biblio Publishing.
Sir Winston Churchill's Life Through his Paintings, by David Coombs with Minnie Churchill, published by Gardners Books, 2003.