By Judy Carmack Bross
"The genius of Quincy Jones has been part of the fabric of Deeply Rooted from the company's inception, his music has inspired many ballets in our repertory. It is only fitting that we honor this musical giant and humanitarian whose roots are on the South Side of Chicago." Nicole Clarke-Springer, Artistic Director of Deeply Rooted Dance Theater.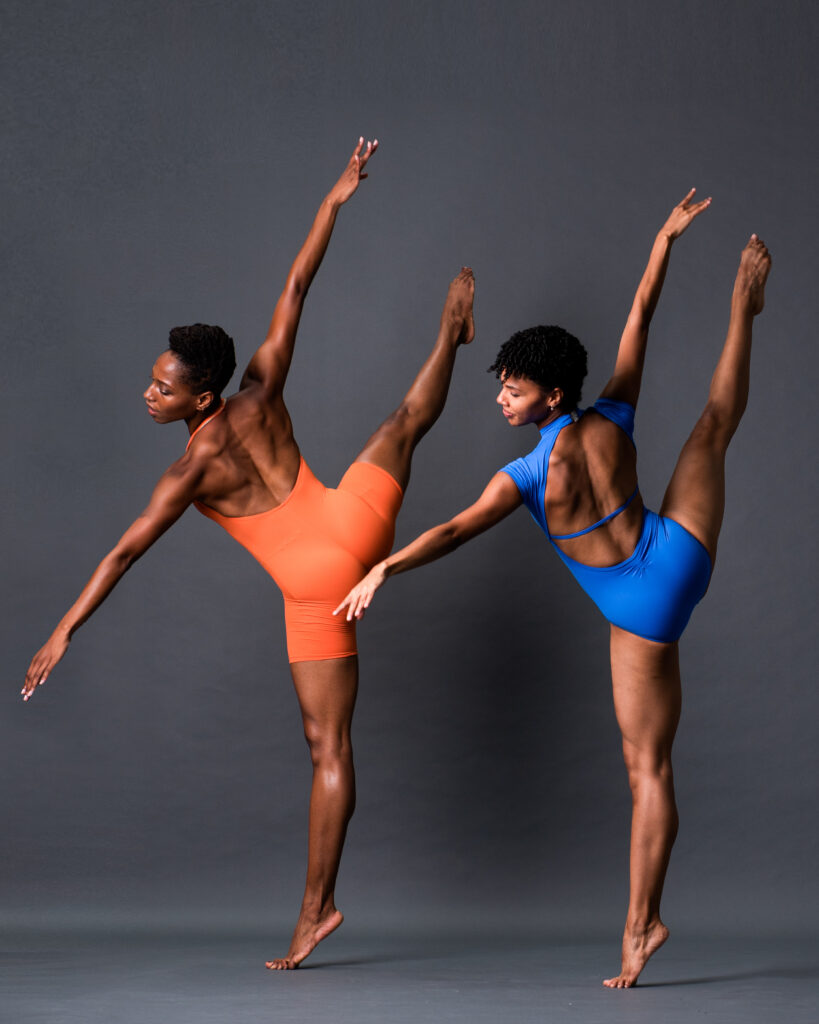 Nyemah Stuart and Briana Arthur          Photo Credit: Michelle Reid
On November 5 for one night only, Deeply Rooted Dance Theater, the highly praised Chicago-based African American contemporary dance company will present the world premiere of Q After Dark, a joyous celebration of the music of Chicago's legendary Quincy Jones at the Auditorium Theater. Choreographed by the company's artistic team, including Clarke-Springer, Associate Artistic Director Gary Abbott, Creative/Executive Director Kevin Iega Jeff and Jsohua L. Ishmon with live music led by Sam Thousand, it is one of three of the evening's premieres. The combining of the music of Jones and Aretha Franklin with a ballet featuring music for strings and harp proves why the dance community and Chicago dance fans can't stop talking about Deeply Rooted.
In a company premiere by acclaimed choreographer Ulysses Dove, Deeply Rooted also performs Vespers, inspired by Dove's memories of his grandmother's church. Vespers showcases the athleticism and grace of six female dancers propelled by Mikel Rouse's electronic score. The National Endowment for the Arts has approved a grant in the amount of $20,000 to support the commission of Deeply Rooted's performance of Vespers.
The evening continues with the premiere of an excerpt of Madonna Anno Domini by Clarke-Springer featuring music by Culoe De Song and Aretha Franklin. Completing the program is a revival of Aisatnaf, choreographed by Co-Founder and Creative/Executive Director Kevin Iega Jeff, in which a woodland creature frolics to a ballet fantasy for strings and harp by Lee Holdridge.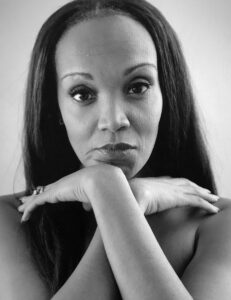 Nicole Clarke-Springer
Clarke-Springer, who grew up in Joliet, said that her mother believes she began dancing "while still in the womb." Her minister father offered a program of liturgical dance in his church, which she loved, in addition to the ballet classes she embarked on starting at age three. She went on to major in dance at Butler University and planned to audition for Alvin Ailey in New York. That all changed when she went to an audition in Chicago and met Deeply Rooted's Kevin Iega Jeff (its co-founder and creative/executive director) and co-founder and associate artistic director Gary Abbott: "A voice inside my head said, 'You are never leaving his side.' "
How fortunate we were to talk recently with Clarke-Springer about her vision.  Here's what she told us.
 CCM: Why is everyone talking about Deeply Rooted?  I hear that you are the company to watch?
  NC-S:  "Honestly, the company and I have been so busy focusing on the work that I haven't had a chance to digest the past two years to realize what all is being said! What I do think is… the past two years of a world experiencing not only a health pandemic but a racial one has provided space for conversations about race to be had thus creating opportunities to recognize and celebrate diversity.   I think Deeply Rooted just deepened how we chose to work through our mission and it's being amplified by these opportunities."
Emani Drake          Photo Credit: Michelle Reid
Taylor Ramos and Joshua L. Ishmon          Photo Credit: Michelle Reid
 CCM:  What's it like being a choreographer, what do you like most about it and how is it to be working with Quincy's music?
NC-S:  As a professional dancer, I have always enjoyed and cherished the artistic process over performance. The idea of being a part of the process of conception, creation and birth has always been exciting to me. This is what I love about being a choreographer. Being a visionary. I have always been a person of vision. As a child, I had a HUGE imagination. I like to think I still have that quality.  This is why it was so enjoyable to work with the music of Quincy Jones. He is the ultimate visionary. His melodies are expansive and filled with air, light, and depth. His work is transcendent.  It creates mood and takes you on a journey. The dancers have loved working with Sam Thousand and his ensemble of musicians to offer a truly joyous tribute to a Chicago legend."
CCM: What is the Deeply Rooted season like this year?
NC-S: The Deeply Rooted season this year consists of more performances, the next being in Toronto for the International Association of Blacks in Dance conference in January. Hopefully, this will begin our touring season. We are currently in the process of working to expand our touring and booking season post COVID.

CCM: Tell us about your hopes for your career in the future?
"My hope for my career in the future is to expand the reach of the Deeply Rooted mission, serve Deeply Rooted's beautiful, amazing artists, and continue to tell the stories of my ancestors, my community, my world all through this gorgeous medium called dance."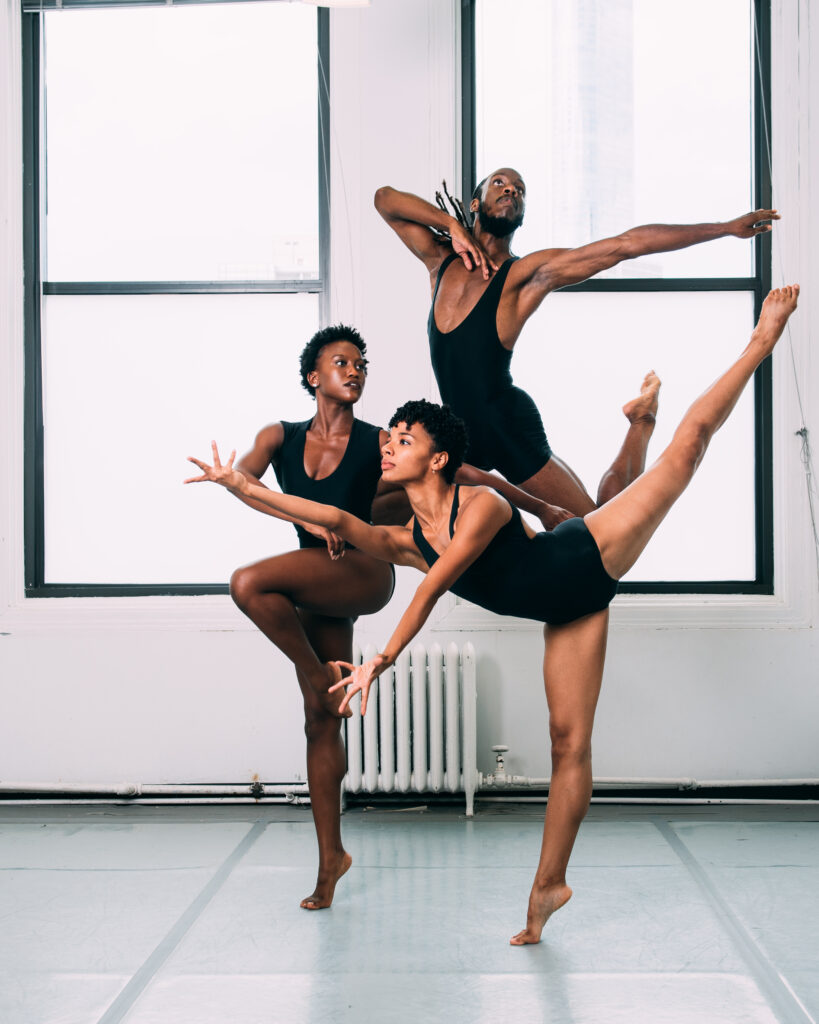 Joshua L. Ishmon, Company Apprentice Alyssa McCallum and Briana Arthur           Photo Credit: Michelle Reid
Premiering in 1996, Deeply Rooted Dance Theater reimagines and diversifies the aesthetics of contemporary dance by uniting modern, classical, American, and African-American traditions in dance and storytelling.  Deeply Rooted demonstrates the transformative power of art through performance, dance education, and cultural enrichment in Chicago and on the world stage. The Company is rooted in traditions of American and African-American dance, storytelling, and universal themes that spark a visceral experience and ignite an emotional response in diverse audiences worldwide. Its artistic team collaborates with nationally renowned choreographers, across the spectrum of modern, ballet, and African dance, to reflect contemporary voices.
 For information, visit deeplyrooteddancetheater.org.