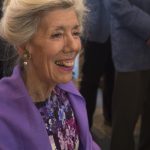 BY JUDY CARMACK BROSS
Porchlight Music Theatre's 25th Anniversary Gala Co-Chairs Rick and Deann Bayless and Donna LaPietra and Bill Kurtis kicked off the sensational new musical season with the 14th annual Chicago Sings concert held recently at the Museum of Contemporary Art featuring performances by 50 artists from many of Porchlight's most unforgettable productions.
With this season's upcoming blockbusters such as Sunset Boulevard, Call Me Madame, and Sophisticated Ladies, the evening was a mix of celebration sprinkled with anticipation.
Deann Bayless told the 300 guests: "I have been looking forward to this night and the celebration of Porchlight and all it does to shine a light on music theatre."
La Pietra added, "And not only is this a night of great music and performances, but proceeds benefit Porchlight's amazing education and outreach programs."
Bill Kurtis, introduced by Porchlight's Executive Director, Jeannie Lukow, was the peerless presenter of the evening's first stars.
Christopher Pazdernik and Artistic Director Michael Weber brought together the spectacular, with music direction by David Fiorello and a band featuring Kelsey Boltz, Cara Hartz, John McCreary, Greg Strauss, Celeste Park and Jake Saleh.
The Guy Adkins Award for Excellence in the Advancement of Music Theatre in Chicago was presented to Gary Griffin.
Weber shared some of Porchlight's history: "Jill Moore, our founder and first artistic director, whose recollections of the joy and camaraderie she experienced putting on shows with childhood pals under the glow of the lamp on her front porch after the streetlights came on, inspired her to build a warm and welcoming home for music theatre right here in Chicago.
He continued, "Jill's tenure as artistic director in those early days transitioned briefly to another company founder, Eric Bramlett, then, in 1998, the company hit its stride with the arrival of a new brash young artistic director who, along with a passionate music director, steered Porchlight over the next 13 years to many a success."
Weber introduced former Porchlight artistic leaders Walter Stearns, the very first Guy Adkins Award recipient, and Eugene Dizon.
Photos by Michael Courier
For further information about Porchlight and its upcoming 25th Anniversary Season, go to porchlightmusicaltheatre.org.