David Kay's Leadership at MetroSquash Has Buoyed Hundreds of Inner-City Students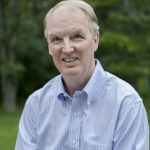 By David A. F. Sweet
When David Kay became executive director of the newly created MetroSquash in 2005, the non-profit's bank account wasn't brimming with cash; only one check had arrived. Office space? There was none: Kay, its only employee, worked from his Chicago home.
The idea of squash after-school programs for inner-city kids that had flourished in New York and other Eastern cities was unknown here. Somehow, Kay persuaded the principal of Kozminski Community Academy that MetroSquash could benefit its students. By the fall of 2005, volunteers from the University of Chicago taught 10 youngsters how to play squash and tutored them in academics.
Today, Kay — who, with MetroSquash's board, has helped raise tens of millions of dollars to improve the lives of Chicago public-school students — oversees two dozen full-time staffers at the Hussain MetroSquash Academic & Squash Center in Woodlawn on the South Side, including four alumni of the program. Opened in 2015, the building features seven singles courts, one doubles court, classrooms and offices. It is the largest squash facility in Chicago. MetroSquash players travel across the country to compete in tournaments.
But that's only part of the story. Because of its focus on helping students succeed academically, MetroSquash alumni end up at East Coast boarding schools and prestigious colleges — unreachable dreams for others who languish in Chicago's troubled school system. For the first time, an alumna is heading to law school.
"MetroSquash has fostered a belief in me what kids from any background can do when they're given the tools to succeed," said Kay.
Who can join? Kay points out that MetroSquash is not merit-based; the program chooses kids who want to make an effort and whose families are willing to engage as volunteers. Amazingly, parents do not pay a dime no matter how many years their children are part of MetroSquash; all equipment, travel, tutoring and more is covered. The organization is looking merely for an investment of time.
Now, after 18 years at the helm, Kay is retiring as chief executive officer in August. Longtime Chief Program Officer Janae Meyer will replace him. Said Kay, "I couldn't ask for a better person to take over."
During his years on the MetroSquash board, Chairman Danny Dolan has admired Kay's calm way of building consensus.
"He knows what's best for the program and how to articulate that to allow different factions to all be united," Dolan said. "He's really smart in the way he works with people, and his ability to work with people from all types of life cannot be overlooked. He is passionate about the mission: It's about keeping kids safe and off the streets and focusing on what helps them succeed in life."
Unlike MetroSquash students, who learn the game as fifth-graders, Kay started playing at age 7 at a public club in his native Canada. Two years later, he started traveling to tournaments around Canada and the United States.
"That gave me a great sense of freedom," he recalled. "It didn't matter if you went to Cleveland or to London. That's why I love MetroSquash. It's a passport to travel and education."
Kay played squash at Princeton University, where he and a partner won the NCAA doubles title his senior year. He was coached by the legendary Bob Callahan, who guided Tiger teams to three national titles and numerous Ivy League championships.
"He was an important figure to me because of his way as a person," Kay said. "He was kind and thoughtful – the kind of things you don't appreciate as a college student."
After graduation, Kay became a teaching pro at the Union Club in Manhattan. There, he mentored a girl from Harlem, giving her weekly lessons. She was part of StreetSquash, one of the programs MetroSquash is modeled on. Kay took notice.
"The kids seemed busy and fulfilled at the same time," he said. "I was intrigued by that. And I wanted to do something with more of a social impact."
Enter MetroSquash. Soon after playing a tournament at The Racquet Club of Chicago in 2005, Kay interviewed for the top position of the fledgling outfit and was hired. Thanks to his guidance, the program is so far along today that it is likely to break ground on new facility in Evanston in the next few years, with one on the West Side part of its plans further in the future.
What's next for Kay? The former No. 2 pro doubles player in the world plans to move to Paris within the year (a world traveler, he has visited all seven continents and even climbed Mount Kilimanjaro). The 50-year-old hopes to be involved with a position that takes advantage of his love for classical music. Wherever he lands, he will always be thankful for the Chicago squash community.
"I came here and didn't know anybody," he said. "To be embraced by the community – Onwentsia, the Racquet Club, the University Club – it's a community that punches above its weight. We couldn't have done what we did without them."
The Sporting Life columnist David A. F. Sweet is the author of Three Seconds in Munich and Lamar Hunt. He can be reached at dafsweet@aol.com.