By Megan McKinney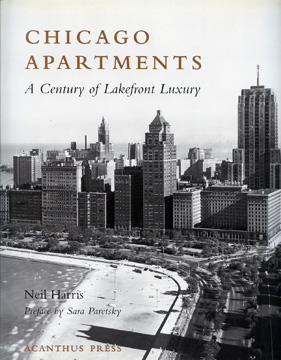 Neil Harris' first Chicago Apartments, 2004.
One of the joys of living in Chicago in 2004 was the publication of Neil Harris' Chicago Apartments: A Century of Lakefront Luxury. Here was a handsome volume that beautifully mirrored the lovely buildings which so enhanced our daily lives. It stunningly showcased the apartments stretching along the sweep of East Lake Shore Drive, the majesty of Rosario Candela's possibly only Chicago collaboration at 1500 North Lake Shore and the Benjamin Marshall creations sprinkled throughout the North Side. It was a book we pored over separately and talked about together over cocktails and at dinner parties that year.
As you must know by now, there is a new version of this marvelous book, Chicago Apartments: A Century and Beyond of Lakefront Luxury,  expected in April. What a marvelous opportunity it will be for each of us to take advantage of the sudden lull in outside distractions and to settle in to re-experience the 2004 book with the addition of carefully selected additions of the "and Beyond".
The 2020 update of Chicago Apartments.
We asked authors Neil Harris and Teri J. Edelstein to explain the choices they made—then and now. 
"Selecting buildings for Chicago Apartments, both 16 years ago and today, has been an arduous process. Lakefront (or very near lakefront) and luxury were obvious criteria, but we also sought, when possible, architectural distinction, innovation and ambition as other desirable features. We wanted the choices to reflect broad conventions of taste, and to reveal changing definitions of comfort and residential luxury."
Here are several of the spectacular 2020 additions with a few words about each.
THE LEGACY 
60 East Monroe Street | THE LEGACY Solomon Cordwell Buenz
Facing Millennium Park, The Legacy exemplifies ongoing shifts in Chicago apartment locations, so many new buildings now to be found in the Greater Loop and on the rediscovered Chicago River.  Its striking modernism facilities can be directly accessed.  
Dave Burk, photographer, courtesy Hedrich Blessing
The Legacy at dusk.
Courtesy 2rz Architects and Dave Burk Photography
60 East Monroe sauna.
Courtesy 2rz Architects and Dave Burk Photography
60 East Monroe bath.
Courtesy 2rz Architects and Dave Burk Photography
60 East Monroe plan.
Nº9 WALTON
9 West Walton Place | Nº9 WALTON Hartshorne Plunkard Architecture
The wealth of amenities available to owners at Nº9 WALTON define contemporary expectations of the meaning of "luxuries." Large balconies with heat, electric, and gas connections, a guest suite in the building, an enormous porte-cochere with parking attendance, along with a virtual golf course, are just some of its attractions.  
Courtesy jdl
9 West Walton exterior.
30 WEST OAK
30 West Oak Booth Hansen
Landscaping in the spirit of Japanese Zen gardens flanks the entrance to this boutique building.  Its bowed glass-fronted facade, 24 stories high, offers city views north and south.  These exterior details are an apt harbinger of the planned and proportioned apartments of the interior. 
Courtesy Cable Studios and Booth
30 West Oak exterior.
2550 North Lakeview Avenue
2550 North Lakeview Avenue | LINCOLN PARK Lucien Lagrange Studio 
2550 North Lakeview is one of Lucien Lagrange's tributes to French beaux-arts classical traditions and planning. It occupies an extraordinary historic site, also home to The National Shrine of Saint Frances Xavier Cabrini. A large, symmetrically planned garden by Thomas Balsley Associates, is just one of the amenities available to residents.   
© William Zbaren, courtesy Lucien Lagrange Studio
2550 North Lakeview exterior.
ONE BENNETT PARK
451 East Grand Avenue 514 N. Peshtigo Court | ONE BENNETT PARK Robert A. M. Stern Architects 
Architect Robert A.M. Stern has said that Chicago skyscrapers of the 1920s helped inspire the appearance of One Bennett Park. Of course, Chicago Apartments: A Century and Beyond of Lakefront Luxury, contains essays on numerous Landmark apartment buildings of that period. True to its name, the building honors Chicago Plan collaborator Edward Bennett, and adjoins a new park by renowned landscape architect Michael Van Valkenburgh.
Courtesy Robert A. M. Stern Architects, LLP, and Related Midwest
One Bennett Park.
Cory Dewald, Courtesy Related Midwest
Bennett Park. Michael Van Valkenburgh Associates.
Edited by Amanda K. O'Brien
Photography courtesy of  University of Chicago Press    
Author Photo by Robert F. Carl