A Star That Continues to Shine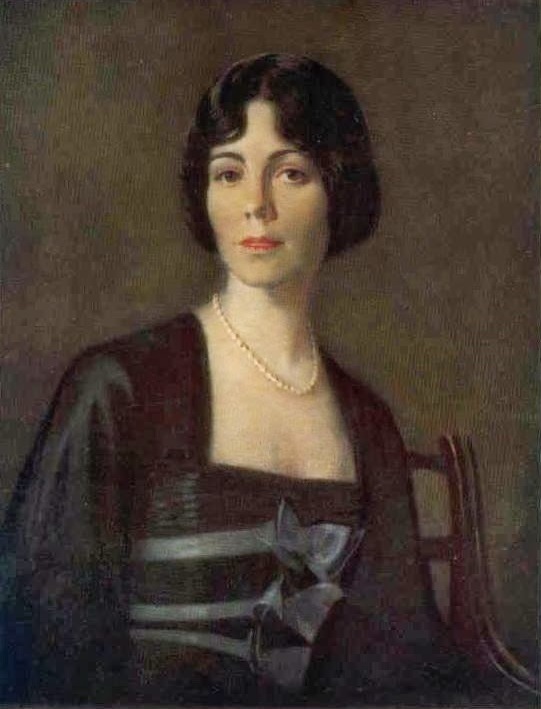 Lucy McCormick Blair.
By Megan McKinney
In our recent segment, The Edward Tyler Blairs, we spoke a bit about Lucy McCormick Blair and her 1912 founding of the Junior League of Chicago. However, this was merely the beginning of a remarkably productive period in young Miss Blair's always active life.
A family holiday in France the following summer steered Lucy's activities in further directions. First was the desire to open a Chicago shop of her own, which she did for a while, giving it the name Au Paradis.
Among her many gifts, Lucy possessed an unerring eye for both fashion and interior design and, during the trip with her parents, she acquired items that were perfect for stylish retailing. In following years other Chicago socialites would open chic little shops, but at the time Lucy organized Au Paradis, her version of this enterprise—like so much of what she produced—was a first.
The French trip also inspired something else, something more lasting. Lucy decided that she and her friends needed "a small club to be devoted especially to tea dances and informal evening dances."
Mrs. John G. Coleman.
Realizing she was still too young create such an association alone, she met with several influential older women, including Mrs. Joseph G. Coleman and Mrs. John A. Carpenter, the more formal name for the ingenious interior designer Rue Winterbotham. And she persuaded the little group that what their set in Chicago should have was such an intimate facility. The private club Lucy envisioned did come about—in an expanded version–and it continues to reign today on East Delaware Place.
This time Lucy would not be the first president of the result of her vision; however she would be the second. Mrs. Coleman, who in those days, seemed to be the all-round most-likely-to-be-president of anything socially important, including the Woman's Board of Northwestern Memorial Hospital, was the first president, followed in the next term by Lucy.
The always colorful Rue Winterbotham Carpenter.
This was also the period during which Lucy met her future husband, Howard Linn, while volunteering at Hull House. Howard was a Yale football star and a 1907 classmate of Lucy's brother William McCormick Blair.  Howard's father, William Linn, was a significant grain merchant on the Chicago Board of Trade, and the family lived at fashionable 2700 Michigan Avenue.
Leading Chicago families had already become remarkably intertwined; William Linn was a descendant of Oliver Morris Butler, an early landowner along the Fox River west of Chicago. The Butlers–including Oliver and today's Hair-producing Michael–were covered in an earlier series within Classic Chicago Dynasties.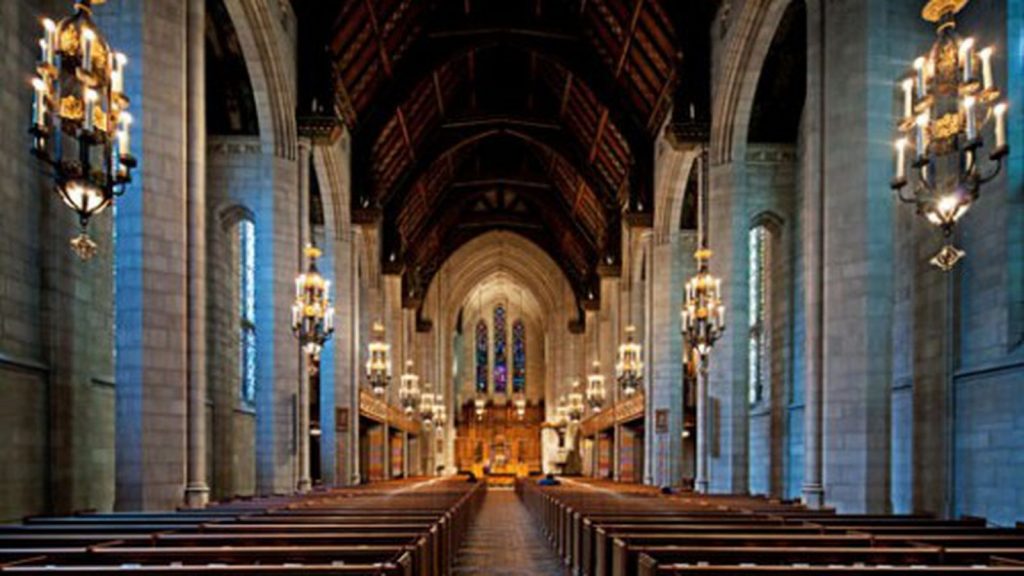 The striking interior of Chicago's Fourth Presbyterian Church.
Like everything involving Lucy, her wedding would be special. Over the past 104 years, many brides have been married in the Fourth Presbyterian Church on Michigan Avenue at Chestnut Street, but Lucy was the first. Even a jaded society writer covering her wedding thought the operatic music played before the ceremony was, like the bride, "distinctive," as was the format in which "the wedding party marched to the altar closely grouped instead of the usual long drawn out procession." The attendants were in shepherdess dresses and the bride's bouquet was not the currently fashionable shower of blossoms but rather a tight arrangement of lilies of the valley.
Everything else seemed traditional, a reception at the handsome new Blair mansion and a two month European honeymoon, even though Continental skies were darkening with war clouds.
Lucy on the Home Front at a World War I benefit for Children of the War Zone.
After they returned from their honeymoon on July 15, the Linns settled into their new home at 2142 Lincoln Park West. However, by the time America entered the war in April 1917, Howard was Capt. Linn of the U.S. Army, Signal Corps. Aviation Section, and he was on his way to France.
Lucy.
Several years after his return, Lucy's and Howard's lives took the next big turn. In the mid 1920's, they bought a piece of Lake Bluff property overlooking Lake Michigan from Lucy's brother, William McCormick Blair, and his wife, Helen. After engaging Walter S. Frazier of Frazier & Raftery to design a summer house on the property–which was located immediately south of the Shoreacres Club–they were inspired by his design to name the new villa Pointed Roofs.
A recent photograph of Pointed Roofs, the Linn House at 555 Shoreacres Road.
The new French Eclectic house was a product of Frazier's academic training at Massachusetts Institute of Technology and the École des Beaux-Arts; it reflects a knowledge of historical architecture and attention to balance, symmetry and detailing this education provided. A bit younger than David Adler and less well known, the Frazier firm's work was published in architectural journals and Frazier himself was popular with Lake Forest clients, for whom he designed large, elegant homes. Pointed Roofs was listed on the National Register of Historic Places in 2005.
The adjacent guest house.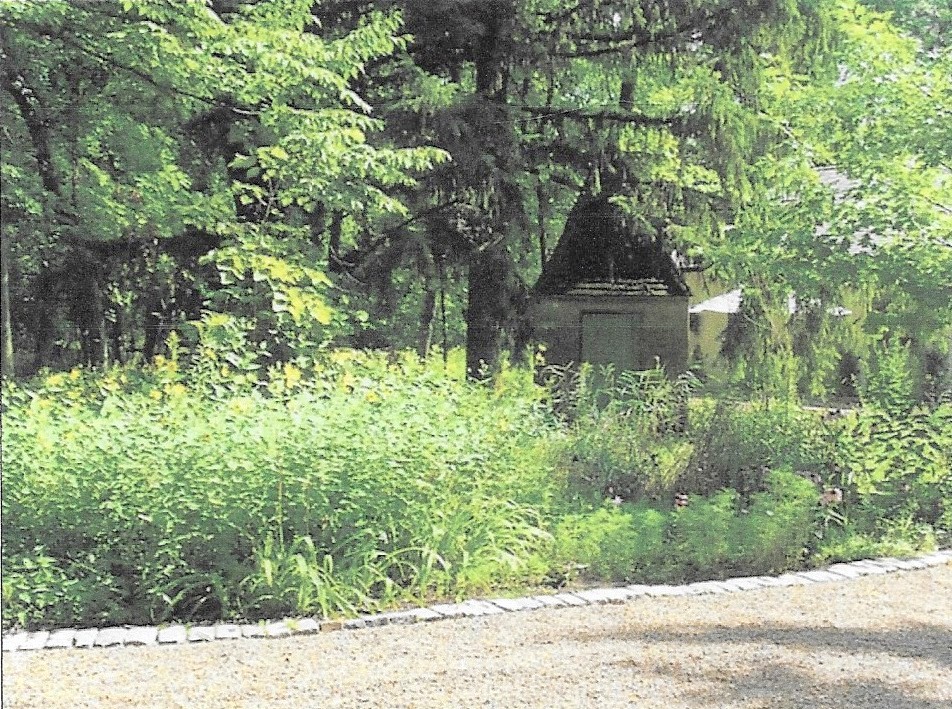 The pump house.
Throughout her life, Lucy enlivened every party she gave and all those to which she was invited. When her cousin, the glamorous then bachelor Wolcott Blair entertained Edward Prince of Wales at a celebrated Chicago party in the prince's honor in 1924, it was natural he would ask Lucy to be his hostess.
Edward Prince of Wales.
The almost century-old party continues to reign as one of Chicago's most memorable; therefore it will be described in full as the Blair series continues with More of Lucy McCormick Blair Linn.
Megan McKinney's series on The Blairs will carry on in an upcoming issue of Classic Chicago magazine.
Previous articles on The Blairs and other Classic Chicago Dynasties may be found at https://classicchicagomagazine.com/category/vintage/classic-chicago-dynasties/
Author Photo:
Robert F. Carl