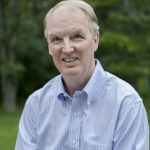 By David A. F. Sweet
When Jim Campbell joined a Zoom call with Netflix true-crime director Joe Berlinger and his development team, the Lake Forest native who wrote Madoff Talks about the world's biggest Ponzi scheme was expecting little interest in his book.
"I'm thinking I should get on my knees and beg him to consider," recalled Campbell about the discussion, which occurred before the first-time author's book was even published by McGraw Hill in 2021.
Campbell was unable to plead his case with the venerated director, who had shepherded a documentary about disgraced financier Jeffrey Epstein, among many others, onto the screen. Why not? Because Berlinger opened with quite an icebreaker.
"He said, 'My development team tells me I have to get the option rights; what do we have to do to get them?'" Campbell said. "Needless to say, I was completely disarmed."
On Jan. 4, the four-part documentary about the life of Bernie Madoff – the one-time chairman of Nasdaq whose house of cards collapsed during the 2008 financial crisis, spurring a 150-year prison sentence — will debut on Netflix in the United States and other countries. Berlinger believes more than 150 million people worldwide will view Madoff: The Monster of Wall Street within the first month of its release.
Netflix offered Classic Chicago an exclusive look at the series in December, and the documentary is riveting. Campbell, the co-executive producer, joins whistleblowers, victims and others in trying to understand how Madoff — who steered a legitimate trading business on the 19th floor in New York's Lipstick Building — could also run a fraudulent investment advisory firm undetected on the 17th floor.
The two floors were re-created at Netflix studios in New Jersey – the legitimate one "like a Hollywood version of what a Wall Street trading firm should look like," Campbell noted. The fraudulent floor was mired in 1980s technology, replete with a dot-matrix printer and other items long shed by any legitimate investment business. The fake trading documents his team created from the out-of-date printer fooled the SEC (along with clients, who were never granted electronic access to their accounts from the man who pioneered electronic trading). The statements offered no fine print containing standard disclosures. The 17th floor was so awash in criminal activity that not one trade over decades — not one — was real.
The documentary points out that between 2002-2008, about $800 million was moved from the fraudulent business to the legitimate one, which had become insolvent. In 2005, it seemed the end was near. Madoff was asked by the SEC where he traded options, and he offered a list of banks, along with their phone numbers. He had never traded one option with any of them. Yet the SEC never called the banks. They asked for his clearinghouse account number. He gave it to them. The billions of dollars in supposed assets were not in there. But the SEC did not check it.
Campbell traveled from his home in Old Greenwich a number of times to spend more than 10 hours being interviewed at Netflix studios, where sometimes the wardrobe team would choose a shirt for him to wear before applying makeup.  The voice of Campbell — whose book details the $64.8 billion scheme (about $19 billion in investors' money plus Madoff's pretend stock profits) that wiped out 16,000 investors — is heard frequently. Only two minutes into the first episode, he calls Madoff a sociopath. Campbell later shared an anecdote about the young Madoff. He wanted to play with a girl, and she was not interested. So he offered her a quarter; she played with him.
"Bernie learned at a very young age how to motivate people with money," Campbell said.
From the beginning of his career in 1960, Madoff ran a legitimate over-the-counter trading business with a private investment advisory business on the side that broke rules. In 1962, he had lost all of his clients' money in the worst market day since the Great Depression. Yet he borrowed $30,000 from his father-in-law, and he made them all of the clients in the investment advisory firm whole, acting as if nothing had gone wrong. Madoff was seen by his investors as a genius — someone who handily survived a brutal market selloff. As the documentary points out, he had to decide whether to be a liar or a failure; he chose liar.
Madoff: The Monster of Wall Street adroitly mixes interviews with family movies and even a black-and-white newsreel of the original Ponzi (Charles). Viewers learn interesting tidbits beyond Madoff's scheme: stock trades could take weeks during the 1960s, for example, compared to seconds today. Yet one decision — adding actors who move silently and look somewhat like the principal characters such as Madoff — detract from the overall high quality of the production. While the real Madoff, dressed in prison garb, says "I'm not proud that I did what I did" along with other insights, the actor playing Madoff is soon seen smoking a cigar. Maybe showing still pictures of him or newspaper headlines would have worked better than employing a fake Madoff to stare at the camera, arms folded, or wander the pretend trading floor.
What is powerful are the recollections of those who were employees on the 17th floor — a true den of iniquity with cocaine, mistresses and more — along with insights from Madoff's longtime personal secretary, Ellen Squillari, who worked in the legitimate business for 25 years. Chilling is the story from FBI Special Agent Steven Garfinkel, who walked into the lobby of the Lipstick Building the morning after Madoff's December 2008 arrest, which happened because his sons Andrew and Mark (who later committed suicide) turned him in.
"It resembled the scene from the movie Frankenstein, where you have the angry villagers with the torches trying to get upstairs to kill the monster," Garfinkel said.
Given the recent collapse of crypto firm FTX and the arrest of its founder Sam Bankman-Fried amid allegations of embezzling billions, the timing of the Netflix documentary is just about perfect. In fact, so was the publication of Campbell's book, which appeared days after Madoff's death at 82 (the family refuses to receive his ashes, so they are sitting in a lawyer's office).
For the Lake Forest Country Day School graduate, the past two years have been a thrilling whirlwind. Campbell has given talks across the country — including in Madoff's haunts of Manhattan and Palm Beach — along with many media interviews. He hoped a documentary would happen in a few years; instead, four production companies asked for option rights even before Madoff Talks came out. And his association with Netflix has been a true highlight of his career.
"Remember, throughout this (Netflix) process, I am a nobody," Campbell said. "I cannot say enough how much respect I have for Joe Berlinger as a person and as a professional. And the entire team treated me so well. It was the honor of a lifetime."
Unsung Gems columnist David A. F. Sweet is the author of Three Seconds in Munich, an in-depth look at the most controversial sports finish of all time amid the backdrop of terrorism. E-mail him at dafsweet@aol.com.