By Stuart Dyer
Wearing a 1960s wool dress with a new belt, boots and purse.
Vintage fashion is everywhere these days. From the runway to Instagram, to celebrities. Part of its appeal is sustainability. There is a feeling that there is no need to create new clothing when so much is already in circulation. And part of the appeal is exclusivity – the ability to have a unique coveted piece that no one else has.
There are new vintage websites and stores springing up everywhere and TikTok has recently seen an explosion of vintage influencers. Additionally, iconic fashion brands are turning to their vintage archives and reissuing pieces. All of this attention to vintage is wonderful but it can often be overwhelming when trying to figure out how to wear it. How do you style these one-of-a-kind pieces without looking like a fashion victim? Below are five ways to go vintage without looking as if you are 'frozen in time.'
Wearing a 1950s necklace which was part of a set but is being worn alone here with a sleeveless top.
Start Small
If you are new to wearing vintage, start small with a vintage accessory such as a scarf, piece of jewelry or handbag. Wear one piece at a time and keep the rest of your outfit neutral. Let the vintage piece take center stage. For example, wear a colorful vintage Hermes scarf with a black top and pants. Or wear a vintage statement necklace with a white button-down and jeans. It's fun to let the vintage piece be the star and this helps you ease into wearing vintage.
Don't Dress in Head-to-Toe Vintage
You don't want to look as if you are wearing a costume so don't dress head-to-toe in vintage. If you wear a vintage dress, pair it with modern shoes and an updated handbag and jewelry. A vintage blouse works well with new jeans and accessories. You want to allude to an era not look as though you are wearing a costume. You don't even necessarily need someone to know that you are wearing vintage. You just want them to notice that you are wearing something fabulous.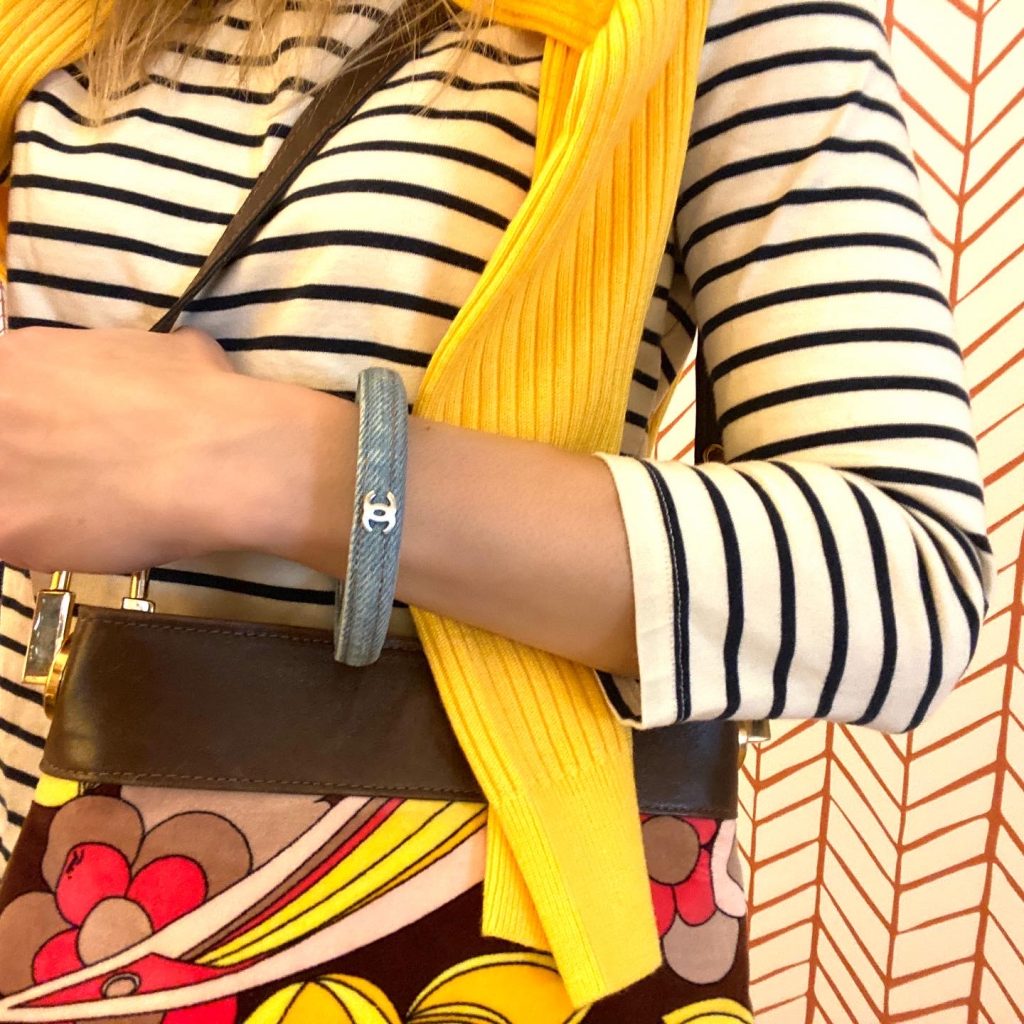 1960s velvet Emilio Pucci handbag being worn with contemporary Chanel bracelet, top and sweater.
Choose an era that works with your body type
If you have an hourglass shape, you might want to look at wearing 1950s styles which emphasize the waist. If you have a straight up and down figure, the 1970s could be good for you because of the streamlined silhouettes. And if you are petite the late 1960s looks worn by Twiggy and Audrey Hepburn could be good for you.
Keep Hair and Make-up Current
This one sounds obvious but if you wear something like a 1980s dress, don't be tempted to tease your hair and pile on the eyeliner! If you are wearing a piece from the 1970s perhaps don't wear your long hair parted in the center. Save the long parted hair for a 1950s piece. Mix the eras so that the look is intentional – not a flashback.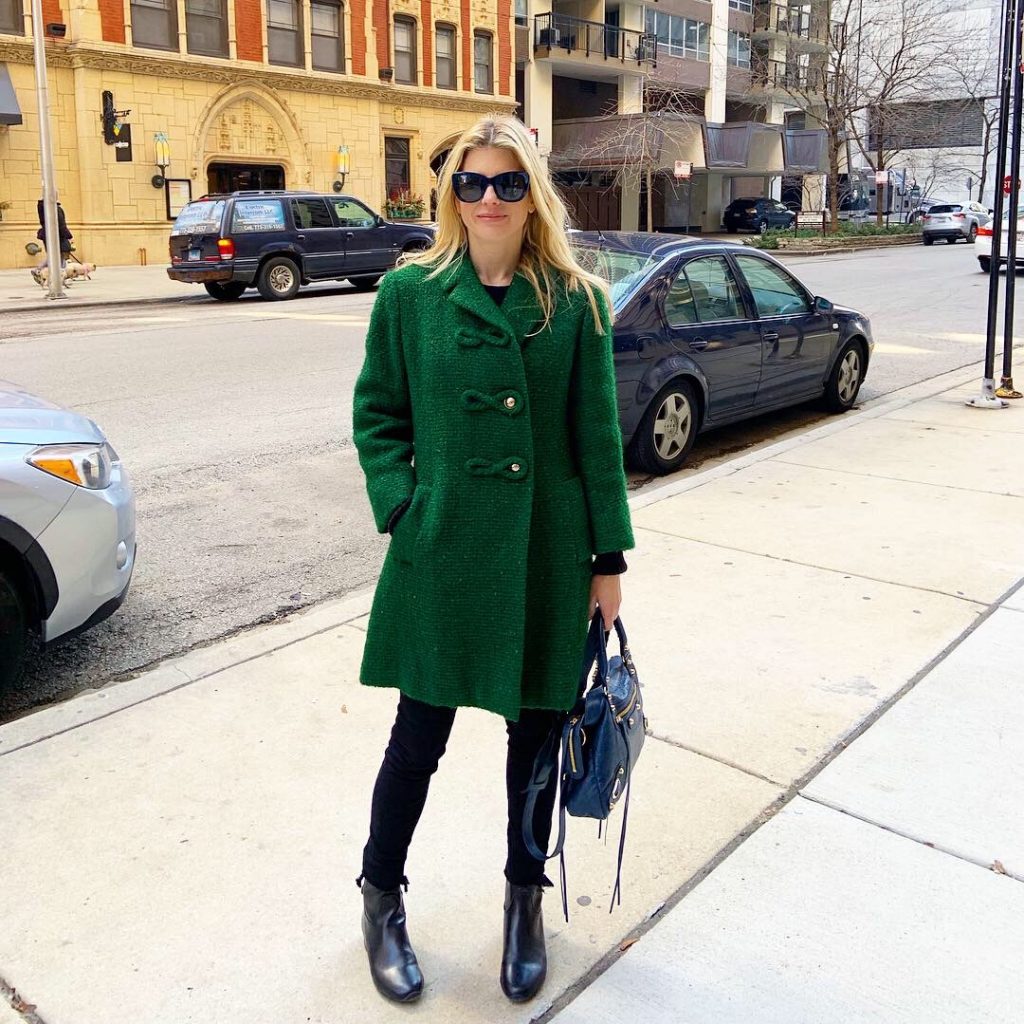 Wearing a 1950s wool coat with a black tee shirt, black skinny jeans and boots.
Break Up Sets
Don't feel that you need need to wear a vintage suit or sweater set as is. It is fun to break them up. Mix a vintage Chanel suit jacket with jeans, a tee-shirt, hoop earrings, and modern flats. Wear the skirt from the set with a contemporary sweater and boots. You can also break up vintage jewelry sets. Often in the 1950s and early 1960s necklaces and earrings were sold together as a set. It can sometimes be fun to wear the pieces together but often this looks dated. The pieces look more modern when worn separately and mixed with new jewelry and accessories.
If you would like more tips on how to wear vintage, stop by space519 on March 11th from 2:00 PM-6:00 PM. Ladybug Vintage will be there for a trunk show. Jim Wetzel from space519 and I will be there showing you how to mix vintage with pieces from space519's fabulous contemporary collection. Hope to see you there! 
Invitation for March 11th trunk show with space519.