By Megan McKinney
The quintessential café society couple: Porfirio Rubirosa and Doris Duke against
the deep blue zebra stripes of  Midcentury Manhattan's El Morocco.
On a Thursday night in February 1919, journalist and gourmand Maury Paul stood in the doorway of New York's Ritz-Carlton dining room anticipating a fine meal. Head Chef Louis Diat had been brought from France in 1911 to direct food preparation methods established by the French culinary artist Auguste Escoffier, and it was here that Chef Diat made his own contribution to celebrated cuisine, the rich cold soup vichyssoise.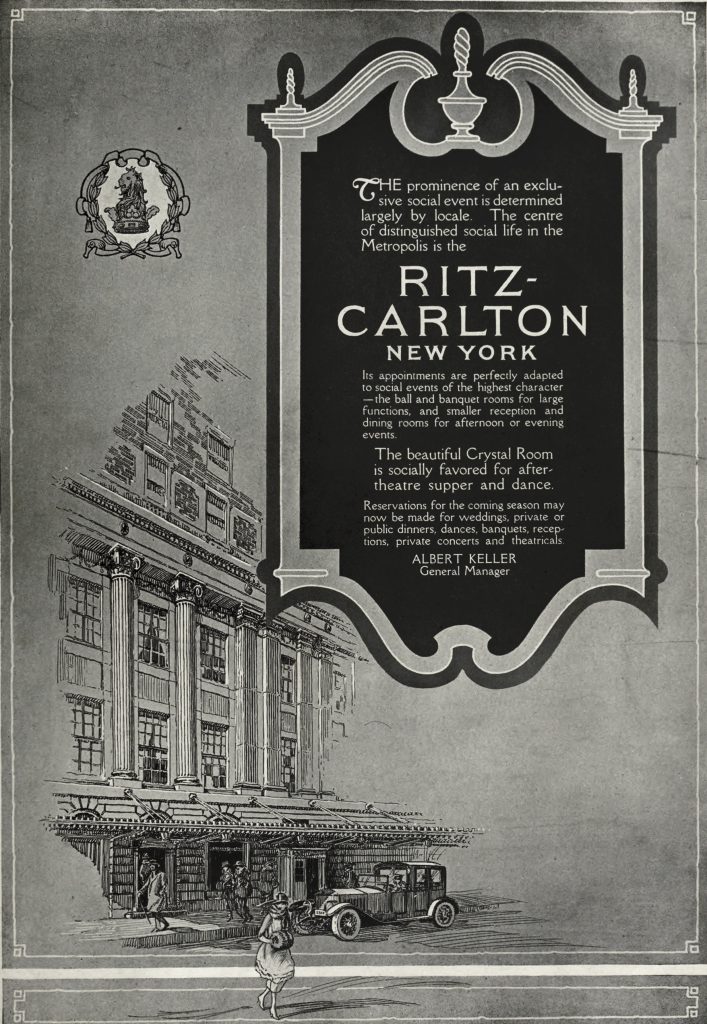 When Maury Paul scanned the room and assessed those present, everything on that February night appeared to be as it had been on any other night.
Waiters in their customary white-tie-and-apron uniforms attended men in tailcoats, who escorted women wearing fashionable evening gowns and fine jewelry, some with diamond sprays in their hair. Despite the brutal cold outside, arrangements of fresh flowers decorated dining tables and high pedestals around the perimeter of the room. And, as always, most guests appeared to be Europeans, or Americans of substance from other cities.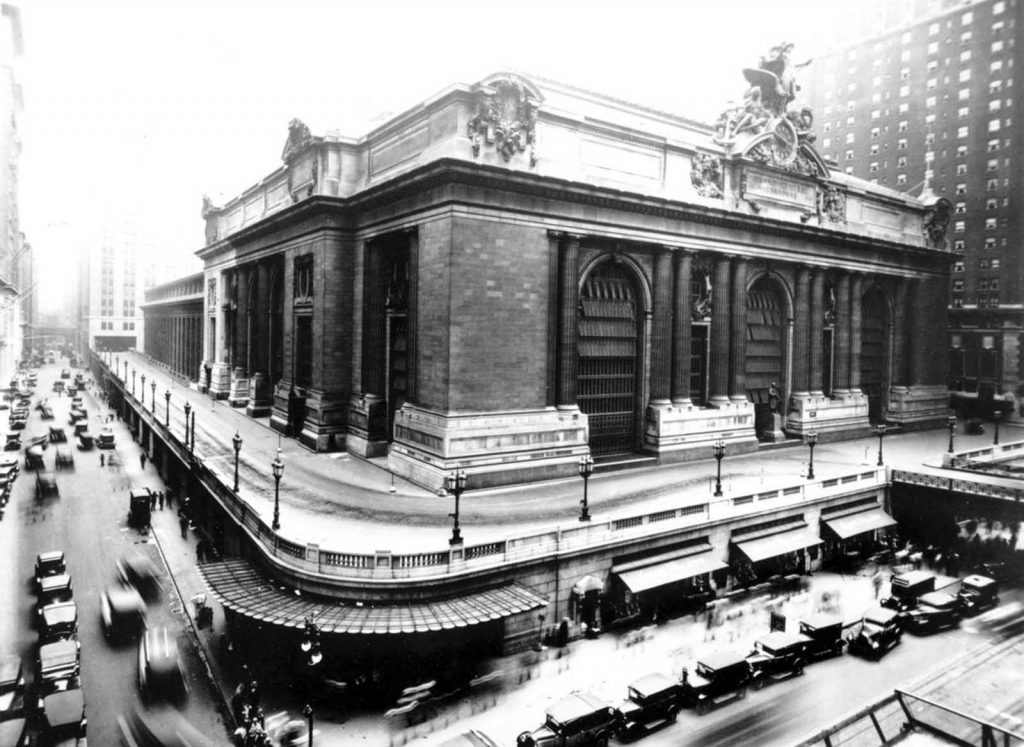 The new Grand Central Station.
The eight-year-old Ritz, occupying the block between 46th and 47th Streets on the west side of Madison Avenue, was the finest of the recently constructed hotels surrounding the new Grand Central Station. Providing a luxurious link between the cities of America and the splendor of Ritz hotels in Paris, London and other European capitals, Ritz-Carlton personnel met transatlantic steamships and private railway cars with porters and discreet transportation. The location of the hotel and its reputation as the city's finest had quickly made it the preferred New York headquarters for wealthy travelers from throughout the world.
It was not until after he was seated that Maury Paul, who had been writing social notes for William Randolph Hearst's New York Evening Journal under the house pseudonym "Cholly Knickerbocker" for two years, glanced up from his menu and noted a group of New Yorkers seated together at a table across the room.
Maury Paul, the original Cholly Knickerbocker.
The group included Joseph E. Widener, Mrs. Allen Gouverneur Wellman, Whitney Warren Jr., Laura Corrigan and an "assorted pair of Goelets." The presence of the last pair was possibly understandable because the hotel had been financed by sportsman and real estate developer Robert Walton Goelet; however, this table—including the Goelets—was definitely of the city's "upper crust."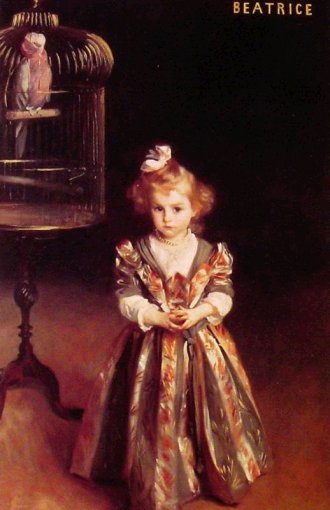 Also upper crust was Robert Goulet's little sister Beatrice, captured here
with her parrot by the fashionable brush of John Singer Sargent.
Until that evening, no one had ever observed such an august group dining in public, even on "cook's night out." Maury Paul immediately determined that this was not a night no different than any other night. Something had happened. A change was occurring. These people had never before dined publicly in the city in which they lived; they should be seated in the dining room of a Fifth Avenue mansion. Or the men might be gathered less formally in one of their clubs.
Where Robert Walton Goulet and his friends might dine. 
For Maury Paul, whose job it was to observe patterns of the old money set, this was an historic evening. The next morning, he went to his typewriter and punched out the words "Café Society."

Post-Volstead Act public dining—and drinking—at the high end.
Within a year, Prohibition raised its unwelcome presence, making a civilized drink at home problematic and escalating the urge for public/private drinking. The speakeasy appeared on many levels, often with an illicit glamour that propelled the growth of Café Society.
When—at the end of 1933—Prohibition was repealed, speakeasies became nightclubs, and Café Society moved into its Mid-century visibility, centered in Manhattan's Stork Club and El Morocco. Throughout the next three-plus decades, this was the energy propelling the public life of New York.
Elmo's  . . .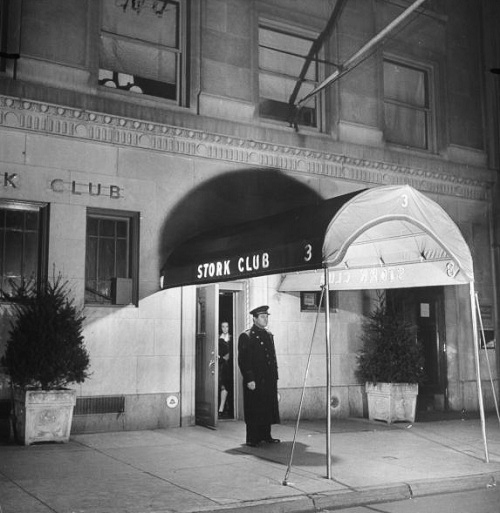 . . . And the Stork.
Young John F. Kennedy on the dance floor at the Stork Club . . .
And sitting one out with Flo Pritchett.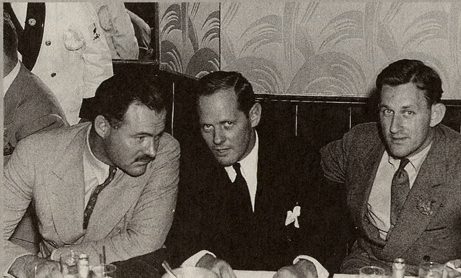 Stork Club owner Sherman Billingsley was always on the scene, here seated between authors
Ernest Hemingway and John O'Hara.
The Stork Club's inner sanctum was the Cub Room. Who can you spot in this image? Orson Welles? Margaret Sullavan? Leland Hayward? Tommy Manville? Sherman Billingsley?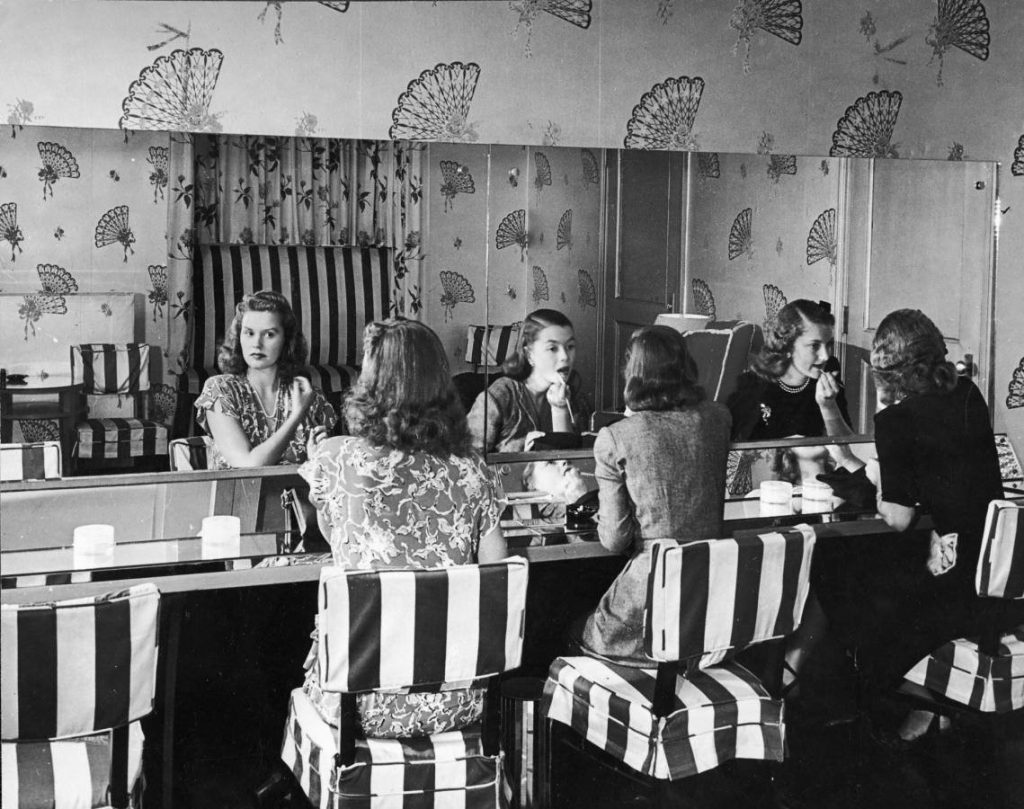 The Stork Club ladies room was upstairs and a 50 cent tip was expected.
Then there was super-glamorous El Morocco with its acres of striped banquettes.
Clark Gable might be there with the then Slim Hawks . . .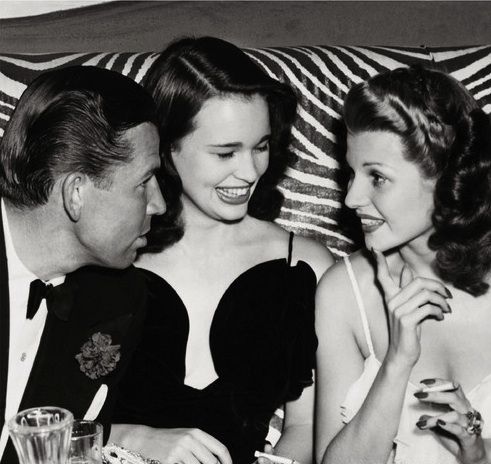 . . . Or Bruce Cabot with Gloria Vanderbilt and Rita Hayworth.
If in town that evening, Marlene Dietrich was invariably on the dance floor at El Morocco.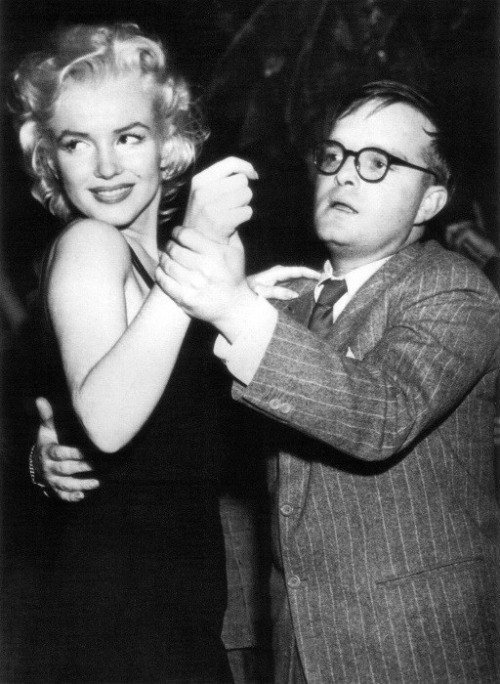 Uh Oh!
The Peppermint Lounge. And nearing the end of an era.
Author Photo:
Robert F. Carl