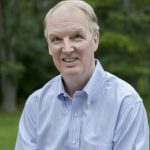 By David A. F. Sweet
After a smooth high-speed train ride from Barcelona with views of olive trees and far-away hillsides, we arrived in Madrid.
Right away, we were impressed by Spanish ingenuity. Rather than offering an escalator to head to awaiting cabs below, a declining electric walkway guided our path, meaning our luggage (including a massive suitcase) traveled with ease. Just what one might expect from the second-biggest city in Europe, only behind Berlin.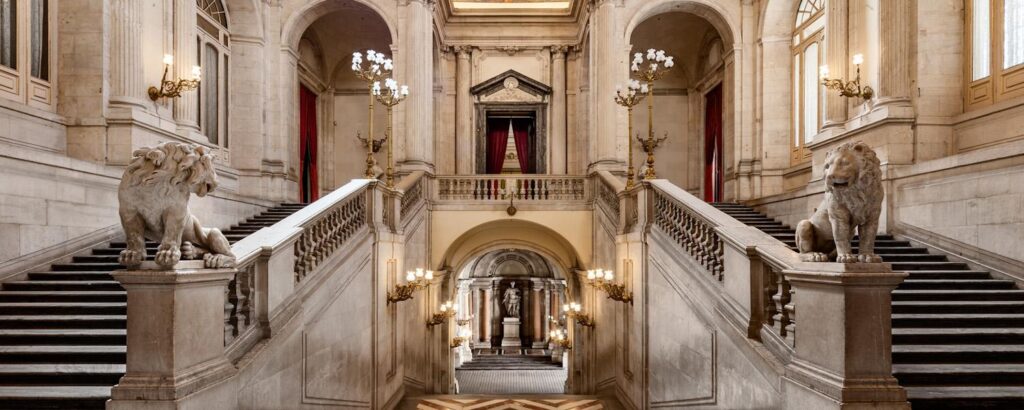 The Grand Staircase is made of marble and features a fresco above it.
We started at the Palace Liria off a busy street. Built in the 1700s, it has been (and remains) home to a long-standing Spanish family. The hall of paintings on the second floor seemed to stretch as far as a soccer field across seven rooms, which is appropriate, considering its website notes the abode "is home to one of the world's foremost private art collections." Goya, El Greco, Titian – they're all here, covering nearly every possible inch of wall space. There's also a large library on the first floor, best known for displaying the first edition of Don Quixote and more than 20 autographs from Christopher Columbus (only 43 are known to exist).
Of course, this palace is a mere appetizer compared to the
Royal Palace of Madrid. The facade behind the iron gates is formidable, but it doesn't even hint at what is housed inside. The numbers are staggering: Featuring more than 3,000 rooms, the Royal Palace is the biggest in Western Europe. More than 700 clocks adorn those rooms, including one that is constructed of marble, mahogany and diamonds and stands more than 15 feet high. French silk graces the walls – one took 27 years to embroider. Other walls are covered with velvet and even porcelain. Soaring staircases, historic paintings, massive chandeliers, beautiful tapestries – all are part of the 23 rooms that were part of our jaw-dropping tour. (Fun facts: the King of Spain never wears a crown, but it rests by his side, along with a scepter, during royal ceremonies. Neither the King nor Queen sit on the throne, though one exists in the palace.)
Jose Antolinez of Madrid painted the Assumption of the Magdalen, now hanging in the Prado Museum.
And then there's the Prado Museum and the adjacent Royal Botanical Garden. As one would expect, the Prado is home to Spain's greatest artists, from El Greco (though his name literally means "The Greek," he spent most of his life in Spain) to Pablo Picasso. Scenes of anguish dot the walls, with paintings of Jesus crucified along with saints and St. John the Baptist beheaded. But there's good news too: The Assumption of the Magdalen shows Mary Magdalene carried to heaven by angels.
After exiting, beautiful smells from roses and other flowers abounded in the garden, along with the sounds of frogs bellowing in the lily-pad pond. The Royal Botanic Garden is far smaller than the Chicago Botanic Garden, but it is worth a half-hour stroll.
Just like Barcelona, the food in Madrid was fantastic. At Taberna Pedraza, the croquetas cremosas and the tortilla de Betanzos were superb, along with the delicious sea bass. Roostiq featured buttered, salted warm artichoke hearts. Its pizza with barrotta cheese, ham, tomato sauce and truffles tasted heavenly.
The Royal Botanic Garden houses more than 5,000 varieties of plants, including bonsai trees.
It may seem a bizarre choice in historic Madrid, but we stayed at the Hard Rock Hotel. Reason: the location couldn't be beat for walking to many of the cultural institutions (the Prado Museum is just over a half mile away). It also was only steps away from the train station for our return to Barcelona to fly back to the United States.
And that return was not easy. It was sad to leave Spain – a country that is so welcoming, civilized and flooded with history.
Unsung Gems Columnist David A. F. Sweet can be reached at dafsweet@aol.com.