By Judy Carmack Bross
From North Division in the 1830's to River North today, the neighborhood surrounding St. James Episcopal Cathedral reflects an ever-changing and forever fascinating history, noted tour guide Sally Kalmbach posits. On June 18, July 9 and July 16, Kalmbach and St. James' Provost Lisa Hackney James will welcome visitors to neighborhood walking tours which benefit the Cathedral's community projects.
 "North Division's original homes built in the 1830s and 1840s were sprawling dwellings set in a wooded parkland with large gardens. It was the neighborhood most devastated by the Chicago Fire of 1871. The majority of the homes were re-built on the same plot, and it became a very desirable neighborhood. Following the fire, the homes became more elaborate designs by well-known architects," Kalmbach said. "By the late 1870s the Mccormick Reaper family members built substantial homes within a two block radius, and the neighborhood became known as McCormickville. These residents, and many more, were parishioners of St. James Church and great contributors to its stature in the neighborhood."
"That neighborhood began to change when the Burnham Plan of 1909 was implemented. The Michigan Avenue bridge was built, and Pine Street was widened to become North Michigan Avenue. Commercialism grew in many ways–boarding houses, Marguerite the dressmaker, and Kentucky serves tea. This change encouraged residential movement to the Gold Coast. The North Division neighborhood experienced new life in the 1990s—new apartment buildings, restaurants, upscale shops and is now known as River North."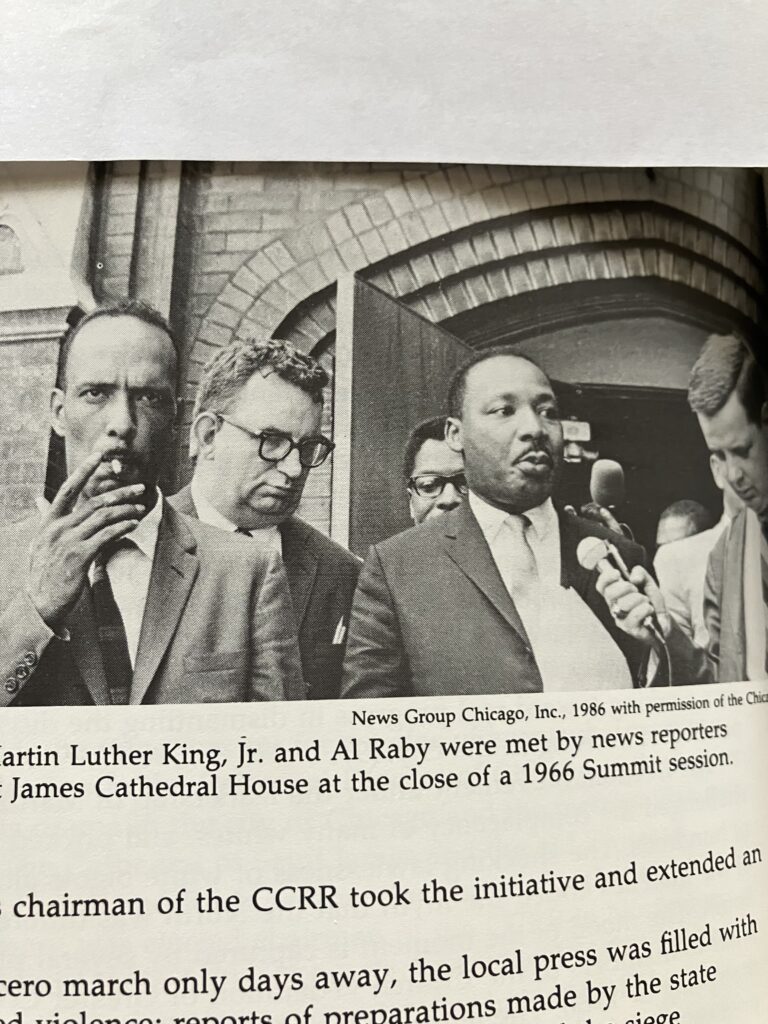 One of the key events in the neighborhood's history occurred on in 1966 when Dr. Martin Luther King led a summit conference at the Cathedral.
"Dr. King and local civil rights leaders planned a march totake place in Cicero to protest a killing of a young black man searching employment in that town. Bishop James Montgomery offered St. James as a neutral ground for a SummitConference to discuss fair housing for real estate, industrial, and financial institutions in Chicago. Bishop Montgomery extended an invitation to Mayor Daley because the Bishop said thatchurches needed to provide leadership against discrimination," Kalmbach said.
We asked Kalmbach what role did neighbors play in the Cathedral's development?
"The early homes of the North Division surrounded St. James Church and the residents were participants in the everyday life of the church. For example, Julian Rumsey, former mayor of Chicago, lived across the street on Huron while making his fortune in the grain storage business. Isaac Arnold, a law partner of Mahlon Ogden, purchased a lot on Erie Street, and William Kerfoot, real estate developer, lived on Rush Street."
Kalmbach, whose knowledge is matched by her enthusiasm on the varied tours she directs, told us more about the neighborhood's absorbing denizens.
"Residents of River North that intrigued me include Isaac Arnold and John de Koven. Isaac Arnold, a great friend of Abraham Lincoln, introduced the first resolution to abolish slavery in 1862 while serving in the House of Representatives. He wrote Lincoln's early biography and was a founding member of the Chicago Historical Society, today known as the History Museum. As a member of St. James Church Arnold practiced the teachings of the church through great efforts supporting the Relief and Aid Society. His home library of 8000 books and a large collection of Lincoln memorabilia was destroyed in the Fire of 1871. Afterward, Arnold thanked God for the preservation and health of his family.
"John de Koven seems noteworthy as a prominent banker as well as the father of Louise de Koven Bowen. She was a famous social worker and helped Jane Addams establish Hull House–a settlement center forthe underprivileged—of which she served as treasurer and president. She established a camp in Waukegan for the Hull House children to attend during the summer months."
"On a personal level, John de Koven was a well-respected banker and friend of my great-grandfather, John Sexton. At one point John Sexton's health deteriorated and he was advised to take a leave of absence from his company, John Sexton & Company. After an extended period when he was able to return, the business was in  danger of foreclosure. Rather than execute the foreclosure John de Koven said he would carry the mortgage until John Sexton was back on his feet."
Kalmbach's walking tours began with the Gold Coast neighborhood highlighting Mrs. Potter Palmer, and have now grown to include ten different tours.
"There is no better way to see a city than walking the streets, viewing the buildings, and listening to the stories about the people who lived in the neighborhood. I think it is the most exciting way to learn about an area: being outside and enjoying history," she said. The first thing I do when visiting a new city is take a walking tour with an historian, preferably through Context Tours who offer the finest walking tours all over the world."
I am planning on giving Graceland Cemetery again—The Cemetery of the Architects—this summer as well as The Gold Coast: Re-visiting the Columbian Exposition of 1893.There is small  but quite good Columbian Exposition exhibit at Charnley House. We will start with a short visit to the exhibit."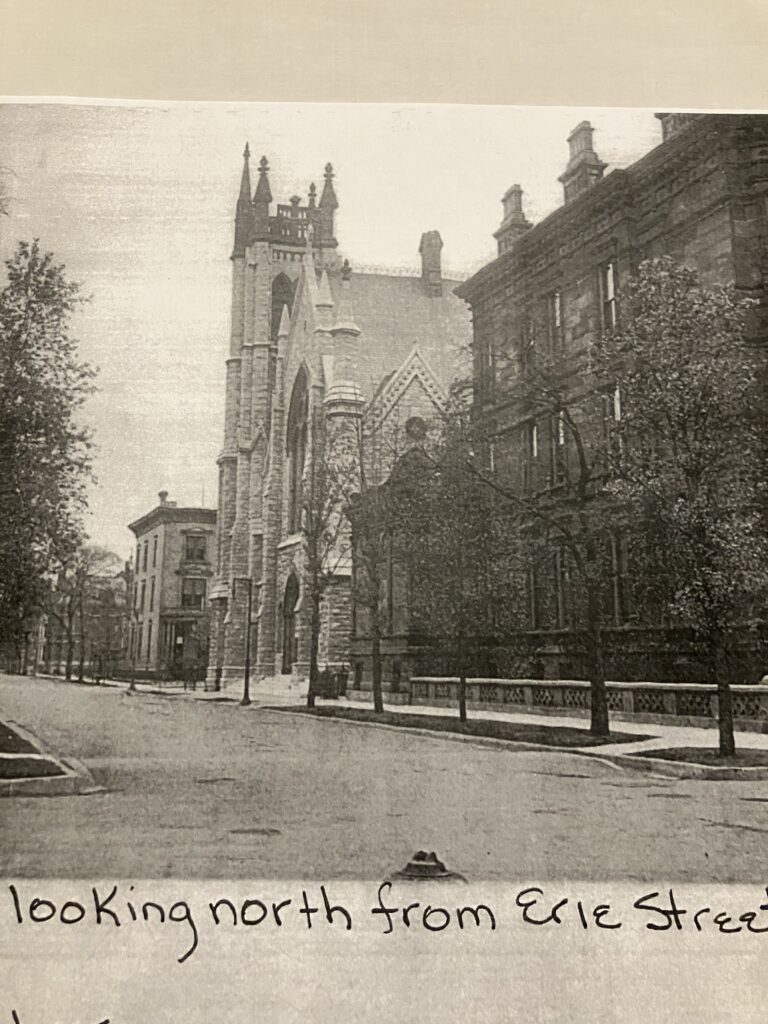 The Cathedral tours, which benefit St. James's feeding and summer camp ministry,
"I am hoping that our tours will offer an enjoyable learning experience which will inspire participants to join and or volunteer at St. James Cathedral. I joined St. James because of the dedicated people working to help others in the neighborhood and community."
Lisa Hackney-James told us:
"In the centuries-long history of the Church, cathedrals have typically served a dual function, providing a space where the life of the church and the concerns of civic life meet. In the Episcopal Church, all congregations and the their members are encouraged to live in ways that connect their religious and ethical commitments to their actions in their daily lives. In cathedral communities, there is often an additional call to serve as places of gathering for people from across a wider geography and from disparate points of view.
"St. James Cathedral today seeks to uphold this particular calling not only in relation to our own diocesan community, but also in our relationships with our neighboring local civic and religious communities. The Cathedral sits in the midst of a neighborhood that is at once grounded in the earliest history of Chicago and today is alive with residents of all ages who are carving out the future of this great city. Through our open doors we regularly welcome not only our members, but also the stranger, the seeker, the passerby who, drawn through the great West Doors on Wabash, steps into and finds respite in a welcoming space of peace and tranquility in the midst of a bustling urban neighborhood.  One does not need to be a member, nor even "religious", to take advantage of the space, literal and figurative, that a cathedral provides for all.
"Twice a month, St James hosts a meal for our neighbors experiencing disruption in their housing or food security. Along with the meal that is served, they are welcomed as treasured guests by volunteers not only from the Cathedral community, but by non church-going volunteers drawn from our immediate neighborhood. Again, in the summer, the Cathedral gathers and convenes neighborhood volunteers when we host Summer in the City — an arts and enrichment day camp which draws young campers from various communities across the city. Along with a safe and life-expanding experience, our campers build lasting relationships across geographical and cultural difference. These relationships help to break down the harmful divisions that can afflict our common life.
| | |
| --- | --- |
| | |
"St James Cathedral treasures and relies on our relationships with our nearest neighbors. It is our hope that Sally's tours will offer yet another way for us to build up our connections, and deepen our understanding this wonderful and very particular place in Chicago history which we all share.
We asked Hackney James about other community events planned by St. James.
 "Music and the arts have always played a central role in the life of St James. For over 20 years, the Cathedral has hosted Rush Hour Concerts, a weekly series of performances of the highest caliber offered free of charge to all those who walk through the open Cathedral doors. We are delighted that this summer we will also be offering a short series of concerts offered outdoors on the Huron plaza for all to enjoy. The focus of these offerings will center on folk music and jazz ensembles, and again will feature free admission for all. Our Chorister program  (ages 8-13) also draws from our neighborhood, provides a world-class music education, includes singers (and their families) who are non-members, and is offered free of charge. Sign up for the fall is open now."
For more information about the Walking Tours June 18, July 9 and July 16 and other St. James events, visit saintjamescathedral.org
To learn more about other summer walking tour offerings by Sally Kalmbach write to sskalmbach@yahoo.com, visit chicagohistorytours.com  or call 312-285-7105.