WHY DON'T YOU . . .
 . . . send yourself an invitation to the next gala your board is hosting. And study it carefully.
Does the message convey the tone of the party? Is it a mini preview of the event itself?
Do the design elements, colors, graphics, type face—or engraving—immediately communicate the degree of formality of the evening?
Or, if it's to be a casual, easy-going, fun event, is that light-heartedness conveyed?
Are the date, day of week and time of day obvious? If it is a structured event with multiple elements, will these be clear to the recipient, as in the formal invitation above.
Will the "dress code" be entirely clear to the recipient? Will he/she immediately be aware of what to wear and feel comfortable in that knowledge?
Just as the above invitation makes no mistake about what guests can expect, the card below mirrors the gala title, Mirror Ball, in its graphics—so effectively, in fact, that it produced an amazing number of shimmering, mirror-like gowns the night of the gala.
GIVE A GALA! MUSIC
Alex Donner Entertainment: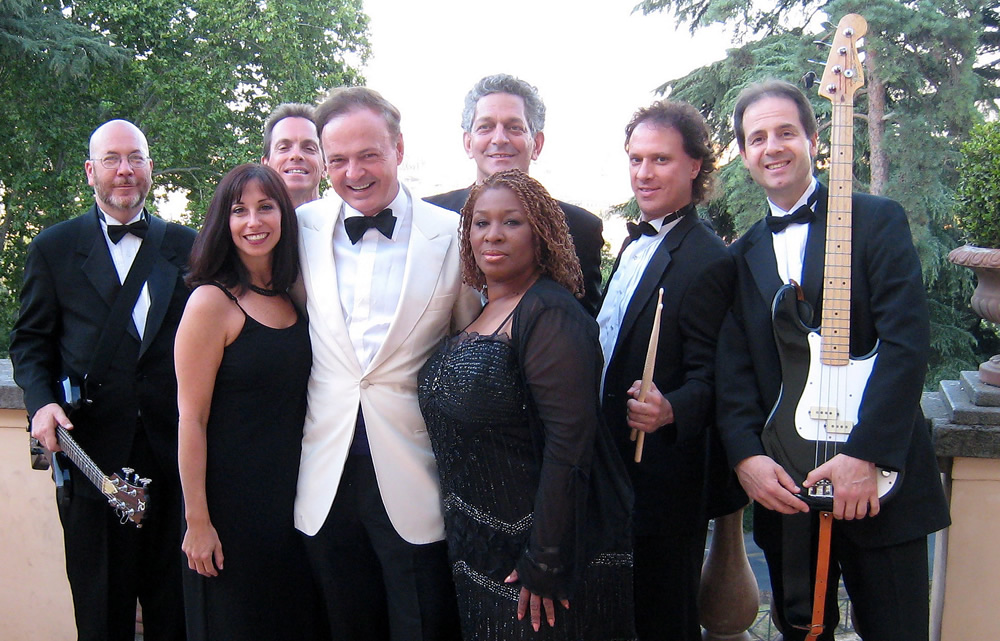 New York's Alex Donner rules the society orchestra circuit from London to Palm Beach and fortunately for us, to Chicago. A canny ability to read the crowd to keep the dance floor packed all night, Donner has an incredible range of music, from society dance music to the du jour in his back tuxedo pocket.
The Stu Hirsh Orchestra: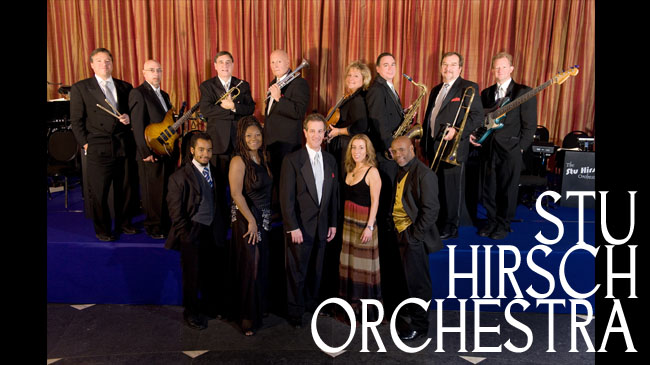 From Princess Diana to Michael Jordan, celebrities and celebrators alike have danced with delight to his versatile music. We think that debutantes would not have bowed so gracefully without the musical coaching from one of Chicago's nicest guys, Stu Hirsh.
The Bob Hardwick Sound: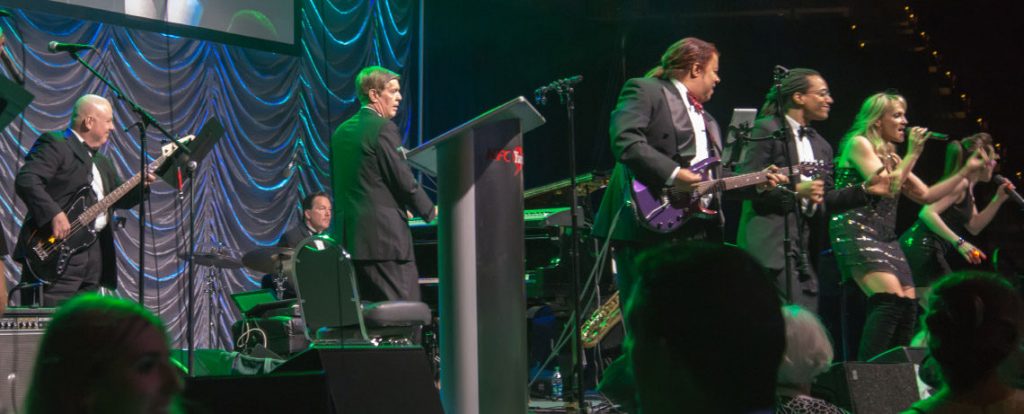 Guests at the Lyric Opera Ball and the Passavant Cotillion are among those bedazzled by Hardwick's piano artistry and his orchestra proves what one recent guest said:  "the music's so good you can't sit down." Over 200 gigs a year prove his popularity.
Gentlemen of Leisure:
Guests say they never had more fun than when the Gentlemen of Leisure, take over the stage with their mix of Motown, top 40, standards—even polka not to mention dazzling costume changes and dance moves galore.  From George Lucas and Melody Hobson's wedding reception to Michael Jordan's birthday, "The Gents" keep guests continuously on the floor.
The Stanley Paul Orchestra: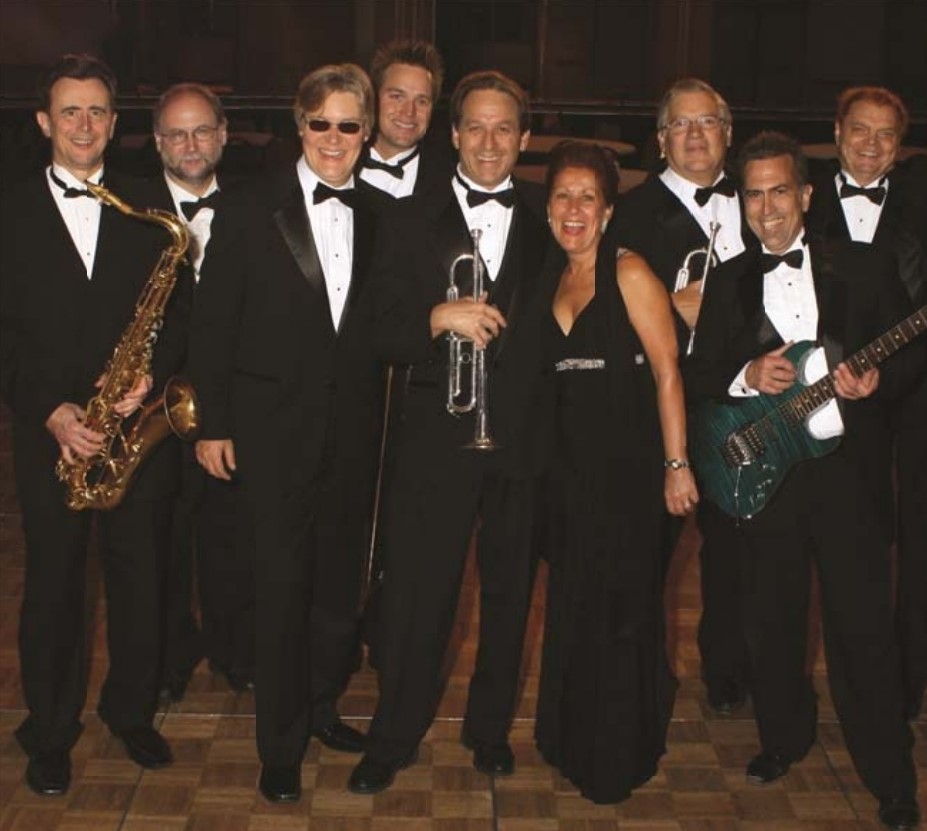 Long acclaimed for delivering the wow factor to countless galas, weddings and other premier events, the Stanley Paul Orchestra sets the highest standard for musical entertainment. Stanley has stepped down from the stage; however the orchestra continues to be his and is very much under his superb direction.
Steve Biossat's Sway Chicago: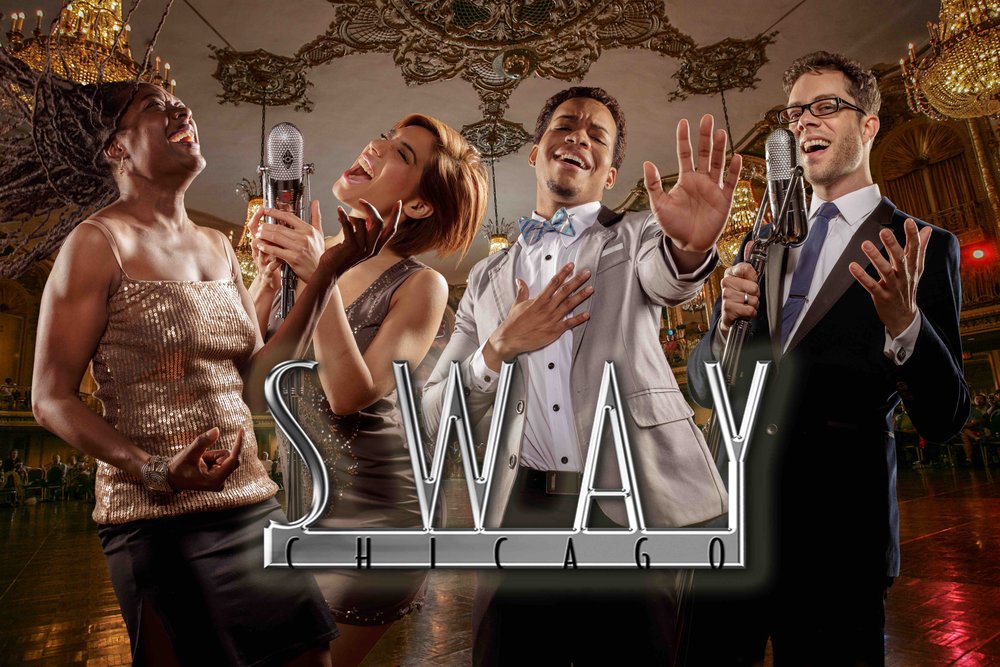 Steve Biossat electrifies the Drake Hotel with his brand of "jump-jiving", and takes guests at some of Chicago's best parties through his "swaylist" featuring Motown to Top 40. Biossat was booked to sing with both the Beach Boys and the Drifters for good reason.
Hey Jimmy:
Both the Zoo Ball and a recent private club party caused one of our favorite party people to recommend Hey Jimmy, relating "they are fabulous, playing the most current music and filling the dance floor all night.  Reasonably priced, they have very talented singers and musicians."
Kent Arnsbarger:
If you love calypso music and steel drums, have a "It's Five O' Clock Somewhere" kind of Caribbean party with the fabulous Kent Arnsbarger.  With 25 years as a percussionist, both with symphonies and rock bands, Arnsbarger at your party is the perfect antidote to winter winds.
The Becca Kaufmann Orchestra: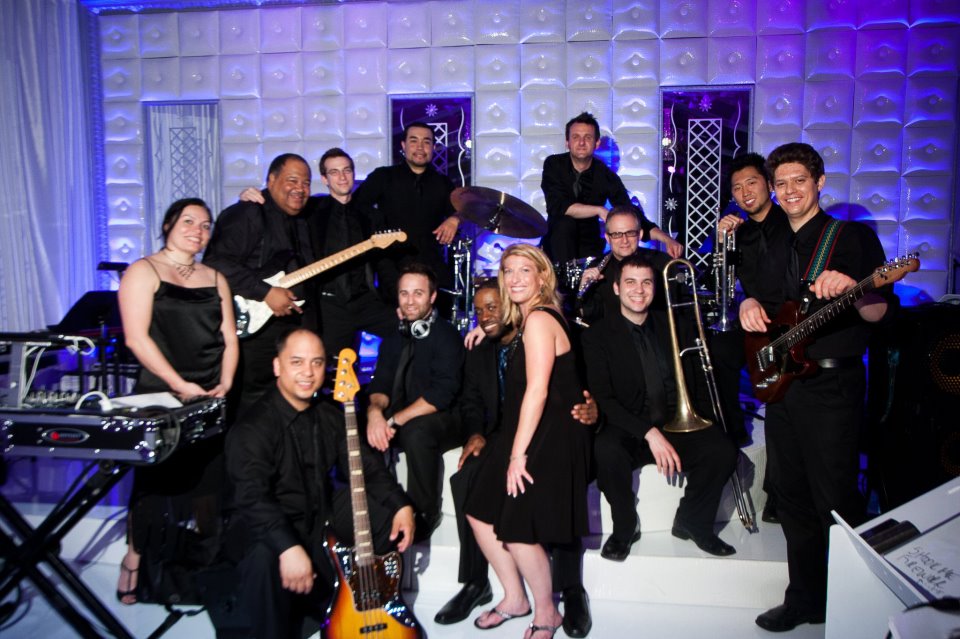 A sensational society band singer, Becca Kaufmann not only has her own orchestra but also heads BeatMix Music which customizes parties, whether you are seek a DJ/turntablist, strolling musicians or dance instruction.  The right energy level and playlist for her own orchestra keeps her in demand.
Society DJ Marjorie Gubelmann:
Whether she's spinning top 40 hits or retro, New York's club goers and tycoons choose Society DJ Marjorie Gubelmann for inner circle events.  Known after midnight as Mad Marj but oh so ladylike in Vera Wang and serious jewelry, she uses her Upper East side background, ability to keep guests dancing and fun playlist to standout in the rapidly growing DJ mix.
FAMOS! DJ Entertainment:
Specializing in interactive fun, FAMOS DJs lead audiences in dancing and games and offer specialty videos and club-like lighting. FAMOS has over 40,000 songs in their repertoire and is delighted to play onsite requests.
Maggie Speaks:
Offering five bands from which to choose featuring big band to oldies, hip hop to country and most things in between, Maggie Speaks has expanded from the wedding venues to top charity occasions.
FORMULA FOR SUCCESS 
From Coco Chanel
In each Give a Gala celebrated  party givers let you in on their top-secret formulas for success.  Learn from our experts about creating a mood, choosing the perfect date, seating a challenging table, and insuring the fun. 
In town last week to preview at the  Alliance Française an exhibition on Coco Chanel's Villa La Pausa to open in 2020 at Paris's Palais Galleria, Laurent Cotta shared with Classic Chicago the cunning Coco's international formula for success.  A curator at the City of Paris Fashion Museum, Cotta described the Roquebrune-Cap Martin villa that Coco designed and built in the early 1930's with entertaining in mind.
"Her villa was created for the pleasure of her guests.  There were more suites than rooms and large bathrooms.  The flow allowed for huge circulation by the servants so that they could move without annoying the guests.
"She herself was an incredible interior designer and many other designers visited La Pausa then copied her work.  Her style was significantly advanced compared to most, and was a combination of minimalist and Neo Baroque.  Mementos were mixed with precious little pieces: there was no hierarchy of display.  And if guests admired something Coco often insisted that they take it.
"Lunch and dinner were served on huge buffet tables, so that everyone could help themselves. Often the meals would go on for three hours. Coco would sit in the center and maintain a joyful mood with mimicry and even little dances for her guests.  In the 1920's and 30's she gave large, incredible parties in Paris, but these at La Pausa were her favorites.
"She loved the gray green color of her olive trees and copied those for the villa.  She refused to move a large olive just outside her door, and often encouraged guests to climb that tree with her.  She loved being with friends there and kept things simple."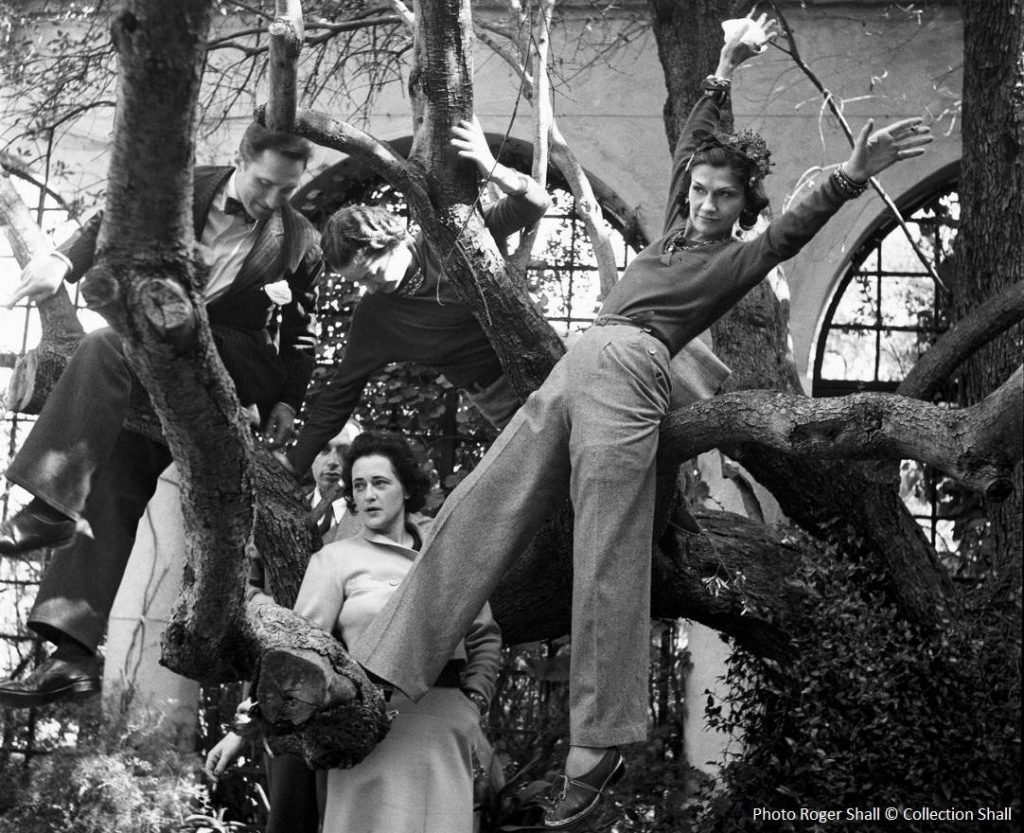 Artists from many fields were her preferred guests, and often Pablo Picasso, Salvador Dali, Igor Stravinsky and Luchiano Visconti arrived for the weekend.  The poet Paul Iribe, one of Chanel's lovers, collapsed and died while playing tennis with her at La Pausa in 1935.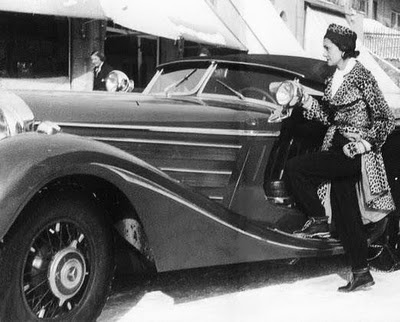 "She had seven little cars at the disposal of her guests whom she encouraged to tour the countryside and go to the beach, which she herself hated.  She didn't want ostentatious cars like Rolls Royces, but small ones that would be easy to drive.  She gave her guests incredible freedom when they visited. 
In 1953 Chanel sold La Pausa to the Hungarian publisher Emery Reves.
"After World War II she became more of a misanthrope and was extremely demanding on the few friends that she had left. She was absolutely frightened of being alone.  In its heyday Chanel's entertaining was all about generosity and cleverness."
We asked Cotta about how he entertains in Paris:
"I am definitely not a party boy. My idea of a perfect evening is about eight guests around the table.  These are definitely not networking evenings but to gather with friends who are involved in creative activities and have great senses of humor, definitely a must.  Often designers have huge egos but it's not a handicap just a tool of their profession.  A friend of mine can ready her atelier practically in five minutes for a party because she is so organized, and spontaneity is very good." 
Compiled by the editors of Classic Chicago with
Andrea Aguilar and
Jonah Nink