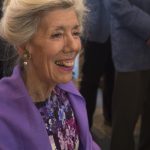 BY JUDY CARMACK BROSS
"Showing Chicago dance at its most joyful"—that's how Michael Anderson, Artistic Director of Dance for Life 2020, produced by Chicago Dancers United August 10-15, describes the mission of this year's virtual performances, which culminate in a world premiere finale featuring dancers hailing from a variety of groups.
We recently spoke with Anderson, a former Joffrey Ballet dancer and director of institutional advancement at the Chicago History Museum, who told us how the committee put together this tribute to Chicago dance. Each year, Dance for Life is packed with fans who wait all year to celebrate their favorite troupes. Anderson and others are making sure that, virtually, they will keep the excitement and fundraising for The Dancers' Fund at the highest levels.
"We took all of our programs since 1992, went through videos of each year looking for diversity of dance, culture, and technique, and we believe that this will be the one place to truly see the legacy, breadth, and depth of dancing in Chicago. We have classical, Irish, jazz, hip hop—all the types of dance that today's companies perform here as well as troupes that have folded but left their legacies," Anderson describes. "This year Hanna Brictson presents a new work choreographed in response to COVID-19 on August 15th at 6:30 p.m."
Randy Duncan, dynamic Chicago choreographer who over the years has choreographed most of the program's finales, including "Lean on Me" in 1994, will be included in Dance for Life 2020 with his legendary "Stand by Me" from 2015, a hometown tribute celebrating Chicago's embrace of dance talent.
Duncan, Dance Department Chair at the Chicago Academy for the Arts, shares his beginnings: "As a child watching Bozo's Circus, I couldn't wait for the acrobats to come on. I would also watch Lilias, Yoga and You on PBS and all of Fred and Ginger's movies. In the eighth grade, I heard of tryouts for high school students for West Side Story. I had had no dance classes, just my TV shows. Somehow I convinced them that I was almost in high school and tried out with 1000 other kids. I didn't even know what an audition was. Somehow, I walked out of there with a role as a Shark."
To Duncan, Dance for Life continues to be the greatest vehicle for the Chicago dance community to celebrate the freedom of expression. He says, "A real positive for 2020 being a virtual celebration is that people from all over the world will be coming together to see the beauty, energy, and spiritual assertion we have in our dance companies. We have received donations from Switzerland, Israel, England, and other places. It's like a passion for chocolate: everyone loves Chicago dance."
Involved since the beginning, Duncan feels that Chicago Dancers United has always offered an opportunity to lift people up when they are down and to offer strength and purpose: "I have been a part of Dance for Life since its inception, first, as a contributor, when I was the artistic director of the Joseph Holmes Chicago Dance Theatre, then through my role as finale choreographer, and now, as a proud member of the board of Chicago Dancers United. This is all for the sake of the dance community—our community! Dancers helping each other in times of great health needs. In 1992, we came together because of HIV-AIDS, and we grew from there. We provide financial assistance to dance company professionals diagnosed with a critical health need. The fund has been temporarily expanded to help support dance community members who need financial assistance with routine medical expenses due to the pandemic. There is so much unemployment, this is a hard time for dancers to get through."
Duncan, who has taught and choreographed around the world, begin his career with the Joseph Holmes Chicago Dance Theatre, one of the companies no longer in business that are featured in videos during Dance for Life 2020. Others include Luna Negra Dance Theater and River North Dance Chicago.
This year's lineup includes a work by each of the partner companies—Giordano Dance Chicago, Hubbard Street Dance Chicago, and the Joffrey Ballet—along with works by Hanna Brictson and Dancers, Chicago Dance Crash, Ensemble Español Spanish Dance Theater, Muntu Dance Theatre, Thodos Dance Chicago, Trinity Irish Dance Company, and Visceral Dance Chicago. The 2010 finale by Harrison McEldowney and Jeremy Plummer, "I've Got A Life," is also on the 2020 program.
Cortney Hall and Matthew Rodrigues, co-hosts of NBC Chicago's program Chicago Today, will host the culminating virtual event on August 15, the original date for the 29th anniversary of Dance for Life, which was scheduled at the Auditorium Theatre.
Donors of $20 or more receive a link to "attend" this finale celebration. For more information, visit chicagodancersunited.org.