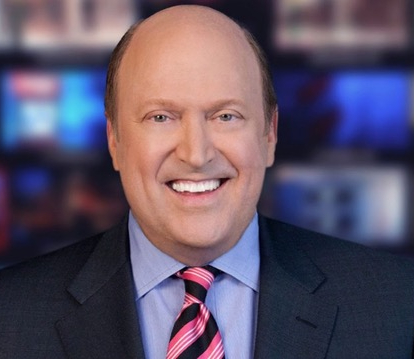 By Bill Zwecker
If you're looking for a trip that includes historic landmarks, beautiful scenery, a strong Caribbean culture, outstanding cuisine and lovely accommodations, then Cartagena, Colombia would be an excellent choice. 
Without question, this intriguing city on the Caribbean coast of Colombia, only recently being discovered by a wider-range of North American visitors, provides a perfect destination for a getaway visit from Chicago – especially during the hard winter months up north.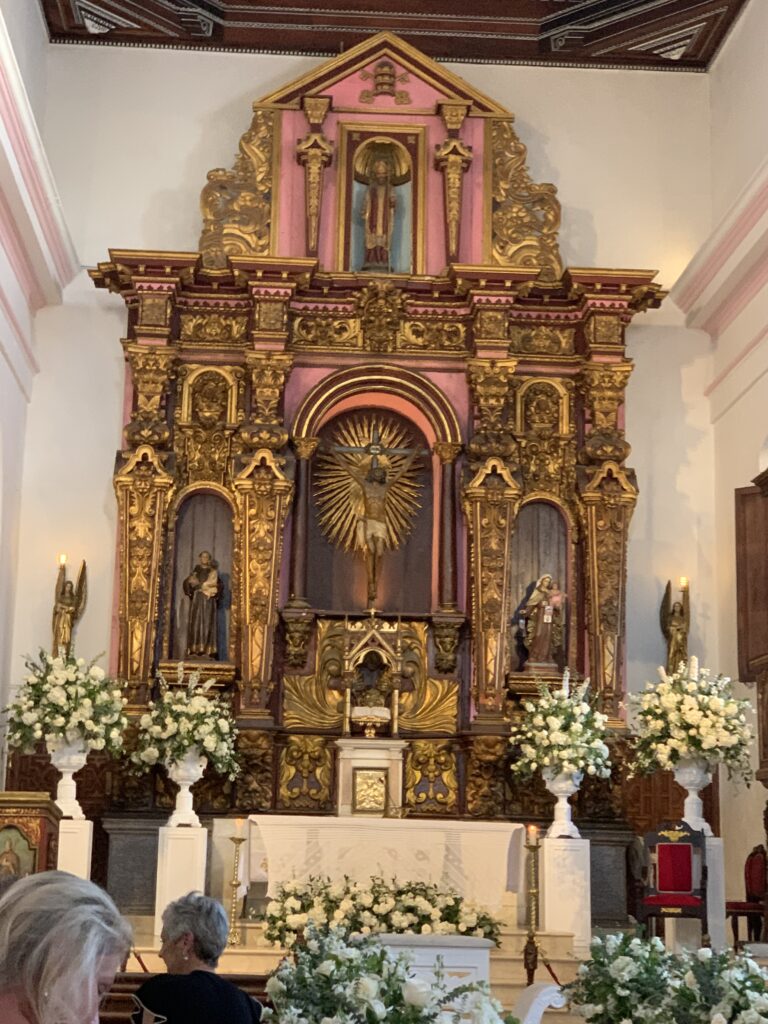 Beautiful altar at Iglesia de Santo Toribio in Cartagena – the church  where Katie Angulo and Dylan Massey were married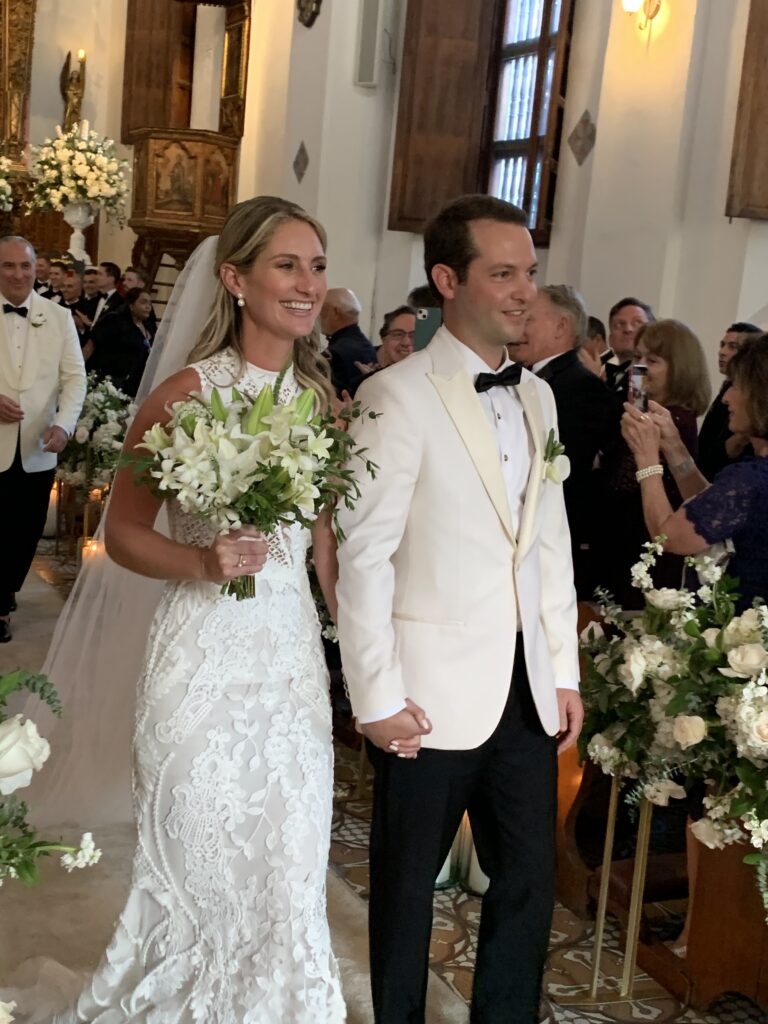 The happy couple walking down the aisle after the ceremony
And Cartagena has also become – in recent years – a very popular destination for brides seeking a somewhat more exotic location for their weddings. In fact, it was the recent marriage of Chicago native Katie Angulo and her University of Chicago alum Dylan Massey that led me – and several dozen Chicago-area pals of the happy couple and Katie's parents, Joan and Jaime Angulo – to make the trip to Cartagena.
Chicagoan Tony Armour with one of the several antique cars on hand for the wedding — outside the Hotel Santa Clara, site of the wedding reception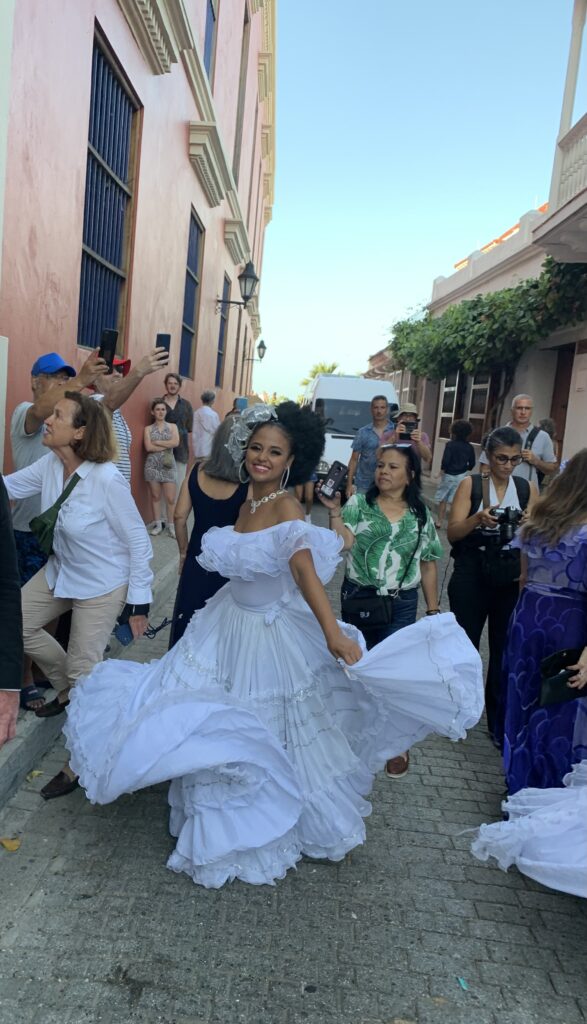 A tradition in Cartagena is to have a group of special dancers — accompanied by musicians and drummers — "dance" the wedding party and guests from the church through the streets to the reception, following the wedding
All of us were very fortunate that Jaime Angulo, a native Colombian, was truly our "El Jefe" (Big Chief), as he shared so many great tips on what to do, and where to go, in this city that dates back to the mid-16th Century.
However, one certainly doesn't need a reason – like a great wedding trip – to head south to this historic city – named a UNESCO Heritage City in 1984. There is much to do and a four or five day excursion will give one plenty of time to both explore this ancient community and visit the key places I'd consider "must-see" spots.
When taking a boat trip out to the archipelago by Cartagena, this is one of the tiny private islands you would see
While Cartagena, the capital of Colombia's Bolivar region, is a city of nearly one million residents, anyone visiting definitely will want to stay in the original, walled Old City area. It is one of the very few intact walled cities that still exists, largely as it has for centuries. You definitely want to stay within those impressive walls that abut the Caribbean, as it is where the good hotels, top restaurants, best music venues and all the historic sites are largely located.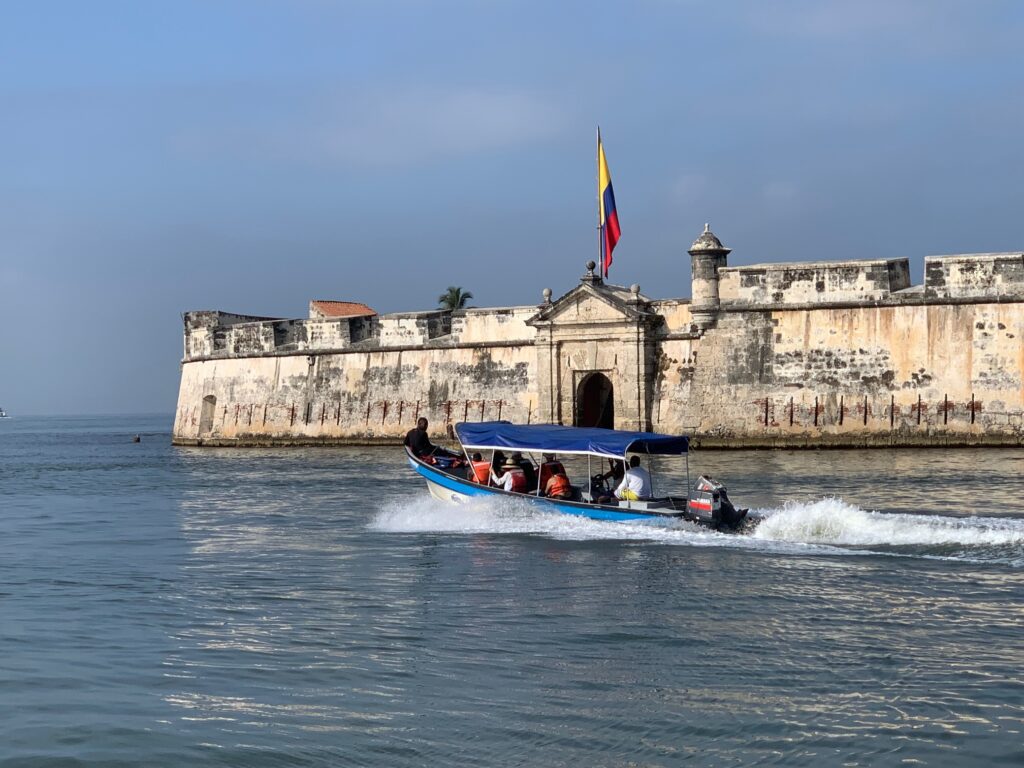 A view of the walled old city of Cartagena from the bay, adjacent to the Caribbean
Speaking of that historic and massive city wall, a true Cartagena tradition – and one that should not be missed – is to take in at least one evening sunset at the wall at one of several cafes and bars located there to watch the sun go down over the beautiful Caribbean. Getting a great mojito at Cafe del Mar is very special. Just walking the Fort Wall at sunset will be another unforgettable memory.
But let's begin with where you'll want to stay. The hotel choices are varied. The major, popular one is the Sofitel Legend Santa Clara – not only conveniently located near the seaside outer wall, but very centrally-positioned in the middle of the Old City. The Santa Clara seems larger than it is – due to the property's large footprint. It features 100 rooms and 25 suites, plus the hotel wings surround the largest swimming pool in the city. 
Among the Santa Clara's array of bars and restaurants is the 1621 (homage to the date of Cartagena's early days), one of the area's top high-end restaurants, specializing in gourmet French cuisine and wines. It is only open for dinner. But also at the hotel is its casual full-time restaurant, Jardin Santa Clara – a lovely garden setting in the hotel's main courtyard.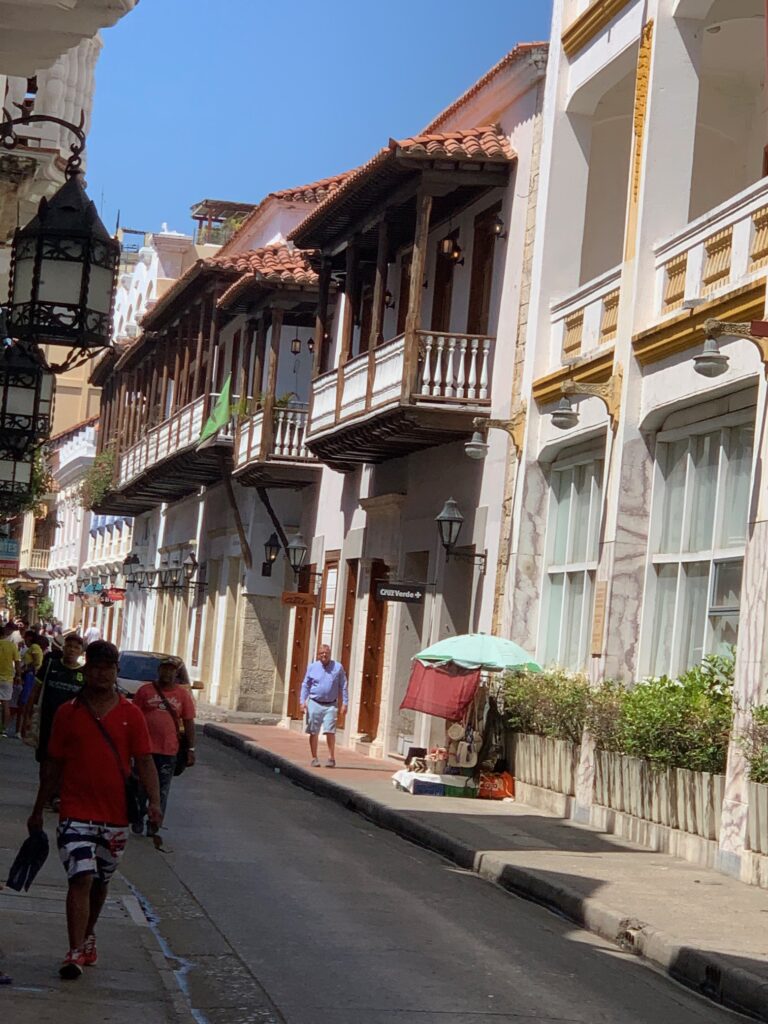 A typical street scene in the old part of the walled city of Cartagena 
If one prefers a more boutique experience, I'd recommend the Hotel Casa San Agustin, which is centrally-located in the Old City and easily walkable to everything. Entering San Agustin is truly like stepping back in time. The hotel is a combination of three reimagined, white-washed historic buildings – including a former monastery. Featuring 20 rooms and 11 suites, the San Agustin perfectly mirrors the time of Colombia's Spanish colonial past, but nicely updated to 21st Century standards. Its Alma Restaurant is excellent and serves a creative menu of Caribbean specialties, with a good emphasis on the freshest seafood.
One important note: While the hotel's lobby-adjacent pool is quite picturesque, it is small and there are very limited lounge chairs available. So if major pool-time is desired, this might not be the best place to stay.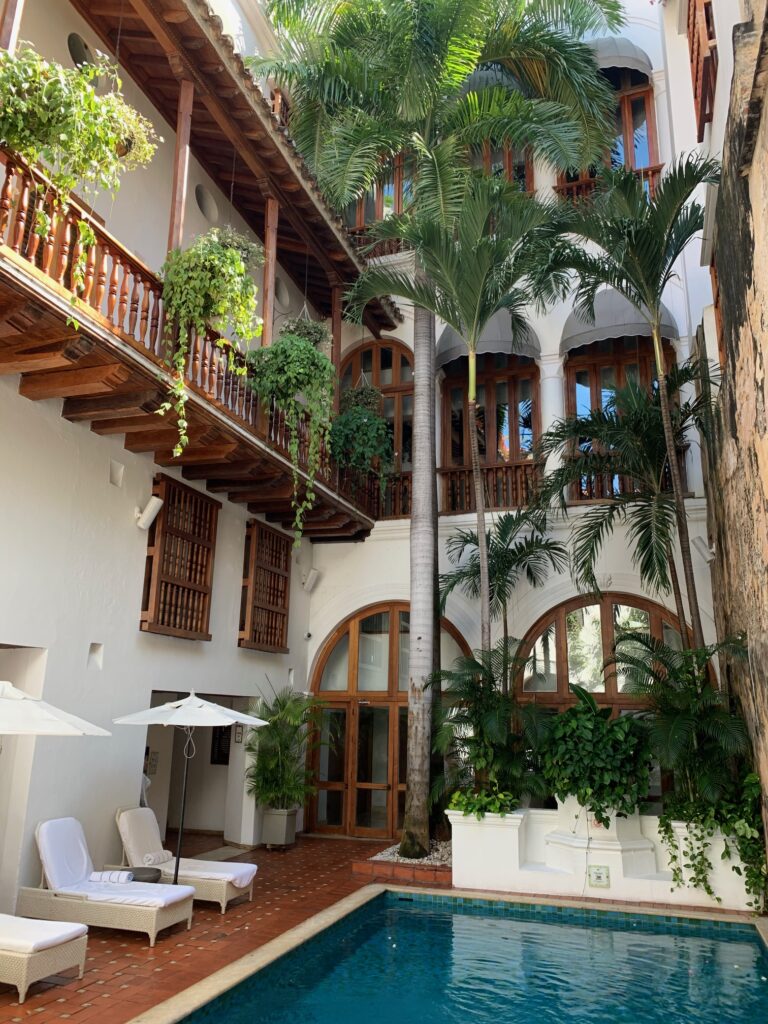 The courtyard pool area of the Hotel Casa San Agustin
Another good hotel choice would be the Nacar Hotel – also very centrally-located – that has a nice boutique feeling about it. It has 49 rooms and suites and features a very attractive rooftop bar that adjoins the hotel's pool.
When it comes to dining in Cartagena, it's hard to go wrong. In that sense, it reminded me of Italy, where one can rarely make a mistake or be disappointed by virtually any eatery. In Cartagena, there are dozens of excellent eateries providing dining experiences that range from high-end continental cuisine to those focusing on the recipes honed over the centuries in Colombia and other South American and Caribbean cultures. Here's a few recommendations that top that long list:
* For great ceviche – not surprising, given the restaurant's name – La Cevecheria is a must. Plus the atmosphere is charming and casual.
Mustura is one of Cartagena's best. You feel like you've stepped back in time to the city's colonial past, with the restaurant's antique wood accents, brightly-colored tiles and traditional furniture. Serving traditional Colombian fare, a good sign: the place is filled with many locals – not just tourists!

Alma – As mentioned above, the restaurant at the Casa San Agustin hotel is excellent. The menu features creatively-prepared takes on traditional Colombian dishes, but with great flare and the service is impeccable. 

Other top-notch restaurants – all serving great seafood and Colombian specialties include: La Unica, Agua de Leon, Don Juan and Buena Vida Marisqueria (especially for lunch). 
It's pricey — as is the case in many tourist centers — but a fun and leisurely way to see the walled city is via horse and buggy
Often, walking around the old city in Cartagena, one hears music – almost on every corner. There are numerous street musicians who draw a crowd if they're good, but for fans of true, live salsa music and an incredible, high-energy vibe, Cafe La Havana on Media Luna Street is the place to go. Expect a big crowd and it's almost always packed to the rafters, but well worth the experience for those looking for a real South American musical journey and some enthusiastic dancing.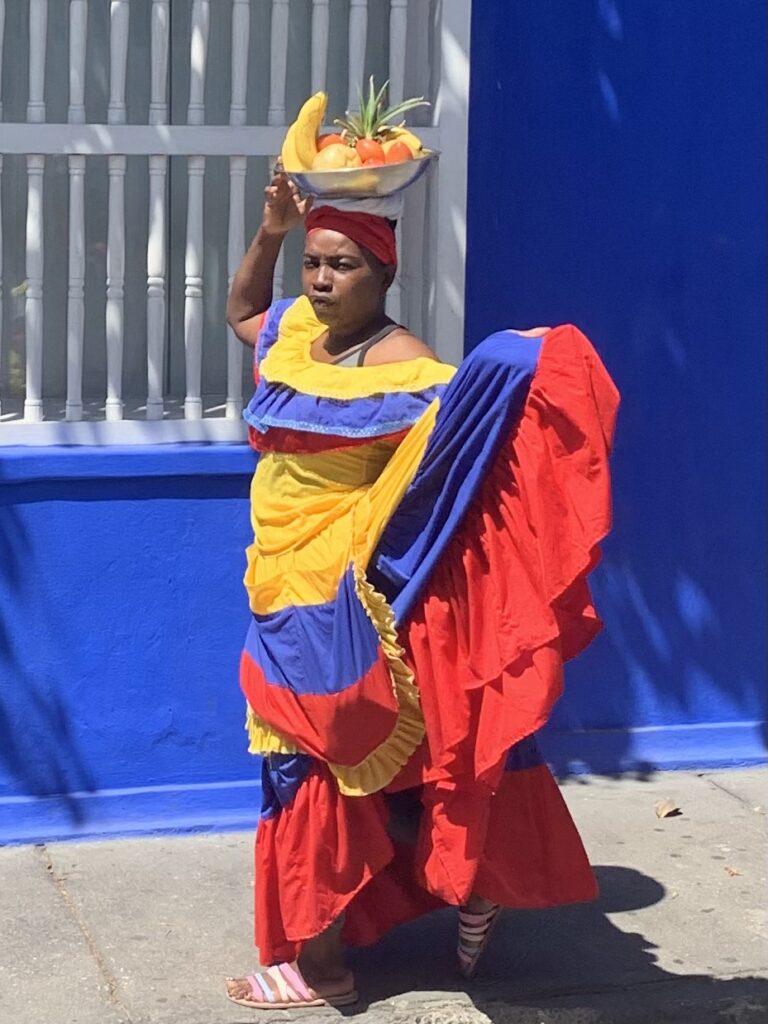 One of the colorful street vendors who sell fresh fruit. Dressed in the colors of the Colombian flag, they are called "palenqueras" because they come into Cartagena every day to sell their produce from the village of San Basilio de Palenque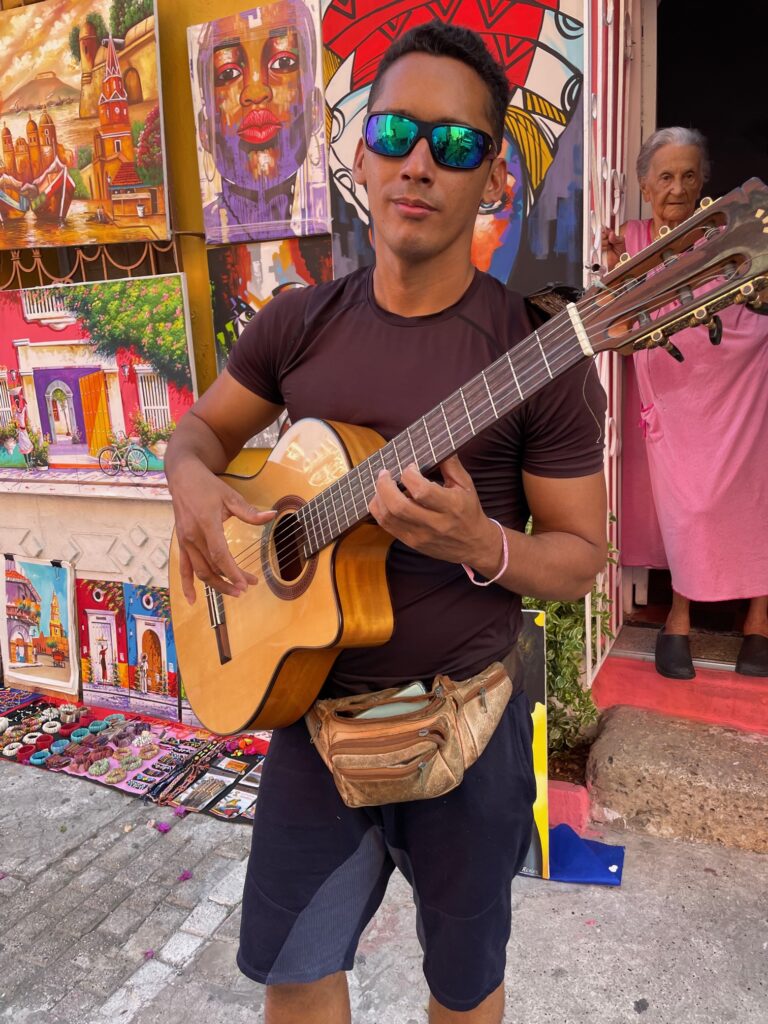 One of the many street musicians entertaining the tourists
Cartagena also provides numerous more traditional cultural opportunities. The Castillo San Felipe de Barajas, the city's original castle/fortress, was built in 1536 on the hill of San Lazaro and the hike up to the fortress provides for a great view of Cartagena.
For a way to really learn about the history of the city, the region and Colombia in general, a visit to the Historical Museum of Cartagena would be very helpful. For naval history buffs – the Naval Museum is also extremely well-organized and has good exhibits.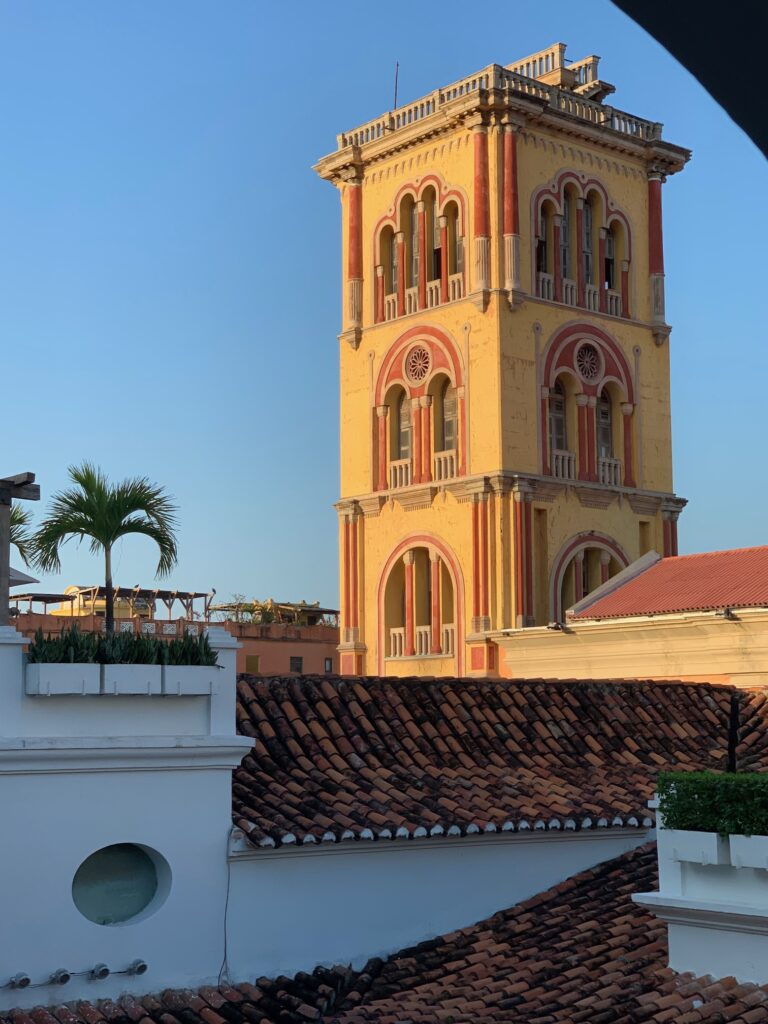 A historic tower in the old part of Cartagena
However, while in Cartagena, there are two things any visitor should do – both easily arranged by the concierge at any hotel:
A boat tour of the nearby archipelagoes and islands, like Rosario, San Bernardo and Baru.

A walking tour with a guide of the old, walled city.
Both are relatively inexpensive and would provide an even better understanding of the Cartagena environment. In addition to regular walking tours, there are tours that highlight the life and accomplishments of arguably Cartagena's most illustrious resident, the late Gabriel Garcia Marquez, the 1982 Nobel Prize winner in Literature, and the author of such classics as "One Hundred Years of Solitude" and "Love in the Time of Cholera."
Don't worry if you can't do all of the above in ONE visit to Cartagena. Without doubt, after an initial trip, you undoubtedly will want to go back for more! 
Photo Credit: Bill Zwecker and Tom Gorman