By Laurie Toth
If you love all things Gilded Age and imagine nothing finer than sitting in Aunt Agnes parlor and enjoying dinner, then this place is for you!
Baker House is a 137-year-old, Queen Anne-style mansion located in downtown Lake Geneva.  Built in 1885 by Emily Baker, the widow of Robert Baker.  It was built as a summer home for herself and her five children.  The interior has inlaid wood floors and 13 ornate fireplaces with hand-carved mantles. The tiles are by J & JG Low Art Tile of Chelsea, Massachusetts, a rare and highly collectible tile.  They can be found in every room!   Enthusiasts will find this house one of the most diverse examples of Low Art tile in the country.   Tiles from J & JG can also be seen at Black Point Museum in Lake Geneva and The Driehaus Museum in Chicago.
A loving touch was the initials "R.H.B" Emily had placed into the threshold of the entry.  The idea was she would never have to enter through the door without her dearly departed husband Robert!  The initials are still there to welcome guests today!
The many incarnations this house has been thru in its 137 years include a fashionable sanatorium for Chicagoans recovering from "light nervous disorders" and addiction.   It also was a clandestine speakeasy during prohibition and the St. Moritz Hotel in the 1930s.  In 2010, it was lovingly restored to its Gilded Age splendor.   It has five gorgeous, period-style rooms to choose from for overnight stays.   These range in price from approximately $400 to $500. per night.
You do not need to be an overnight guest to enjoy dinner at this Gilded Age Mansion.  Dinner reservations are taken for Thursday, Friday, and Saturday nights.  Brunch on Sundays.   They limit the number of reservations so everyone can experience the charm and soak in the ambiance of a bygone era.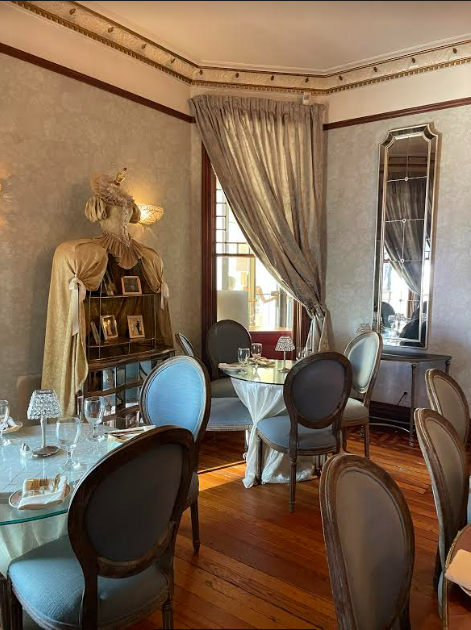 I was lucky enough to get a reservation last week and was seated in the parlor by one of the very ornate fireplaces.   The menu was small but had something for everyone.   I enjoyed the Pasta Carbonara with shrimp and my friend ordered the lamb chops.   We both ordered the She Crab soup.  The favors were beyond outstanding. Everything was seasoned to perfection and the portions were a nice size.     We were delighted to meet the Chef, Courtney, who also doubles as the Operation Manager.   Courtney has been with Baker House for Fourteen years and just recently added cooking to her job description.   She has always loved to cook and now gets to do something she loves!!   Her love of cooking shines thru in her amazing soups and entrees.
If you are planning a visit to Lake Geneva, this is a place you will not want to miss!