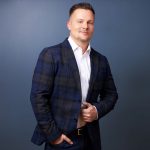 By Lee Shoquist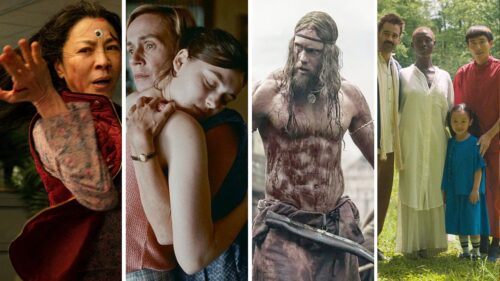 In an increasingly commoditized American movie industry driven largely by big-budget behemoths targeting the youth market (and replacing quality cinema for adults), we must offer credit where due this year by acknowledging that, in a movie landscape fraught with recent uncertainty, such commercial products have saved the theatrical moviegoing experience—one ticket at a time.
It is difficult to believe that only two short years ago theatrical exhibition was writing its obituary during lockdowns as studios pulled or postponed their theatrical slates in favor of new distribution models, premiering first-run pictures simultaneously, or altogether, on streaming platforms and radically shortening the windows between in theater and home viewing. The mantra was, it seemed, cemented: "Theatrical is dead. The pandemic has accelerated the inevitable and streaming is the way of the future. Movie audiences will not come back to cinemas."
Not so fast—in 2022 we find ourselves in an optimistic movie moment where consumer confidence in theaters has clearly returned. Box office, all but decimated in 2020 to a modern-era nadir of $2.1 billion, rebounded last year with a $4.8 billion and this year sports a $4 billion mid-year tally which, if forecasts hold, could see $8 billion (nearly 70% of 2019's $11.3 billion pre-pandemic receipts) by year's end. Studios have responded accordingly by lengthening the windows between theatrical and home exhibition. In movie terms, this welcome reversal of fortune for theatrical exhibition is less the predicted, bittersweet coda of Casablanca's "We'll always have Paris" and more The Terminator's surprise declaration that "I'll be back."
One important indicator of this shift is that in addition to younger audiences, adult filmgoers—not just over 50 but over 70—have headed back to theaters, particularly for two recent, high-profile releases currently raking in the cash: Top Gun: Maverick and Elvis. Why is this important? Because studios had written off large swaths of the moviegoing public after they failed to show up for adult-level films in 2021. The prevailing sentiment was that mature audiences would "never go back," this based on anecdotal marketing intel from the underperformance of a handful of dramas, both tiny and prestige, which failed to ignite the box office while superheroes and horror villains encountered no problem filling seats. If adults did not return, would movies made for them also not come back (or find homes on the small screen)?
While the jury may still be formally out on which films will ultimately see the inside of a darkened movie house, at the moment movies as we used to know them—audience-pleasing, popular entertainments—seem unmistakably back in play, doing healthy summer business as moviegoers from all quadrants of viewership decide they are comfortable again, largely unmasked, settling into their multiplex recliners.
Perhaps this is because movies this year are worth seeing and have far exceeded the quality of those released at the same time last year. A few notables: at least one movie has become part of the cultural conversation en masse, uniting audiences the old-fashioned way—by being a superbly crafted event entertainment and reminder of what Hollywood movies, in the best sense, are supposed to do; several others have been contextualized in the zeitgeist of the culture wars making them timely hot-buttons; others have been uncovered by the independent and film festival scenes; and a few have been big budget spectacles of surprising quality. Let us consider 2022's 15 best films to date, alphabetical below.
After Yang—In the near future world of the quietly absorbing After Yang, a family suffers a crisis when their longtime android companion abruptly stops functioning. In a methodically measured picture about love, loss and grief told in hushed tones and with effective restraint, writer-director Kogonada delivers a science fiction parable that perfectly integrates believably accessible technology with a meditation on the human condition. A contemplative Colin Farrell stars as the father whose odyssey to repair the family's android—a confidante, tutor, cultural bridge and unlikely friend—leads to unexpected revelations about the being's capacity to transcend its functionality toward something resembling feelings. Told through memories and lived experiences by humans, clones and a variety of fascinating peripheral voices with their own stakes in the being's livelihood, visually dynamic After Yang strikes an original tone of subtle melancholy. Streaming.
The Batman—Admittedly dreading yet another trip to Gotham City—and a three-hour one, no less—I was elated to discover Matt Reeves' The Batman as perhaps the best entry in the D.C. hero's more than three-decade movie run (though Tim Burton's 1992 Batman Returns is awfully close). Series acolytes will surely point to Christopher Nolan's revered 2008 opus The Dark Knight as the masked crusader's apex, but Reeves' picture wins on superb production values that render the film A-list regardless of genre, a fascinating turn from star Robert Pattinson who conveys surprising depth behind the mask, a richly conceived world of gritty, tenebrous beauty and perhaps best of all, a most welcome departure from the usual, now-routine fantasy heroic exploits. Streaming.
Benediction—Celebrated British writer-director Terence Davies (Distance Voices, Still Lives and The Long Day Closes) may be less than prolific across four decades of periodic picture-making, yet with each project the master filmmaker delivers high art. In Benediction, Davies deploys a highly stylized treatment to a personal subject matter, that of wounded World War I soldier turned objector and anti-war poet laureate Siegfried Sassoon, whose artistic and gay identities were inextricably linked, each finding full flower in postwar London. In a terrific performance by Jack Lowdon, Sassoon became the darling of sophisticates and aristocrats, and of many lovers, most notably musician and actor Ivor Novello, played with bitchy, flamboyant relish by Jeremy Irvine. Sassoon eventually married a woman and spent life in bitter regret across a less-than-legendary career. Davies employs newsreel footage, past and present time periods, innovative juxtapositions of black-and-white and color and spoken poems, courtesy of Lowden's mellifluous narration. The picture's one misstep—shooting on high-definition video rather than film—takes a moment to settle into visually and renders the aesthetic something less than cinematic. Streaming.
Everything Everywhere All at Once—A head-spinning sci-fi adventure and passionate love letter to star Michelle Yeoh, the Daniels' (writers and directors Daniel Kwan and Daniel Scheinert) Everything Everywhere All At Once is a movie that delivers on its title, a supersized sci-fi adventure so deliriously realized and assembled it all but leaves you awestruck. In a try-to-keep-up narrative ambitiously deploying a fantastical context to examine the many directions a life might take, Yeoh, the international star whose career spans nearly four decades across countries and genres, is great fun and touchingly sincere as one Evelyn Wang, a harried, disillusioned wife, mother and business owner facing a personal reckoning on the most important day of the year, the annual customer bash commemorating her backbreaking laundromat business. A fantastic turn of events reveals multiple universes containing infinite, alternate (and more accomplished) versions of our heroine—a famous actress, successful chef, renowned opera singer and more—all of which must be integrated to defeat an all-powerful menace. Despite the visual and narrative sophistication on display, Everything Everywhere All At Once ultimately works on the considerable drama of a life unlived, suggesting that each of us has hidden or buried talents and abilities we may have always possessed but which remain untapped. This notion, of emerging from behind our limiting beliefs and discovering new capacities for change, healing or reclamation of who we really are or want to be, is what the Daniels are getting at here, and Yeoh plays every note to perfection. Theatrical and streaming.
Good Luck to You, Leo Grande—An incisive, bold adult drama about aging and sexuality, Good Luck to You, Leo Grande finds Emma Thompson in top form as widowed former educator soliciting the services of a young sex worker in a bid toward enlightenment—initially a physical pursuit but ultimately yielding something far deeper. The picture scores as a portrait of a middle-aged woman as a reluctant sexual being with physical desires and needs. When was the last time we saw that at the movies? Further, it presents the woman's psychological life as fully developed and, courtesy of Thompson, graced with the summation of a lived-in life, the sort of funny-weary gravitas and contemplation that can make you chuckle and break your heart, sometimes in the same moment. As the young sex worker at her service Irish actor Daryl McCormack matches Thompson scene-for-scene, and as his character's own personal issues come to the fore, their relationship offers surprising insights. Streaming.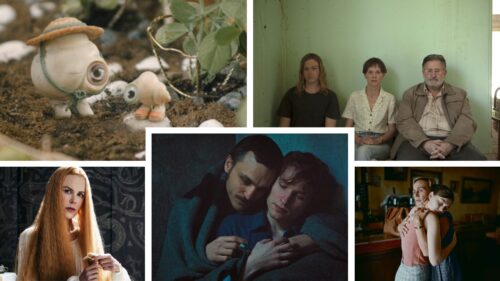 Great Freedom—In a film of remarkable universality yet specificity, Cannes Jury Prize winner Great Freedom features a committed performance from star Franz Ragowski as a Hans Hoffmann, a post-war gay man imprisoned for same-sex activity, which was criminalized by Germany's Paragraph 175 (eventually repealed in 1994). In writer-director Sebastian Meise's Austrian-German co-production, which moves back and forth in time across decades and between multiple incarceration periods, Hoffmann develops a tentative friendship which becomes an unexpectedly long-term connection with his gruff cellmate, a convicted murderer played by Georg Friedrich. Unsentimental yet often deeply moving, the film charts the need for human connection—and its ability to transform and revive—in the harshest of circumstances. However brief, the picture's frank depictions of gay sexuality in the opening and closing scenes will not be for everyone, but daring viewers will be moved in its consideration of the strength of the human heart. Streaming.
Happening—It would be difficult to name a picture more in the zeitgeist than Audrey Diwan's riveting Venice festival winner Happening, based on French author Anne Erneaux's autobiographical novel and telling the sobering tale of a 1963 Bordeaux college student whose dreams of being a literature professor are disrupted by an inconvenient pregnancy. At a time when a young woman's only option was to merely "accept it" and face ridicule, expulsion and ill-prepared motherhood, abortion was not only not spoken of but illegal, punishable and life-threatening. For the heroine of Diwan's remarkable picture, a working class, top of her class student, the notion of domesticity supplanting a promising passion and professional future is equally life-threatening. Diwan pulls no punches in a startling movie of blunt force impact suggesting that while Anne's struggle may be in 1963 France, the universality of what could happen is very much about right here, right now. To convey the urgency of her against-the-clock thriller, Diwan makes superb use of the propulsive camera, which follows her Cesar-winning star, young Romanian actress Annamaria Bartolomei, on her character's desperate odyssey from directly behind, as to suggest forward momentum while claustrophobically trapping her in the frame's tight close-ups; a pointedly minimal score lend an uneasy, rising dread. Happening is bracing, matter of fact and contains visceral moments ripped from past, and perhaps impending, reality. Streaming.
Marcel the Shell With Shoes On—It's hard to imagine anyone not being delighted by Marcel the Shell with Shoes On, writer and star Jenny Slate's triumphant movie expansion of an internet sensation that began as a short film and quickly gained cult status before being parlayed into a book and now a whimsical and wistful feature film co-written and directed by Dean Fleischer-Camp (who also co-stars), Slate's ex-husband and creative partner. In telling the unlikely story of a one-inch shell surreptitiously residing in an Airbnb who gradually reveals his life story to a documentary filmmaker, the film innovatively employs live action and stop-motion and is both spirited and affecting in in its meditation on loneliness and powerlessness in the face of family separation and loss of friendship and community. As the voice of the tiny optimist attempting to regain his place in the world through such bonds, Slate is a comic and melancholy dynamo. Theatrical.
Nitram—With very little regional support, filmmaker Justin Kurzel and writer Shaun Grant knew they needed to tread lightly in telling the story of Nitram, an alienated loner self-destructing toward a shocking act of violence. Based on the story of notorious Martin Bryant, the Australian mass murderer who in 1988 killed 35 Tasmanian citizens in the worst mass shooting in history at the time, Nitram (Martin spelled backwards) features a Cannes Best Actor-winning Caleb Landry Jones (Get Out, Three Billboards Outside Ebbing, Missouri) as the mentally unbalanced outsider who spirals toward instability followed by a shocking crime. Eschewing onscreen violence, Kurzel and Grant instead attempt to answer some critical questions, namely what would lead a person to commit such an atrocity and whether anything more could have been done to intervene when red flags appeared. In one of many sobering scenes, multiple firearms are gleefully sold to an obviously disturbed individual lacking identification, a gun license or expressed need for a stockpile of artillery. Anthony LaPaglia and the great Judy Davis play the fledgling loner's exasperated parents, in a slow decay of their own, marriage torn asunder by the impact of diverting ideologies in raising a troubled son. Jones, in a Herculean heavy lift of a performance, creates a miracle onscreen by engendering empathy for a most troubled person; the film is told from his perspective. Nitram is penetrating and essential during a helpless national moment. Streaming.
The Northman—Big, bold and brilliant, Robert Eggers' striking Viking vision The Northman is alternately beautiful and brutal, a luridly gorgeous provocateur of a movie guaranteed to inspire a strong reaction in anyone who sees it—there will be no middle ground. Derived from the Viking legend that inspired Shakespeare's Hamlet, The Northman has much in common with many a sword and sorcery picture—an heir (Alexander Skarsgård) cast from a kingdom who experiences a reversal of fortune and becomes a savage, a slave and then fulfills a heroic destiny, all against an unforgiving backdrop of long swords, vicious battles and magical mystics. But while it may take place in a world where dueling medieval warriors and bloodshed were the order of the day (and the picture contains gruesome dismemberments, decapitations and depravity), Eggers has fashioned what might have been merely an action movie spectacle into a thrilling, artful picture about the cost of revenge on the soul and the unbendable nature of men to perpetuate savagery. Nicole Kidman delivers a performance of combustible fury as a Lady Macbeth without limits, and the God-like Skarsgård is both physically imposing and contemplative regarding the cycle of violence and retribution, a masculine maxim, which must be broken. A command of vision flows across every shot of The Northman, Eggers crafting a singular studio picture fueled by mad genius. Streaming.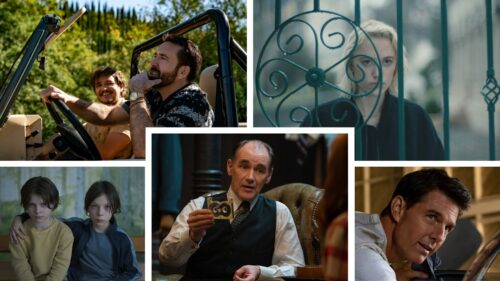 The Outfit—In a gripping thriller written and directed by Oscar-winning screenwriter Graham Moore, Mark Rylance is a 1950s-era Chicago tailor ensnared in a gangster showdown. His name is Leonard Burling and his defining talent—other than providing meticulous alterations—is recessive observation, the ability to see all, hear all and remain reticent, particularly when it comes to the mafia underworld denizens frequenting his tiny shop. That shop and its tight quarters are the sole location for a tensely coiled, 1956-set mob saga, tiny in scale yet filled with big surprises. Trained on London's famed Savile Row (where Rylance interned to convincingly learn the trade), Leonard is most often referred to as "English" by the two-bit Chicago gangsters who frequent his shop as a clandestine gathering place. Moore's narrative challenge, largely met, was crafting a maximalist plot on a decidedly minimalist set, much of the picture's fun coming from its impressive physical chess game of how many characters (and a hidden corpse) populate the confined space. Streaming.
Playground—In a concentrated 72 minutes, Belgian filmmaker Laura Wandel tells a highly charged story of modern schoolyard bullying dynamics featuring a sensational performance by seven-year-old newcomer Maya Vanderbeque, navigating the often vicious and unforgiving world of contemporary adolescent politics. In a film set entirely in classrooms, at school lunches and on the playground, she falls in and out of favor with cliques (and her older brother), suffers relentless taunts and navigates social hierarchies in a picture shot at a child's eye level, all but rendering adults inconsequential. In a world today where youngsters sadly make headlines as victims of merciless peer abuse, Wandel cuts to the core of childhood barbarism—eternal, yes, but particularly savage in today's world, dissected here in close-up. Streaming.
Top Gun: Maverick—Hands down, full-stop—Top Gun: Maverick is the quintessential summer movie and a 36-years later sequel that, surprisingly, exceeds its predecessor, that style over substance 1986 classic of Reagan-era jingoism and apex machismo which vaulted twenty-four-year-old Tom Cruise from rising movie star to cultural icon. Cruise returns this time as his signature character, Pete "Maverick" Mitchell, an aging Navy flight instructor and world-weary former flyboy charged with preparing a new class of recruits for a dangerous mission while confronting ghosts of his past, including the son (Miles Teller) of his deceased former best friend (Anthony Edwards) and reuniting with past archrival Iceman (Val Kilmer). All of this is thrilling, emotional and in the finale, sensationally rousing filmmaking executed in the cockpits of dizzying F-18s without the use of computer fakery. Ultimately, Top Gun: Maverick is a testament to the archetype of the movie star. Cruise knows his brand and business better than anyone, and while one might wish he would sprinkle in a few more dramatic performances (Magnolia, Jerry Maguire, Collateral, Born on the Fourth of July), it is simply impossible to resist his legendary smile and big screen charisma. He gives us everything we want from this picture and reminds us of what a Hollywood blockbuster used to (and should still) look like in an era of gargantuan, empty and often soulless CGI fantasy and action pictures. Top Gun: Maverick is a sonic boom of a movie, a salute to its indelible star, both nostalgic and new and a cultural event movie that has captivated a broad, global audience—to the tune of $1.1 billion and climbing—like no picture in ages. Theatrical.
The Unbearable Weight of Massive Talent—It would be hard to imagine a more eccentric career, or persona, than that of Nicolas Cage, the wildcard veteran star who took home an Oscar in 1996 for Mike Figgis' Leaving Las Vegas but is today commonly regarded as the quintessential actor-for-hire, dressing up many a colorful B-movie with his signature, often theatrical eccentricity. A performer unto himself with outsized energy and knowing, self-referential "nouveau shamanic" vocal and physical idiosyncrasies, Cage is, bar none, perhaps the most unique A-list actor turned B-movie player the American movie industry has ever known. The meta-ness of Nicolas Cage in The Unbearable Weight of Massive Talent is on another level altogether. Cage plays a down-on-his luck version of himself, summoned to Mallorca for a cool $1 million as the guest of honor for his number one fan, a superb Pedro Pascal. Co-written and directed by Tom Gormican, this conceptually audacious movie somehow manages to be a salient commentary on the fleeing nature of celebrity in a fickle Hollywood, a surprisingly sweet buddy movie and, rudimentarily, an action comedy of sorts, even while slinging its arrows at such bombastic tropes. Not only does its star play a close approximation of himself as an on-the-ropes former A-lister who squandered a hot career, he also good naturedly sends up his unorthodox resume. The results are supremely fun to watch. Streaming.
Watcher—An exceedingly sleek and scary hat tip to Hitchcock and Polanski, Watcher deals some terrifying cards—voyeurism, stalking, murder—and ratchets up tension in a taut, elegant exercise in paranoia. An impressive debut written and directed by Chloe Okuno, Watcher echoes classic suspense pictures while sidestepping genre trappings, keeping us guessing right to its diabolical denouement. It also has something on its mind about a how a woman's concern for her safety is met with disregard and gaslighting by a series of ineffectual men. A committed Maika Monroe (It Follows) stars as a former American actress and newlywed whose husband relocates the pair to Bucharest after a career-making promotion. Julia (Monroe) feels immediate disorientation as an American hampered by cultural barriers, largely alone in an unfamiliar city. By day she roams Bucharest's byways but spends nights by herself in their sprawling apartment, with its huge and revealing windows. Directly across the street lies another apartment building window in which a mysterious, shadowy figure appears each evening, fixated on the pretty blonde expat across the way. Who is watching whom? Could he be the serial killer terrorizing Bucharest's women? While a cursory description of the picture may suggest Rear Window's shadowy villain, Repulsion's neurosis borne from the threat of oppressive male domination, Rosemary's Baby's secret cabal, The Tenant's psychological dread or even Apartment Zero's uncomfortably eccentric denizens, Watcher has a feminist perspective all its own and a trust in the audience to unravel and interpret its slow-burn events, along with its heroine, right to its final, terrifying elucidation. Streaming.
Some may be wondering where Baz Luhrmann's wildly extravagant and hyperactive musical fantasia Elvis lies on the list above, and the truth is that I was unable to decide. Featuring the best performance by an actor in an American film this year nearly undone by a director who always prefers to be the star of his own films, Elvis is two films in heated competition for the audience—a showoff filmmaker flaunting his gifts in excess juxtaposed with a screen coming out of impressive authority for a brand-new leading man. In a hyperactive picture that might be seen as two films—a frenetic, slickly surface first half followed by a second act of impressive period recreation and substantial drama, Luhrmann has crafted one-half a good film draped on the swiveling hips and impeccable vocals of a its marvelous lead performance by star Austin Butler, taking center stage every time the film most needs him. Despite what you may have heard, Tom Hanks is compelling as narrator and carnival huckster "Colonel" Tom Parker, a Svengali-like manipulator who exploited Elvis to no end and reportedly stole nearly half his earnings. Butler is magnetism personified, all electrifying moves and in fine voice (the actor sings everything in the picture's first half) delivering vivid live performance recreations that impress despite Luhrmann's often spastic lensing and cutting. When Luhrmann finally settles down and lets Butler do his thing both onstage and dramatically, his movie snaps to energetic life. In a writ large evocation of Elvis as a whirling, charming, full-voiced, stung-lipped, sensual artiste dancing with possession and singing out with great passion, Butler gives an Oscar-caliber performance. Theatrical.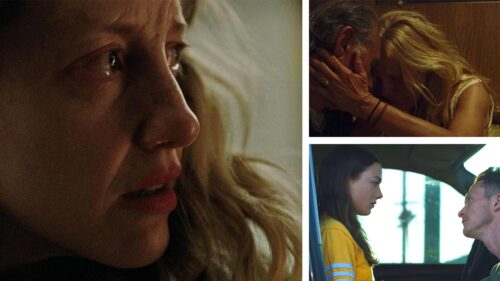 Looking to the rest of the year, a few terrific films to keep on the radar screen include the low-key gem A Love Song, in which American character actress Dale Dickey plays an aging westerner on a solo Colorado lakeside camping trip awaiting the arrival of a high school crush she has not seen since youth, played by the wondrous Native American actor Wes Studi. It is a picture about a delicate reconnection told in the simplest, sparest terms with superb natural light and cinematography and acted with quiet grace by both leads. A Love Song is a tiny film with a big heart, or two of them.
Stories of addiction have been told many times in movies but in To Leslie the chameleonic actress Andrea Riseborough's knockdown, drag out performance may be the best of its kind ever committed to film. As a rural Texas lottery winner who has squandered her fortune, family friendships on alcohol-fueled binges and years of partying, Riseborough's Leslie exasperates everyone in her orbit for the picture's first hour. Those around her, including us, are done giving third, fourth and fifth chances to such an unrepentantly self-destructive force with seemingly no rock bottom. When podcaster Mark Maron shows up in the picture's second half as a sympathetic motel proprietor offering the wayward addict a meager absolution, to say the process is hard won would be a massive understatement. In perhaps the year's best work by an actress (with Michele Yeoh in equal contention), Riseborough's shockingly convincing, wrung out portrait of a woman lost to the world makes her redemptive final scenes unbearably poignant. Like its lead character, To Leslie is a messy, sometimes uneven but worthy of compassion drama about a troubled, and troubling person eking out small survival.
Sundance U.S. Dramatic Directing Award winner Palm Trees and Power Lines is a provocative, enlightening picture about a bored teenage girl of 17 (newcomer Lily McInerny) who falls into a friendship, then love affair with an attentive and seemingly established man (Jonathan Tucker) twice her age. Looking for deliverance from a depressing life with her pre-occupied single mother (Gretchen Mol), she plunges into the relationship unaware of her paramour's true intentions; for quite a while, we are as well. We often hear about the notion of "grooming" unsuspecting youth. What does that mean, exactly? What are his true intentions? Suffice to say that writer-director Jamie Dack pulls no punches taking us to dark and uncomfortable places, and the picture features a coldly sobering late scene set in a motel room not seen in any movie before, ever. Deeply unsettling Palm Trees and Power Lines is one of the year's great films.
Unseen and further on 2022's horizon are a handful of high-profile, prestige pictures with hopes of awards consideration: Martin Scorsese's adaptation of David Grann's 2017 non-fiction book Killers of the Flower Moon, exploring Native American murders within the Osage Tribe; James Cameron's Avatar: The Way of Water, the long-promised first sequel to his innovative 2009 blockbuster; Andrew Dominik's Blonde, featuring Ana de Armas as Marilyn Monroe and based on Joyce Carole Oates semi-fictionalized book; Steven Spielberg's purportedly autobiographical coming of age memory piece The Fabelmans; Carey Mulligan and Zoe Kazan headlining the real-life story of The New York Times reporters whose explosive expose architected the fall of Harvey Weinstein in She Said; John Ridley's Shirley, featuring Regina King as the first Black congresswoman Shirley Chisolm; actress turned director Sarah Polley's Women Talking, based on Miriam Toews' novel and featuring Francis McDormand, Rooney Mara and Jessie Buckley battling sexual assault in a religious colony; Brad Pitt and Margot Robbie in Babylon, writer-director Damien Chazelle's reported Hollywood-set period piece set during the transition from silent films to talkies; two-time Oscar winner Alejandro Gonzalez-Inarritu's Bardo, a personal and nostalgic story about a Mexican journalist and documentarian in a personal crisis; and Cannes Palme d'Or winner Triangle of Sadness from Swedish filmmaker Ruben Ostlund (Force Majeure, The Square), satirizing capitalism and the uber wealthy with his patented brand of uncomfortable social comedy.
With scores of terrific films to date in a year likely to see at least that many more in the months ahead, movies—both creatively and economically—have considerably returned to form.