By Judy Carmack Bross
The 300 backpacks for last week's first day of school distributed to Manierre School students from Marshall Field Garden Apartments on the near north side at a recent back-to-school bash hosted by Youth for a Better Future, culminated a summer full of leadership training by mentors and a wealth of enriching activities including STEAM and basketball camps.  
Crowd entertained and making space for tumblers
The outdoor celebration at Manierre brought out families, teachers, neighbors and donors and was capped by a weekend of family yoga and kayaking for the kids on the Chicago River at the Wild Mile.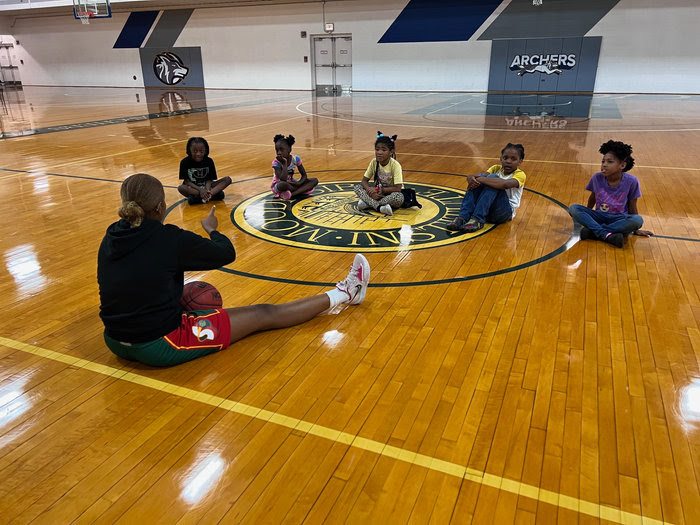 Founder and Executive Director Adem Aluka introduced us to Youth for a Better Future whose mission is to empower youth from 6 to 14 years old to become future leaders and servants of their community through positive mentorship.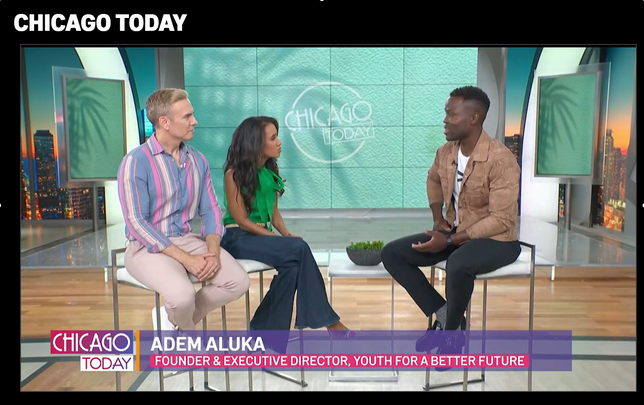 Adem Aluka recently on NBC5 News
"I was born in Togo, West Africa and spent the first quarter of my life traveling with my father, who worked internationally with world NGOs. This experience allowed me to learn and speak 5 languages. By observing not only him but also others, I cultivated my own abilities and discovered the transformative potential of self-actualization. As the years passed, my aspiration to make a positive impact on young people only grew stronger.
"At the age of 15, I arrived in Chicago and accomplished high school graduation by 16. Similar to many young individuals nowadays, I experienced the unfortunate reality of police violence. This ordeal, along with facing the consequences of letting life's challenges pull me down, emphasized the importance of persistence. Thirteen years ago, I made a resolute choice to commit my life to guiding youth towards realizing their fullest potential.
"When I first began the program I wanted to concentrate on technology education but discovered that many of the students didn't read or do math efficiently.  Through programs and mentorship we are providing wraparound services which we feel are great launching pads.  Each child is different, and we try to meet them where they are.  Our programs this summer have included exercise and dance, coding, piano lessons, and silkscreen printing. We say keep trying, we want you to keep pushing so that you will do well.  On our recent kayak outing a couple of the kids were scared because they had never been out on the River before. "
Jesse White Tumblers performance
McDonalds was in attendance to help
Michele Smith, former 43rd Ward alderman who has been an advocate of the nonprofit for several years, told us: "Marshall Field Garden Apartments are literally in our back yard, and my goal is to have our community support the success of these students. We were delighted that neighbors and others signed up for Amazon wish lists to provide and fill backpacks.  It was a most joyous event, right at Manierre, with kids, parents, the principal and teachers with a DJ, games, the Jesse White Tumblers and McDonalds for all.
"We greatly anticipate the future for the organization to grow to become a model of full services to permanently lift families.  It is all about teaching people to fish."
Board Member Michele Smith and Adem Aluka, Founder and Executive Director of Youth for a Better Future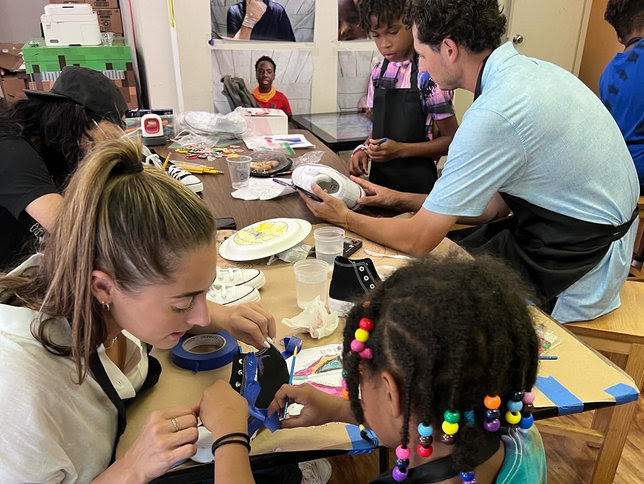 Aluka added: "We are looking for mentors and other supporters who are passionate about making the world a better place and who understand that it all starts with our youth. We pair youth, ages 9-15, and young people, 16-23, with a local working professional. For 4 weeks, the mentors serve as a resource to youth, to help instill good values and long-lasting good habits in school and in daily life. The goal of this program is to expose our youth to a new world of possibilities for a better future through academic support, professional development, and career exploration. 
To learn more about Youth for a Better Future visit: youthforabetterfuture.org