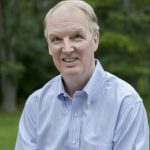 By David A. F. Sweet
Growing up, Paula Lillard Preschlack loved to write stories. But she was often uninspired in a conventional education system.
"I was a frustrated student," the Lake Forest resident said. "In high school I wanted to write more, but I lost my nerve because of always having to do something the 'proper' way. I froze up."
"Children have so much positive energy to free up," says Paula Preschlack.
Partly thanks to positive writing experiences at Hampshire College in Massachusetts ("I felt like I was let out of a cage"), Preschlack has written abundantly since then. This year, her first book – The Montessori Potential: How to Foster Independence, Respect, and Joy in Every Child – was published by Parenting Press.
There are few in this country as immersed in this style of education as Preschlack. She taught at Forest Bluff Montessori School in Lake Bluff for years before taking over as head of school. Not only that, her mother Paula Lillard – to whom the book is dedicated – is one of the most renowned Montessori educators in the United States.
Immediately, the title of the book's introduction – What Should Education Be? – challenges the reader to think. Essentially, Preschlack argues conventional education – where 50-minute classes are the norm, interaction during courses is often discouraged, and curiosity is not fostered – does not prepare students for an adult life that asks for engagement, resourcefulness, and collaboration.
How is Montessori different? Until age six, Montessori students engage with surroundings, forming an ability to focus; from 6-12, they develop resourcefulness by pursuing curiosity and building skills to collaborate, and from 12-15, they gain courage and self-respect, in part from planning 10-day trips with their class without guidance from teachers.
Paula Preschlack has been on the road talking about The Montessori Potential

 at schools and conferences around the world since the book's release.



"Nature has given us this great gift that human beings have: the urge to do their best and try things," Preschlack said, referencing Maria Montessori. "Children have so much positive energy to free up."
Traditionalists who believe in school desks and memorization of facts greet Montessori with disbelief. No grades, little homework, no formal competitive sports? That in part prompted her to write this book.
"I kept hearing people didn't understand Montessori," Preschlack said. "The second impetus was people saying to me, 'I wish I had known about Montessori for my own children.' Students can be themselves, and their true abilities can be celebrated instead of constantly punished by what conventional education considers irrelevant."
Preschlack took a sabbatical from her Forest Bluff job in 2016 to visit public Montessori schools, attend conferences, read as much of Maria Montessori's work as possible and write a draft of the book. That last part only took two months, "but it was a mess," she said. "It was all over the place. I didn't know who I was talking to."
After returning as head of school, she reworked the draft and submitted it several times.
"Many would say, 'I love the topic, but I don't think there's a market,'" Preschlack recalled. "I thought, 'I do think there's a market. Look at all the people who are unhappy with conventional education right now.'"
A breakthrough occurred when Preschlack took a walk with a friend who had written a memoir.
"She said to go for a smaller, local publisher, and she recommended a friend. I was hesitant," Preschlack said. "They were immediately interested, but I thought it was almost too easy. Will this get published and go away?"
Far from it. Preschlack has been on the road speaking about The Montessori Potential at international conferences and schools around the country since the book's release.
The author visits Maria Montessori's study in Amsterdam. Today, the educator's house is a museum.
"It's been really fun," she said. "I love seeing what others are doing in their schools. It's not about selling the book or about me – it's to have more people recognize quality Montessori."
When Preschlack set out to write The Montessori Potential, she wanted to not only captivate the reader with interesting information but to weave in stories to help them picture what it is like to be in the classroom with children – a type of creative nonfiction she learned at Hampshire College.
"I wanted them to see and hear the children and feel the energy of the amazing things that happen in Montessori schools," she explained.
Preschlack's next project is to figure out how to launch Montessori schools in communities who want them – "communities who feel stuck with the limited education options they're handed," she said. Until then, the newly published author hopes people will want to gift The Montessori Potential to parents and to educators looking for an alternative.
Paula and her husband Jim gather with their children Stanley and Lillard, who both graduated from Forest Bluff Montessori School.



"It could change a child's life if this message reaches a family in time to help them get their children on a better path," she said. "If that happens even a few times, I will have succeeded with my writing."