By Michelle Crowe
Grace Kelly exits an airplane with her arm in a Hermes scarf worn as a sling.
It's a maximalist season, that's for sure. Rather than piling on all the coats in the closet at once, just accessorize up a storm.
Start with forever favorite foulards. In my early magazine days the fashion director always wanted scarves on set. "Who's doing really good foulards?" she'd ask rhetorically, going on to say, "Call Echo, call Hermes, call Paloma Picasso." Off we scurried to dial the PRs.
Carlyne Cerf de Dudzelee brings a Gallic love of scarves to many sittings. This shot from the November 2000 issue of Elle shows the timelessness.
A sea of silk would arrive in the office ready to go to the studio or the motor home for location shoots. Paisley, animal prints, charming pastoral scenes.
This was in the late 1990s when minimalism reigned and nearly everyone in New York wore a daily uniform of a black cashmere v-neck and low-slung black pants. Scarves weren't super happening in that moment, but she knew better than we. Sometimes, the only thing that can bring a look to life is a simple square of fabric.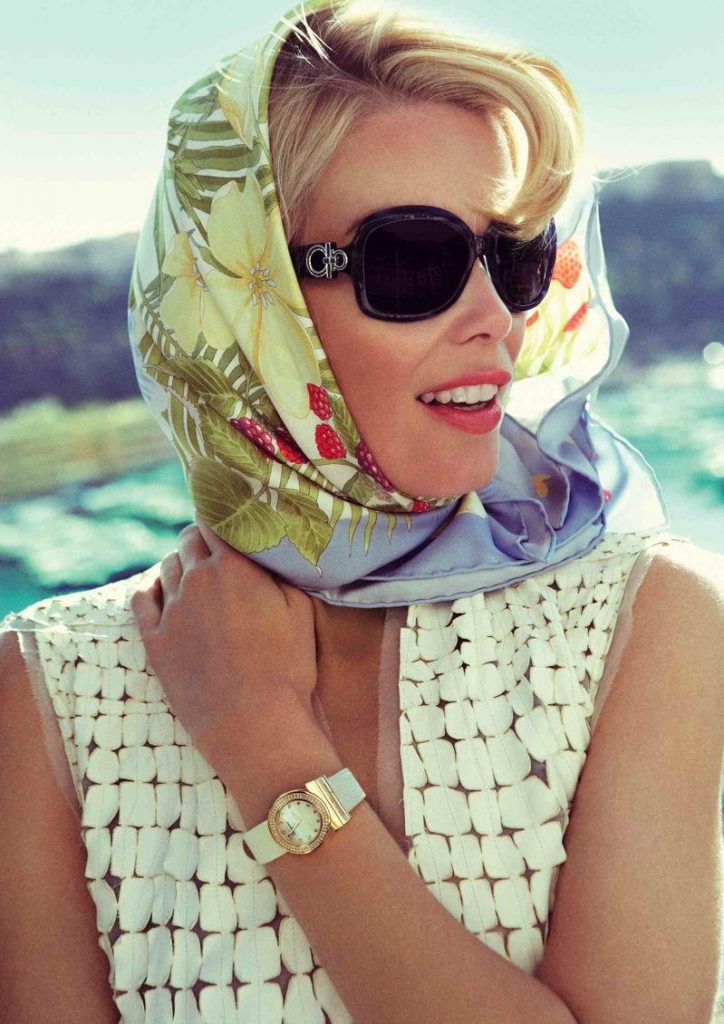 Claudia Schiffer for Ferragamo.
A couple of years later all that androgynous black grew tiresome and pashminas rolled onto the scene – and around the shoulders of nearly every woman everywhere.
As we rolled into the early 2000s, Hermes scarves worn as tops, belts and bracelets served as eye-catching ways to express one's personality. The only wrinkle was the fact that so many others were also expressing themselves in the exact same way.
Madonna in a still from Swept Away. That scarf-as-top would be fab under a blazer.
These days, we're not as concerned with finding an unusual way to wear one as we are reveling in the joy of layering our favorite prints and patterns over simple styles and showstoppers alike.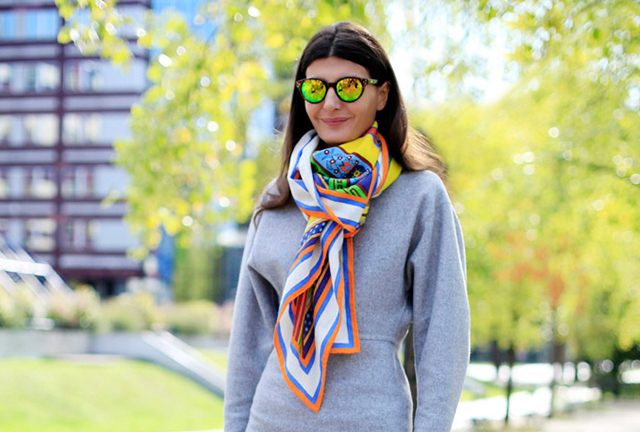 Giovanna Battalia Engelbert Photographed by Silvia Olsen
Have fun with different tying techniques—there are as many ways to wear a scarf as there are sailor's knots. Try a slightly cowboy drape to flirt with the western trend this season if adventure calls. Go with a Jackie-chic head cover when the wind kicks up. And if heaven forbid you need to put your arm in a sling for a few days, make like Grace Kelly and use an Hermes scarf.