By Cheryl Anderson
"Maxine knew perfectly well that [Churchill], though out of office, towered above the other familiars of the Château who came and went.  He was the only person [Diana] saw permitted to be late for meals, and the only one who could leave the Château to paint at St-Paul-de-Vence all day without being scolded as a 'gadabout'."
—Diana Forbes-Robertson             

Before Maxine Elliott had Château de L'Horizon built on the Riviera, she was a socialite that entertained "famously and lavishly."  She was a hostess extraordinaire at her Hartsbourne Manor, where the haute monde gathered.  In the four years prior to the war, she created what became a political salon, holding court at her country estate in Hertfordshire. Nicknamed the Queen of Harts,  she had both social and political friends in common with the Churchills. The visitor's guest book shows that Clementine and Winston were the first guests and were regular guests thereafter.  Clementine was an avid tennis player, and Maxine made sure quests that could give her a good match were there at the same time—there was a choice of grass or hard courts. Hartsbourne was completely redecorated by Maxine, including a luxurious suite named the King's Room, (Edward II).  He died May 6, 1910 having never stayed in it, much to Maxine's dismay.  
| | |
| --- | --- |
| xxxx xxxx xxxx xx xxxxx Hartsbourne Manor. xxxx xxxx xx xx xxxx xxxx xxx xx xxxx xxx | Churchill with best friend, Lord Birkenhead–frequent visitors at Hartsbourne. |
| | |
| --- | --- |
| Château L'Horizon.  Notice the train tracks, main road and imagine how difficult it must have been to build on the rocks. | Churchill sliding down the water-chute at L'Horizon into the sea, 1935. xxxxx xxxxx xxxxx xxxxx |
| | |
| --- | --- |
| Churchill and Lady Castlerosse at the Château L'Horizon.  The painting of her on the chaise longue was taken from this picture. | xxx xxx The painting of Lady Castlerosse on the chaise lounge. xxx xxx xxx  |
In England, the fact that Maxine was not in the class of the Astors and the Vanderbilts was not enough of a deterrent to keep her from milling among the upper class.  Her looks and profession only added to her popularity—Maxine Elliott was a very successful American actress.  Her niece, Diane Forbes-Robertson, described her as, "a considerable social snob", while others said about Maxine, as having a rare beauty. 
Lady Castlerosse at Château de L'Horizon with whom is thought to be her brother, Dudley Delevigne, 1935. "Painted with the aid of a photograph, now in the Chartswell Studio Archives.", Paul Rafferty.
Lady Castlerosse.

x

Churchill and Lady Castlerosse sitting on the rocks below Château L'Horizon. "This photograph has been squared up for use in a painting. Detail, from the Studio archives at Chartwell.", David Coombs.
Between 1933-1939, the Château de L'Horizon is where Winston Churchill spent many wonderful holidays.  There he was pampered, allowed to rest, swim, write, and go off to paint.  Whenever he was at the château, Maxine Elliott made sure only the most agreeable company would be invited, those that would amuse and entertain him; "…she was very protective of him, behaving like a fond aunt, and without overt fussing ensured that everything at the villa revolved around him… (He was allowed to go off to paint into)…the thyme and rosemary-scented hills at Saint-Paul-de-Vence." (Mary S. Lovell).  Churchill wrote to Clementine that during his 1935 holiday at the château, he had painted "ferociously" from morning to night. 
Winston Churchill
| | |
| --- | --- |
| Château L'Horizon. | xxxx |
| | |
| --- | --- |
| St-Paul-de-Vence. | Paul Rafferty photo of the same site. |
Winston and Clementine's silver anniversary was in 1933. They spent a few weeks in August at the château. It has been "recorded that he and Clementine were having a delightful time, bathing three or four times a day, and that he was painting hard."  (Lovell).  That year would be Clementine's first and last visit to L'Horizon and she had her reasons.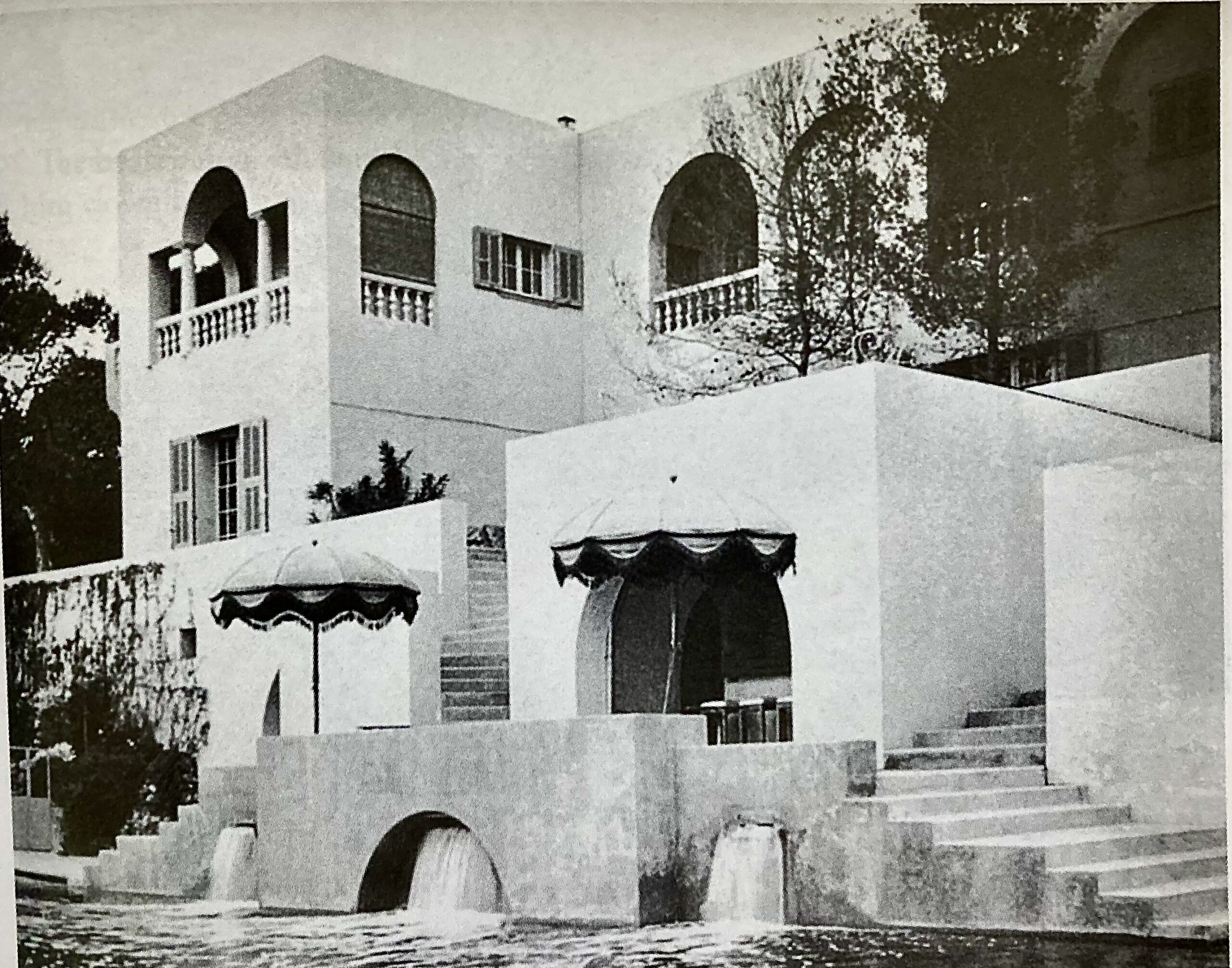 Château L'Horizon.
View of Avignon.  Churchill visited there in 1931 specifically because of the light that has drawn painters over the years.

 View of Avignon.

x
Maxine preferred her guests not go out at night, albeit sometimes they did venture out for the evening.  Popular activities in the evening at the château were, singing songs from musicals (the words Churchill knew from memory), card games, reciting poems he memorized as a young man, and the game of charades—he quite liked acting out animals.
View of Carcassonne.
"He must never be bored…Elsa Maxwell, who could be relied upon to enliven any party…Winston loved to hear a piano played well after dinner for it reminded him of his mother's playing, and though it is not what she is known for, Elsa Maxwell could play classical music…Winston was above tittle-tattle over drinks around the pool, so this generally took place while he was off painting; Maxine always made sure that whenever Winston was around the conversation was more appropriate." (Lovell).
| | | |
| --- | --- | --- |
| Church in the South of France. | A church in the South of France. |  A scene in the South of France. |
 Maxine missed the social, house-party scene she'd had at Hartsbourne and wanted a place of her own, less formal, on the Côte d'Azur, the place where during the 1920s she had always come away from feeling rejuvenated—perhaps to move there permanently.  She searched for a villa along the coast for a year, unable to find the house, that to her mind, was perfect, and it must be directly on the sea.  She sought a tranquil location such as Golfe Juan, the bay between Antibes and Cannes. Villas available along the eight miles of the gulf were limited and didn't suit, and few sites to build on were available.  She was offered a twenty-meter-wide strip of rocks between the sea, the train tracks and main highway.  There wasn't a beach where "uninvited day trippers" were likely to bother her and her guests—so it was perfect. 
The Porch of Norte Dame de Vie.
| | |
| --- | --- |
|  St-Jean-de-Vie. |  St-Jean-de-Vie. |
Next, was to find an architect up to the difficult task of building a villa on a narrow strip of rocks.  Luckily, she knew just the person to ask which was Willie Somerset Maugham.  She had often visited his Villa Mauresques on Cap Ferrat,—a villa he decided not to demolish when he bought it, instead hired the American architect Barry Dierks who changed the facade, modernized the interior, added a swimming pool and creating a glorious garden with thyme, rosemary, pine trees, mimosas, camellias, and lawns.   Noël Coward described him as "impossibly beautiful."  Maxine saw the villa Dierks had built for himself on a challenging site and hired him.
View of the river Var.
She moved into a workman's cottage on the site to closely "monitor every detail of the construction…A bridge, wide enough to take her Daimler, was built from the main road across the railway tracks, giving access onto the building site behind a six-metre-high wall built to provide the property with total privacy." (Lovell).  The building process was not very popular as the trains had to be frequently stopped to make way for the builders.  Mind you, this is the main line between Marseilles and the Italian border. Still today, it is the only road bridge that crosses over this stretch of the railway line.  Despite the obstacles, it seems Maxine Elliott could be very persuasive in order to get her dream château built.  There is a famous picture of Churchill sliding down into the sea—the water-chute was a distinctive feature of the château. Maxine loved showing off her new villa, Château de L'Horizon—her second Hartsbourne.  The smart-set had discovered the Riviera. 
| | |
| --- | --- |
| | |
Artists, including Churchill, have long been attracted to the light in Avignon to paint— among other things, the ramparts around the town.  Avignon was the residence of successive French popes during the 14th century.  The ramparts were built during this time to protect the core of the city.  I've visited Avignon and it's really quite something to see the massiveness of it all. This 1931 Churchill holiday took them to Biarritz, Avignon and Juan-les-Pins—painting equipment went along. 
Battlements at Rhodes. From the 1934 Mediterranean cruise with Lord Moyne.

Ramparts at Rhodes.

s
Top left, Forum in Rome, right, ruined Greek temple, bottom, pillars in a ruined Greek Temple.
| | |
| --- | --- |
| Greek temple. | Doorway and pillars in shadow. |
From there, he went on to travel to the United States on a lecture tour to recoup financial losses.  On the way to see his financier, Bernard Baruch, he was knocked down by a car on Fifth Avenue and seriously hurt.  He went to Nassau to recover, but was too weak to paint. I would imagine that must have been very frustrating for him to be surrounded by such natural beauty and water scenes yet too weak to put the beauty to canvas.  Miss Phyllis Moir, Churchill's secretary, recalls Churchill's visit to Baruch's " 'vast plantation'…situated on an island some miles up the James River from Georgetown…It was a haven of peace."
Boats in a harbour somewhere in the South of France.
St-Jean-de-Vie.
The light also played a part in Churchill's reasons for liking to paint at Les Zoraïdes, home of Daisy and his cousin Reggie. It was different from that in Cannes and Antibes and their beautiful gardens were as though made to be captured on canvas, or so Winston thought.  Once, after twelve days being pampered by Maxine at her château, he made a visit to Les Zoraïdes in 1938.
| | |
| --- | --- |
| Magnolia, given to daughter Mary. I love magnolias, reminds me of my years living in the South. | "The first picture papa gave me when I was a child.", Mary– Winston's youngest daughter. Caption in Coombs' book.  How sweetly it was remembered. |
Winston wrote to Clementine in 1934 telling her he had painted four pictures and another of Notre Dame de Vie, one that he thought would look nice in her bedroom, described as very luminous.  It's said he thought it was the best painting he had ever done. Clementine didn't join him that year at the château, instead she spent two weeks in Scotland.  However, they did go on a Mediterranean cruise that same year aboard Lord Moyne's yacht, Rosaura, through the eastern Mediterranean where he painted Greek temples and the battlements at Rhodes.  Visiting the Greek islands is one of my fondest memories—back in the day when one had to ride a donkey up the hill to the village on the island of Santorini. 
Churchill was too tired to paint during his visit to L'Horizon in January 1938. I found it interesting that this fact is mentioned in both David Coombs' and Mary S. Lovell's books.  However, the sun shone and it was mild and he was very spoiled, as usual, by Maxine for a few weeks.  L'Horizon played an important role in Churchill's Riviera holidays during his difficult years—Mary S. Lovell's book goes into great detail.  The weather in January can be tricky. I've been there in January.  He stayed mostly at the villa the first week of his stay except for having lunch with the Windsors the day he arrived—staying in bed in the mornings working on his proofs.  A brief stop at Daisy and Reginald Fellowes' Les Zoraïdes followed his stay at Maxine's château. 
Sir Winston Churchill.
Winston's last visit to L'Horizion was the summer of 1939.   August 1939 is also when he made the visit to Consuelo and Jacques Balsan at St-Georges-Motel, and famously said to Paul Maze that it would probably be the last time he would paint in peace for quite some time.  War was indeed declared on September 3.  Maxine Elliott died March 5, 1940.
A view of Marrakech showing the Tower of the Katoubia Mosque.  The only painting Churchill painted during the war and given to Roosevelt, 1943.
| | |
| --- | --- |
| xxxx xxx xxx View of the Atlas Mountains from Marrakech. xxxx xxxx xxx xxx   | 17th-century Baroque palace Schloss Schleissheim.  This painting may have been from his three days in Munich in 1932. |
In my last post, I mentioned that Churchill painted only one picture during the Second World War, that of the Tower of the Katoubia Mosque. This is the story.  Churchill and Roosevelt attended the Casablanca Conference in 1943.  At Churchill's insistence, after the conference, he and Roosevelt travelled to Marrakech "for them both to enjoy the spectacle of the sun setting on the snow of the Atlas Mountains." (Coombs). The evening before the President's departure, they enjoyed the beautiful sight from the tower of the Villa Taylor.  The painting of what they had seen and enjoyed was given to Roosevelt.  A look at Churchill's paintings of Marrakech (Churchill's preferred spelling), and other locations in Morocco and North Africa, will be my next posting.  A number of pages were devoted to this area in Coombs' book—albeit not on the French Côte d'Azur, I can't resist sharing another part of the world that drew him in.  He was clearly inspired by what he saw.
| | |
| --- | --- |
| x | Somewhere on the Riviera coast. |
Harbour scene with yachts.
The years between 1930-1939 have been called Churchill's "wildernest years."  It's an interesting period and one you may find interesting to read more about.  I believe that it was his many, many travels, friends, and painting holidays that pulled him through those difficult times enabling him to carry on and to accomplish remarkable things—as well as adding to his extraordinary painting portfolio.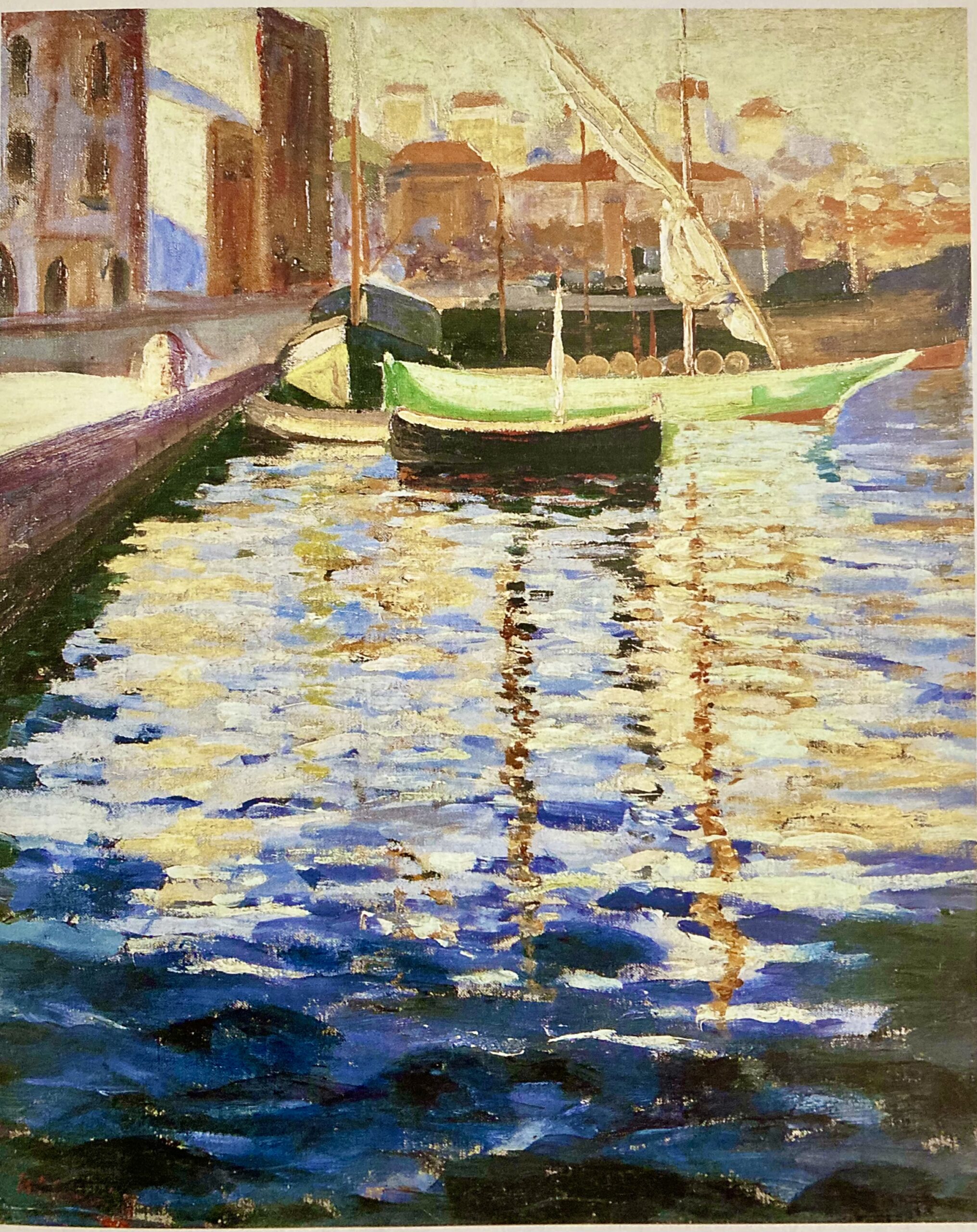 Boats in Cannes Harbour.
| | |
| --- | --- |
| Sunset, Cannes. | Boats in Cannes Harbour. |
"Every day you may make progress. Every step may be fruitful. Yet there will stretch out before you an ever-lengthening, ever-ascending, ever-improving path.  You know you will never get to the end of the journey. But this, so far from discouraging, only adds to the joy and glory of the climb."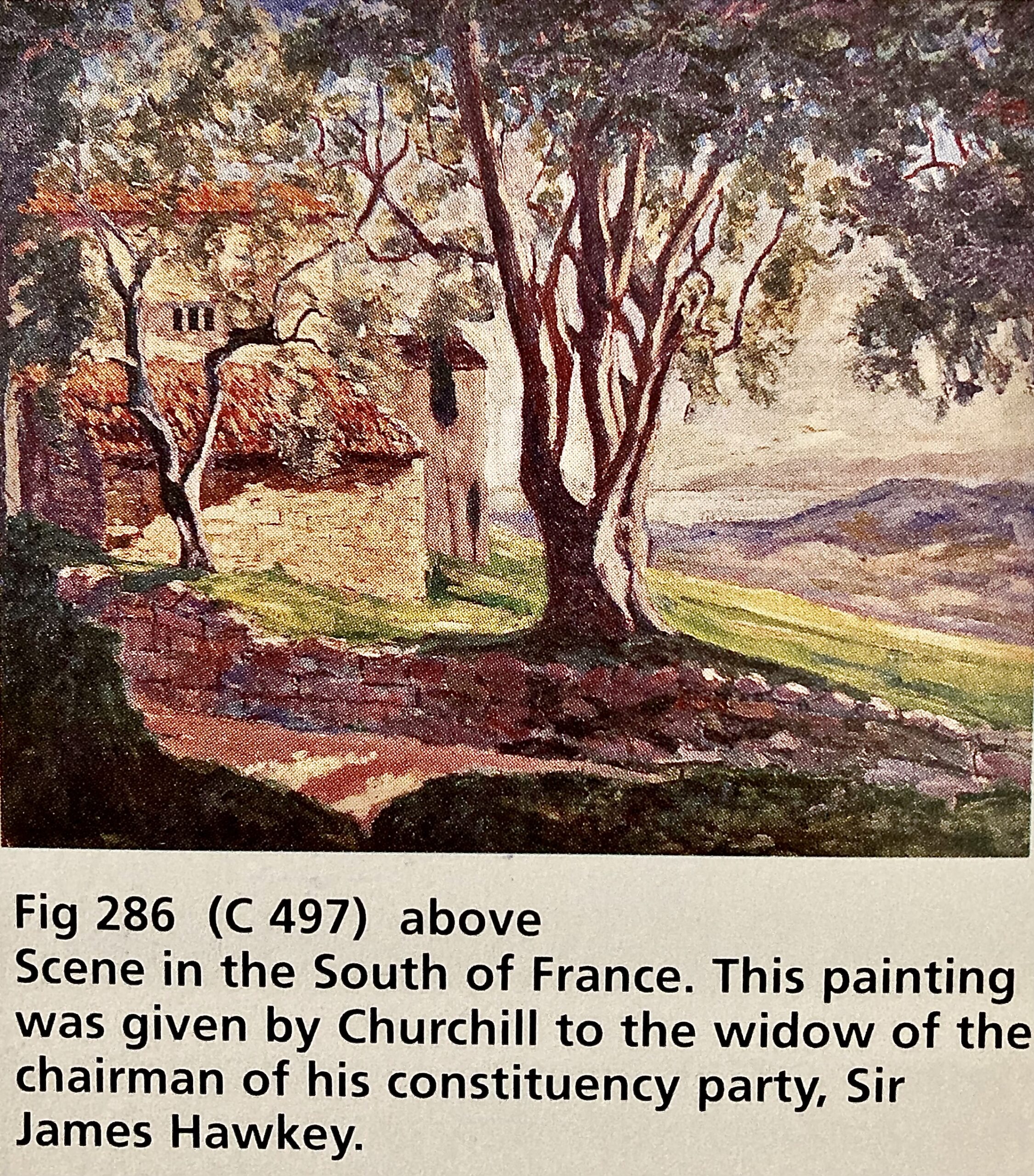 —Winston Churchill            
À bientôt
Bonne Fête du Muguet !
Quotes and Pictures:
Painting as a Pastime, by The Right Honourable Sir Winston Churchill, published in 1965 by Cornerstone Library, New York.
Winston Churchill-Painting on the French Riviera, by Paul Rafferty, published by Unicorn.
Sir Winston Churchill's Life Through his Paintings, by David Coombs with Minnie Churchill, published by Gardners Books, 2003.
Churchill on the Riviera, by Nancy Smith, published by Biblio Publishing.
The Riviera Set, by Mary S. Lovell, published by Pegasus Books Ltd.  2018.
Churchill Defiant, by Barbara Leaming, published by Harper Perennial, 2010.