By Cheryl Anderson
 "I have passed the time since I arrived three quarters in bed and come down to meals. Reves and Wendy are most obliging.  They ask the guests I like and none I don't."
 —Winston Churchill
"Pausaland", Churchill's fanciful word for villa La Pausa.  He had, of course, visited the villa when Coco Chanel was the owner, but it was when Emery Reves and Wendy Russell became the owners that he spent extended periods of time. It's said, thirteen months in total, beginning in January,1956, and, generally, to 1958.  Noted by Nancy Smith, he made a visit in March, 1959 and Wendy remembers a short visit he made in the 1960s.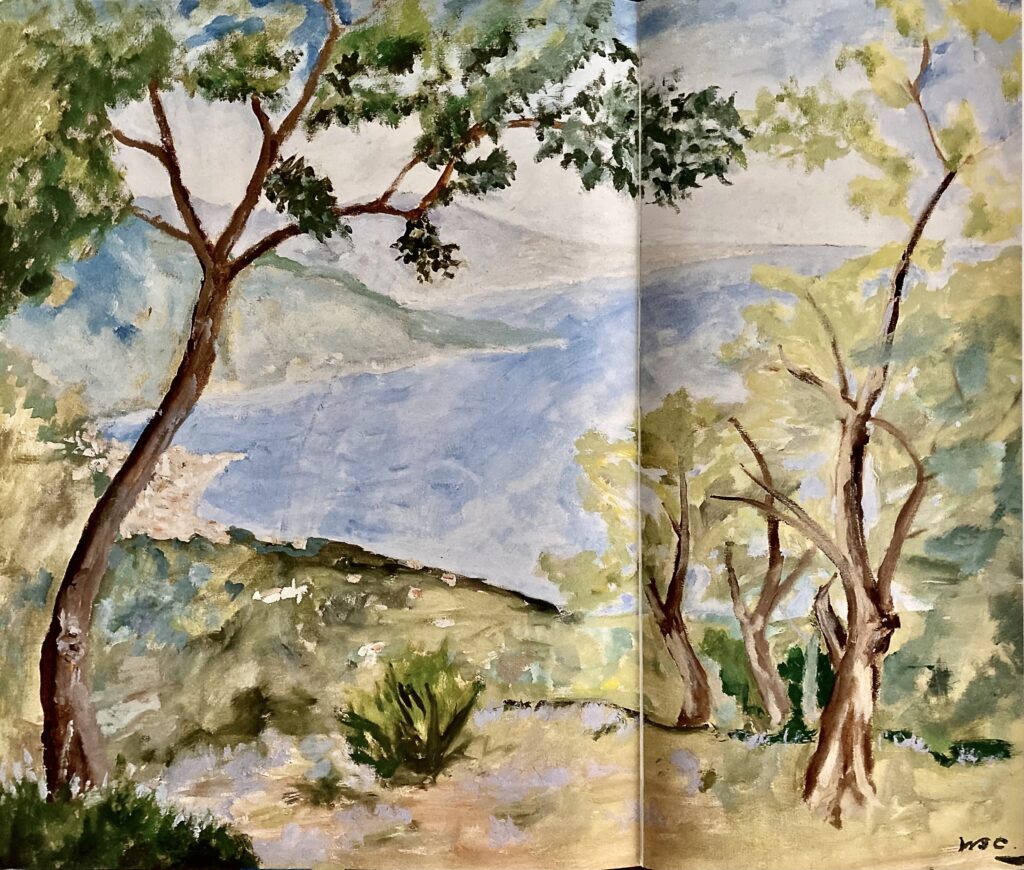 Churchill gave his painting, View from La Pausa of Menton, to Emery and Wendy Reves.
View of Menton from La Pausa, 1957.
There, Churchill painted, relaxed, was pampered, wrote and edited part of his, History of the English Speaking Peoples. Sunny days, and solitude—"spoiled and cosseted Winston in the course of four long visits between 1956-1958.", is how David Coombs puts it.  Emery Reves was Churchill's American publisher and friend. The proceeds from the purchase of the foreign-language rights of Churchill's book, The Second World War, enabled Reves to purchase La Pausa from Coco Chanel.
Churchill, once again, became Prime Minister in 1951.  His health was not good due to the stresses of the last war that lead to his having a severe stroke in 1953.  A major concern of his was the threat of atomic warfare.  Churchill retired as Prime Minister in 1955, but remained a member of parliament until 1964. 
Aerial view of La Pausa from Google Earth in Paul Rafferty's book.
Nancy Smith states that the beginning of 1956 found Churchill, "in a maudlin mood, surviving the British winter like a hibernating
bulldog."  So… well received indeed was an invitation from Reves to Churchill to come to La Pausa, "to enjoy a pleasant rest at La Pausa—a very pleasant rest because the staff of La Pausa included one of the great chefs of Europe."  He was also very pleased for the opportunity to meet the beautiful Wendy Russell.
  Aerial view of La Pausa from Google Earth in Paul Rafferty's book.
Much like the way in which Maxine Elliott doted on Winston, Wendy and Emery made his life while at La Pausa extraordinarily pleasant.  It's well documented that for years Winston had been afforded the opportunity to visit private villas along the Côte d'Azur.  The sun and warmer climes always improved his disposition.  During those grey and somber times in world history, the invitation to La Pausa was especially welcome. 
Churchill's granddaughter, Celia Sandys, met Wendy when she was twelve years old in 1956.  She was visiting La Pausa with her mother. Celia later wrote, "Indeed, it was the place where Churchill as a guest spent months at a time for many years."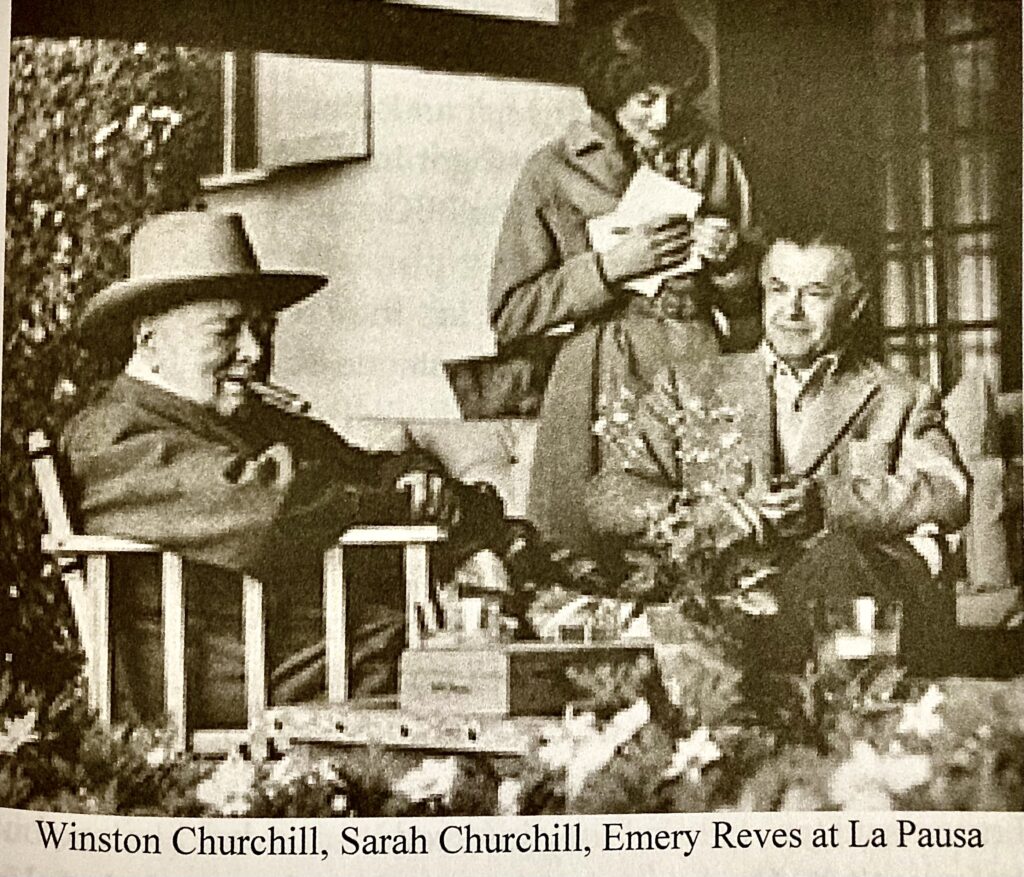 Winston Chjurchill, Sarah Churchill, Emery Reves at La Pausa.
Serenity enveloped Winston while at La Pausa.  Mary Lovell's description of the setting: "Set among the olive groves and lavender fields in Haute Provence, La Pausa was the epitome of luxury and hedonism, and in the hands of Reves and his stunning blonde Texas mistress Wendy Russell (a former Vogue model) it quickly became a hub of Riviera society."  Reves and Wendy had an extensive art collection including Impressionists and Post-Impressionists.  Churchill copied the two Cezanne paintings.
"Wendy would often set up still life arrangements on rainy days for Sir Winston to tackle, and he painted 18 of them." Reves gave Churchill a Monet painting of the Thames that has an impression of the House of Parliament. To this day, it hangs at Chartwell.
| | |
| --- | --- |
| "Churchill painting the veranda to the west of the west side of the villa among the olive trees." | Churchill painting among the olive trees shows the same painting in progress at a different stage of completion. |
Churchill wrote the following to Clementine January 30, 1956. He had arrived January 17 for his first extended visit to La Pausa.
"I spend the days mostly in bed & get up for lunch and dinner.  I am being taken through a course of Manet, Monet, Cezanne & Co. by my hosts who are both versed in modern paintings, and practice in the studio…Also they have a wonderful form of gramophone which plays continuously Mozart and other composers of merit, and anything else you like on a 10-fold discs.  I am in fact having an artistic education with very agreeable tutors.''
| | |
| --- | --- |
| "Winston Churchill at La Pausa in the 1950s, copying a painting by Cezanne of a vase of tulips." | Churchill's copy of Cezanne's painting of a vase of tulips. |
Churchill's copy of Ceznne's painting, La Maison Rouge, near Aix-en-Provence.
Wendy redecorated the entire third floor to accommodate Churchill and his entourage that included secretaries, servants,  French and English detectives.  Imagine how stunning were the views seen out of the windows facing the Mediterranean.  Winston was given the best bedroom "that opened onto a wide veranda and garden, with a colonnade that framed a matchless view over the Mediterranean, sparkling blue in the sunlight."  She special ordered a bed with armrests so that he could recline and work comfortably, and "could give orders from his bed, surrounded by his staff including his private secretary Anthony Montagne Browne, his body-guard Sergeant Murray, and his valet."  Wendy simply "idolized" Winston.  Once, saying, "(he) never had a Black Dog day at La Pausa."
Wendy Reves arranged lemons and oranges at La Pausa for Churchill to paint.
A rare photograph of Churchill driving himself back to La Pausa.
"Churchill liked nothing better than to sit under an umbrella in the garden painting seaside landscapes, with Wendy chattering brightly by his side."
Wendy sent Clementine invitations for her to visit many times, but they were always rejected. However, twice she was forced to visit to care for Winston—once being in February, 1958. He had come down with pneumonia. That stay was to be for one week, but it turned out to be for one month, returning to England April 3.
| | |
| --- | --- |
| The veranda at La Pausa in the 1950s. | "Field Marshal Montgomery sitting under the veranda imbibing with Churchill." |
Churchill's bedroom at La Pausa.
Blue Grass at La Capponcina
Churchill's friend Lord Beaverbrook was not well in 1956 and unable to host him at his villa La Capponcina in Cap d'Ail, a place both Winston and Clementine loved to visit. It was as important a location to Winston as was L'Horizon and La Pausa. Maxine Elliott had died, making L'Horizon unavailable, so his stays at La Pausa were enormously important to Churchill. 
Churchill gave this painting to Lord Beaverbrook.
La Capponcina is described by Mary Soames as "an oasis of privacy…with lovely views." Winston and Clementine were frequent visitors until 1960 when Winston was no longer able—there was great comfort and lots for Winston to paint.  Clementine and Winston abandoned the idea of buying a place of their own on the Riviera after he resigned as Prime Minister, deciding that their generous friends with marvelous villas were always there for them when they needed to get away.  David Coombs puts it this way, "but, apart from the great expense, his increasingly lengthy visits to La Pausa and La Capponcina proved both comfortable and satisfying for himself and his family."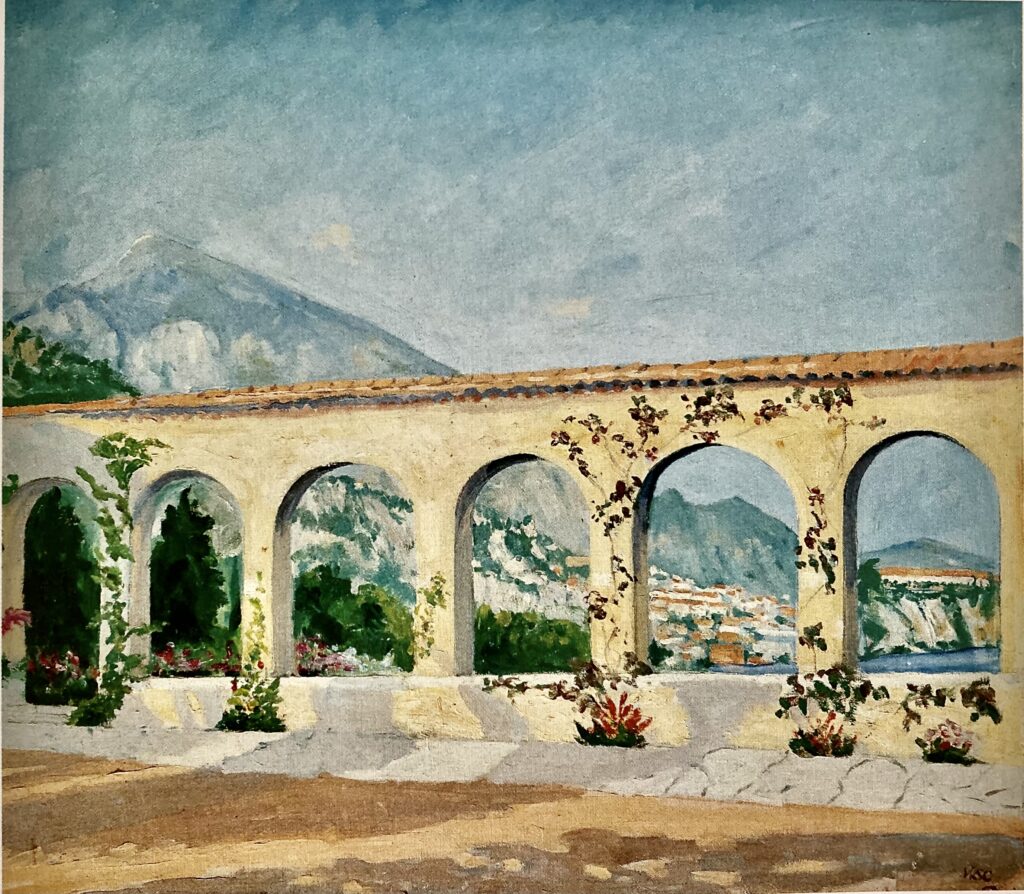 The walled garden at La Capponcina.
In 1946, Chartwell was made safe from having to be sold due to Churchill's financial situation. "Lord Camrose suggested that he and a group of friends purchase Chartwell anonymously and present it to the National Trust on the understanding that Winston and Clementine should live there undisturbed, which they did with increasing contentment for the rest of their lives."
| | |
| --- | --- |
| Monte Carlo seen from Cap d'Ail. | Monte Carlo seen from Cap d'Ail, 1949. |
 Cap d'Ail. Sunbathers in the distance.
Once, while visiting La Capponcina Lord Beraverbrook played a random variety of records for Churchill, from French songs popular at the time to Miserere from II Trovatore. A conversation between Churchill and Beaverbrook at La Capponcina is documented by Michael Wardell, friend of Beaverbrook, former brigadier and newspaper publisher:
"Beaverbrook rummaged, and put on Sir Edward Elgar's Pomp and Circumstance.  He said: 'This will be played in fifteen years, when you are carried through the streets of London.'
"Churchill was silent for moment, then shook his head, 'I don't much care what they do to me when I'm dead. I've thought I would rather like to be carried in a farm wagon.'
| | |
| --- | --- |
| View of the villa at La Capponcina. Clementine is seen in the shadows of the open door. | This is the photograph from the Studio archives at Chartwell that relates to the previous picture. |
"Nothing of the sort,' replied Beaverbrook. 'You'll be buried with all the pomp and circumstance that is your due. The people will insist on it. And rightly. But you might as well listen to the music while you're alive.  It's one of the greatest things ever written.'
"Churchill listened to the triumphant tones of Land of Hope and Glory.  His eyes glistened as his face became heavy with emotion. 'It's a terrible thing' he said, 'to have lived to see England brought down to ruin and the Empire lost'."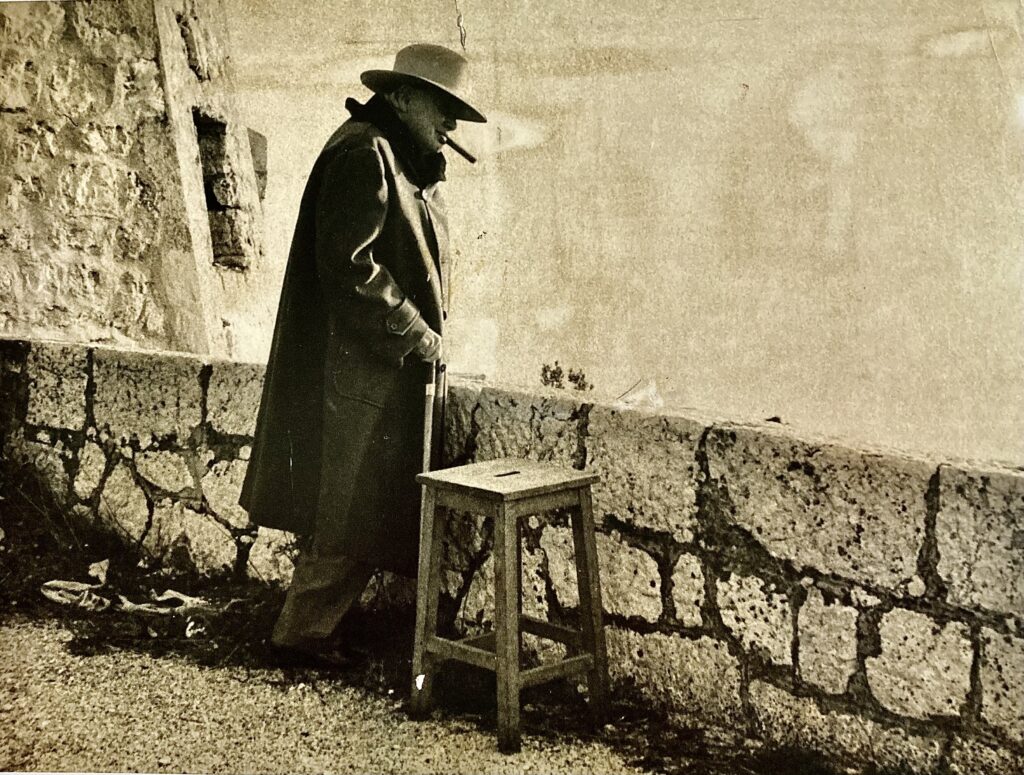 "Winston Churchill looking over Monte Carlo and the Mediterranean Sea from the Grande Corniche, December 1961."
 By 1959, "Churchill found himself no longer able to paint, even on his visits to the sunny clime of the South of France."  In 1960, he gave Queen Elizabeth his painting, The Palladian Bridge at Wilton, one of his paintings of the bridge he was "pleased enough with", for her private collection.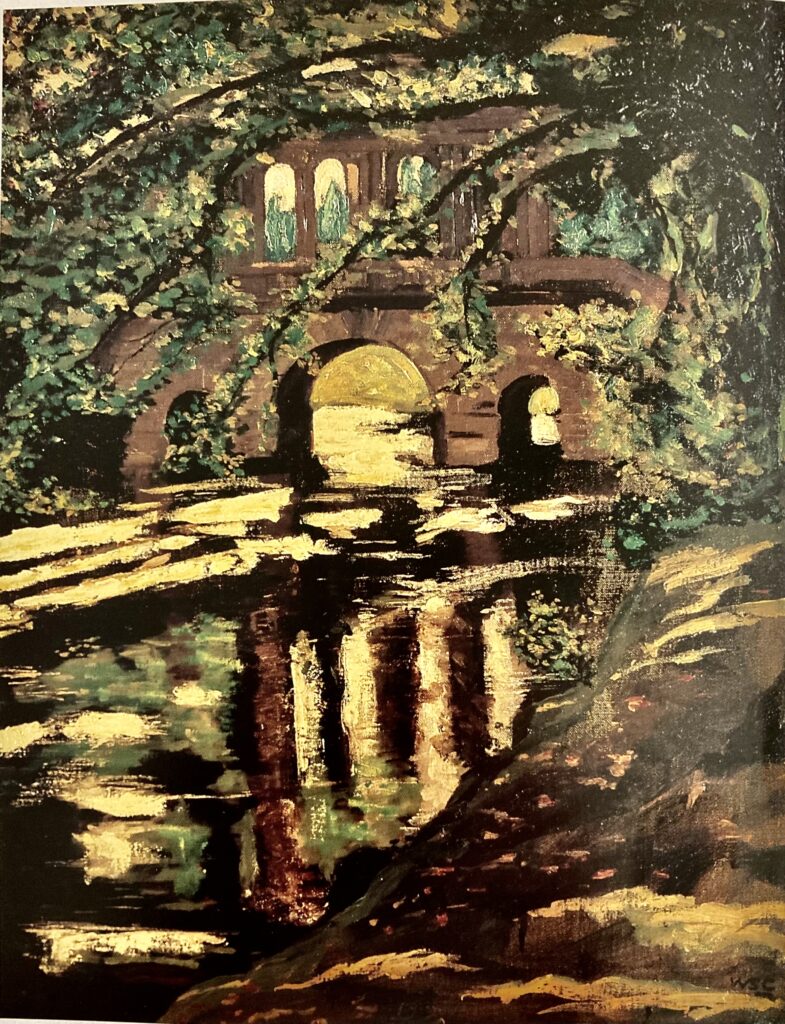 The Palladian Bridge at Wilton  This version of all the ones he painted of the bridge was the one he was pleased with enough to give to Queen Elizabeth in 1960.  Coombs states the bridge is one of the architectural glories of the kingdom.
In David Coombs' book, certain passages are in bold print.  This passage first appeared in Nash's Pall Mall Magazine in 1925.  Here it is complete and unabridged from the original articles and "published here for the first time in nearly 80 years."
About painting, Churchill writes:
"And what fun it is!  All those bright, jolly colours and their intricate relations with one another.  All those nicely graded values and their reciprocal reaction upon colour and form.  The whole plan of a picture built up state by stage, from the remotest distance to the sharpest foreground, absorbs every faculty, and yet it seems a different set of faculties from those required in ordinary work. Never mind if the result is not impressive—if comprehension and aspiration have far outrun the means of execution!"
"Painting is a friend who makes no undue demands, excites no exhausting pursuits, keeps faithful pace even with feeble steps, and holds her canvas as a screen between us and the envious eyes of Time or the surly advance of Decrepitude."
—Winston Churchill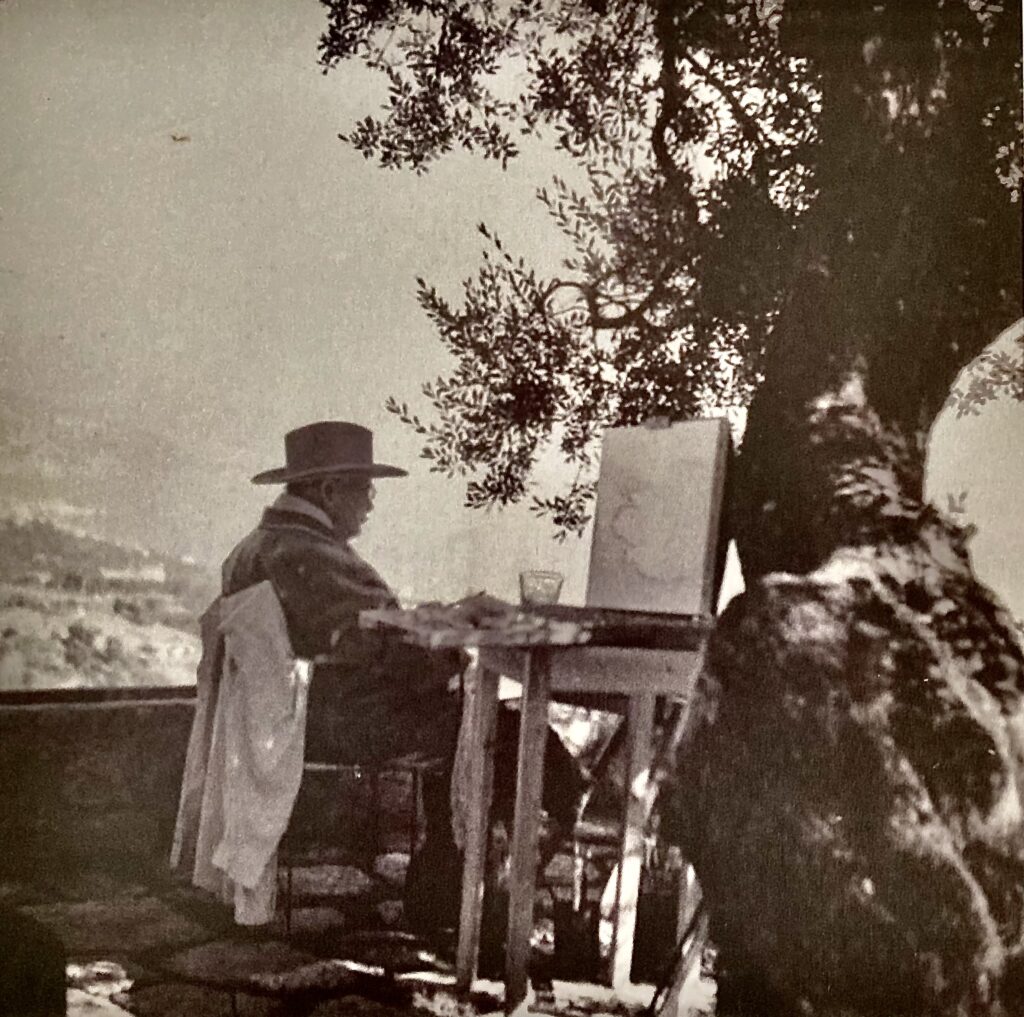 "Sir Winston Churchill painting the view over Menton at La Pausa."
À bientôt
Quotes and Pictures:
Painting as a Pastime, by The Right Honourable Sir Winston Churchill, published in 1965 by Cornerstone Library, New York.
Winston Churchill-Painting on the French Riviera, by Paul Rafferty, published by Unicorn.
Sir Winston Churchill's Life Through his Paintings, by David Coombs with Minnie Churchill, published by Chaucer Press in 2003.
Churchill on the Riviera, by Nancy Smith, published by Biblio Publishing.
The Riviera Set, by Mary S. Lovell, published by Pegasus Books Ltd.  2018.
Churchill Defiant, by Barbara Leaming, published by Harper Perennial, 2010.