BY KATIE FREIBURGER
On a quiet February day with the world still humming softly, Peyton Merrill opened a new women's clothing boutique in Winnetka, Bunny & Babe. Named after two of America's first style influencers, Bunny Mellon and Babe Paley, Merrill was inspired years ago by their collective fabulous lifestyles. Determined to emulate their great taste first in interior design, and now with a boutique named in their honor, this latest addition to Winnetka is truly spectacular.
Merrill's background is bursting with fashion and design. She began her career creating visual merchandising for iconic brands Ann Taylor and J. Crew and then relocated to London as Head of Visual Merchandising for Thomas Pink. This was followed with the launch of her interior design firm and a move to the North Shore of Chicago with her family. A Winnetka resident for many years, she has established herself as one of the North Shore's most authentically chic women, never missing a beat when it comes to her personal design or that of her clients. It is no wonder she decided to take her love of beautiful, sophisticated, wearable clothes and open a store.
I had the delight of popping into Bunny & Babe in early February. From the moment you enter, your eyes begin to dance around the space, taking in the signature robin's egg blue palette as the canvas for the stunning ready-to-wear clothes, accessories, and goodies for your home. Bunny & Babe instantly reminded me of a room out of a Kips Bay showhouse, and I stood in awe. Within minutes, the friendly staff greeted me with the gracious reception of old friends, and I made my first purchase: a beautiful navy blue sheared short jacket by Apparis. A gift for our daughter, I politely asked if they would mind wrapping the jacket. Without missing a beat, a gorgeous box with equally stunning wrapping paper emerged with a pale blue ribbon.
Bunny & Babe has carved out a niche in Winnetka, offering elegant choices for the everyday needs of dynamic women of all ages who want to look feminine, chic, and pulled together. Whether you are looking for that perfect floral blouse to be paired with a stylish new pair of jeans, a wide cuff bracelet for your wrist, or blazer for a work presentation (we can still be stylish on Zoom), Merrill has curated a boutique with refreshing new looks that appeal to every woman. The store opened with designs from Saloni, Rebecca Taylor, Apiece Apart, Hemant and Nandita, Rococo Sand, and Carolina K, among others, and within days sold out of much of the merchandise, a clear sign of the great taste on display.
Last month, as the nation began its most challenging time in modern history, Bunny & Babe joined countless other small businesses and temporarily closed its doors. However, Merrill and her team have not stopped working. They have continued curating, via social distancing,"Daily Looks" on Instagram. With everything down to the shoes for sale, their team assembles a signature daily look ready and available to be picked up curbside or dropped off at your front door. A distraction we all need to brighten our days, and a way to keep her employees on, this too takes creativity, courage, and style, and represents the best of humanity right now. I can only imagine Bunny Mellon and Babe Paley would be cheering her on.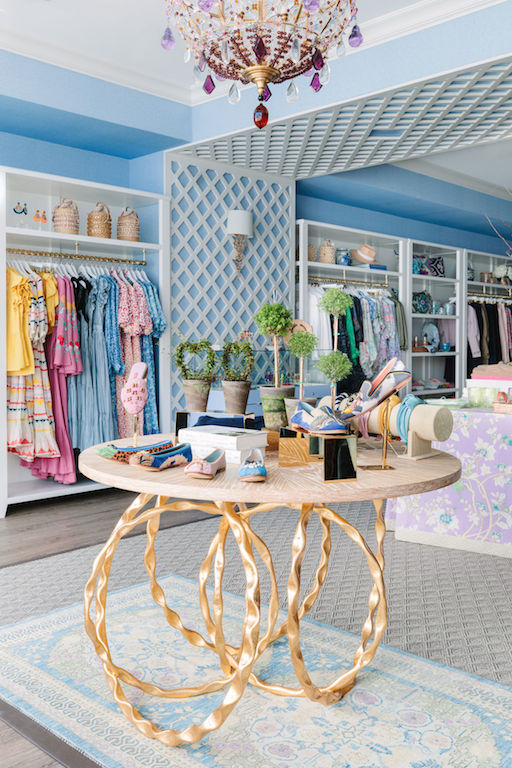 Once these deeply trying days are behind us, I suggest a trip to Bunny & Babe for shopping and the experience of a specialty boutique that leaves you feeling lighter and happier, something we can all look forward to. In the meantime, know you will be in good company. The support of some of Chicago's most classic ladies continues from the sidelines on social media. In early March, Susan Canmann, Buffy Maier, Ashley Davis, Claire Dwyer, Courtney Loeb, and other great Chicago women gathered quietly to celebrate Peyton Merrill's latest quest to bring beautiful feminine style into their closets. By moving to Instagram shopping, they and others are joining the quest of many Americans to keep our small businesses afloat until Chicago and Winnetka can safely reopen. This is the spirit of classic Chicagoans, supporting one another even during the most difficult of times and finding hope for a day when we will all dress up and meet again.
For more information about Bunny & Babe, go to bunnyandbabe.com or visit the store at 555 Chestnut Street in Winnetka when it reopens.