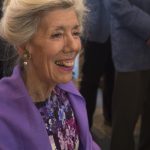 BY JUDY CARMACK BROSS
In what has been officially called by Mayor Lori Lightfoot "The Year of Chicago Music," we look to what memorable moments are happening now in music—and how that looks and sounds a little different these days—and what is yet to come.
And what would prom be without moment- and generation-defining music? As leaders consider when our Chicago schools will open, we think of all our young people missing prom and graduation, and applaud the efforts of non-profit CPS Lives, which for the past three years has welcomed local artists into public schools, sharing with their work the positive and diverse stories each of their residencies offers. In tribute to the students and administrators who have inspired them, the artists are planning a virtual prom slated for June 6.
We explore the virtual journeys planned not only by CPS Lives to uplift and support through music, dance, and celebration but also the Arts & Business Council's invitation to explore the favorite music moments in our city's history leading us up to what our mayor has denoted as a year distinct not only for COVID-19 but the musical arts of Chicago.
The Council's executive director, Kristin Larsen, told us more about our rich music history: "Chicago is where Louis Armstrong cut his first big records in the 1920s. It's where Muddy Waters and Howlin' Wolf made the blues electric, building the foundation of rock & roll."
"Chicago is where genres are invented," she continues. "From gospel to footwork to whatever comes next, our city's influence can be felt around the world. To celebrate our 35th year as a non-profit here, we want to bring our communities together around this theme and shore up our local artists. Our mission is to support Chicago's creative businesses by providing them with the essential support and knowledge they need to thrive. We are a capacity-building organization that draws on the experience of the private sector as well, offering labs promoted by our partners. We have been supporting arts, cultural and creative enterprises to help ensure the beat goes on despite the fact that we couldn't hold our keynote annual luncheon, our main fundraiser."
To celebrate Chicago's contribution to music and its 77 creative communities, the Council has created the #ChiMusic35 campaign, inviting the public to participate in its challenge to define the city's 35 greatest music moments. Those who places their votes at ChiMusic35.com are eligible to win an extraordinary music-themed prize and also have a the opportunity to enter other prizes through its raffle. All raffle proceeds go to help our city's creatives rebuild and recover from the COVID-19 crisis. The challenge runs through June 19.
Voters' favorite Chicago music moments could make the final list of 35 Greatest Moments in Chicago Music History, including:
1920: Sister Rosetta Tharp debuts and goes on to become known as the Godmother of Rock & Roll
1939: Mavis Staples, one of Rolling Stone's 100 Greatest Singers of All-Time is born
1978: Wax Trax Records is founded and goes on to put industrial music on the global map
Larsen, who said that her love of Chicago music began with her father, remembered how he loved watching her jump when she first heard the accelerating sound of Pink Floyd's "Time." She attended concerts at the Rivera and Thalia Hall and loved hanging out in the record store close to her alma mater, DePaul University, where she always listened to the indie label Wax Trax.
"Something that isn't probably widely known is that House Music got its start here. I was personally very glad to see that a female DJ was one of the first people to be nominated for ChiMusic35 bests," she shares.
Dating even farther back than its first memorable Chicago moment, music and the visual arts always seem to go hand in hand. It was a former South Korean K-pop star who made her way to Chicago to study at the School of the Art Institute, who founded Bridgeport's 062 Gallery. Known as S.Y., she first made her way to Chicago to study at the School of the Art Institute, starting the gallery—named after a zip code in Gwangju, South Korea—soon after her graduation. The non-profit Bridgeport space is dedicated to the promotion of global art discourse as an open platform for emerging and established artists and cultural organizations.
From May 29 to June 20, 062 will host an entirely virtual show, (Re)Visions of Chicago Public Schools, selling the work of several prominent local artists participating in the CPS Lives projects. Two of those artists, Edra Soto and John Preus, will join a virtual panel discussion on opening night, speaking with Stephanie Cristello, EXPO Chicago's Artistic Director.
Working with CPS Lives photographers Justin Schmitz and Marzena Abrahamik, S.Y. is finalizing details for prom night, an hour filled with great DJ music streaming live on Instagram. Using the hashtag #CPSRonaProm, guests may post photos of themselves in their finery. S.Y., who was walking down a South Korean when she was scouted to become a K-pop singer and dancer, has never attended a prom despite her dancing abilities.
"Our CPS artists have contacted the principals and staff of the schools where they have been creating art through the past months and issued invitations to join us to all the kids—but everyone is welcome," S.Y. says. "I no longer sing and dance but feel that having this prom shows in a very visual way that as times are changing through this virus, we really have to learn how to adapt."
Last spring, Abrahamik took powerful prom photos at what would be the final prom for the Young Women's Leadership Charter School, which closed in 2019. Born close to Athens, Greece, the photographer came to the US as a teenager and currently holds a CPS residency at the Michele Clark Academic Prep Magnet High School.
"Very few of the YWLCS students brought boyfriends or male cousins, so the prom was mainly about female energy. It felt so authentic," she explains. "I got the real sense of the sisterhood created when women don't feel that men are watching. I think that being a photographer gives you a real opportunity to engage people on quite a personal level, to let them share stories. My intention is to place myself in their place."
Photographer Matt Siber, a CPS resident at A.N. Pritzker Elementary School, an arts magnet school, tells us a little about how artists enrich daily life at their schools: "My work with our terrific art teacher Mindy Schwartz, an artist in her own right, is mainly pedagogical, but it is when I am photographing students on the playground or they look at my photos displayed with pushpins on the bulletin board that the students start to engage. It might begin with 'What are you doing?' or even 'I liked the one you did last week better.' "
Siber says, "It is important when the schools are closed that we have ways to remember our most important places, and art can do that for all of us."
CPS Lives founder and executive director Suzette Bulley shares, "The landscape of public education is ever-changing, and the role of artists as narrators is becoming increasingly important in documenting these stories. Our artists are committed to showing honest depictions of public education and of the youth of Chicago."
She continues, "We are dedicated to taking an active role in the future by helping shape the youth arts community into a positive and groundbreaking space for experimentation and freedom. This is apparent in the bodies of work in the exhibition and the new virtual space where it is shown. We are excited to present the exhibit with a gyroscope effect to feel that you are walking through the gallery and are able to rotate to each work, whether on your phone or laptop, on display. Fifty percent of the sales go to the artists, the other to funding the artist residency program that is offered free to the public schools."
Of the upcoming prom, Abrahamik says, "I hope we will name a Prom Queen and King, and I can maybe drive by and photograph them from my car as they stand on their front steps. Prom is so much a part of self-discovery, a battle between our strength and weaknesses, and I love to capture that through my lens."
For more information, visit cpslives.org.