–
---
       With The American Friends of Versailles

By Sharon King Hoge
Raising funds to help preserve Versailles while enriching their knowledge of Marie Antoinette, the American Friends of Versailles visited Vienna and Prague this year to study the Hapsburg dynasty that produced the fated queen. Founded by Chicago resident Catharine Hamilton with help from Frederick Krehbiel and the Vicomte de Rohan, the AFV participates in important restoration projects for the palace, which enhance Franco-American friendship.  Past efforts have renewed the Bosquet des Trois Fontaines, the Pavillon Frais, the baroque ceiling fresco of the Queen's Guards Room, all highlights of visitor tours.  Monies this year are contributing to restoration of the Bosquet de la Reine, a garden once reserved for Marie Antoinette. 
      The American Friends of Versailles at Schönbrunn Palace in Vienna  
The Trois Fontaines Bosquet.
         The Pavillon Frais
   Ceiling of the Queen's Guards Room before restoration
 The Queen's Guards Room after restoration.
A view of the Bosquet de la Riene
Catharine and David Hamilton, along with Chicago residents Elizabeth Parker Crow and Keith Crow and former Chicagoans Michele Fieschi-Fouan, James Hanson, and Sharon Hoge were among two dozen travelers from New York, New England, Florida, Houston, California, Washington DC, France who assembled in October in Vienna's Imperial Palace Hotel for five days of tours and meals before spending three days in Prague. 
 American Friends of Versailles Founder Catharine Hamilton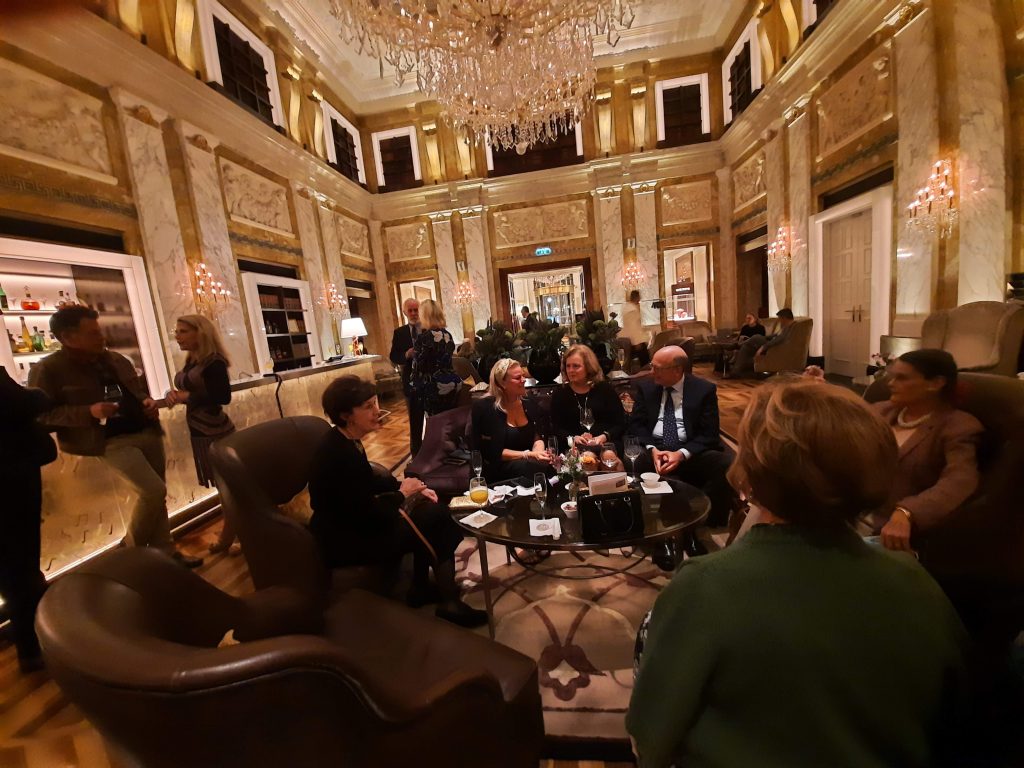 Old and new American Friends of Versailles gather in the Imperial Hotel's Marble Hall
    Elizabeth and Keith Crow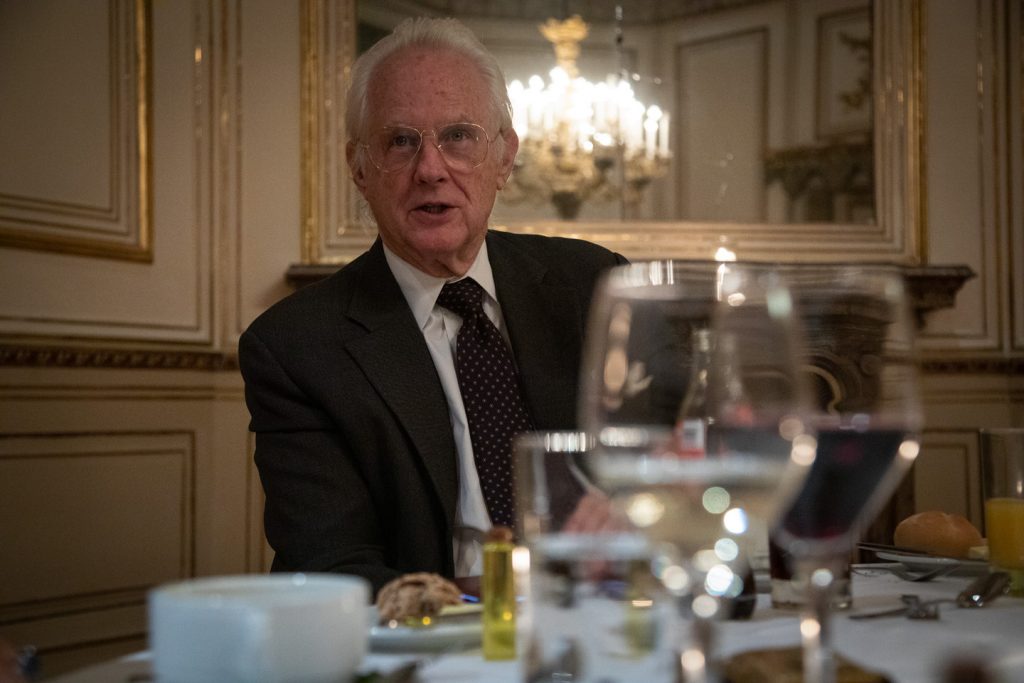 David Hamilton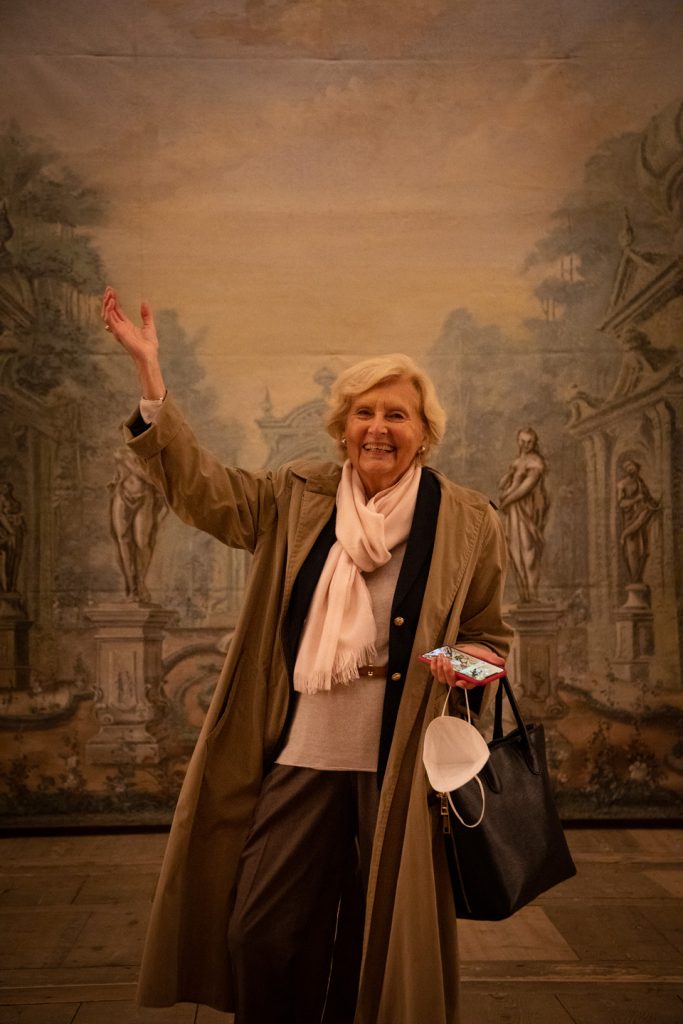 Michele Fieschi-Fouan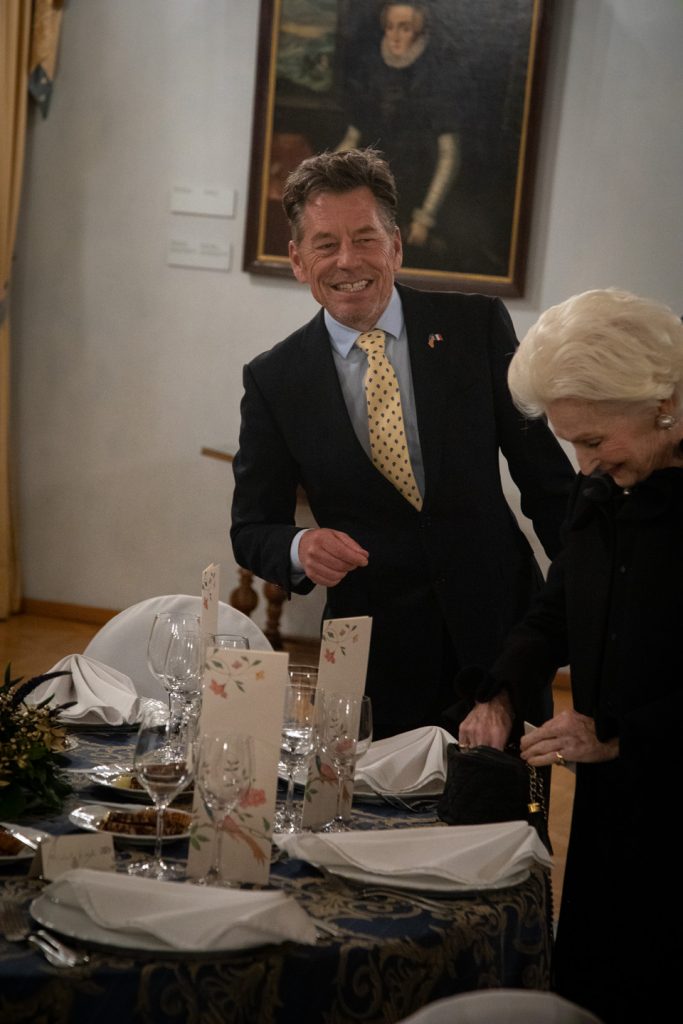 Jim Hanson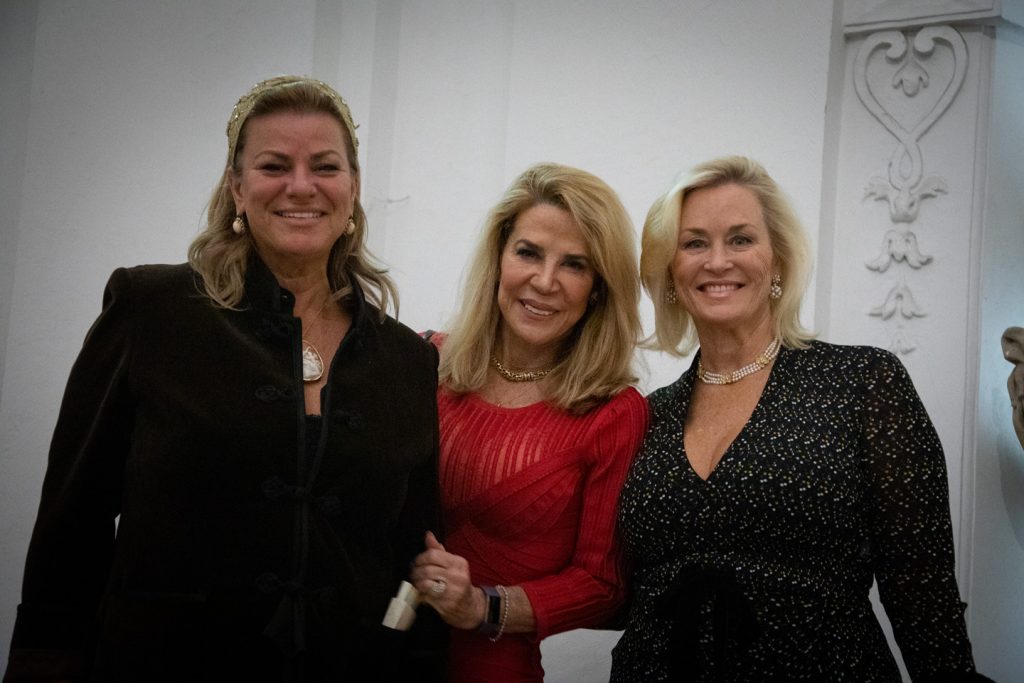 AFV members Josee Nadeau,  Katherine Harris, Claire Dwoskin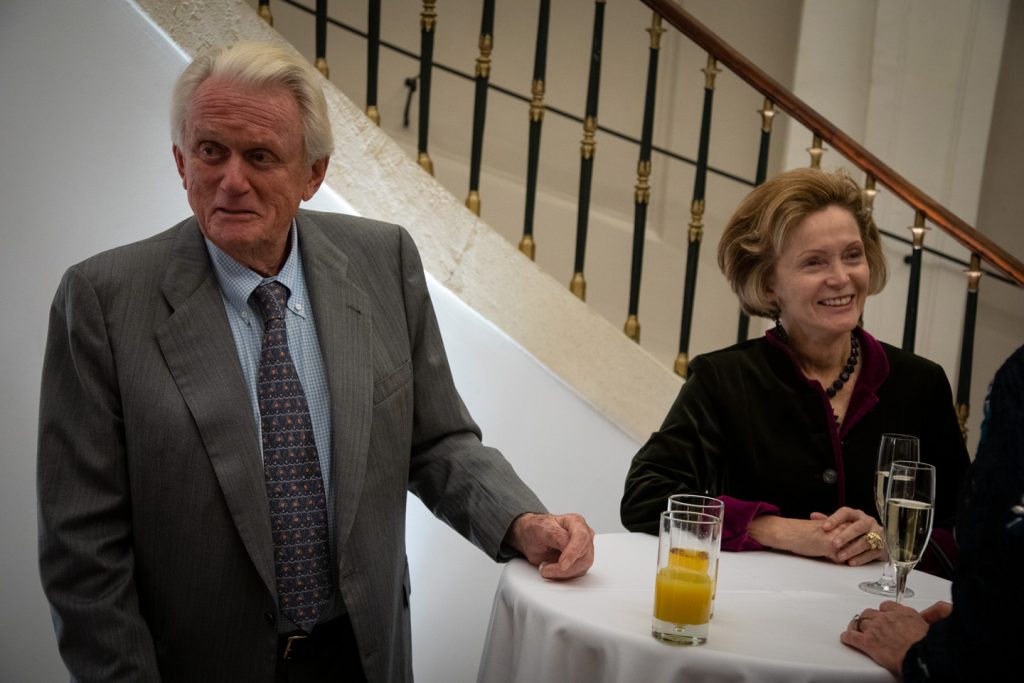 Robert and Jaquine Arnold
            Dr. and Mrs. Alan Bentz and Josee Nadeau.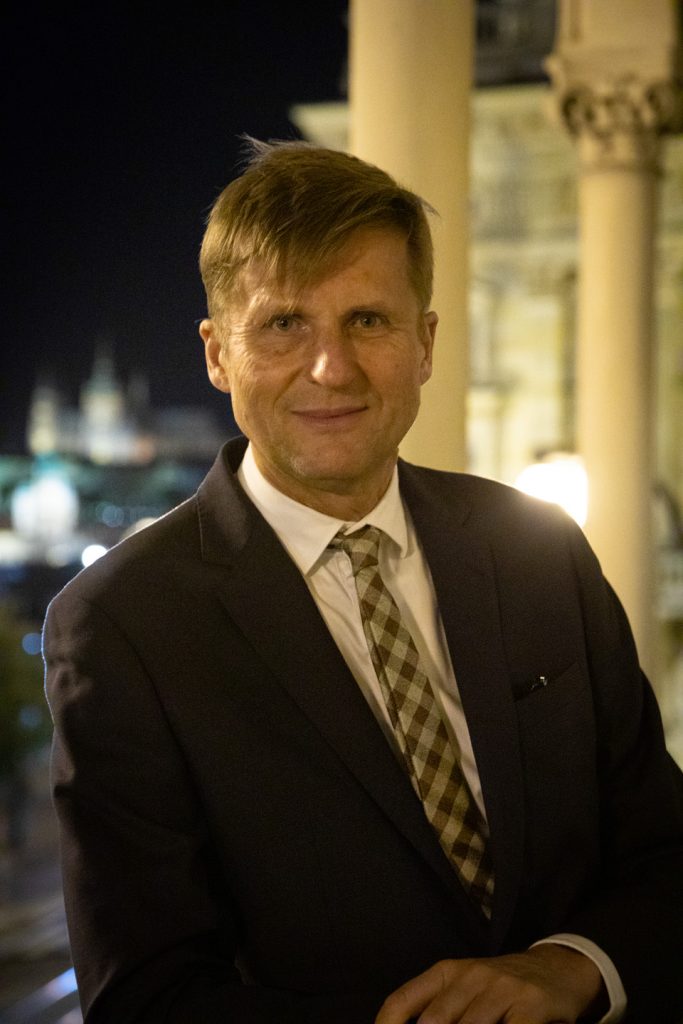 Photographer Francis Hammond.
 Born an Austrian Archduchess, Marie Antoinette, was betrothed to the dauphin and sent to France in her teens.  We traced sites of her youth from the Hofburg Palace where she was born in an armchair, to the delightful rooms and gardens of Schönbrunn, the palace that was her childhood home, and the architecturally iconic Belvedere Palace which was the site of her wedding supper and a masked ball.  The Archduchess had married by proxy, her brother Ferdinand standing in for the French dauphin, since it was necessary for her to renounce her Austrian heritage before entering France, in a procession of 57 carriages, as Madame La Dauphine. 
The Hofburg was the seat of Hapsburg power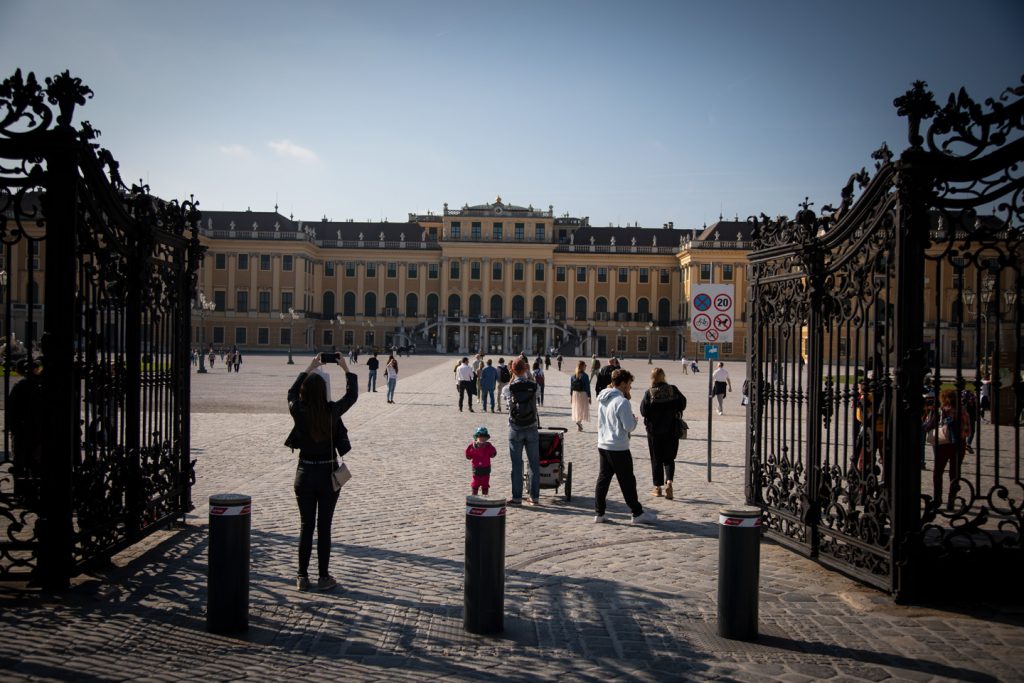 Schönbrunn Palace was a Hapsburg summer residence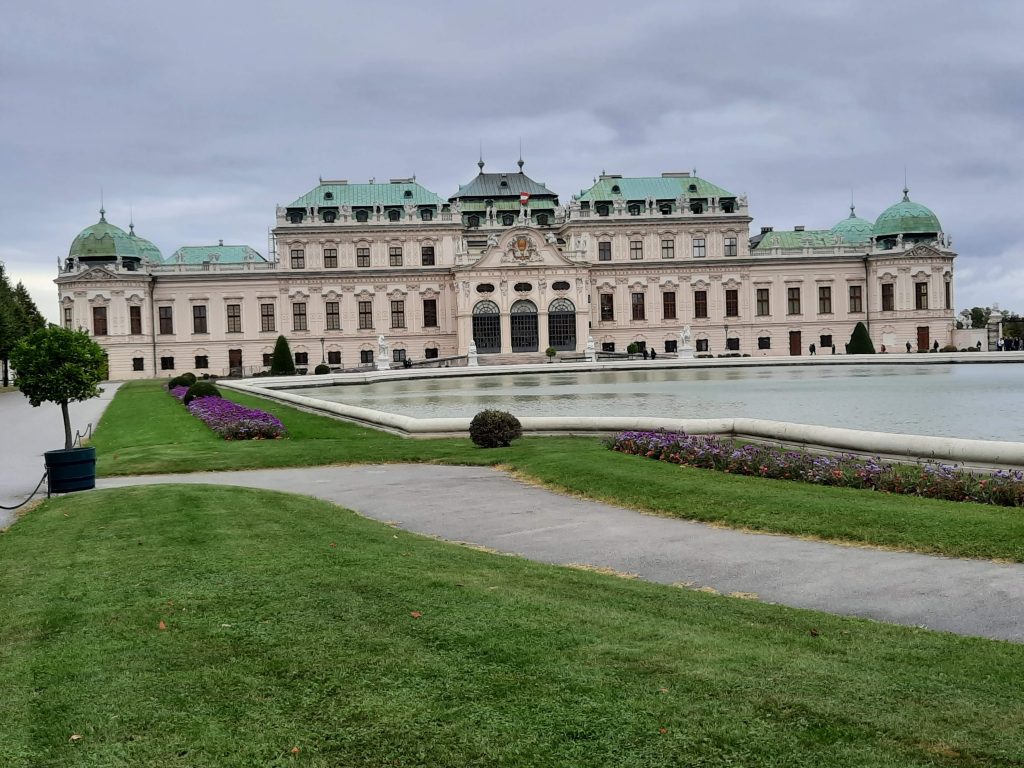 Stately Belvedere Palace was said to be patterned on Versailles
 Each year AFV benefit trips are organized by AFV Board Member Her Royal Highness Princesse Béatrice de Bourbon Deux Siciles, and trips are enhanced by rare opportunities for private visits with her family and friends. 
In Prague a dinner in honor of the Princesse was hosted in his residence by Cardinal Dominik Duka.  Now Archbishop of Prague, his authorization to work as a priest had been revoked by the Communist government in 1975 and he worked in secret, but was imprisoned from 1981-82 for publishing unauthorized samizdat literature.  A fellow prisoner was future Czech president Vaclav Havel,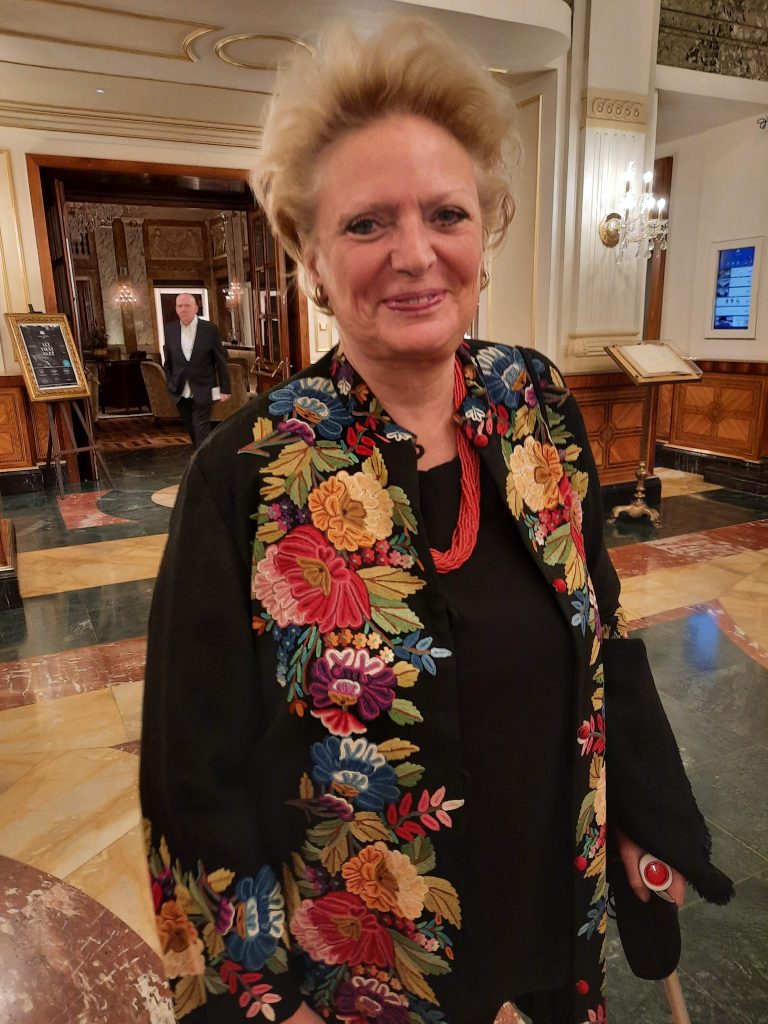 Princess Beatrice arranges and manages the AFV benefit tours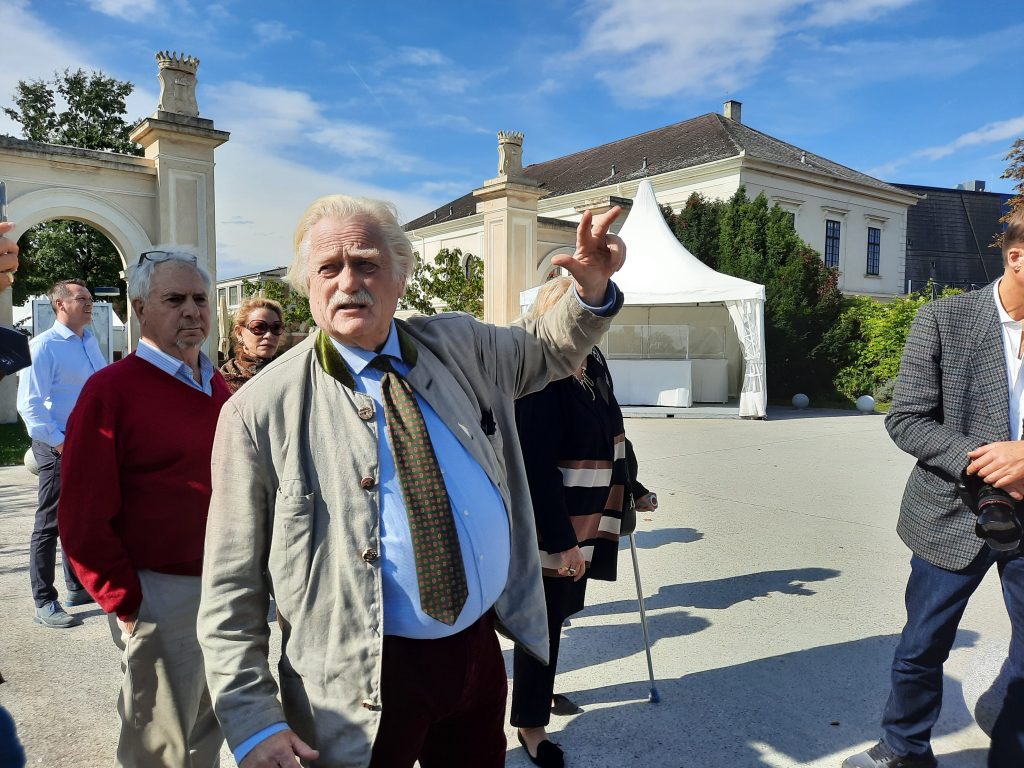 Lorenz, Count Gudenus led a tour of Grafenegg Castle.
 Princess Marie of Leichtenstein a relative of Princess Beatrice, welcomed us to the Liechtenstein Palace.
         Princess Marie arranged a private tour of sumptuous Liechtenstein Palace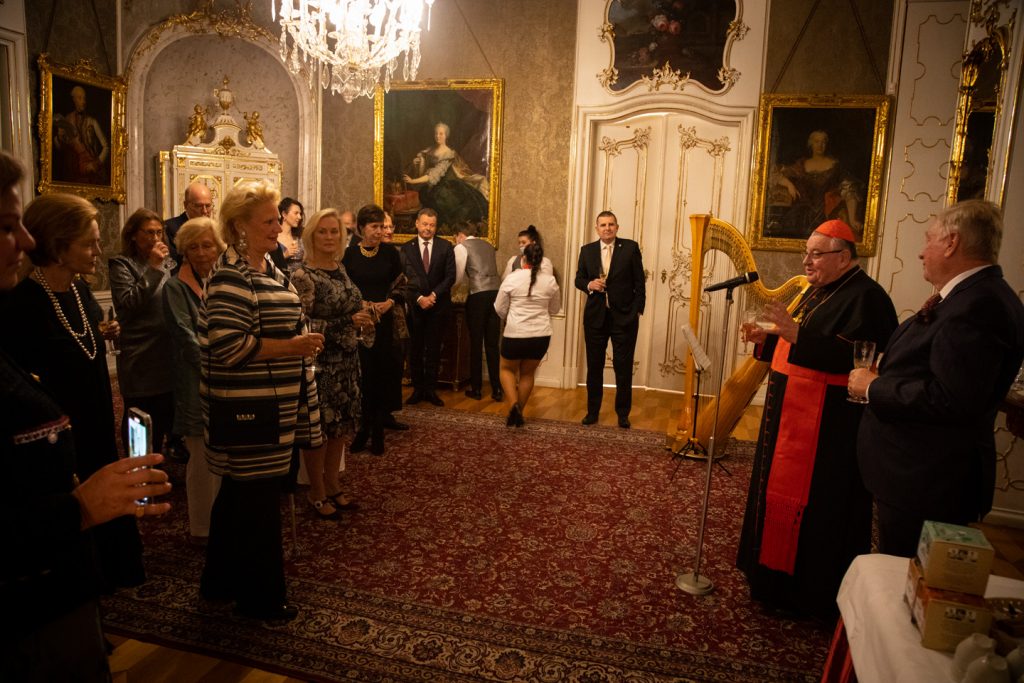 Archbishop Cardinal Duka welcomed us to dinner at the Archbishop's Palace
---
 Archbishop Cardinal Duka toasted dinner honoree Princesse Béatrice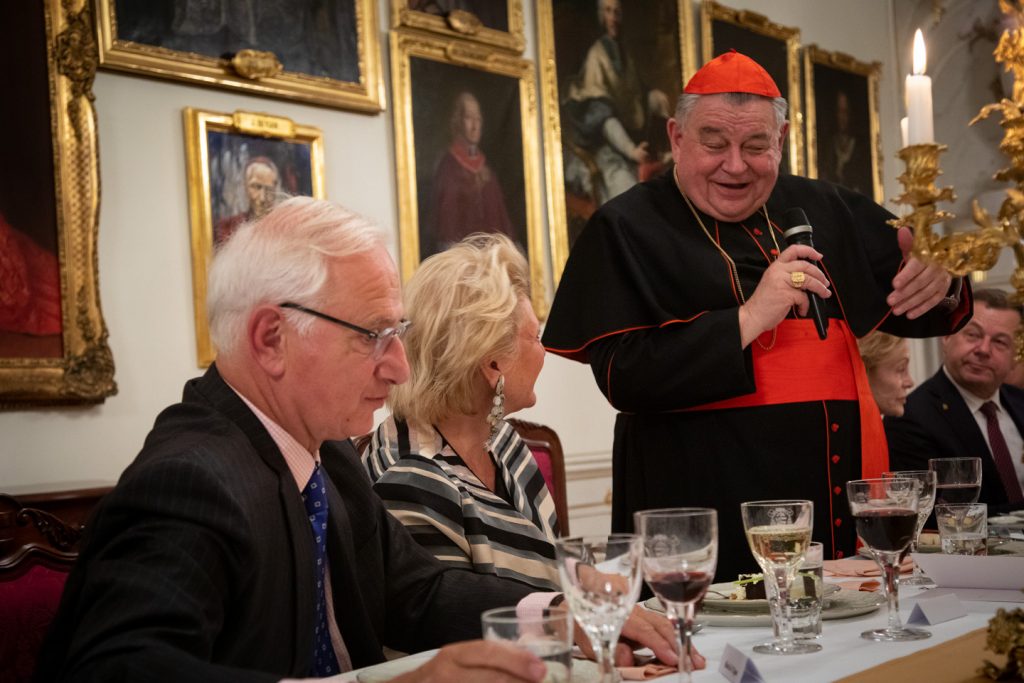 Former Société des Amis de Versailles President, Baron Roland de l'Espée, now an art consultant in Prague, helped organize private visits to Czech sites of interest.  During a stop at the UNESCO Heritage village of Cesky Krumlov, in a unique private visit we were guided by famous art curator Pavel Slavo through one of the world's best preserved baroque theaters, which is rarely opened. The Krumlov Castle theater is comparable to Versailles' recently restored 1780 Queen's Theater which had been commissioned by Marie Antoinette.
 Baron Roland de l'Espee helped with Czech visit plans.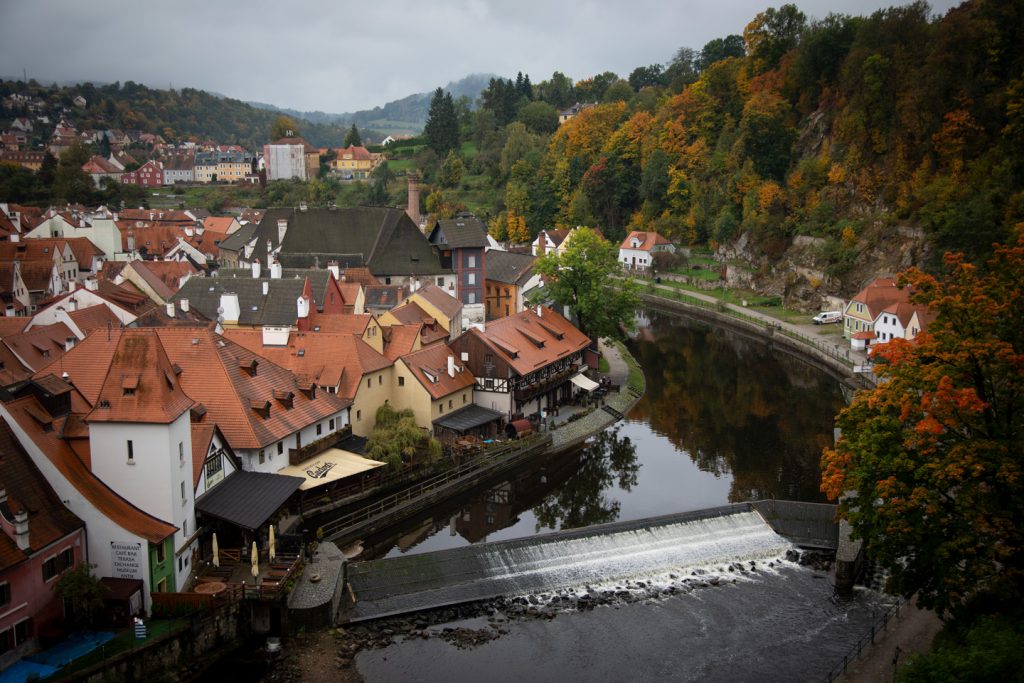 Picturesque UNESCO Heritage site Cesky Krumlov.
Cesky Krumlov's baroque Castle Theater is preserved from the 18th century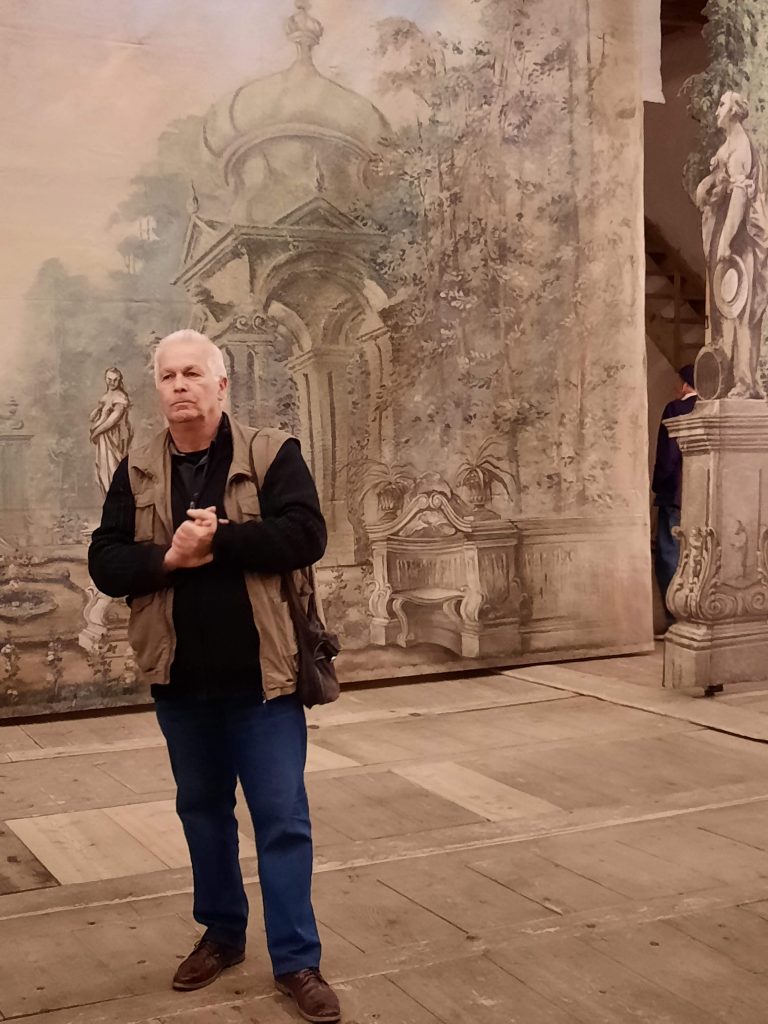 Preservationist Pavel Slavo showed features of the theater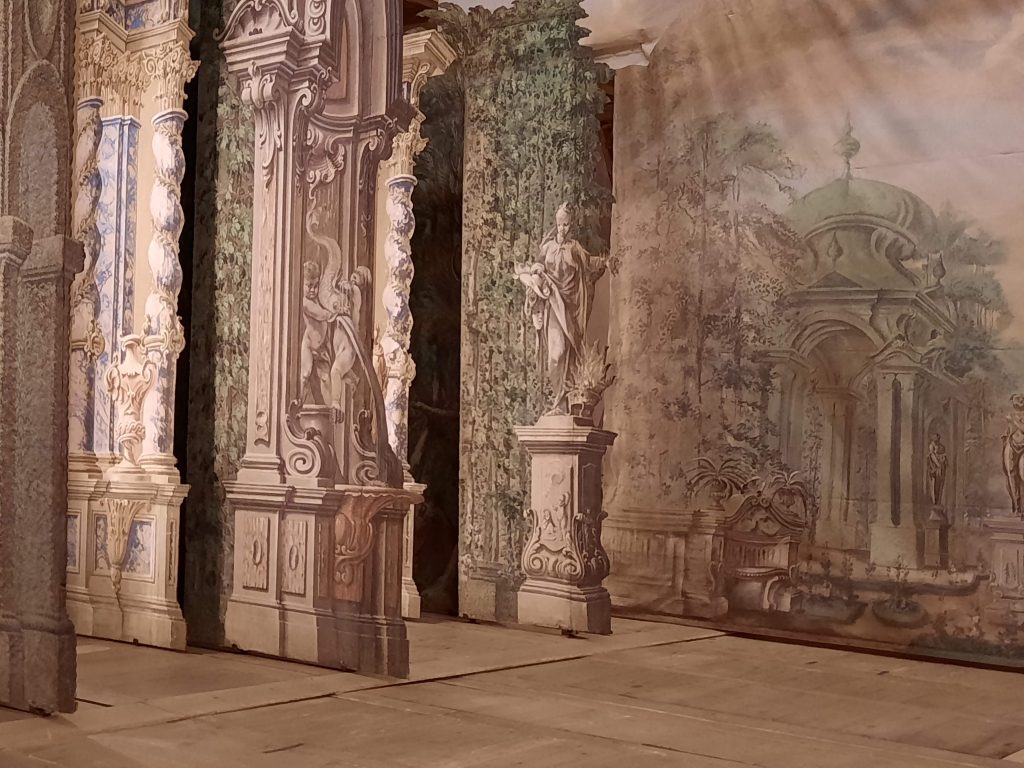 Stage settings from the 18th-century are still in use
Written by Sharon King Hoge
Photos by Francis Hammond, Sharon King Hoge, Michele Fieschi-Fouan
This  was merely the beginning. Return  next week for Sharon King Hoge's second feature on The American Friends of Versailles recent  trip to Vienna and Prague. 
To inquire or to receive invitations to future tours and events, email info@americanfriendsofversailles.org