VIAGGO IN ITALIA 
By Stanley Paul
Editors Note: Several times a week Stanley Paul meets with a group for coffee near his Old Town apartment.  This fall Stanley and two of the group, Geraldine Nolfi and Abigail Hart cruised around Italy on the cruise ship Azamara.  This is Stanley's report.
Upon landing in Rome and seeing all the familiar sights that everyone
sees, a friend who lives in Rome took us to a little place called Forno
Campo de' Fiori.  It was a tiny unassuming hole in the wall with no
seating – and probably the best pizza any of us had ever tasted!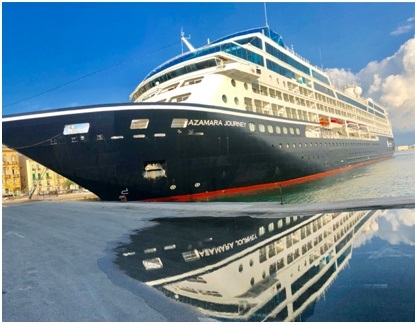 Upon our arrival at the intimate Azamara Cruise ship for a glorious
Mediterranean adventure, our voyage began.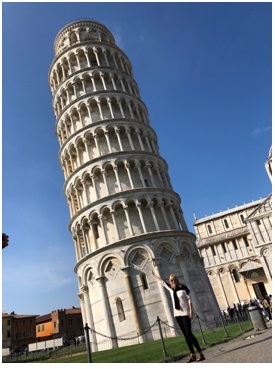 No adventure to Tuscany would be complete without a quick
visit to the legendary Leaning Tower of Pisa.
P.S. It's still leaning!    
Next, on to the picturesque walled city of Lucca…
The wonderful town-square of Lucca.
Enjoying al fresco luncheon in Lucca with Abby Hart.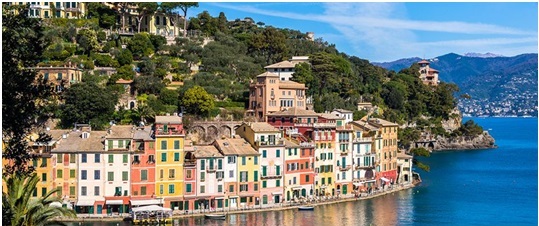 The following day we were off to charming Portofino.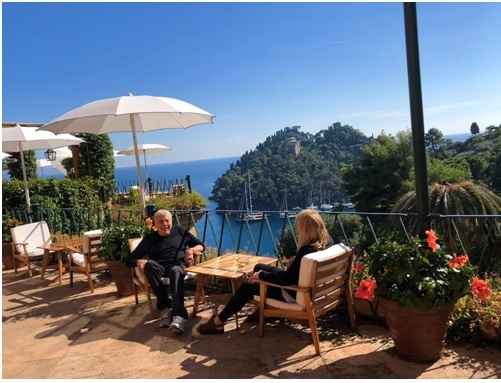 Of course we couldn't leave Portofino without a posh luncheon
al fresco with Jeri Nalfi at the gorgeous Hotel Splendido perched
atop the rocky cliffs.
My cruise-mates Jeri and Abby overlooking the beautiful harbor.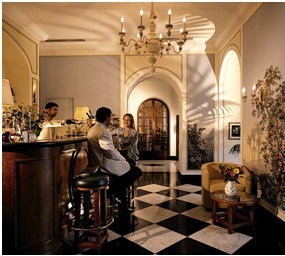 The Bar.
The Lobby.
The Charming Sun Room.
Our next stop was the Island of Elba where Napoleon was famously
exiled in 1814.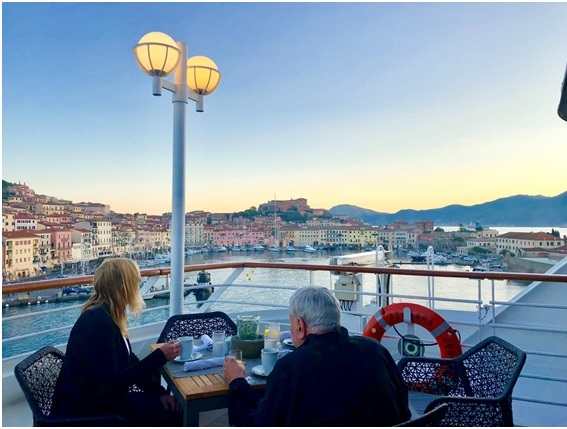 And then "Come Back to Sorrento."
Salute!
Shopping madness in Sorrento.
That evening The Azamara hosted an elegant "White Nights" soirée as
we sailed toward the Amalfi Coast.  Dinner on deck was extraordinary
from perfectly prepared escargots to eight flavors of gelato. (We sampled
all eight–after all, we were  on vacation!)
Amalfi and Positano were as magical as ever, nestled into the
impossibly craggy hillside.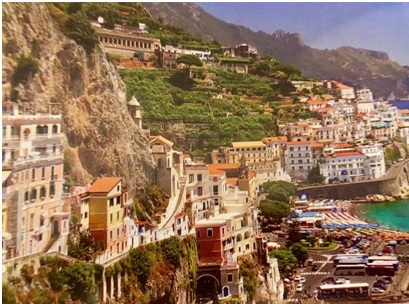 Old Town in Trapani, Sicily was relaxed and casual.  Even the Sicilian
pooches seemed to understand that they were living "la dolce vita!"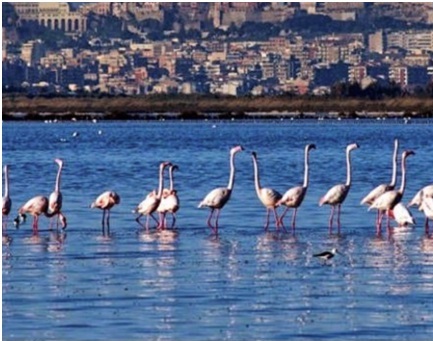 Our final stop was to the lovely Island of Sardinia where a highlight was
a visit to the lagoon of San Teodoro, home of the much loved pink flamingos.
Arriverderci Italia – Until we see you again!
Photos by Abigail Hart.