Sisters-in-law Veronica Miele Beard & Veronica Swanson Beard's eponymous label lands in the Gold Coast
By Cordelia Meserow
It began with a blazer.  Veronica Miele Beard and Veronica Swanson Beard are sisters-in-law married to a pair of brothers.  Not only do the pair share a name but also an interest in fashion.  11 years ago they launched their eponymous label, Veronica Beard, and set out to reinvent a critical component of everyday women's fashion: the blazer.  Their idea took form in the Dickey Jacket, a well-tailored blazer fitted with an interior zipper to allow for a variety of inserts, ranging from cotton hoodies to cozy cashmere.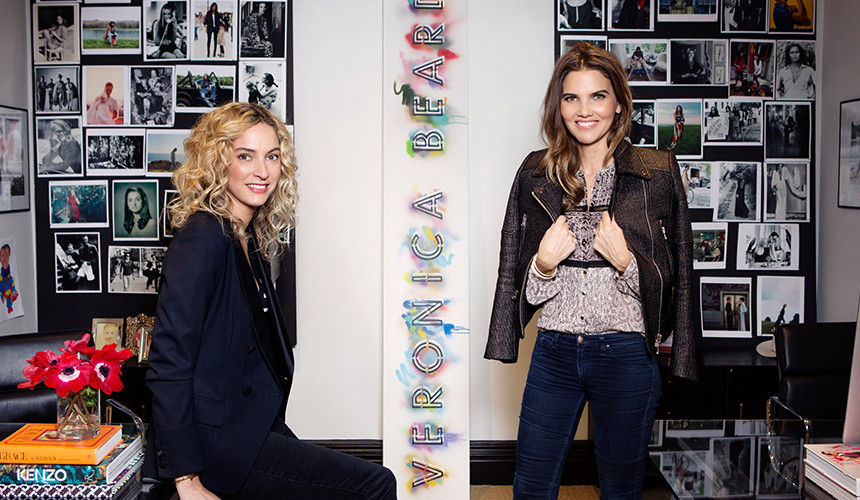 Sisters-in-law and co-founders, Veronica Swanson Beard and Veronica Miele Beard.  Image courtesy of veronicabeard.com.
The Veronicas, as they are often called, were inspired by the concept of the daily uniform and its effortless versatility.  With a simple yet innovative design trick, a classic blazer could be transformed into a multi-season and multi-occasion piece.  The idea was nothing short of brilliant, and the brand took off quickly.  In 2011, a year after launching the Dickey Jacket, Veronica Beard expanded into a wider variety of ready-to-wear items, including skirts and pants (some even to match the blazers), along with blouses, dresses, and more.  The brand now also boasts a dreamy denim line as well as shoes, all of which are consistent with the Veronicas' original uniform-driven vision. 
The Classic Jacket with a gray hoodie Dickey.  Image courtesy of veronicabeard.com.
The fashion industry took notice early.  The Veronicas have twice been named CFDA/Vogue Fashion Fund finalists, the industry's Oscar equivalent, and Veronica Beard had its first runway show in 2012 at New York Fashion Week.  Their pieces have been sported by some of the most stylish women around, such as supermodels Cindy Crawford and Giselle Bundchen and actresses Gwyneth Paltrow and Kerry Washington.  Dr. Jill Biden is also a fan.  The First Lady has been spotted in three different VB jackets so far this year.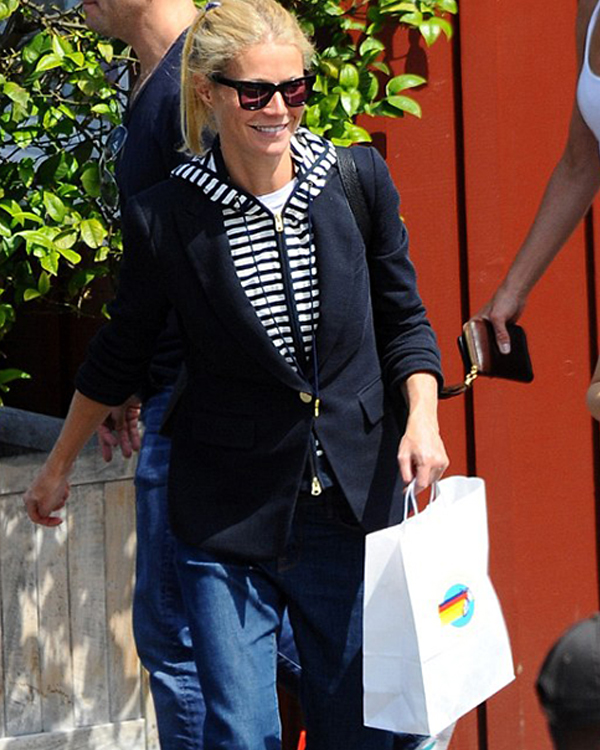 Gwyneth Paltrow in a Veronica Beard jacket and striped Dickey.  Image courtesy of Veronica Beard.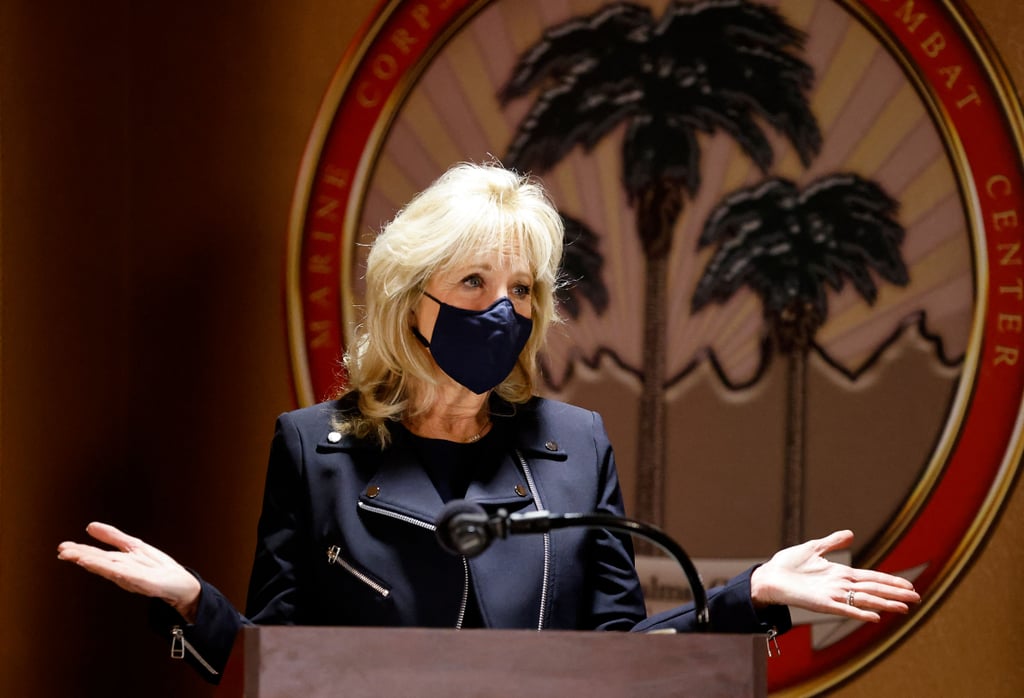 First Lady Jill Biden in Veronica Beard's scuba Hadley jacket in California March 2021.  Image courtesy of Getty Images.
The Veronicas have continued to adapt their line to suit customers' changing needs.  Their pre-fall 2021 line that was introduced in December 2020 included more jeans and relaxed-fit pants, as well as outerwear for the renewed interest in outdoor activities that have resulted from the pandemic.  Vogue remarked in its review that, "its [the collection's] mix of ease and interest will resonate with lots of women come next spring."  The blazer still remains at the heart of the brand, and with all the talk of "Zoom dressing" that has resulted from working from home this past year, it continues to be a best seller.  
Looks from pre-Fall 2021, above,  featured more relaxed trousers, jeans, and outerwear. Images courtesy of Vogue. 
I first came across Veronica Beard five or six years ago at Intermix in New York, where I purchased a pale blue button-down shirt dress.  A twist on a classic, the dress has ruching on the sides and asymmetrical buttons on the dress's bottom half.  I have worn it to the office with heels and a blazer and on the weekends with a platform sneaker and denim jacket.  It is versatility at its finest.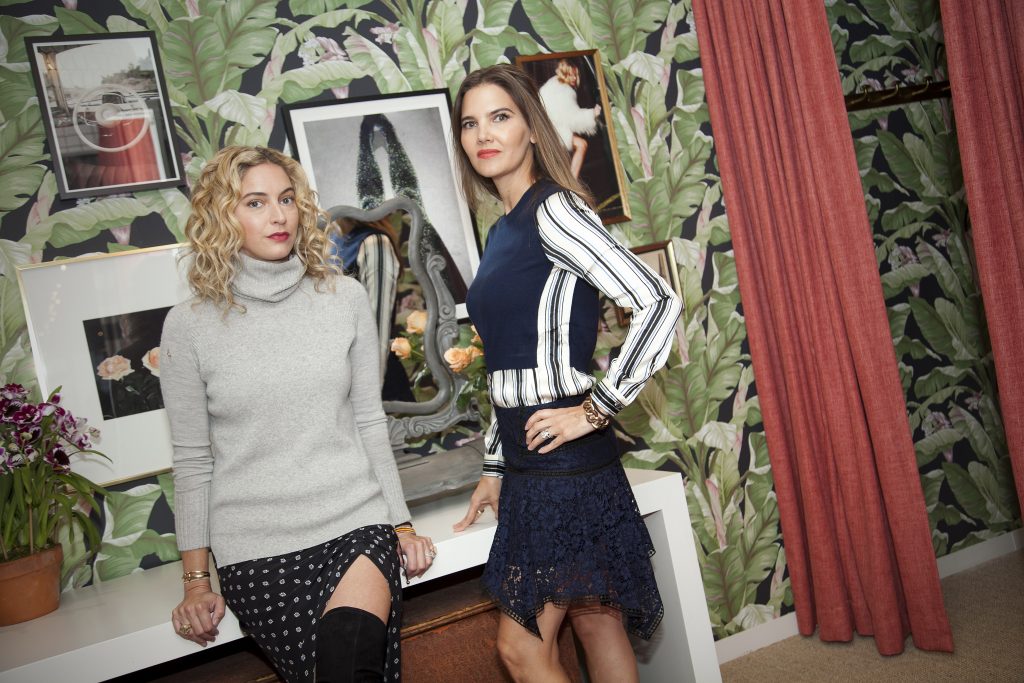 Veronica Swanson Beard and Veronica Miele Beard pictured at the Madison Avenue's store upon its opening in 2016.  Image courtesy of WWD. 
Veronica Beard has been a staple in my closet ever since that initial purchase.  When I heard that the brand was planning to open a store in Chicago, I was thrilled.  Veronica Beard opened its first store on Madison Avenue on Manhattan's Upper East Side in 2016, and they have now expanded to 15 locations across the country, from San Francisco to Southampton.  While Veronica Beard can be found at high-end fashion outposts such as Neiman Marcus and the aforementioned Intermix, its boutiques offer customers a uniquely immersive brand experience that includes in-store exclusives, fashion-forward décor, and a curated mix of items from third-party vendors. 
The interior and exterior of the Gold Coast store.  Image courtesy of Veronica Beard.
The new Chicago store is located in the Gold Coast, on the corner of Rush and Walton streets at the base of the Waldorf Astoria hotel.  As someone who is a commercial real estate professional by day, the Walton and Oak Street retail corridors are more in-demand than ever.  The area's walkable nature, coupled with its neighborhood charm continue to make it one of the most coveted shopping districts in the country.  The Veronicas agree.  When asked why the brand selected the Gold Coast for its newest location, co-founder Veronica Miele Beard commented:
"We have a strong customer base in the area, and we want to give her a layered shopping experience in a boutique we curated to fit her lifestyle. We're excited to open our doors at 11 East Walton Street because the area is filled with amazing boutiques, and it's a premiere shopping destination!"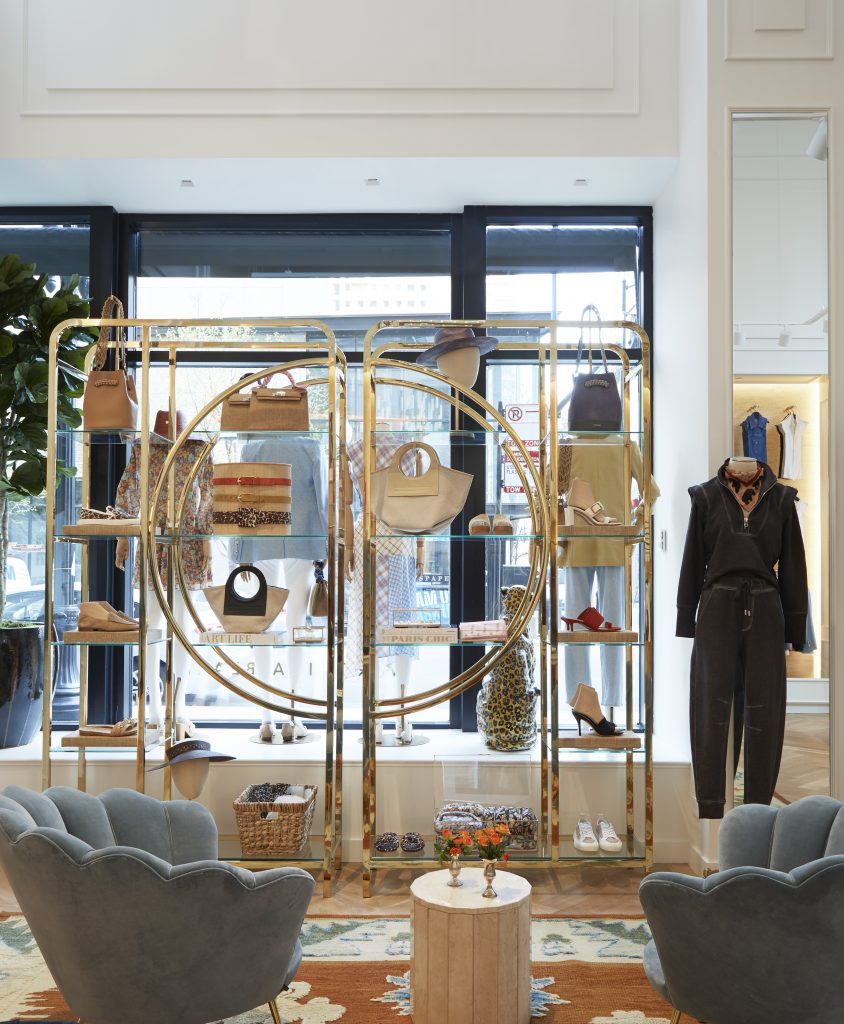 The seating area in the store features plush blue velvet chairs.  Image courtesy of Veronica Beard.
Fit the lifestyle does it ever.  The experience of shopping in the Veronica Beard boutique is like walking into the warm, yet subtly glamorous dressing room you have always wanted in your home.  The space has abundant light and air and soaring ceilings.  The southern wall of Dickey jacket liners functions both as selling space as well as an artful display.  An inviting seating area, with two blue velvet chairs, is perfect for trying on shoes as well as for one's shopping companions to relax.  The glamour continues in the fitting rooms.  Walls are lined with textured raffia wallpaper, and the rooms have edgy tiger-print curtains.  Stylish vintage photographs are scattered throughout the fitting rooms and the boutique.  One could almost expect Kate Hudson's Penny Lane in Almost Famous to pop right out of one of them.  It's a vibe.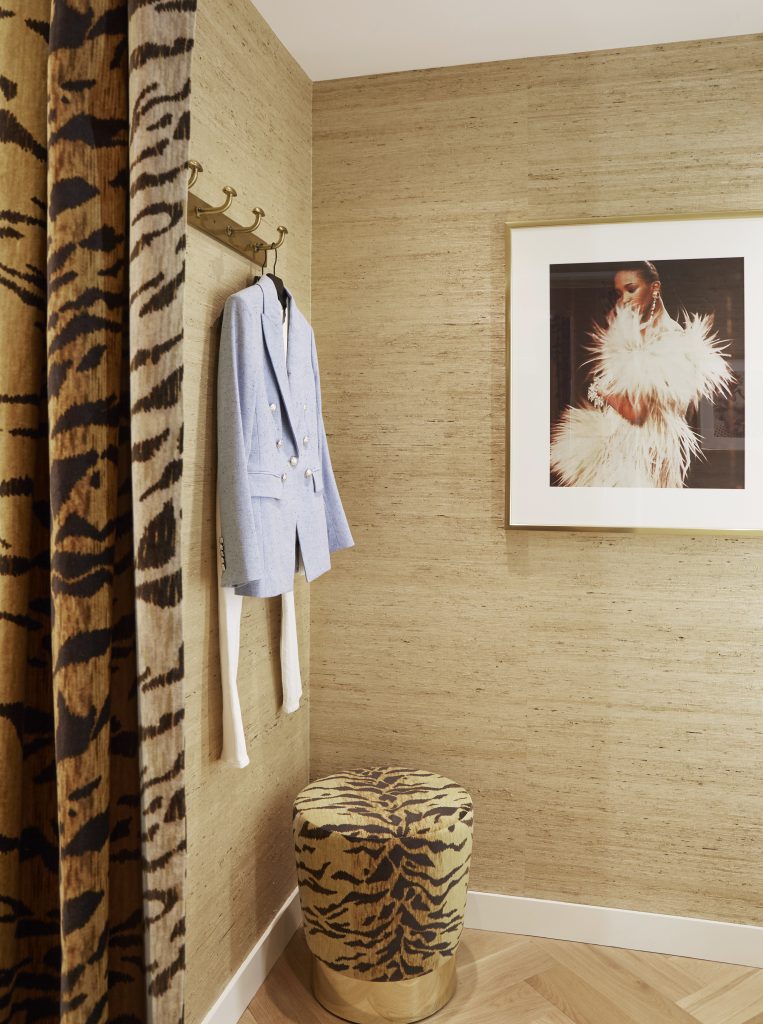 Textured wallpaper and a vintage photograph decorate a fitting room.  Image courtesy of Veronica Beard.
With great success also comes a responsibility to give back to one's community.  The past year has brought much social and political upheaval, and many luxury brands have recently aligned themselves with various causes in response.  The Veronicas were ahead of the curve.  They launched the #VBGivesBack initiative back in 2015, and philanthropy has always been a critical part of the culture.  The team at VB says of the initiative:
"#VBGivesBack empowers the women who make a difference in the world. In addition to in-store events in support of local charities, each quarter we recognize a woman and her mission to make a change in the world by donating a portion of proceeds from every veronicabeard.com order to the cause most important to her. Since its launch, we have shared the stories of over 45 women—and counting—and donated thousands of dollars to charities worldwide."
As a business designed for and by women, Veronica Beard's decision to partner with an array of accomplished ones is organic.  Focusing on the cause near and dear to one woman at a given time allows the brand to bring awareness to a variety of initiatives, while maintaining its singular focus on female empowerment.  To date, VB has partnered with Jenna Bush Hager, Padma Lakshmi, America Ferrera, Christy Turlington Burns, and a host of others.  The brand set the tone early in Chicago and held a #VBGivesBack event on May 25th at the store in its opening weeks, benefiting the Society of Memorial Sloan Kettering (MSK).  The event was held as part of the brand's company-wide #VBGivesBack Day, where all 15 stores donated 10% of its sales to the Society of MSK.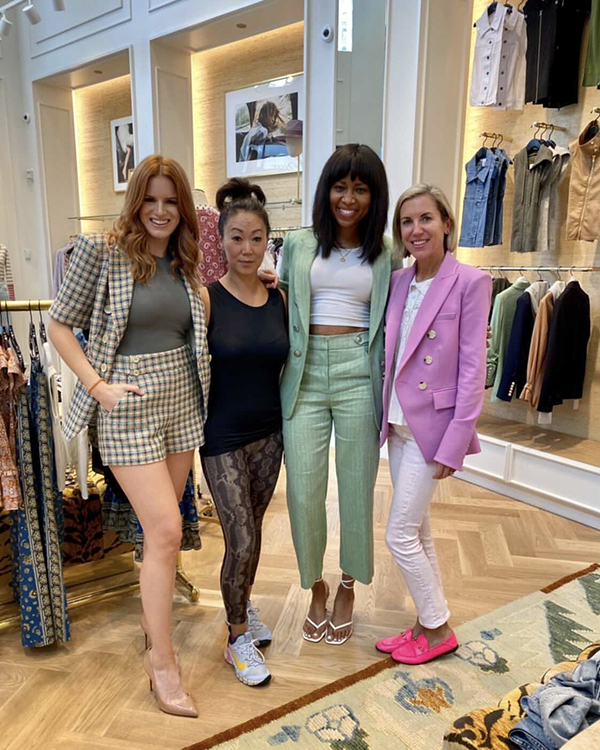 Andrea Levoff, a friend, Ceta Walters, and Abby Dunn at the Chicago store's #VBGivesBack event on May 25th.  Image courtesy of veronicabeard.com.
Now that Chicago is fully reopen, there has never been a better time to upgrade one's wardrobe.  With my mother threatening to burn my 2020 loungewear, it is certainly time for me to do so! Because whoever said money couldn't buy happiness obviously never shopped at Veronica Beard.