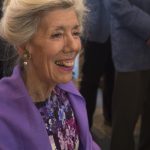 BY JUDY CARMACK BROSS
The British have long celebrated their love affairs with Chicago. George Carey, former Archbishop of Canterbury, tried not to miss the summer book fair at the Newberry Library. Famed architectural historian Sir Nikolaus Pevsner extolled Chicago as the birthplace of the modern skyscraper, and Mick Jagger sited Soldier's Field as a top-tier venue.
But few have loved Chicago with more enthusiasm and returned to celebrate it as frequently as Lady Valerie Solti, who died March 31 in London at the age of 83. The widow of Sir Georg Solti, who for 22 years was musical director of the Chicago Symphony Orchestra and died in 1997, she was the friend who dropped everything to attend your child's wedding or take care of an injured friend, and the champion of many young musicians whose careers she helped launch.
John Craib-Cox, a friend of 47 years, shares, "I was worried that her obituary in the London Times would say something like 'charming wife of,' or 'a smiling presence behind the maestro,' but no, it was all about the wonderful things she had done."
Penny Van Horn, who has headed the Solti Foundation in Chicago for eight years, recalls Lady Solti's visits: "She was at her happiest when she was with musicians. She never came to Chicago when she didn't plan ways to visit with the Orchestra's musicians. Someone wrote to me the other day that they had taken their baby son to meet her and that she still remembered his name and always asked about him."
The first awards were given by the Solti Foundation in 2002 to two opera singers. "Sir Georg always said that the opera was so important, but we realized that there was funding for opera, and not for young conductors. Since 2004, we have funded 67 individual conductors for over $1 million," Van Horn says. "She was a remarkable woman: warm, gracious, inspiring, and a constant in the life and commitment of the foundation. She was dedicated to the legacy of Sir Georg and the mission of the Solti Foundation, which she founded together with her two daughters, Gabrielle and Claudia."
She continues, "With the exception of 2020 and a couple of years when she was ill, she never missed our yearly benefit and always invited the young musicians to sit at her table. She talked of Sir Georg's legacy and wrapped her arms and heart around these emerging conductors. I treasure a baton used by Sir Georg that she gave me. She always reminded me to put it on my piano."
Making music of all sorts available to children in schools and music accessible to all was so important to her, Van Horn says. And she wanted music to be key in everyone's life whether she was in Chicago, London, Italy, or Sir Georg's native Hungary.
In 2016 Classic Chicago accompanied her on one of her visits when she returned for a Solti Foundation benefit. Between a meeting of the Symphony Board where she served as honorary member and a tour of Expo Chicago she shared, "Chicago is the world's most vibrant city; there's always an infusion of energy. People are just so nice and there's always something wonderful going on." A former BBC journalist, she used her research abilities to learn all she could about the history of her adopted city and of the Symphony.
Her elegant and insightful friend Biba Roesch describes how she met the Soltis: "We met at a brunch many years ago at the home of the architect Ralph Youngren and his wife, Ann. At the time I was working at the Mayfair on East Lake Shore and asked if they wanted to come by for a visit. They were living at the time at the Drake. We visited a large suite that had a wonderful piano and Valerie turned to me and asked if they could move in the next day. It was very important for her to make the maestro feel at home, and she always did. We became good friends and my husband Peter and I visited them in summertime at their home in the village of Roccamare in Italy."
"It was really Chicago that she loved best, and she often asked if I thought she should move here. She loved the Symphony musicians and never forgot birthdays," she adds.
John and Tessa Craib-Cox, and their young children Susanna and Justin, also got to know the Soltis in their early days in Chicago, through a play date also arranged by the Youngrens: "Their daughters Gabrielle and Claudia were our age and we became close friends," remembers Susanna. "Gabrielle's children, George and Amelie were in my wedding."
It was at Susanna's wedding to Jason Rosenblatt in 2013 that I got to know Lady Solti. Tessa Craib-Cox had died recently and Susanna put together a mother's committee to help her with wedding details. No one was a more enthusiastic member of the committee than Solti. Driving her and Fenella Heckscher, Susanna's aunt, to a flower mart south of Pilsen and watching the two choose flowers and then arrange altar bouquets at St. Chrysostom's Church showed me the Lady in action. Laughing and fun, she made the occasion all the more special for Susanna.
"I had been debating who would do the flowers and Valerie said 'we will do them!' They composed the most beautiful arrangements of white roses, blue hydrangeas, and white snapdragons. Valerie loved her garden at her London in St. John's Woods. She always brought friends outside to sit, and she was surrounded by her dogs. She was so happy that her grandchildren were my attendants and was so kind and thoughtful in every way. She also came to my brother Justin's wedding in Newport and loved being part of all the activities," the bride remembers. "I am forever happy that she met our daughter, Minka. When she was ill, she wrote that she had always wanted to have a shopping day with Minka, and she hoped that I would do that and tell her that it was her idea. She remembered your stories and details, and shared little mementos with her friends."
John Craib-Cox recalls a particularly happy day with Lady Solti in Chicago: "She wanted to bring flowers to put on the portrait bust statue of Sir Georg. Valerie thought, even though statue was in sight of Orchestra Hall, the location was isolated and Sir George would be lonely in this location. Consequently, it was a wonderful surprise to see a student art class doing watercolors of the portrait bust statue of Sir Georg. She was so happy that Sir Georg would not be lonely in this new location. The statue had previously been in front of the Lincoln Park Conservatory, a very high traffic location. Seeing the art class in front of Sir Georg's statue was a high point of her Chicago visit for the 2017 Solti Foundation Benefit. She talked about it frequently."
In addition to this more private side of Solti, Craib-Cox describes the "public Valerie" as "masterful": "I remember in 2013 when the paintings Catherine the Great bought from Sir Robert Walpole were displayed at Walpole's ancestral home, Houghton Hall in Norfolk. A fundraiser was held for the Mariinsky Singers there, chaired by Valerie. She thought of everything including moving the lights to best highlight the singers."
When we interviewed Lady Solti in 2016, she described her life and work in London at the time: "I try to be available in London as much as I can and open my late husband's studios to students. Before you see the diva on the stage, you see a person who needs a lot of help. It is a tenacious learning curve. For example, there is a beautiful young singer for whom Jessie Norman is her heroine. I was able to introduce them. Another young conductor was able to get into a rehearsal with Russian conductor Valery Gergiev, who heads the Mariinsky Theatre, and conductor Daniel Harding helped another young conductor find lodging."
Estelle Spector, whose husband, Orchestra violinist Fred Spector, died at 92 in 2017, remembers being on Symphony tours with the Soltis: "We were with them on the maestro's first return to Hungary. He told the tour guide to give him the umbrella and he would lead the tour. Valerie dashed around making sure every one could hear him. I think it was on that trip when I went out into the halls and found Valerie on the floor working with the automatic shoe polisher for her husband's shoes. I remember she remarked something about her glamorous life."
She continues, "She really made the orchestra her family. Once on the maestro's birthday, she invited all of us to a party on the lower level at Orchestra Hall, where she had a gigantic sheet cake. She sliced pieces for everyone, which she delivered with a cheery greeting. By the end she was up to her elbows in frosting.
Spector echoes what so many have said about Lady Solti: "She was so warm with all the players and their families. She attended my daughter Julie's wedding and when Fred grew infirm, she came to spend the day with him."
From Chicago, which she visited every year since 1965, Solti would often head west to Los Angeles to visit daughter Claudia and her three-year-old twins. Claudia recently produced the opera Midsummer Night's Dream and is also a filmmaker. The Soltis' other daughter, Gabrielle, specializes in early childhood education and runs a school in London. Gabrielle's son, George, played the trombone and the cello, but according to Lady Solti, loved football most of all. Sister Amelie played the violin. Both Gabrielle and Claudia were with their mother at her death.
Penny Van Horn spoke for so many Chicagoans fortunate to know both the public and private Valerie Solti, saying, "It is such a loss to not have her here now. Her friendship, and her ability to connect with everyone and to make them the center of her attention, were remarkable."
To learn more about the Solti Foundation, visit soltIfoundation.us.