By Sandy Wood-Prince Collins
Tucson had to deliver.  My reputation as a good child was riding on it.  Wishing to spirit my parents and ourselves away from at least a portion of our winter, I had talked my parents into nine days in Arizona with my husband and me in the middle of February, a time slot I chose as Chicago winter's most tedious.  Seeking beautiful scenery and an easy agenda, Tucson came to mind from previous trips.  To our collective joy (and my personal relief) the city, the area, and its people came through big time; sharing this precious time together, we had a ball.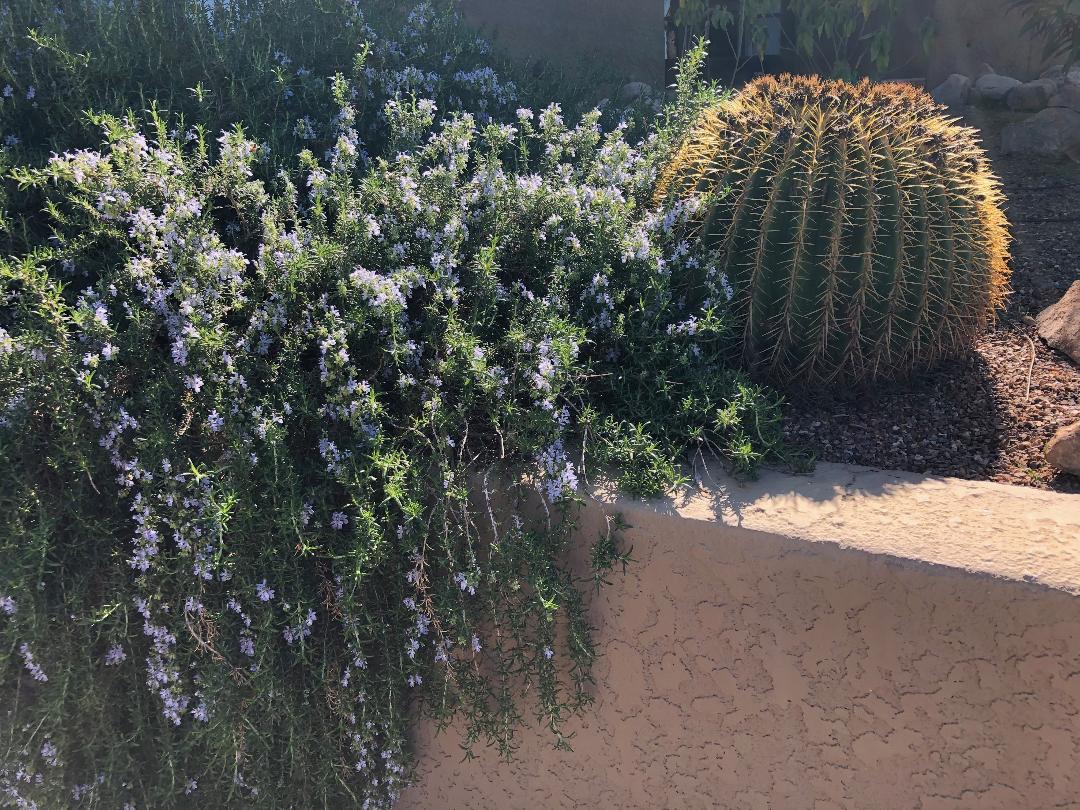 Arizona is not Florida; even southern Arizona can be a bit nippy in February, as the elevation, desert, and mountains all affect the climate.  Exiting the airport to collect the car, we felt the air and kept our Chicago layers wrapped around us.  Secretly, I was stressing – this was supposed to be an escape from all that!  But right away, Tucson took over for me, casting its magic spell over winter-weary northerners.  Excitedly, we greeted our first cactus, in a little garden by the door of the car rental office, and looking up, gasped at the deep lapis color of the sky.  We knew for sure we had arrived at a place very different from where we had started, and that felt good.  We headed north, past downtown, and soon pulled in to our home base for the stay, the El Conquistador Hotel and Resort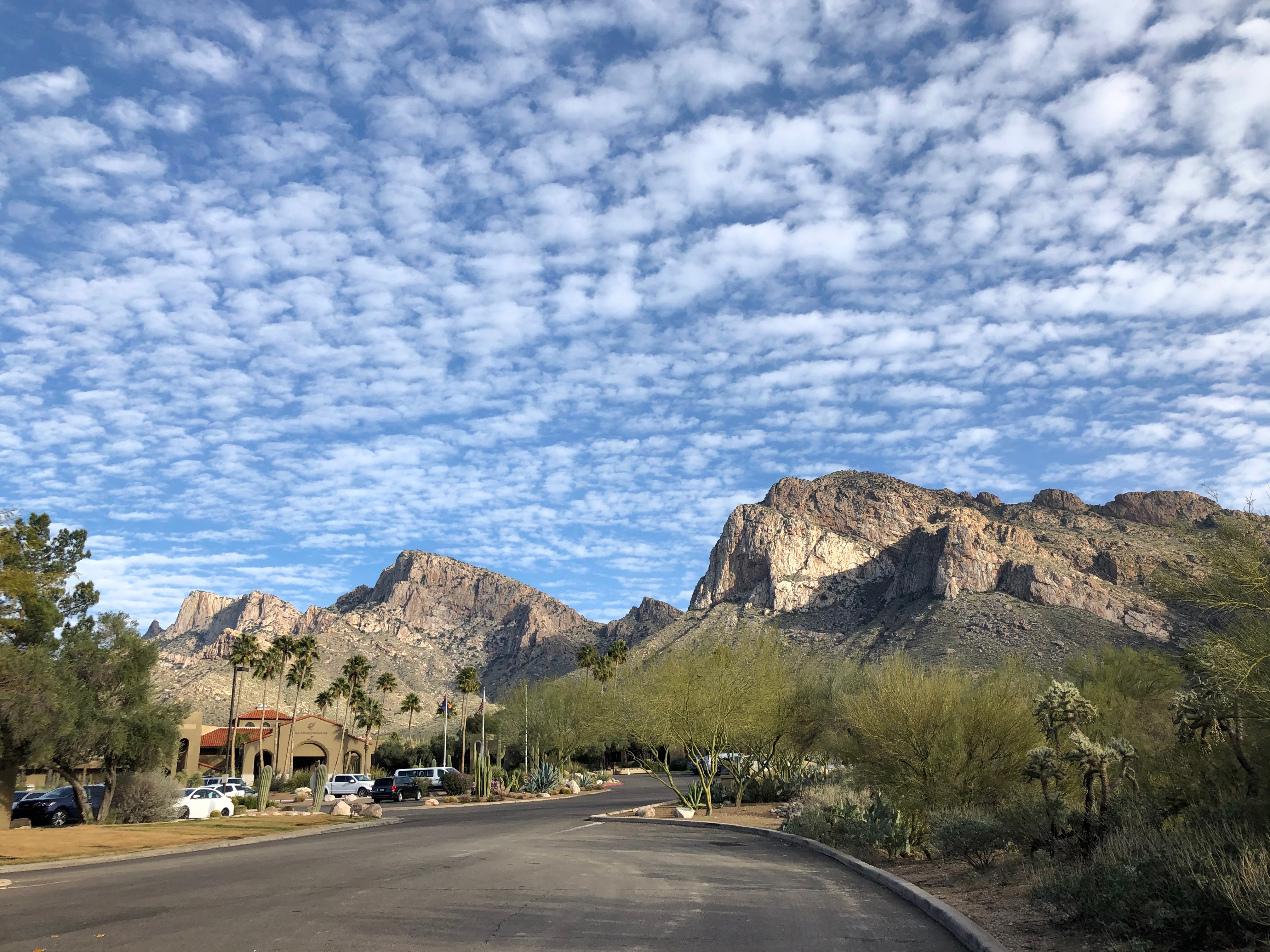 The El Conquistador Hotel and Resort, like most commercial and residential architecture in north Tucson, is designed to blend in with the incomp__arable surroundings. Can you spot the hotel's main entrance here?
Comfort, convenience, and beauty all around – these things afforded by El Con made it a perfect base from which to operate.  Offering hotel rooms as well as casitas, we chose the latter, for privacy, quiet, and a bit of self-sufficiency thanks to the small abodes' mini-kitchens.  From the Starbucks on site or Fry's supermarket just across the road, our preferred breakfast items were readily available, making for an easy, familiar start each morning.  Simply walking among the casitas to the car each day, we enjoyed the resort's natural landscaping, and spotted all manner of butterflies and birds: hummingbirds, canyon wrens, and vermilion flycatchers.  Mom and Dad, in their own casita just a few doors down from us, delighted in seeing "their" roadrunner most evenings, hunting insects in the shrubs nearby.The next nine days featured a simple format that was different every day, but always began with breakfast "at home" and a mid-morning meet-up for the spectacular walk to the car.  That hike up a slight grade filled us flatlanders with awe every time: feeling the strong sun, walking beneath that sky, we lifted our eyes to view the reddish peaks of the Pusch Range that embrace the property.  Whether morning or evening, we always saw something new: a predatory bird soaring, a lone saguaro cactus clinging to an impossible crag, yet we also felt the presence of something very, very old.  That is part of the spell: the environment is primeval, otherworldly, and you find yourself thinking deep, but peaceful, thoughts; you think about things bigger than yourself.
The hike through the El Con casitas is good exercise and a nature walk all in one. Signs describe the local plant and animal life.
Our daily outings took us to places in far-flung locations such as the Sonoran Desert Museum, a dramatic 50-minute drive into the Saguaro National Park, as well as the Tohono Chul Gardens and Galleries, a little gem of a place just fifteen minutes from our hotel.  The Desert Museum is a lively and interactive learning center devoted to the surrounding flora, fauna, and geology; animals, exhibits, and demonstrations bring desert life up close.  Tohono Chul, the hand-built legacy of a single couple, is a mosaic of planted areas and small animal environments evoking the different habitats in the region.  Its outdoor exhibits, designed for all ages, explain the geology, flora, and fauna of the surroundings.  Wandering the paths, enjoying the bird life, encountering these vignettes, one senses the deep love for the environment that inspired founders Dick and Jean Wilson to create such a place.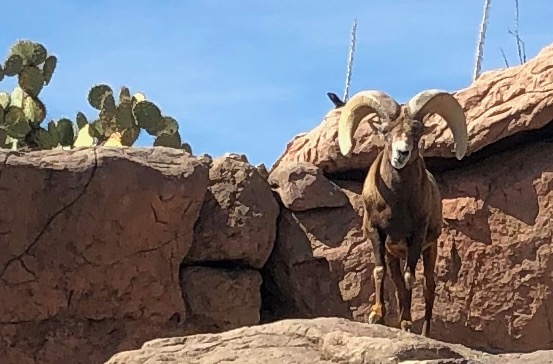 A bighorn sheep surveys his domain – and human admirers – at the Sonoran Desert Museum.
The author achieves metamorphosis at Tohono Chul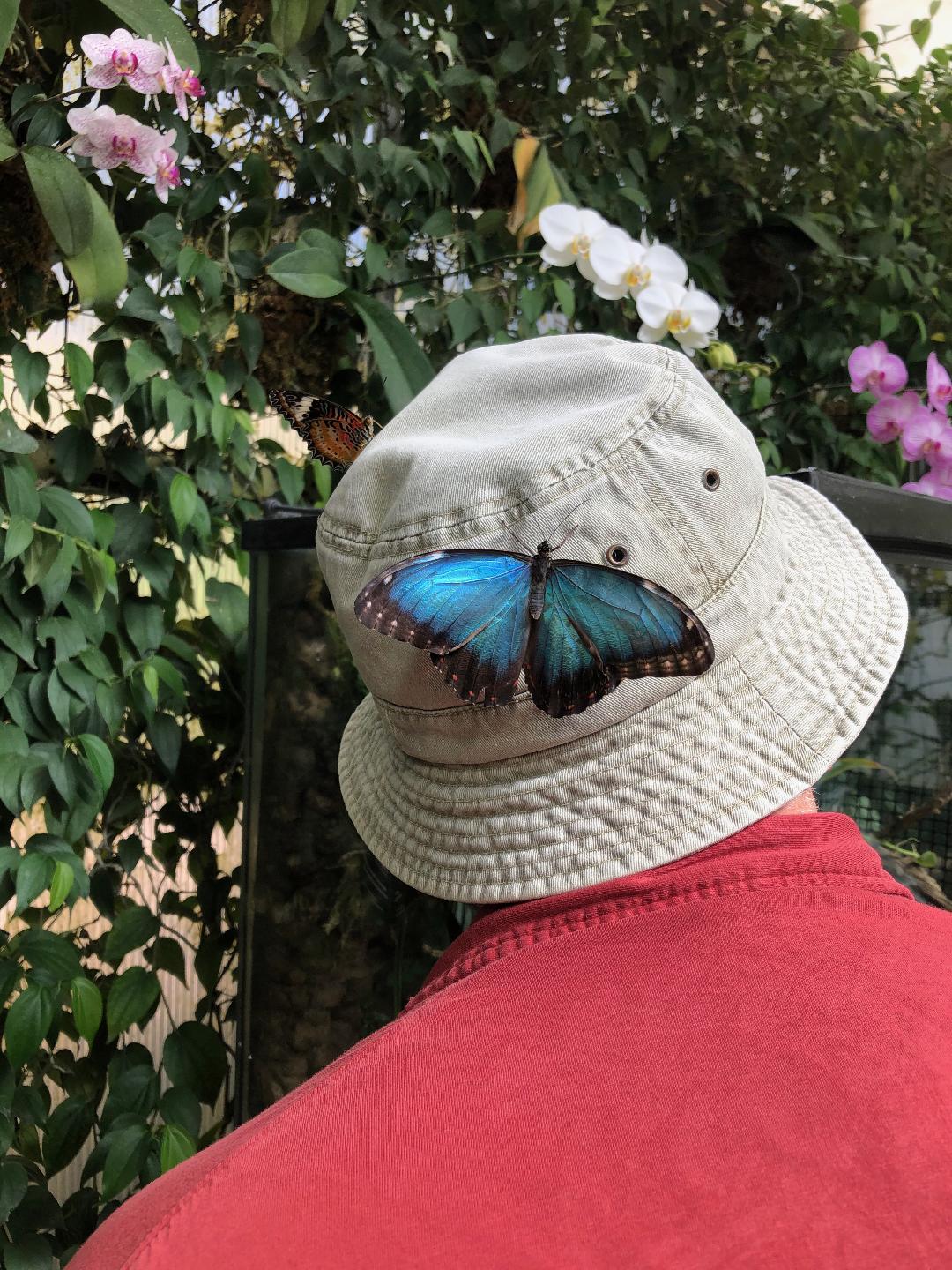 Husband Mike picks up a beautiful hitchhiker.
Inspiration is a recurring theme in Tucson.  At every hand during our stay we saw countless examples of the Southwest environment's impact on creative minds past and present.  The Tucson Art Museum, located in the heart of downtown, is a modern building among some of the oldest in the area.  There we saw many of the historic western landscapes that we love, iconic bronzes and carvings, as well as modern artwork by the region's artists; the museum also has a fine collection of art from around the world and throughout history.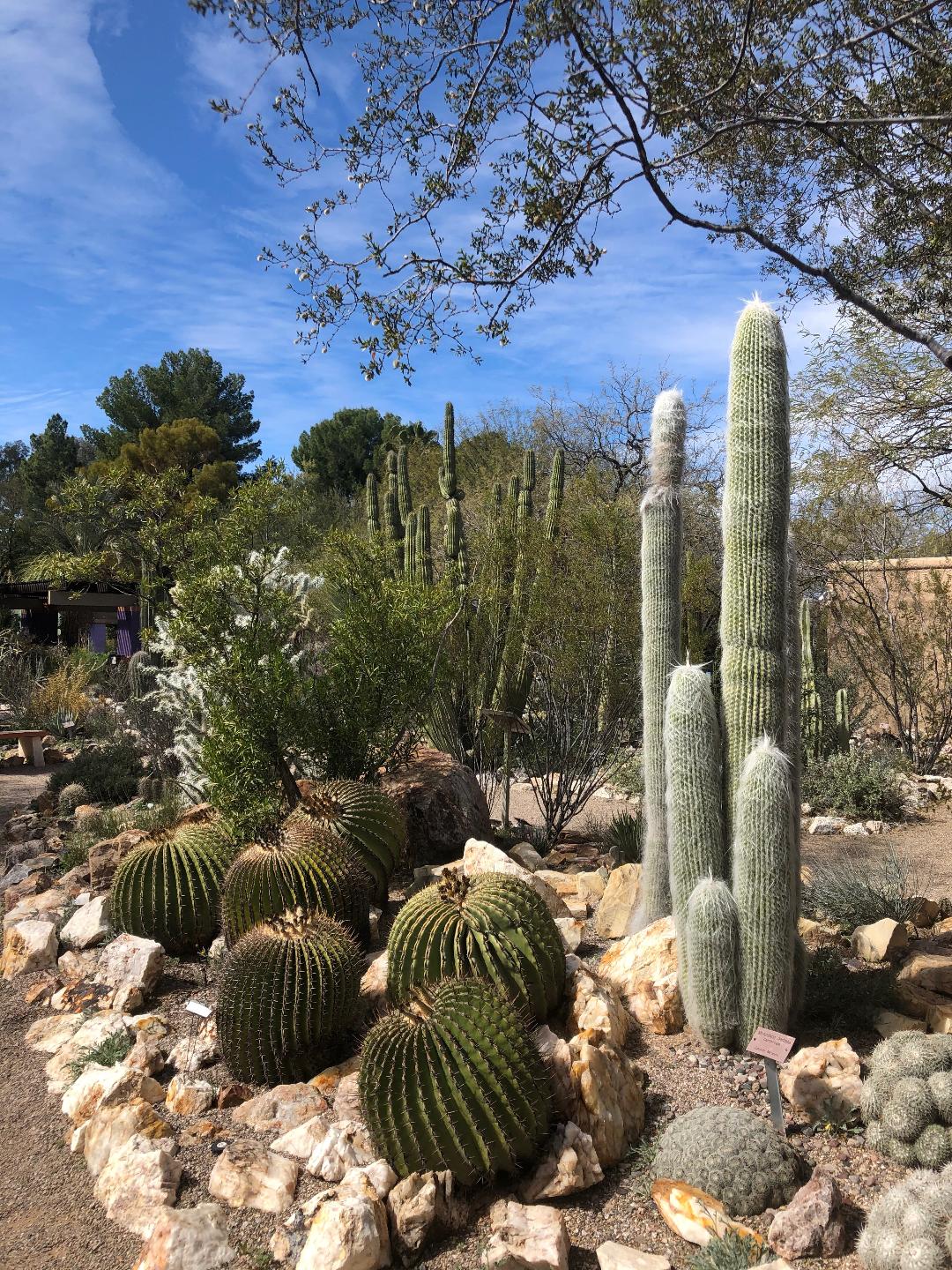 Tucson's Botanic Gardens feature spectacular plantings, special exhibits, and beautiful, historic details.
Works by modern American Indian artists can be viewed, and purchased, at the truly eye-popping Mark Sublette Medicine Man Gallery: an exhibit space, museum and antiques shop all in one.  I have never seen a place so packed from floor to ceiling with exquisite items, most by American Indian artists and artisans of the past and present, or by non-Indian artists inspired by their cultures.  I managed to pull myself away from a case stuffed with vintage silver concha belts, for example, just to be caught by the sight of tiny, perfect, 70-year old deerskin boots, and beyond that a masterpiece historic photograph.  It would take days to see it all.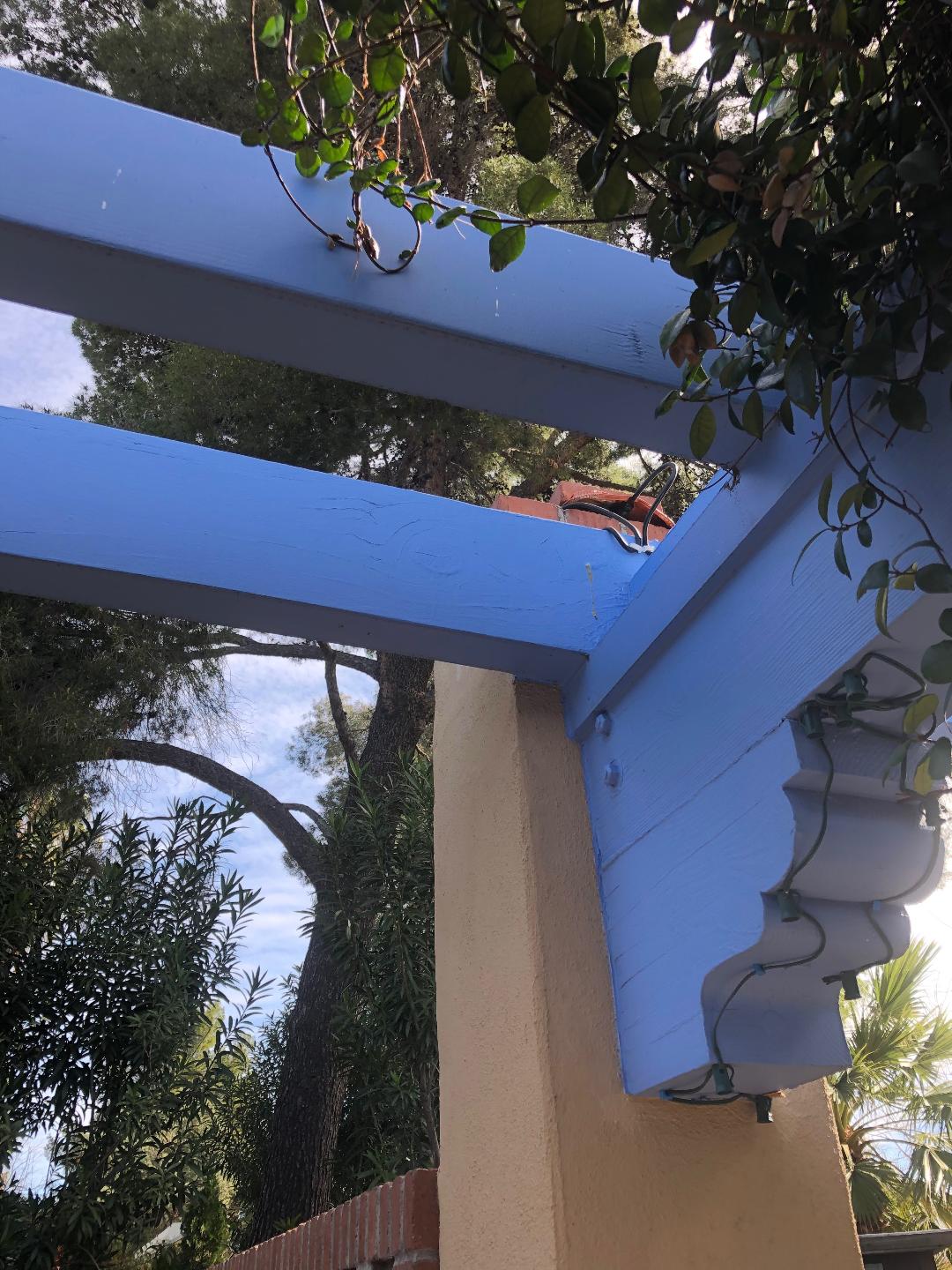 Eating was a central theme of our trip.  Many days we packed a picnic, enjoying relaxed repasts in the cart on our golf day, and on a bench under palo verde trees at Tohono Chul.  At El Con, poolside lunch is served at their Sundance cafe, their finer-dining venue, Epazote, features upscale southwest and classic American on the menu.  All we had to do to get our dinner those evenings was take that amazing walk up from our casitas, the sky fading from lapis to cobalt, the last rays of the sun brushing the top of the range with gold.
The glow of evening on the Pusch Ridge range, named for George Pusch, an early developer.
For a taste of old Tucson, we dined at the near-mythical Arizona Inn, but not before strolling the grounds – a maze of meticulously groomed gardens, a clay tennis court, and secluded casitas.  Inside the Inn, the aroma of fine food, an aromatic, crackling fire, and fine old furnishings conjured romance and history.  An elegant, intimate place from a bygone era, one would never guess the lively city center is just a few blocks away.  New Tucson's culinary delights flourish at Wildflower, an upscale American fusion place my husband and I discovered years ago.  After yummy crafted cocktails, Mom and Dad ordered the fish and chips and declared it the best they had ever had, which is saying a lot for those fish-loving globetrotters. On the casual side, Diablo burger, near the Art Museum, had a hip, rustic interior and The. Best. Fries. Ever.  And that is saying a lot because I have sampled many in my life.  Our favorite of the whole trip had to be Reilly's pizza, also downtown, thanks to the delectable wood-fired pizza, historic building, great parking, and friendly wait staff.  Located in a former funeral parlor, the happening bar for locals is downstairs in the former morgue.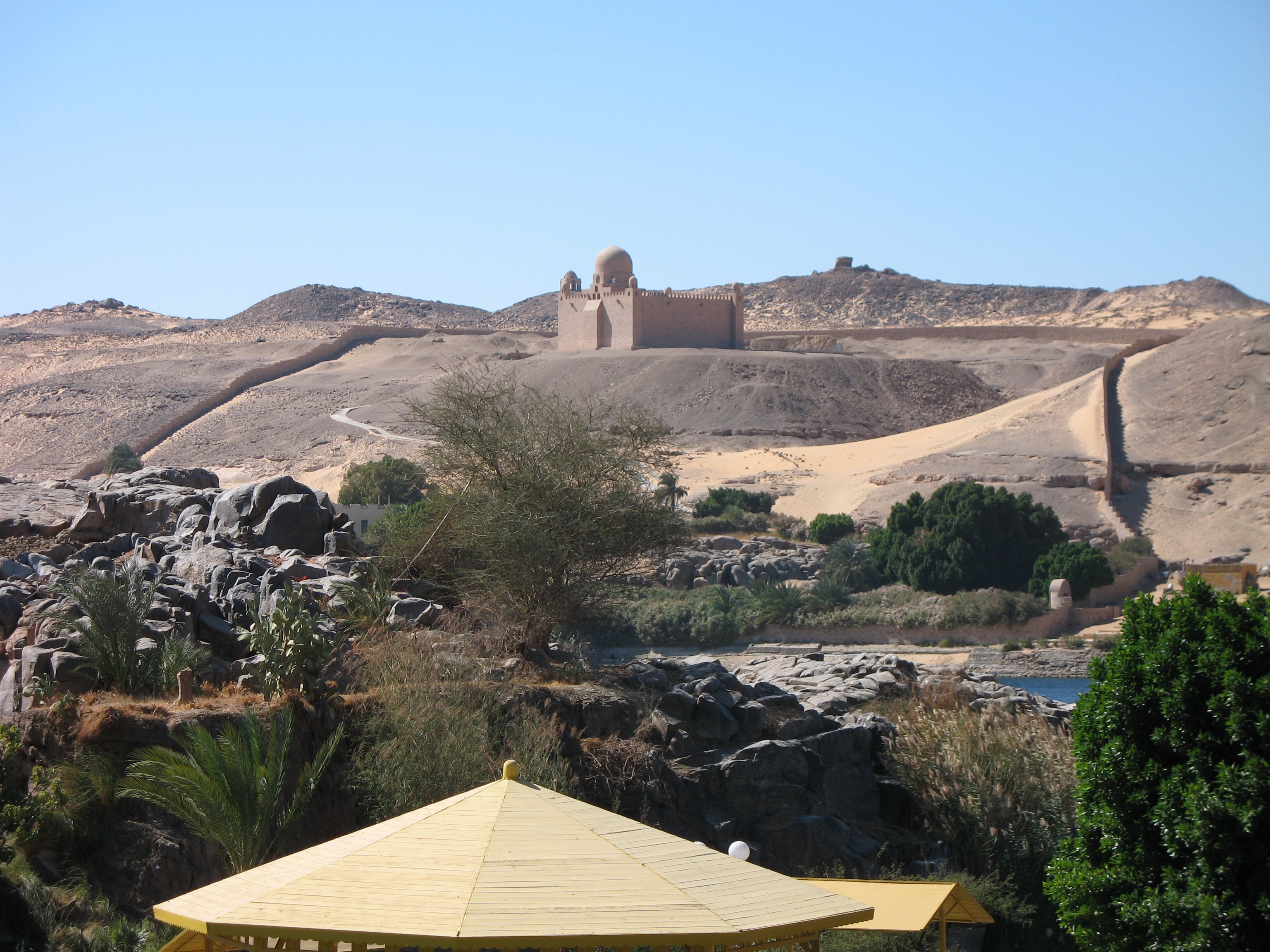 During our entire stay, people went out of their way to be pleasant and helpful, from the hotel concierge to restaurant wait staff to folks we met on the street.  The residents are extremely proud of their home, and all we met shared knowledge of local history, culture, and good things to see and do.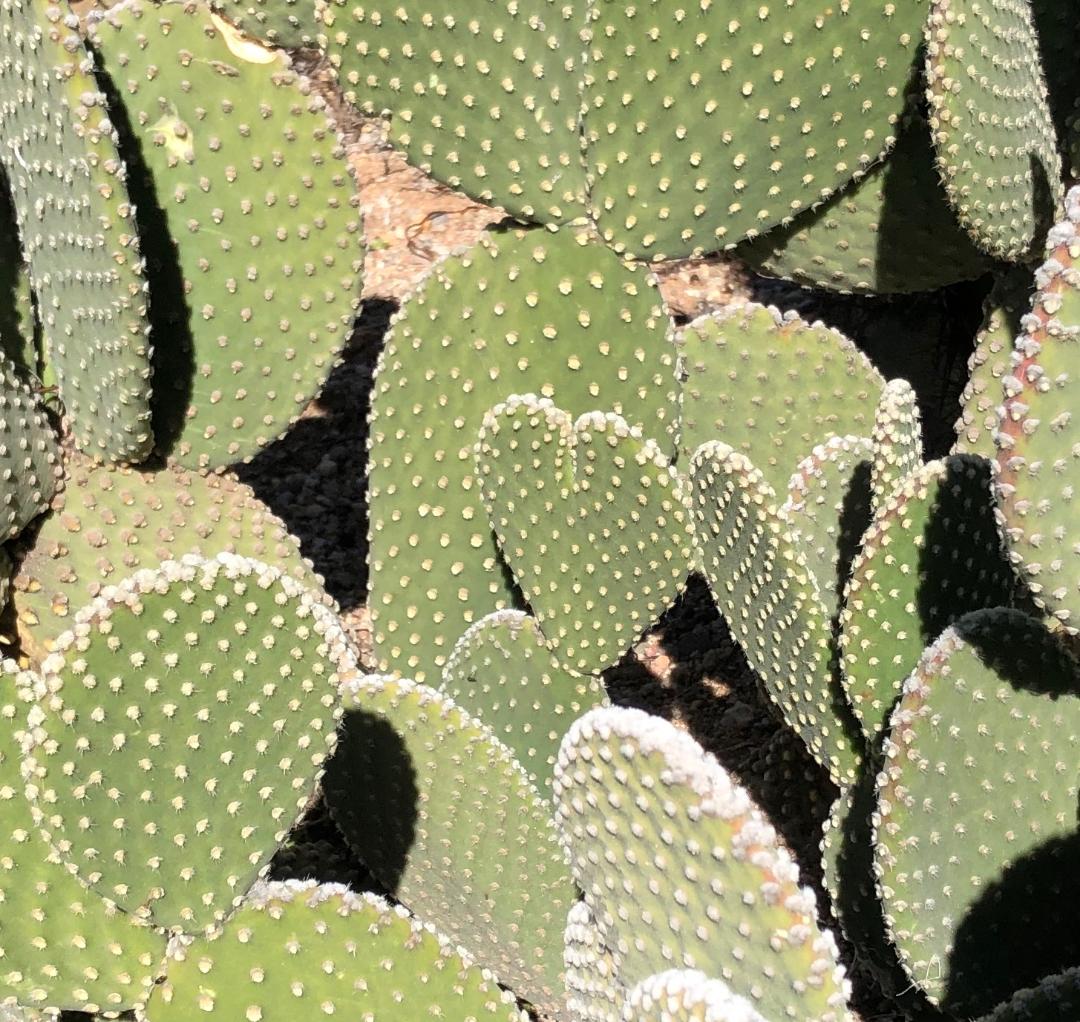 Every day in Tucson, we felt its warm embrace, despite the brisk mornings.  Incredible natural beauty filled our eyes, comfort and quiet soothed our sleep, outdoor activities and kind people nourished our soul.  Getting around was easy, finding things to do was easy.  We felt at home, yet sufficiently removed from our normal – sad to leave, we felt refreshed to go home and face the normal.  I know the spell of Tucson will pull at us again, and we will answer.