From Palm Beach to Paris, Artist Paints Scenes of the Elegant Life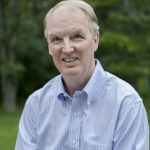 By David A. F. Sweet
When Lydia Marie Elizabeth Schrader — a watercolor artist who's been based on the East Coast her entire life — visited Palm Beach for the first time, she was stunned by the town's elegance.
"My husband (Brent) and I walked to The Breakers from the Flagler Museum, and as I saw The Breakers I thought, 'Am I in Europe?'" she recalled. "They even had a Ferrari show with the fanciest ones that had ever existed."
Inspired by her inaugural visit, the watercolor artist soon painted The Breakers' lobby. Once the famous hotel reposted her piece on its Instagram account, sales of Schrader's paintings of Palm Beach took off.
"People really connect with the Palm Beach pieces, maybe because there isn't a lot of art about Palm Beach," she said. "I love how everything in Palm Beach is so aesthetically thought out – even the mall."
Palm Beach – the popular winter spot of many Chicagoans — is the latest artistic collection that Schrader has put together. Others include scenes of New York, Paris and the Virginia hunt country.
Growing up in Connecticut, Schrader remembers wanting to be an artist from the get-go.
"I think I was an artist as soon as I could grab onto something," Schrader said. "I always had a pen in my hand and would draw horses and princesses."
Living in a house that didn't have cable TV, she was greatly influenced by old movies.
"I just wanted to be Grace Kelly, Audrey Hepburn and Katherine Hepburn," she said. "When I view the world, I idealize it in that kind of way. I want to show happy scenes and let people know there's hope amid the horrible things that happen."
After attending a private high school in Virginia, Schrader graduated with a degree in interior design and a minor in English from Drexel University in Philadelphia. She worked as an interior designer for an architectural firm in Greenwich, where she found time to illustrate scenes which inspired her during the day.
In 2015, Schrader launched her own company. Aside from paintings, she offers calendars, notebooks, playing cards, wrapping paper and puzzles infused with her designs. She has experienced plenty of challenges as an entrepreneur –including how to avoid burnout.
"My assistant looked at me recently and said, 'I'm not saying you are, but do you ever think you're spread too thin?' I said yes. Among other things I'm perpetually trying to gauge what products my clients would be interested in."
Schrader often works from photos ("You don't have to worry about the changing of the light or wind") in her studio, which is now set up in Savannah, Ga. Given her college days in Philadelphia, she's thinking of creating a new collection of her favorite spots in that city, such as Rittenhouse Square, the Tenth Presbyterian Church and the Philadelphia Museum of Art. In the past, she has created renderings for Le Petit Jardin's design for the Philadelphia Flower Show.
Unusual for an artist, Schrader cites writings that have animated her work rather than painters. In particular, the musings on beauty of both philosopher Roger Scruton and theologian C.S. Lewis have stirred her.
"Both have led me to consider what it means to have a sense of belonging — from a universal human perspective," she said. "Through all of my work, I'm constantly looking for an analogy of God's love for us. We need beautiful things to inspire us."
Unsung Gems Columnist David A. F. Sweet is the author of Three Seconds in Munich. He can be reached at dafsweet@aol.com.