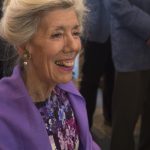 BY JUDY CARMACK BROSS
Philanthropist, CEO, and mother of four, Trish Rooney has a schedule that could keep her tossing and turning all night. Leave it to Rooney, our vote for Chicago's most enthusiastic leader, to join the leadership team of Asutra, a blissful business offering essential oils, minerals, and plant-based ingredients to not only help you get a good night's sleep but also to keep up an active lifestyle with its magnesium healing line.
With tennis star Venus Williams in her court as an active investor, and friend Stephanie Morimoto as CEO, Rooney's Asutra is a women-owned Chicago-based company with fans across the country. Williams first came to the self-care brand as a customer, using the pain relief cream and now has her own Venus Williams collection as part of Asutra's offerings.
Rooney told us: "At the recent Indie Beauty Expo in New York, we were named one of the top new beauty brands and our Dream the Night Away, a lavender aromatherapy spray, appeared in a Town & Country section called 'Sweet Dreams are Made of This.' We believe our products refresh your mind, re-energize your body, and replenish your soul. We use no synthetic compounds, nasty chemicals, preservatives, or fillers—just the good stuff."
And if Rooney's glowing complexion is any indicator, Asutra certainly is made of nothing but the best stuff.
Morimoto, who purchased the company, which launched in 2015, moving it from Houston to her native Chicago, says she "jumped at the chance to build the line and reach more people."
She continued, "I soon learned that magnesium works on over 300 healthy body functions. You never get enough of your daily requirement in food and often the pills can cause stomachaches. Our topical creams and bath salts are great for muscle cramps and joint pain. The magnesium healing line is one of our bestsellers, along with the lavender aromatherapy and the weighted eye mask that lead to a good night's sleep."
When Rooney was just out of college she was determined to found her own business—this would become R4 Services, which now boasts 800 clients and over three million document records. "For the past 26 years, I have loved what I do every day at R4," she says. "When my good friend Kate Gilligan invited me to join Asutra last year, I couldn't resist being involved. Opportunities to go back to nature really appeal to me, both in my work with Asutra and their nurturing products and often in my philanthropic, including the emerging Urban Growers Collective.
"Founded by its CEO Erika Allen, the organization, with eight urban farms that employ up to 200 people seasonally, including those recently released from prison, encourages both private business and rehabilitation. It does so much to support community based food systems and builds economic opportunity for Chicago's youth."
Rooney and Morimoto invite Classic Chicago readers to several upcoming events including a tour of the Asutra Headquarters at 4159 West Montrose on November 5 at 11 am. Asutra will also be part of the St. Chrysostom's Holiday Faire at 1424 North Dearborn November 15 and 16, with Preview Night November 14.
"When you arrive in our Headquarters parking lot, you already are surrounded with the fragrances of lavender and lemongrass. Upon leaving there is just a lovely hint on your clothes. It makes you give thanks for these gifts from nature," Rooney shares.
We thanked Rooney for sharing her secrets for sweet dreams: "Going to sleep naturally is the goal. You have to develop good habits and take care of yourself. Amazing what a little cream on your shoulders and the scent of lemongrass or lavender on your pillow can do."
To attend the Asutra warehouse tour or hear about more pop-up opportunities, please RSVP to trooney@r4services.com.