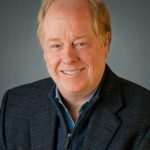 By Bob Glaze
I recently took a travel writing class with writer Rolf Potts who just completed his book "Souvenir" about the history of travel souvenirs. While reading it, I started thinking about my collection of art, folk art and other objects from my 45+ years of traveling the world. My home is now full of these objects that give me great joy and that remind me daily of my many adventures. This is now even more important to me as we are all forced to stay home!
The word Souvenir is French, meaning "a remembrance or memory" that can be a memento, keepsake or token of remembrance. According to Wikipedia, 'it is described as an object a person acquires for the memories the owner associates with it. A souvenir can be any object that can be collected or purchased and transported home by the traveler as a memento of a visit. The tourism industry designates tourism souvenirs as commemorative merchandise associated with a location, often including geographic information and usually produced in a manner that promotes souvenir collecting."
"Throughout the world, the souvenir trade is an important part of the tourism industry serving a dual role, first to help improve the local economy, and second to allow visitors to take with them a memento of their visit, ultimately to encourage an opportunity for a return visit, or to promote the locale to other tourists as a form of word-of-mouth marketing. Perhaps the most collected souvenirs by tourists are photographs as a medium to document specific events and places for future reference."
According to Rolf Potts, the tradition goes back to Christian pilgrimages to the Holy Land where the pilgrims became infatuated with religious objects and even sacred dirt, water and palm fronds from the Jordan River, charcoal rubbings of shrine inscriptions, pieces of wood and more. The Greeks and Romans manufactured souvenirs mainly around religious and recreational sites.
In medieval times during the crusades, the trend grew to collecting "mementos of natural, scientific and cultural-historical wonder" rather than religious objects. It then grew to include "mineral specimens, animal skins, exotic weapons and Ming porcelain …, primitive sculpture and antique scrolls."
In the US the trend grew to people damaging historical sites, like taking pieces of Plymouth Rock or stealing items from Mount Vernon near Washington, DC. In the 1800s "America's souvenir habits had by then begun to shift into a less damaging direction. Manufactured trinkets and mass market tchotchkes, which provided a cheap alternative to ransacking historical sites for keepsakes, were on the rise." By the end of the 20th Century, "imported keepsakes were accepted as the norm in tourist areas worldwide, and mass-produced souvenirs had grown into a multibillion-dollar global industry."
Today many souvenirs are mainly mass-produced merchandise such as T-shirts, postcards, refrigerator magnets, key chains, teaspoons, coffee mugs, shot glasses, plates, baseball caps, coasters, posters, Christmas ornaments and miniatures of monuments and buildings like the Eiffel Tower or Notre Dame in Paris.
But souvenirs can also include non-mass-produced items like art, folk art, textiles and other handicrafts "that represent the traditions and culture of the area."
I have seen several recent articles suggesting the purchase of jewelry, prints, ceramics, pillows, and other items from local makers, emerging designers and craft people for one-of-a-kind mementos. These are far better in my mind than mass-produced fashion, beauty products, or edibles like sweets and jams recommended in a recent article on what to buy in Paris.
Even better you can now take classes to create your own meaningful mementos. There are paper making classes in Japan, block printing in India, weaving in Mexico, leather crafting in Italy, silk weaving in Laos, pottery and tile making workshops in Morocco, glass blowing in Corning, NY at the Corning Museum of Glass and silversmithing in England.
I recall on my first trip to Paris in the early 1970s that I bought a bottle of Brut cologne, the classic fragrance that was launched by the design house of Faberge in 1964. Obviously it didn't last! From that point going forward, I made it a point to collect the meaningful objects mentioned above like art, folk art, textiles and handicrafts that I could use to decorate my home and to help me relive the memories from my travels. On my second trip, I bought art prints from one of the many vendors along the Seine.
I hope that you will consider doing the same, so that you will have unique items that are not only beautiful, but will also have meaning to you. I found that also going to artists' studios and meeting the artist who created the piece, is a highlight of my past trips.
My collection now includes small boxes from everywhere I travel. They are made of ceramics, jade, wood, silver, metal, woven straw and more. I find them in local markets, galleries, and gift shops. I love my collection of teapots, a matte gourd from Argentina and Japanese tea bowls along with textiles from India, Guatemala, Myanmar, Japan, and Hong Kong. I have even framed some of the textiles as pieces of art. I even worked with a Chicago textile artist to create a wall hanging from Japanese obi fabric that I found in a remnant shop in Tokyo.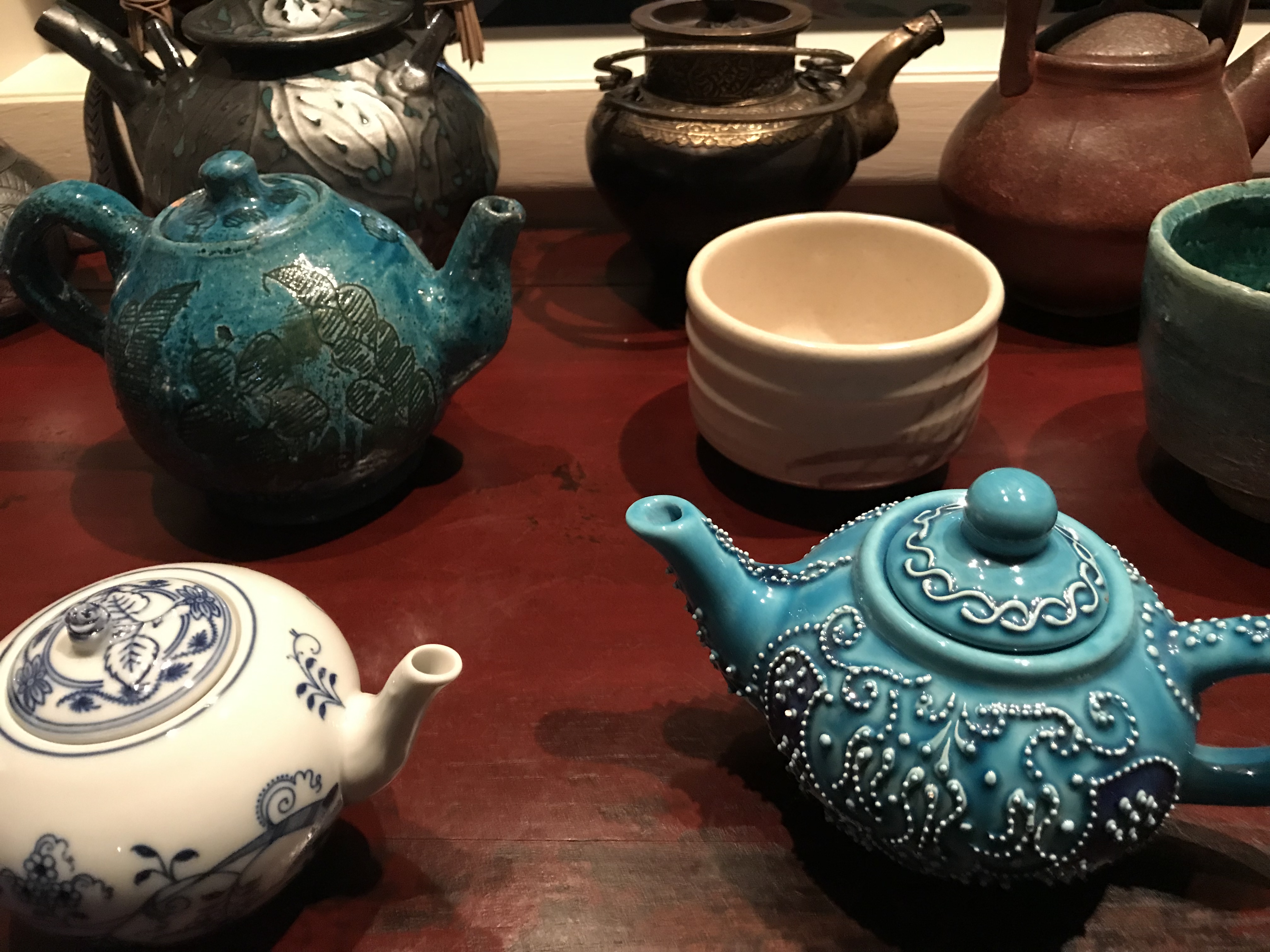 I have wonderful Moroccan and Turkish rugs; a collection of plates from Turkey, Portugal, India, Greece, and Morocco that now hang in my kitchen; ceramics from Peru, Mexico, Italy and the American Southwest plus glassware from Paris, Venice, and Ireland. Having a lovely Baccarat vase is better than a bottle of French cologne! I have purchased paintings from Peru, Vietnam, Japan, Italy and France along with galleries in the US that I have visited while traveling; colorful baskets from Panama and detailed Japanese bamboo baskets from a gallery in Santa Fe, NM. I then went on a special day trip with a guide while in Japan, set up by the gallery, to meet the artist and see his studio north of Tokyo.
I have purchased clothing from a beautiful leather jacket in Buenos Aires, amazing Chinese silk and velvet jackets from Shanghai Tang in Hong Kong to Hermes ties in Paris in the 1980s, but that is not my focus.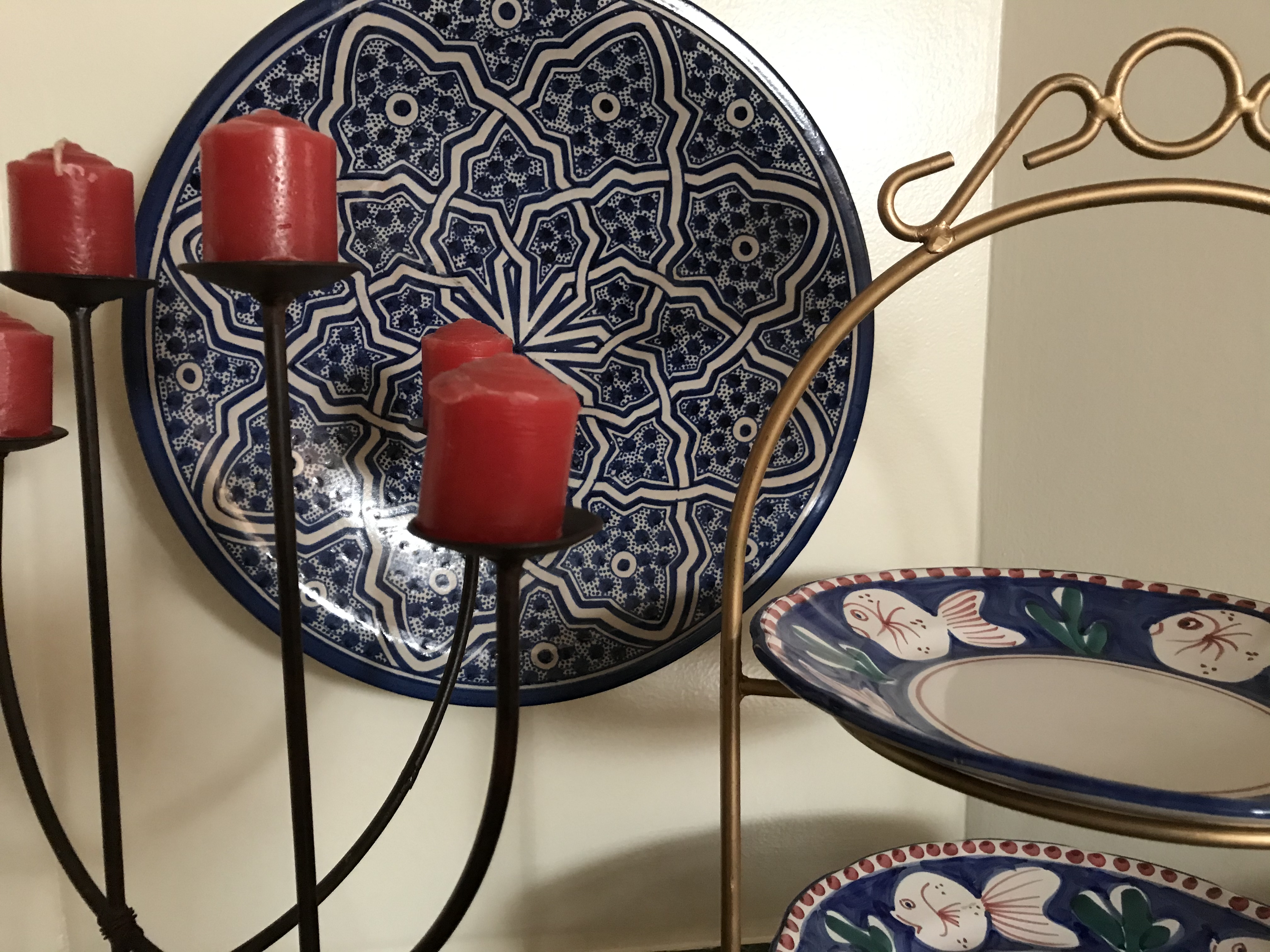 I have antiques from Guatemala, silver pieces from several trips including bowls from India and many pieces of classic Burmese Lacquerware that I bought in Yangon and had shipped back to Chicago. I also have a set of Vietri pottery that I bought on the Amalfi Coast in Positano, Italy. I have a number of small paintings and pieces from my two trips to Cuba plus a large collection of Christmas ornaments that I have purchased in Europe particularly in locations like Prague, Vienna, and Budapest.
I have wonderful silk pillows and picture frames from Jim Thompson Fabrics in Bangkok, Mexican ceramics and folk art by many artists considered to be some of the great masters. I also have a large collection of books from museum exhibitions that I have seen in the US and Europe. I love using the books as a way to remember the experience. I also have a collection of cookbooks from Mexican to Southern cooking that I have purchased on many trips.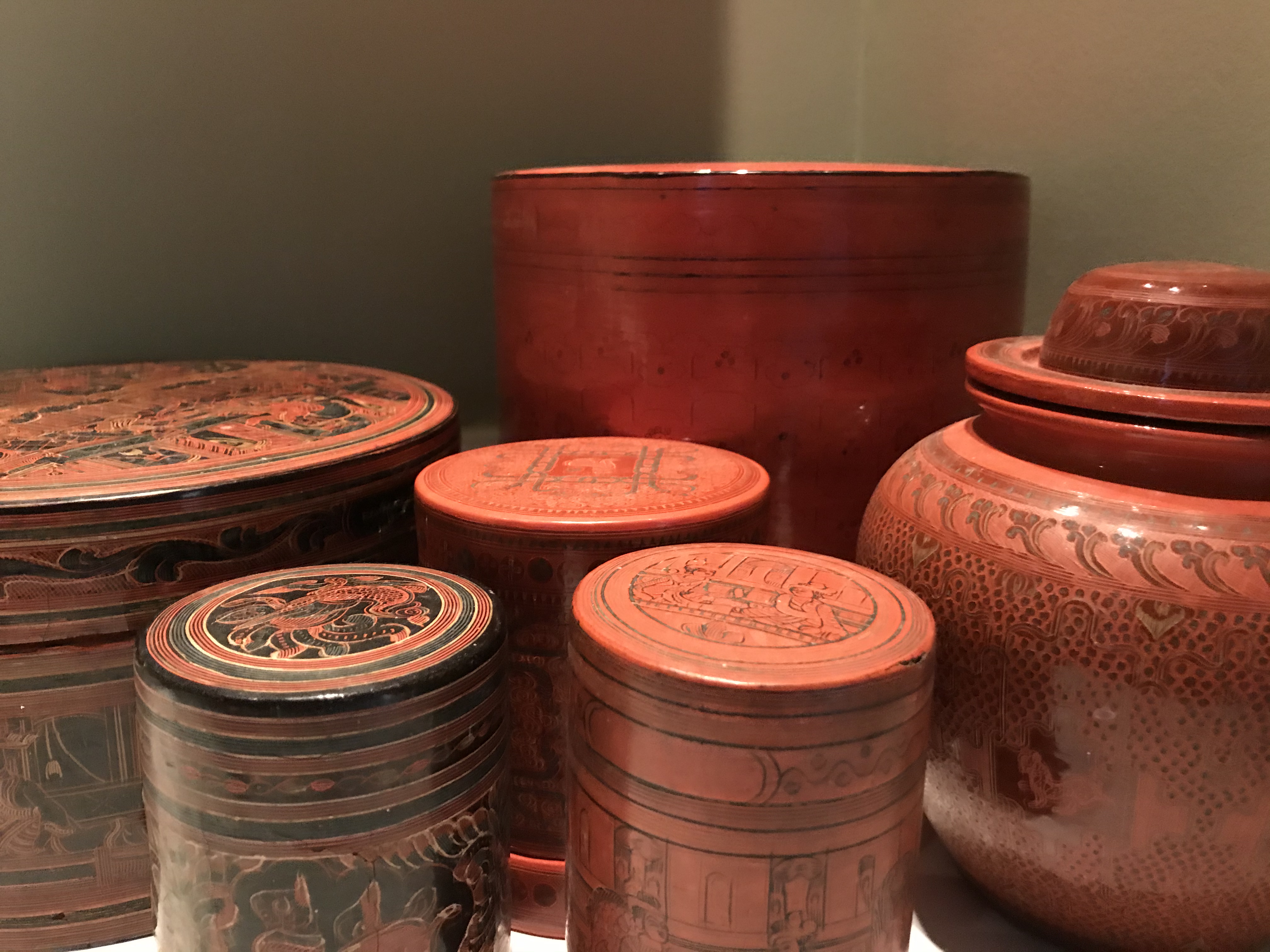 When I travel, I also look for wonderful Christmas gifts or holiday hostess gifts to buy for my family and friends. I have found beautiful silk and woven scarves in the markets in Istanbul and in the highlands of Ecuador in Otavalo. I find that helping local artists and vendors in local markets is a wonderful way to give back as well.
I took the advice of a Chicago friend and have groupings of like items throughout my home, which is a great way to combine and display a number of pieces in one place.
I hope that this gives you some good ideas, so that when you travel, you find things that are beautiful, tasteful and meaningful and that can be incorporated into your home and that give you joy daily. Again, stay healthy and let's dream of our future adventures!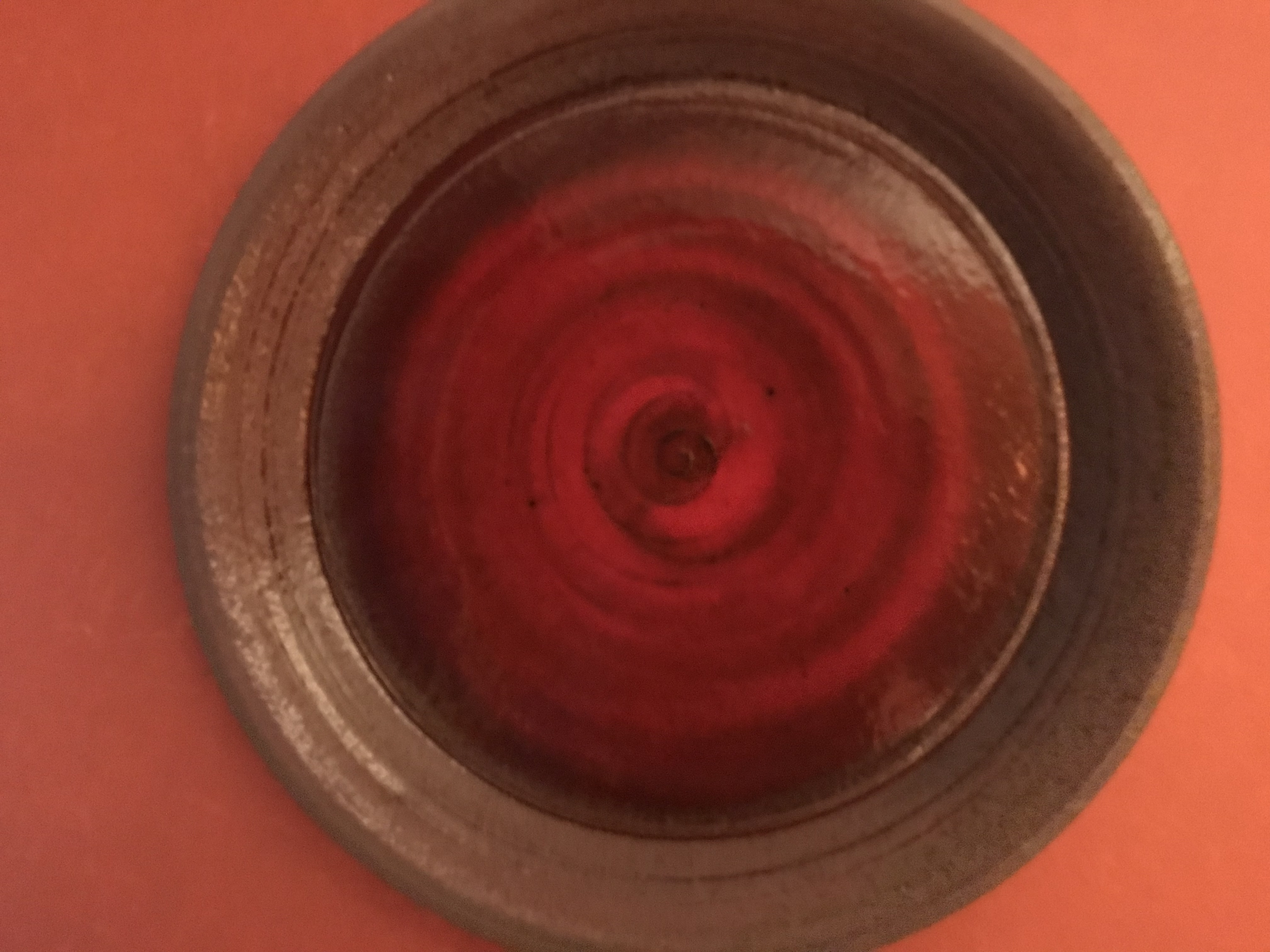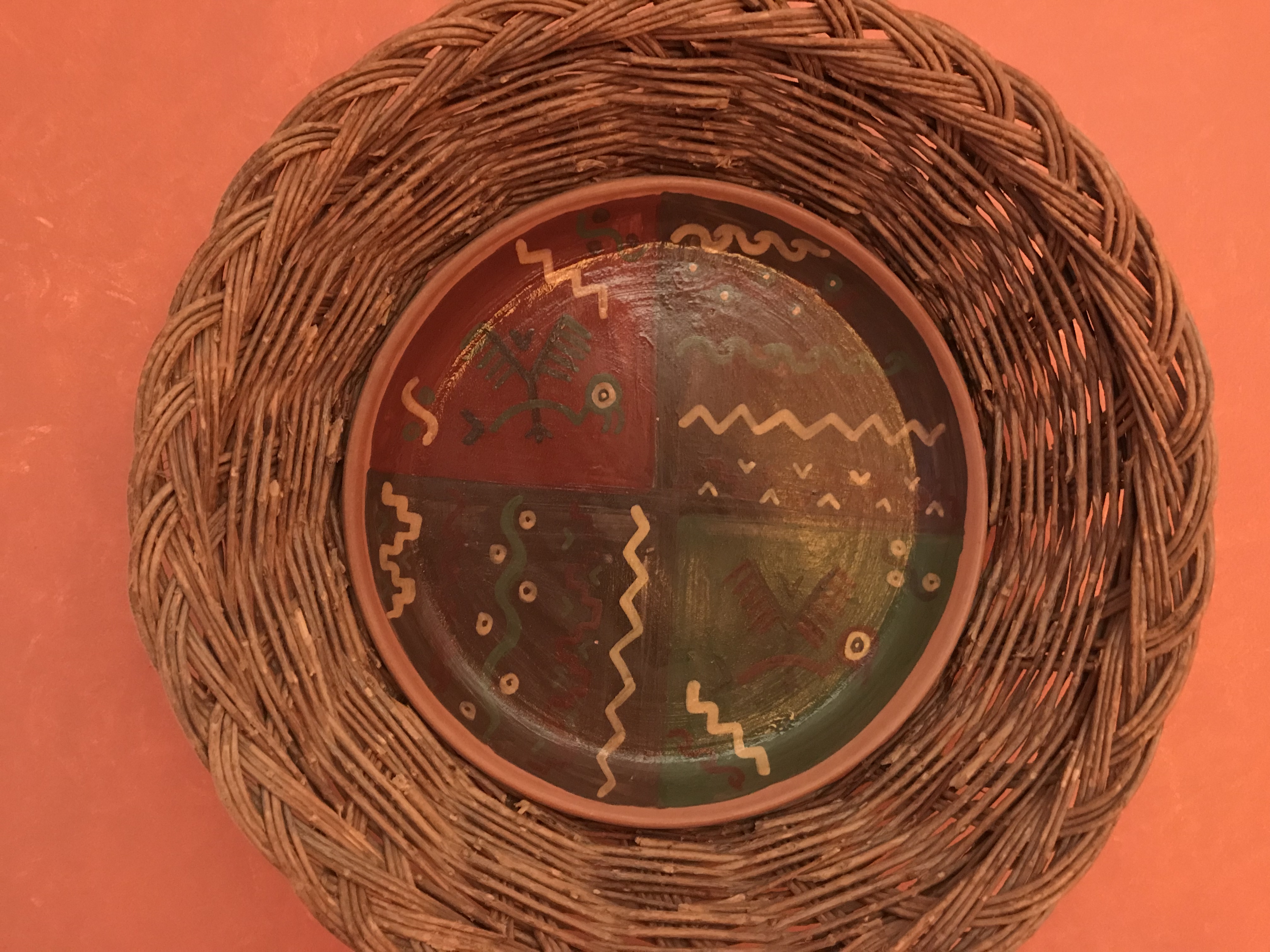 For more travel destinations and recommendations, visit globalphile.com.