With Todd Schwebel
To brighten our pages and your eyes during these chilly, early spring days in Chicago, we asked designer Todd Schwebel to mine his camera roll for some of his favorite images of the simple "pick and mix" garden bouquets he deploys throughout his beloved summer house, Vertefeuille, each summer in the village of Pointe-au-Pic, Quebec.
As you can see, Todd's garden flowers thrive in salubrious Charlevoix where generations of gardeners have flocked each summer to enjoy the high skies, stunning scenery and legendary hospitality of the Murray Bay Summer Colony.
Spring is just around the corner. Make plans now to plant your own flowers for picking or to visit the local farmer's markets to purchase flowers to make your own "pick and mix" bouquets.
Happy Spring!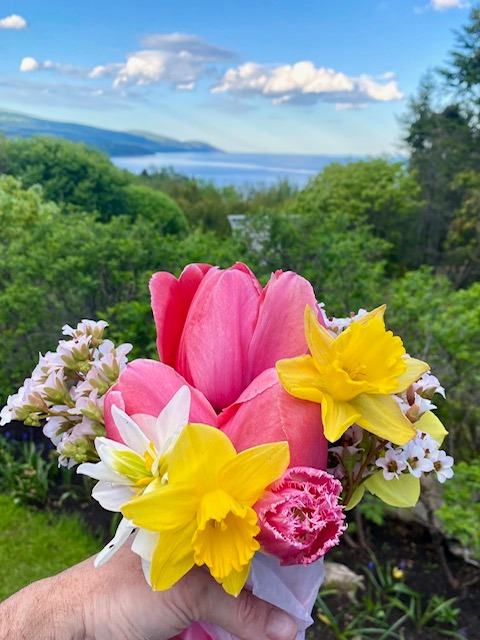 Spring arrives late along the mighty St. Lawrence.  This nosegay of pink Menton Tulips, Bergenia, Narcissus and the 'Dutch Master' daffodil was picked on June 1st!
French Lilacs cut from century-year-old trees planted by Sir Lomer Gouin, the builder of Vertefeuille, mix with Bergenia, more Menton Tulips, and native Solomon Seal under the watchful eyes of a locally carved Charlevoix wood coq.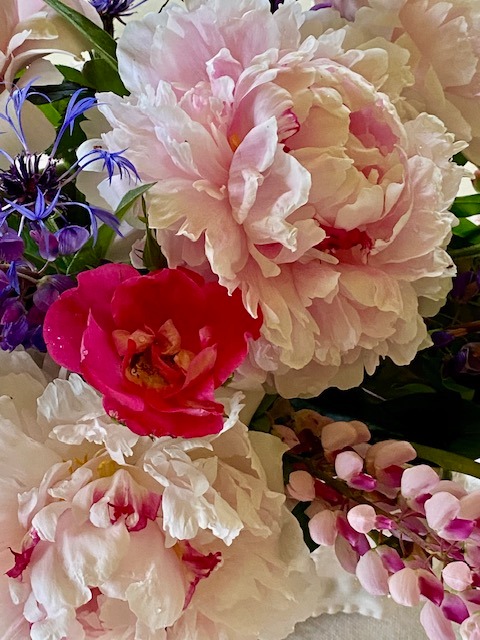 Peonies, roses and lupines all bloom together about July 1st. Wow-oh-wow, what a show that's a month later than in the Midwest! Here, Todd has added some Blue Centaurea or Bachelor's Buttons for a red, white and blue theme for a Fourth of July dinner party.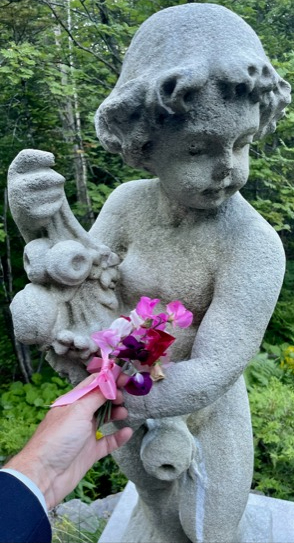 Todd comes from a long line of sweet pea aficionados. He has a running contest every summer with a gardener buddy to see who can grow the tallest vines. This little nosegay is destined to be a hostess gift for a neighbor giving a cocktail party. 
Todd Tip: Petunias make wonderful long-lasting cut flowers. The deep purple petunias in this Blanc de Chine Horn of Plenty vase will outlast their companion roses and sweet peas every time.
Pull a silver tennis trophy off the shelf and fill it with one of everything in sight of the kitchen sink: roses, cosmos, Rudbeckia hirta "Irish Eyes", phlox, pink Lavatera and Blue Clematis for the game, set, and match. "pick and mix," win!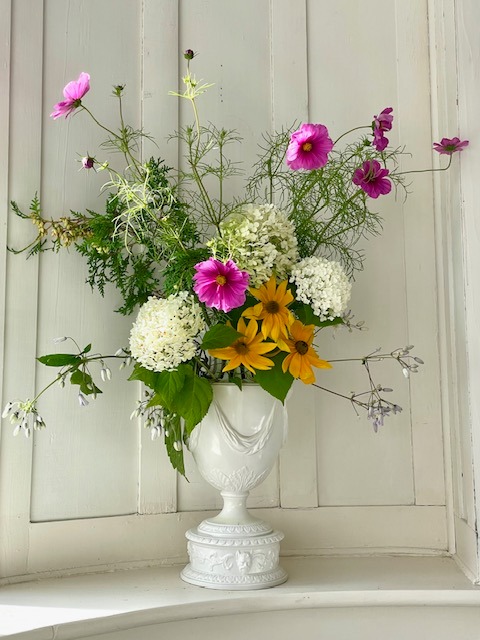 The freewheeling style of these cosmos, "Annabelle" hydrangeas, Rudbeckia hirta "Irish Eyes", and sprays of clematis with mountainside cut cedar boughs is the perfect foil to a grand neo-classical urn. With arrangements like these greeting houseguests, you can easily understand why Murray Bay has long been considered the Newport of Canada.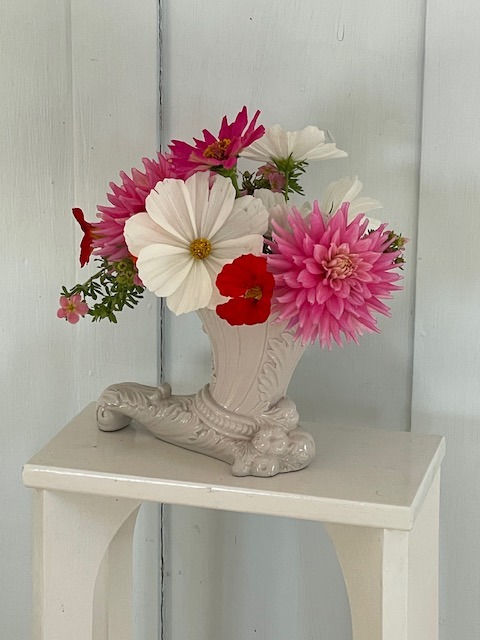 The Luigi Zortea horn of plenty is filled with pink Dahlias, Cosmos, sprigs of rose-colored Potentilla, zinnias and nasturtiums.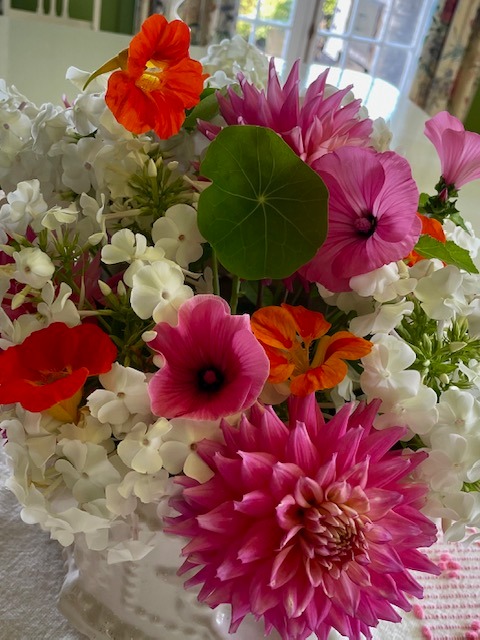 A centerpiece of Pink dahlias and Lavatera, with orange nasturtiums, are heightened by a white Phlox backdrop. 
Let's hear it for more pink and orange flower power! Nasturtiums, like petunias, make marvelous cut flowers…they are also edible and garnish every salad served at Vertefeuille.
Time to talk about Lavatera: the lightly striated rose-colored flowers facing the camera. These very old-fashioned annual members of the hibiscus family are right up there with sweet peas for serious flower gardeners. While popular in England, they can barely be found in Canada and almost never in the United States, but in Murray Bay every gardener grows them.
Let the sun shine with this radiant mix of "Conca d'Or" lilies, astilbe and Rudbeckia hirta "Irish Eyes"! 
Blanc de Chine, like this vintage compote by famed mid-20th century Italian potter, Luigi Zortea, has traditionally been used in summer houses for generations. The white earthenware makes a great companion for the otherwise joyful colors of summer living:  from flowers to placemats or chintz, it goes with everything! When you run out of fresh garden flowers, the eternal bouquet offered by this little angel is guaranteed to brighten your mood.
Sir Lomer Gouin's heirloom Lalique Inkwell makes the perfect little receptacle for a precious arrangement of roses, monkshood, and clematis on a drink's stand. 
Rudbeckia "Herbestonne"  laciniata and "Annabelle" Hydrangeas await arranging at the flower sink outside the kitchen door at Vertefeuille. 
A pairing of monkshood and field cut Helianthus are almost ready for their sentry posts in the stair hall. 
We asked Todd which of these bouquets was his favorite and he choose this incredibly heady, richly saturated mix of pink, red & purple sweet peas spiced with orange nasturtiums. Together with Todd's bespoke pink and white "boutonné" Murray Bay table linens, hand-loomed in neighboring village, this makes for the ultimate summer tablescape! 
Todd Tip:  Simple joys are often very easy to fulfill. Pick one pretty bloom (this one's a Stargazer Lily) and show it off! 
Solomon Seal fronds, helianthus and monkshood mingle in the stair hall.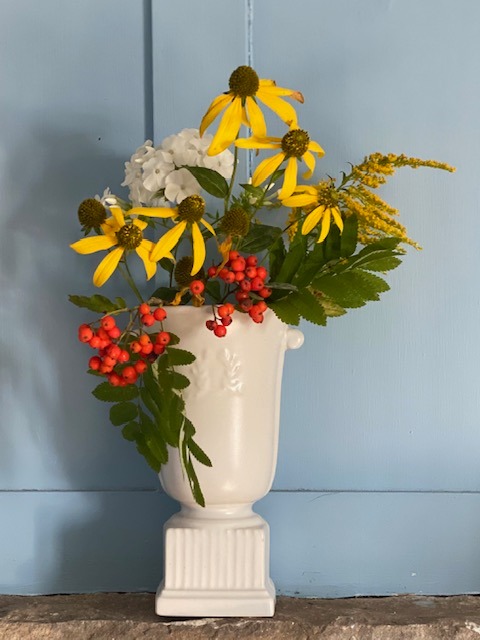 Spring comes late to Charlevoix, and Fall comes early. By mid-August the brilliant orange berries of the Mountain Ash tree or Sorbier, as it's called in French, begin to accent Todd's bouquets. The one here with Goldenrod, Rudbeckia hirta "Irish Eyes" and phlox.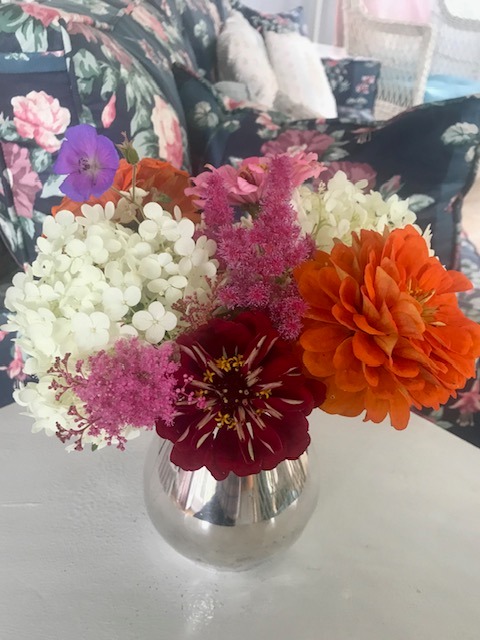 A painterly blend of deep-toned Zinnias, along with Hydrangeas, rose Filipendula, and a blue-flowered perennial geranium are camera ready with vintage Ralph Lauren Blue-Ground Chintz.
Pink Lavatera with white Phlox are spiced with orange Mountain Ash berries in a Blanc de Chine centerpiece.
Todd Schwebel, in his very well-worn Chicago Botanic Garden 40th Anniversary red cap — where he serves on The Guild Board — and one of his glamorous Murray Bay "pick and mix" bouquets!
For more Schwebel Company inspiration be sure to follow Todd on Instagram @toddschwebel where he regularly posts projects, parties and his occasional take on civic events.
@toddschwebel | theschwebelcompany.com