By Judy Carmack Bross
French Bloom co-founders Maggie Taittinger and Constance Jablonski          Photo: Fabian Monchâtre
We caught up with Elmhurst native Maggie Taittinger on the whitewashed Aegean island of Paros when she and her four-and-a- half-year old twins had just come in from their tiny beach. Her husband Rodophe FrerrejeanTaittinger may have been baptized with a silver champagne spoon owed by his great grandfather who founded Taittinger, but that day she toasted with French Bloom, the organic, vegan, alcohol and sulfite free bubbly, which she and her co-founder Constance Jablonski created.  
"Growing up in Elmhurst I was always aware that Chicago was a first class culinary destination.  After two years at the University of Illinois at Champaign, I finished college in New York, and then worked for the Michelin Guide there and in Paris," Taittinger said. "My interest in fine food began in Chicago and it really impacted who I am today. At our Michelin headquarters in Paris we heard so much about the excellent Chicago trends for home-grown chefs."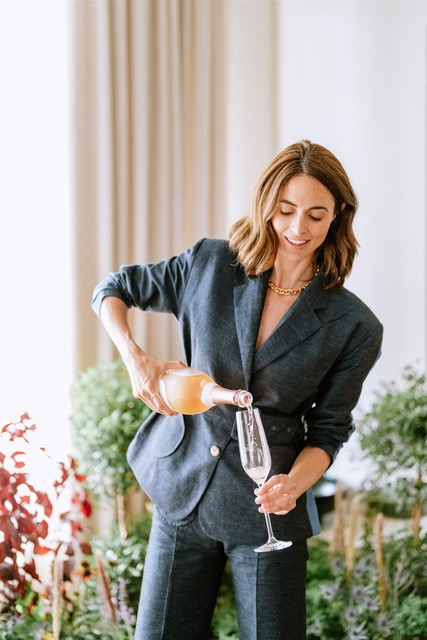 Earlier in the month she celebrated the Midwest launch of French Bloom's two cuvees at BIÂN, Chicago's private club devoted to wellness in all its aspirations. The day was dedicated to women's leadership and social wellness toasting that non-alcoholic beverages can be just as celebratory. The French Bloom is on the menu at the Four Seasons Chicago, The Ritz-Carlton Chicago, he Langham Hotel, BIÂN, Pops, and numerous other locales here. 
Taittinger told us why she created French Bloom, a name which was chosen to "celebrate friendship and inspire people find the best version of themselves." 
"It was all rooted in a moment four years ago.  I was working in international development for the Michelin Guide and I was expecting twins.  Obviously, pairing wine and champagne with the food in front of you is very important so I was feeling a bit excluded because I didn't want to drink while pregnant," she said. 
 "I think people who don't drink alcohol often have just the choice of water or perhaps a juice. At weddings and corporate events you are often offered sparkling wine and perhaps you don't want to stand out by not accepting them.  I decided I wanted to fill that gap by creating something special that was 0.0 percent alcohol, sugar and sulfite free and very delicious.  With French Bloom available you feel "the more the merrier," no one is excluded, and you can just sit around and enjoy the moments together.
"I spoke with my good friend Constance Jablonski, a model who had become a good friend in New York.  People in her industry work long hours and often face jet lag on shoots and often there is lots of alcohol at fashion events.  Often social wellness prescribes not drinking alcohol.  We spent two and a half years, going through over 100 iterations, in research and development to come up to our standards. Our finished cuvees toast friendship, our time in New York, that she is French and that my husband and I live there now."
Taittinger and Jablonski chose organic grapes from the Languedoc for Le Rosé which sells at $44 a bottle and Le Blanc which is priced at $39.
"When you de-alcoholize wine to 0.0, you can lose the aroma and the natural state of the wine.  You have to revitalize and re-build, concentrating on the wine's architecture," Taittinger said.  "We believe that we revived the finesse and elegance creating a clear and crisp finish. 
"Le Blanc offers a mineral freshness and pear aromas from Chardonnay. Tropical notes are followed by Granny Smith apple, spicy citrus and white flower notes. Serve very cold–36°F-39°F–in a flute, preferably surrounded by those you love. To drink French Bloom differently, serve Le Blanc in a wide glass filled with ice cubes and a large slice of lime.  Le Rosé offers a well-balanced complexity of minerality and freshness with rose petals and freshly picked berry aromas, to finish on delicate peach notes. It is a blend of French organic Chardonnay dealcoholized wine, organic white and red grape juice and natural flavors including lemon."
Taittinger said that husband Rodolphe Frerejean Taittinger, who sold Taittinger to Starwood in 2005, has "pushed us on to do our very best" and supplied advice as well. In the same year he and his two brothers launched the artisan Frerejean Frères champagne which offers six cuvees.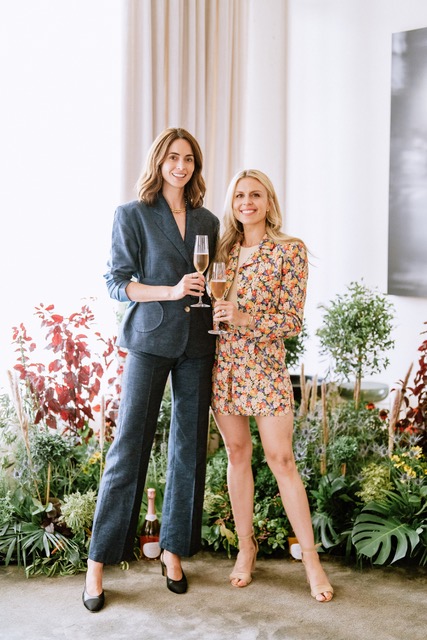 Maggie Tattinger with Mar Soraparu, BIÂN Co-Founder and Chief Wellness Officer
For the Midwest launch, BIÂN featured dazzling flowers from Marc Waters of Bunches and French Bloom toasts.  The party's co-host, Mar Soraparu, BIÂN Co-Founder and Chief Wellness Officer, told us:
 "Hosting the women behind French Bloom for their Chicago Launch along with their networks at BIÂN was a privilege. Their attention to detail not only of the event coordination, but the thought behind connecting with the women really showcased the heart and integrity behind the brand. I felt uplifted and energized working with Maggie and Meryl Muldoon and the rest of the French Bloom team."
"We went for velvety bubbles," Taittinger said.  "Fine bubbles, not soda bubbles, are so important."
Photo credit:  Karlie Dru (@karliedru_photographer) and French Bloom