By Classic Chicago Magazine Staff & Friends
With these brief snapshots of wonderful people, many of whom have appeared on our pages, we honor those we have lost this year and wish we could honor all who you have lost as well. We will remember them always. If you dreamed about them, you'd wake up smiling. Those were the sort of friends they were.
Joan Blair
Joan Blair loved parties.
Her favorite perch was a piano bench in the middle of a boisterous party, of which there were many over her ninety-two years. Surrounded by friends, Joan played popular songs—including her favorite Cole Porter tunes—and enjoyed being the center of attention. She entertained away from the piano too, using a sense of humor with pitch-perfect timing, a gregarious personality, and instant recall of funny conversations and incidents from decades before.
Her childhood was a fairy tale. She and her mother were so close that they called each other "Sister," but this didn't stop Joan from giving Sister a hot foot (lighting a match surreptitiously placed in her mother's sandals), and collapsing with laughter as Sister hopped across the kitchen. Their home bustled with eclectic guests; Joan might share a piano bench with Irving Berlin one morning and open gifts from Zelda and F. Scott Fitzgerald the next. . She declined acceptance at Wellesley College because, she said, she was having "too much fun." She planned formal dinner parties for Marjorie Merriweather Post at Mar-a-lago instead. When guests cancelled, Mrs. Post asked Joan—a generation younger than anyone else, but an engaging conversationalist—to substitute. Mrs. Post's chauffeur would pick her up, bring her home, and deliver Cartier earrings the next morning as thanks for filling in. 
At nineteen—poolside in Palm Beach, and regaling friends about the prior evening—she noticed a "gorgeous young man" from Chicago overhearing, and laughing at, her stories. A few dates later, at yet another party, she leaned down the dinner table and told Bowen Blair "I'm going to marry you one day!" Nine months later, she did. The marriage flourished—as husband and wife and best friends—for fifty-nine years, until Bowen's death in 2009.
The couple raised two children at their home in Lake Forest, IL, where Joan put her energy and talents into motherhood and promoting causes that were important to her and her new community. She employed the social and organizational skills that had caused Marjorie Post's parties to flourish to connect potential supporters with nonprofit institutions, raising their profiles and endowments.  A party, of course, to celebrate her life will be scheduled later this summer. –By Bowen Blair Jr.
Michael Butler
When Michael Butler died at 95 in a California nursing home on November 7, it was not merely the passing of another oldster, it was an event in the history of one of our area's—even the nation's–most notable dynasties, a dynasty that had arrived in America in 1654, moved out to Chicago and made a fortune manufacturing paper. During the more recent past, Michael's father, Paul Butler, created the community of Oak Brook, Illinois, and Michael became a close, polo-playing cohort of the now King Charles III of England
Before he was 30, Michael–then a New Yorker—was the darling of the city's seven daily newspapers, which were routinely filled with everything from column tidbits to full stories about such things as Michael's adventures with the Duke and Duchess of Windsor. He made it chic to live in a black-painted walk-up apartment two flights above P.J. Clarke's on seedy Third Avenue–which he balanced with his days in the kitchen of film icon Greta Garbo, who–before Jacqueline Kennedy Onassis—was the city's most celebrated woman.  
Then in April 1968, Michael brought the Tribal Love-Rock Musical "Hair" to Broadway and made another Butler fortune on what "was then the most successful piece of musical theater of all time." –By Megan McKinney
Sandra Crown
For Sandra Crown, Ravinia was always music to her ears.  A Ravinia Life Trustee and former Women's Board Chair, Sandy joined the Women's Board in 1968.  At the time of her death, Ravinia Festival President and CEO Jeffrey Heydon wrote to that community: "Her creative ideas and inspired, dedicated leadership formed the basis for many of the major projects and accomplishments which have defined the Women's Board contributions over the years." 
Sandy founded the Friendship Booth, an information center and summer gift shop, the precursor of today's Women's Board Festival Shop. Sandy also founded and led the Tribute Fund with income going to gardens and grounds beautification.   
"Sandy's strength and dedication to excellence was balanced by her commitment to cooperation and team building," Heydon wrote. "She will be remembered as an early, great leader who made a profound and lasting contribution to Ravinia and the Women's Board."
Women's Board member Lisa Brown Tribute added: "She was extraordinary, with never ending energy and ideas to advance a cause.  But most important, I personally remember her ebullient smile and genuine warmth; when I joined the board she reached out immediately to welcome and get to know me."
In addition to leadership roles in key Chicago institutions including  the Art Institute, the Shedd Aquarium, the Field Museum, she was greatly appreciated in her hometown of Winnetka where she lobbied for stop lights and increased bus service for school children. —By Judy Carmack Bross
Sue Dixon
Sue Dixon has been described by those who knew her as: "a force of nature," a "one-of-a-kind," an "original." She lived life to the fullest, right up until the end on August 19, 2022. She was 91. Sue was born in Chicago in 1931 and grew up in Winnetka and Lake Forest. She was the daughter of John G. and Frances C. Searle, whose family business, G.D. Searle & Co., was prominent in international pharmaceuticals. She attended North Shore Country Day School, the Westover School in Connecticut, and Bennett Junior College. She graduated from the American Academy of Design in 1952. 
Sue married the love of her life, Wesley M. Dixon Jr., in 1953. They shared 61 amazing years together until Wes's death in 2014. They traveled extensively, shared many interests and passions, and were both actively engaged in their community.
Sue served on the Women's Board of the Art Institute of Chicago, the Woman's Board of Northwestern Memorial Hospital, and was the first woman to serve on the Board of Directors of Northwestern University. Deeply involved with the Board of the Chicago Botanic Garden. Devoted member of Lake Forest Garden Club, First Presbyterian Church of Lake Forest and Shikar Safari Club International. One of Sue's favorite organizations was Lake Forest Open Lands, where she was the first woman to serve as Chair and was a Life Board member affectionately nicknamed "The Prairie Queen."
Sue is survived by three children, five grandsons, and seven great grandchildren. —By Nydia and Michael Searle
Maxine Duster
Educator and civic leader, Maxine Duster passed away at the age of 83. She was born in Pelham. Texas, a town founded by her ancestors shortly after they were freed from slavery. Attending high school in the town where she was related to virtually everyone else, she attended Southern Texas University and  earned masters degrees from Governor's State University and National Louis University. Marrying Donald Duster, grandson of journalist and activist Ida B. Wells, she raised three children while pursuing a teaching career. She later managed community relations at Michael Reese Hospital and worked for the Chicago Urban League, developing a program to help students enter STEM teaching careers. She would go on to serve as principal of North Lawndale's Corporate /Community School of America and  promote children's literacy through programs at CPS and Cook County Hospital. A stickler for correct English, according to her son Dan, she was known as to correct grammar "of the whole neighborhood." Her model of civic engagement influenced her children. Daughter Michelle, a professor at Columbia College, has brought the life of her great grandmother Ida B. Wells to the forefront. Duster took time to relax as well; she was a lifelong lover of bridge and tennis player, loving Motown music in her final days. —By Elizabeth Richter.
Lynn Evans
"Hope your road is a long one.
May there be many summer mornings when,
with what pleasure, what joy,
you enter harbors you're seeing for the first time."
At a memorial service where Lynn Evans' best-loved jazz music filled the Arts Club, her niece and nephew read C.P.
Cacafy's "Ithaka," her favorite poem, and noted that almost every week they received her recommendations of verse.  At the memorial service friends and family shared stories of Lynn, who served as the Administrative Coordinator in the Department of Museum Education at the Art Institute for more than 30 years and continued to volunteer there after retiring.  Lynn was the person you went to for advice and found how her serene solutions and quick wit as well as her keen listening skills could solve any problem.
A consummate reader, lover of British royals and recipes, a wise stalwart at St. Chrysostom's Church, Lynn knew that service and sincerity of friendship made that road one travels one filled with pleasure and joy. She knew better than almost anything the importance of the golden mean in your life, where finding balance  insures almost always insures that you will treat everyone with  kindness and respect.  And as Cacafy said:  "Ithaka gave you a marvelous journey."
"Wise as you will have become, so full of experience,
you'll have understood by then what these Ithakas mean." —By Judy Carmack Bross
Ted Gross
Brooklyn born Theodore "Ted" Gross was the fourth president of Roosevelt University. Early in his tenure, Ted envisioned a metropolitan University, "a single institution, with a single faculty, teaching on two separate campuses. And in the course of teaching and learning, it would bridge the great divide between suburbs and city." When he established Roosevelt's permanent campus in Schaumburg in 1996, it was the first new comprehensive University campus Illinois since the late 1960s. 
He was also instrumental in the creation of the Chicago College of Performing Arts and the Marshall Bennett Institute of Real Estate. He led the development of an honors program, for which the Theodore "Ted" Gross Endowed Scholarship in Honors continues to provide financial support to students today. He also increased enrollments to 7,500. During his presidency, Ted began and enlarged Roosevelt's endowment to $35 million, and he led a greatly successful $53 million capital campaign.
Ted, who left us in August, is survived by his wife, Jody, and two children, Donna and Jonathan. —By Megan McKinney
Frank Hogan
Frank Hogan, Headmaster of the Latin School of Chicago from 1992-2004, was to so many the quintessential example of how one can impact institutions by impacting individuals. Being there for people was something that Hogan did best.  This consummate Chicagoan left memories of encouraging words, humor and dedication to make the school the best independent school in the country.
At Latin, you would rarely find him in his office. He would be out in the halls, speaking to students, to teachers and staff, to parent volunteers, showing his interest, learning what was happening in their lives. 
One alumnus remembered a field trip for ninth graders to the Yerkes Observatory in Williams Bay, Wisconsin. It was dark as students were readying to survey the stars when suddenly he saw his headmaster striding through the gardens to watch with them. He was at every game where the Latin Romans played across Chicagoland, every theatrical or artistic event, at sad and happy occasions for his community, or entertaining guests at his Diversey Avenue apartment with his perspicacious and delightful wife, Nancy, at his side.
  Shelley Greenwood, Latin's Assistant Head of School said soon after his death: "He helped raise Latin's national profile. He was a strong, compassionate leader. Frank made every effort to know each member of the school, personally. Faculty and staff were always delighted when he returned for a visit. They simply don't make them like Frank any more. —By Judy Carmack Bross
Eileen Mackevich
Eileen was a powerful personality, whose singular characteristics filled and lapped over around any space she occupied. During her years as the dominant presence in the Chicago Humanities Festival, it seemed that all Chicago was attending, enjoying, discussing, writing or reading about the lectures, concerts, films and other occasions Eileen had discovered and scheduled to lift participants intellectually and spiritually. It was difficult to be in Chicago while the festival was in progress and not to feel its energy. And then there was her personal environment; the eyes of anyone walking or driving along the 1400 block of Lake Shore Drive after dark were drawn up to brightly lit scarlet walls above.
Even during smaller events—in her smashing apartment or someone else's—one might glance toward an interior doorway and see the pale face of Joyce Carol Oates within the frame or walk into the kitchen and find Tom Wolfe leaning against a counter, because Eileen's humanities extended everywhere and included everyone, even the great and famous.   
That's just the beginning. She was a WBEZ FM show producer and radio show host for ten years, ran the Abraham Lincoln Bicentennial Commission in Washington and the Abraham Lincoln Presidential Library and Museum in Springfield. Most of all she was a delightful friend and companion, always brimming with the excitement of the latest book she had read, opera she had heard or simply ideas, ideas, ideas. –By Megan McKinney
Josephine Baskin Minow
Josephine (Jo) Baskin Minow was a superstar. In her personal "century of progress" (1926-2022) she made epic contributions to her beloved Chicago. Jo's leadership, in countless number of the city's institutions, is legendary. Her fervent love of family, history, children's advocacy, and civic engagement is palpable in the accomplishments of the many distinguished organizations guided by her fine hand and brilliant stewardship. Jo Baskin began a passionate, life-long relationship with the Chicago History Museum (Chicago Historical Society) as a child. She visited its treasures constantly. She was proud to become a CHM 40-year Trustee and Life Trustee. In 2016, the Museum honored Jo Minow, dedicating its prominent Second Floor Balcony to her. Husband Newton Minow emphasizes Jo's unique and major accomplishments in Washington, DC, during the JFK administration. At the time, Newt served as Chairman of the FCC (1961-63). 
At the request of the State Department, Jo both created and coordinated the Children's Division of The Hospitality and Information Service (THIS).
 Jo believed the diplomats could best be reached through their children. She initiated White House receptions and parties for the global youngsters, providing opportunities for this mini-United Nations to become acquainted with American life. Jo spoke with pride about THIS. It advanced tolerance, friendship, and international relations. "Getting people to get along" was Jo Minow's hallmark. 
The organization thrives today as THIS for Diplomats providing essential services for diplomatic families from 88 nations speaking 33 languages.
Her astute skills are lauded – by the Chicago History Museum, Know Your Chicago, the Juvenile Protective Association, Northwestern University Women's Board, Ravinia Festival, the Chicago Council on Global Affairs, and host of other entities. Her powerful work never ceased. Jo contributed to the de-segregation of Chicago's major department stores (Marshall Fields, Carson's, 1970s). She guided and encouraged a successful (2014) strategic campaign to restore Olympian Jesse Owens' name to a CPS school. Her family established scholarships for creative writing students at Northwestern University in her name. Jo Minow's unfaltering belief in tolerance and inclusion is reflected in three extraordinary, well-circulated children's books she authored:  MARTY THE BROKEN-HEARTED ARTICHOKE,  PINEAPPLE PETE'S REMARKABLE FEAT, A LIGHT IN EVERY WINDOW. Endowed with wit, humor, compassion, and foresight, Jo Baskin Minow's energies and enduring legacy continue to bless and shape her "sweet home Chicago."
Suggested Reading: Gilfoyle, Timothy J.: Making History Interviews, Chicago History, 43,1:54-72,2019 Loyola eCommons, History, Faculty Publications and Other Works. —By Susan S. Aaron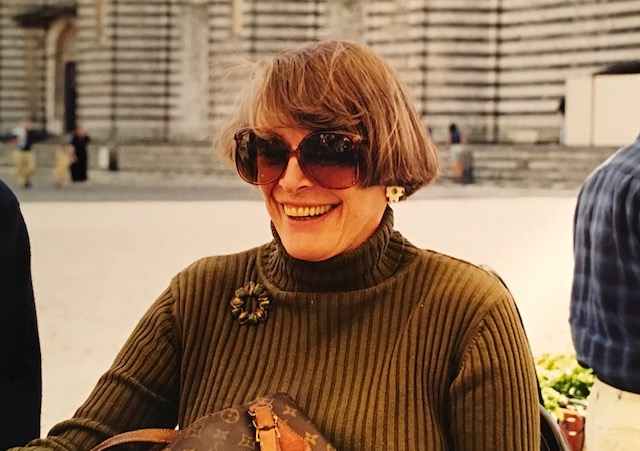 Virginia Saft Mond
 We all know about Virginia's whip smart intelligence, her charm and insight, but a privileged few of us also got to sample Virginia's cooking:  her cornbread and black bean soup, the unctuous pecan pie and the legendary gumbo. Not only was she a good cook but it really ticked me off that she was also beautiful. Even  without a speck of makeup.  To make matters worse she never had to dye her hair.  
The belle of Greensboro, Alabama, became a crackerjack med school student specializing in psychiatry at the University of Chicago.  She thought nothing of being one of a handful of females in a class dominated by men.  Or of living on a pittance with her husband and fellow student Jim Saft in a basement apartment in Hyde Park. More than one of her male classmates later revealed they had been madly in love with her.   
Once her children Lizzie and Jim were grown, Virginia joined a group of pals who abandoned Fish Creek in order to rent a vacation house in Europe.  We called it the Four Seasons Camp for Grownups.  We started out modestly enough with a farmhouse in Tuscany. On our first night Virginia announced we wouldn't have to worry about our initial dinner because she had tucked in her suitcase a package of dried pasta and a jar of caviar from Chicago.  
It turned out an Italian princess owned the property.  She paid us a royal visit one morning. When Virginia was introduced, she held up some shards of china.  "Principessa, I dropped a coffee cup. I would like to reimburse you for it."  The princess looked charmed but completely befuddled.  
Virginia was a friend for all seasons, my first pal in Chicago and best buddy for more than 50 years.  In 2002 my husband Jack was at home with me in hospice care.  At the time Virginia was balancing a full schedule of patients.  Nonetheless, every few days Virginia would appear at my door to deliver a basket of homemade food from her kitchen .  There would even be freshly grated parmesan cheese which she would remind me to sprinkle on the main course as she exited the apartment. —By Adrian Foster
Ken Price
Ken Price was a delight—an historian, lawyer, musician and all-around Renaissance man, as well as Palmer House Director of Public Relations. One couldn't ask for more engaging company over lunch or a glass of champagne. He was a wellspring of anecdotes and charming stories, some of which—but not all —were about his "mistress," because Ken was a bachelor who had been carrying on a four-decade love affair—with a hotel. 
When you were with him, invariably in the Palmer House, you felt the same. It is a glorious hotel, home to one of the most glamorous public spaces in town—the Empire Room —but to Ken the Palmer House was simply the only place to be. 
The tall, handsome, exquisitely tailored Ken lived in the Gold Coast and looked like no one else in the commercial Loop, yet clerks in downtown shops all seemed to know him. "Ken Price just came into the store," was the buzz. Or "Do you know Ken Price?"  He was their hero. 
Ken will be missed by many. And very much by this writer. –By Megan McKinney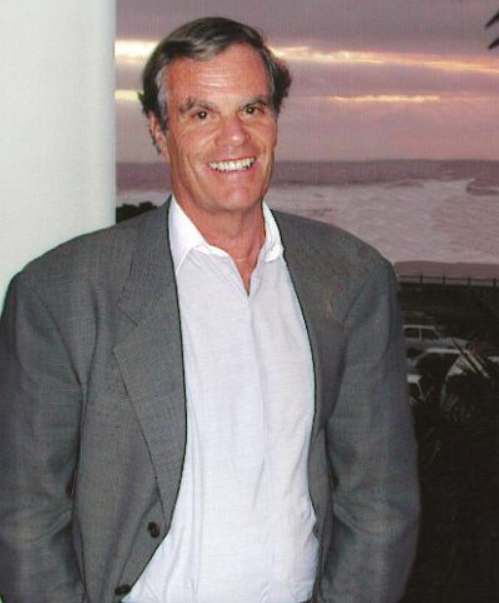 Richard Rinella
Love to Dear Dick!
For 53 years I lived in Paradise, with a wonderful husband who was handsome, accomplished, athletic & wise!
We were blessed with perfect kids, Rich and Annie,
Who soared to create with their precious spouses, Terrific Chris Taube & Beautiful Ayla Kerremans, four fantastic Grandkids, making us joyful Grandpa and Grannie!
On our first date Dick did say to me, "You remind me of my dog!"
When I asked the question, "Why?" — I felt his lovely answer came from God!!
Pets became a wonderful part of our family, and what an honor to be with Paula and Peter Fasseas when they asked friends to help start PAWS Chicago–YES," said Dick & me!
We also shared a true love of travel, with fantastic family trips to explore the World and amazing cruise adventures making magnificent friends at sea!
What a true blessing to join the wonderful Rinella Team–Dick's brother Bernie and Gorgeous Gloria Rinella are a real part of a lovely DREAM!
With love and thanks to share the Blessings of my life with Dick Rinella!
It brings true JOY to be surrounded by dear friends, family and strong Faith to salute a fabulous FELLA! —By Barbara Rinella
Cindy Sargent
Cynthia Mead Sargent had two loves: Her family and music. Her beloved husband Bob and her children and grandchildren came first but there was always a concerto or symphony not far behind. Along with her sister Sally Mead Hands, Cindy established the Mead Composer-in-Residence program of the Chicago Symphony but her dedication to the Chicago Symphony did not stop there as she served as a trustee, and was a founding member of Music Now. A proud graduate of Wellesley College, she went on to earn a Masters degree in music theory at Northwestern University. She established the Cynthia Mead Sargent '60 Concert Salon in the new music building at Wellesley which includes a recording studio and practice rooms. She was an enthusiastic supporter of many civic organizations including Jane Addams Hull House and served on the Woman's Board of Northwestern Memorial Hospital and the Junior League of Chicago board for many years. Nationally Cindy was a board member of The League of American Orchestras. An accomplished sailor, Cindy was ever ready for a day on the water.
Always with a twinkle in her eye, her wit and contagious chuckle were her signature. She divided her time among Chicago where she lived mere
steps from Symphony Center, Door County, Wisconsin and Captiva, Florida. —By Katherine Harvey.
Ellen Stirling
Even though Ellen Stirling's grandmother launched the Lake Forest Sports Shop and her mother ran it while Ellen was growing up, the thought of one day being in charge was far from her mind – as far as London (where she lived for many years) is from Lake Forest.
Yet run it she did, starting in the 1980s. Dressed elegantly as usual, Ellen presided over the women's clothing store's 100th anniversary in September. She looked happy as her three daughters and husband Jim joined scores of others to celebrate at the venerable shop on Market Square.
Earlier this year, I enjoyed chatting with Ellen in her small office. Wearing a blouse designed by Algo Switzerland – who outfits the Queen of England and Princess Kate, among others – she told me stories about the store's history and how important it was for her to rescue it from significant debt to help her father Volney. She paid off a large loan on her parents' 50th anniversary, a significant point of pride. When discussing how a man entered the shop one frigid Christmas Eve and asked where the bowling balls were, she became truly animated, amazed anyone could ask that question in such a sophisticated store. Her response was swift.
"That's when I knew we had to remove the word Sports from the shop," she said. The Lake Forest Shop attracted no more sports enthusiasts.
In Lake Forest she started Shop Your Cause, where store sales aided non-profits. Her contributions to civic life stretched to Chicago, where Ellen was a member of the Women's Board of the Lyric Opera of Chicago, founder and past vice president of the Auxiliary Board of the Art Institute of Chicago and a member of the Costume Council of the Chicago History Museum.  
Grace, elegance, friendliness — all come to mind when remembering Ellen. She passed away far too young at 73 from a lengthy illness, but what a meaningful, impactful life she led. —By David A.F. Sweet
Peter Van Nice
What began as a green thumb and love of his own Lakeside, Michigan garden, blossomed into Peter Van Nice's true passion for helping to conserve land and to create nature preserves in the surrounding county. Peter founded Chikaming Open Lands and was President of the land trust dedicated to preserving the open space and rural landscape of Berrien County.  Closer to home, a large Midwestern prairie portion at the southeast corner of historic Graceland Cemetery where Peter became a Trustee in 1999, is testimony of how he shared his expertise and passion for planting with others.  Recalling the joy he expressed when he explained to one of many groups who came to Lakeside to tour his garden, one remembers his never-ending research and execution of a variety of new projects, and native plant installations, including even an underground garden. What pride sons Errett and Anthony as well as Jeannie, his wife of 55 years and longtime member of the Chicago Botanic Garden's Women's Board, have in Peter's conservation accomplishments.
Born in 1942 in Chicago to philanthropic leaders Ruth Swift Van Nice and Errett Isaac Van Nice, Peter attended The Latin School of Chicago, graduated from The Choate School, and received his B.A. at Northwestern University and his M.B.A. at The University of Chicago. After graduation he served in the U.S. Marine Corps.  He worked at International Harvester Company, was a member of The Chicago Board of Trade and served as President of The Racquet Club of Chicago.  Friends recall his keen insight into winning bridge games in the men's grill at the Racquet Club.
Each season of the year, whether in southwest Michigan or at Graceland Cemetery where thousands visit yearly, Peter Van Nice's love of preserving the beauty of the prairie landscape will live on as legacy to his conservation determination. —By Judy Carmack Bross
Bernice Weissbourd
When she died at 99, the Chicago Sun Times headline for Bernice Weissbourd's obituary was the "Rock star" of family support services. It was a perfect description of the founder of Family Focus, coined by her son Robert. A former HeadStart teacher, Weissbourd was a passionate and early advocate for the importance of the first three years of a child's life. She also understood that parents needed as much support as their pre-school children, and she established Family Focus with the goal of facilitating parenting skills as well as launching children with the intellectual and emotional foundation they needed to succeed.
Family Focus now has 11 centers throughout the region offering children and families with such services as doulas during pregnancy and birth, pre-school, home visiting, after school programs, and family advocacy with state agencies. Weissbourd worked at the national level in many roles including President of the Family Resource Center, the American Orthopsychiatric Association and Vice-President of the National Association for the Education of Young Children. A columnist and author, she also lectured at the University of Chicago School of Service Administration. Weissbourd lost her husband, developer Bernard Weissbourd, in 2000. She was survived by four children, 11 grandchildren and seven great-grandchildren.  –By Elizabeth Richter