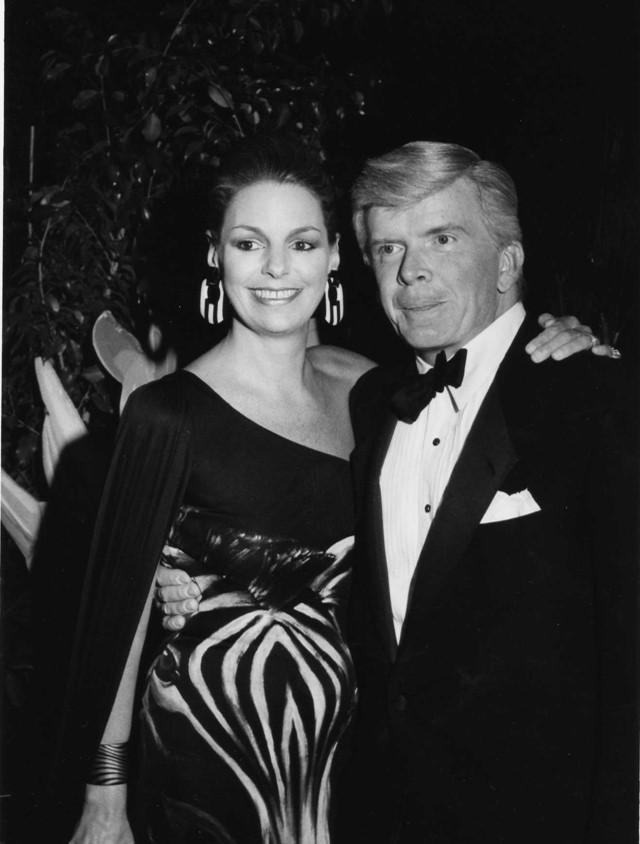 Abra and Jim Wilkin on the Zoo Ball dance floor, probably during the 1980's.
By Megan McKinney
When the Women's Board of Lincoln Park Zoo hosts the 2019 Zoo Ball: A Feathered Affair on Friday, July 12, the now venerable annual event will be heading into high middle age. But what a beauty it continues to be—getting better, not older, as they say.
An enduring asset of this lively summer gala is its spectacular outdoor setting, enhanced by the initial decision to always hold the party on the second Friday night of July, which is rumored to be the loveliest of the year. And it probably is.
Curious about how it all started, we began poking around in the Women's Board files. The earliest invitation in the mix was for the second Friday in July 1978 and—considering the Women's Board was founded in 1976—that was indeed early.
The '78 sit-down dinner—a step up from buffet suppers the two previous years—was catered by Gapers and boosted the $37.50 ticket price to $50, netting $45,000 toward a new Penguin House. Allan Kaye provided the music, and yellow and white tents were supplied by Parasol.
Energetic dancers at an early Zoo Ball set a tempo that has continued through the decades. The sideburns on a few of the men suggest the 1970's. Also lively is the action in another random photo of a later Ball, below.
An ever increasing ticket price, as well as such innovations as introducing a raffle, along with making successful requests for donations and underwriting, steadily increased the bottom line. By the 1984 Ball, which took its theme from the 200th anniversary of hot-air ballooning, the ticket price had also soared sky-high: $300 a couple.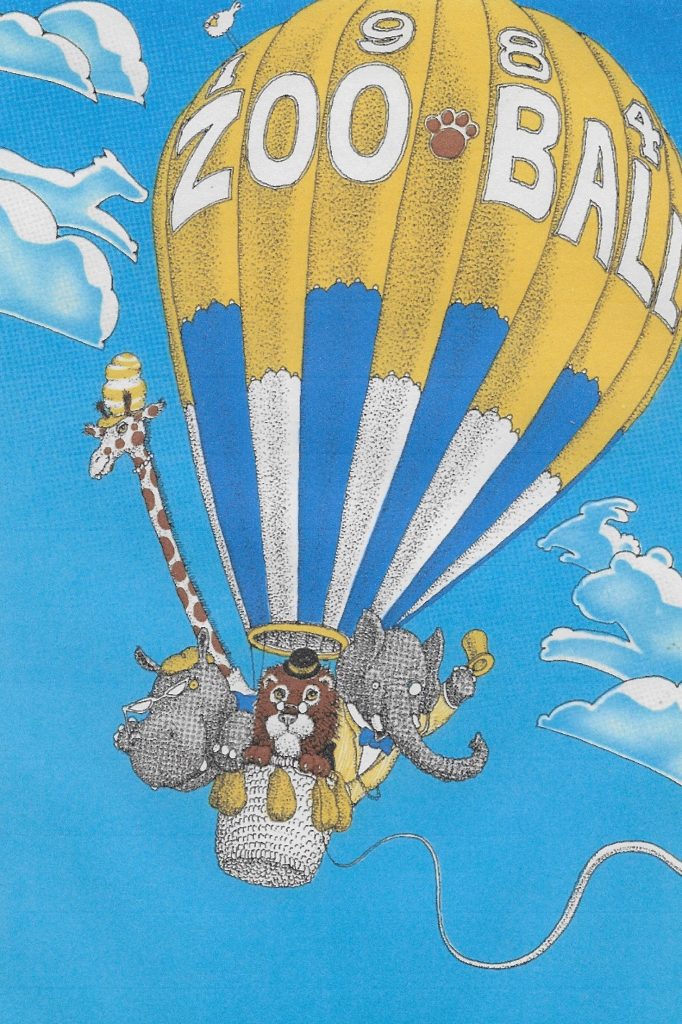 The invitation from 1984 reveals committee names that continue to resonate today and whose bearers were surely pleased they were able to donate $163,000 to the Children's Zoo.
The files also contained assorted photos of members, often Ball Co-chairs. Above are April Schink and Cynthia Holmes, who chaired together in a year with a flamingo theme. And below Penny Beitler and Suzanne Stevens, co-chairmen of the 1988 Bali Bangkok and Beyond.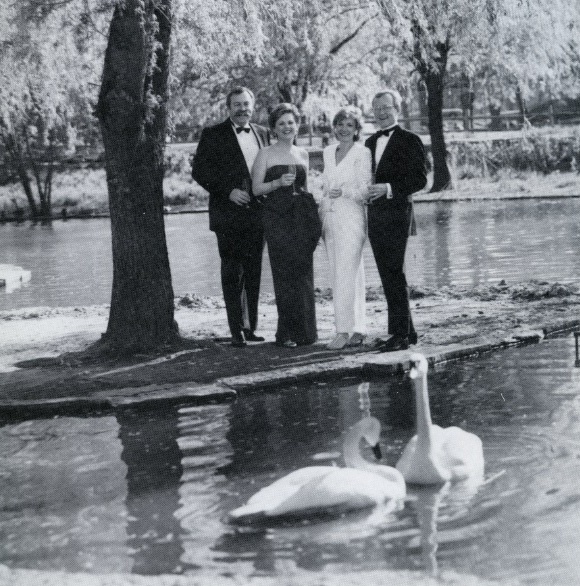 We also came upon a photo of Jenny and Jim Adams with Nancy and John Trainer and a pair of swans in the foreground, indicating a possible swan-themed ball. Swans have a special meaning for the Lincoln Park Zoo, which was founded in 1868 "when two pairs of swans were gifted to Lincoln Park from Central Park in New York."
We found a photograph of Bill Kurtis and Donna La Pietra, visible figures from Chicago television, at one Zoo Ball, and charitable dignitaries Marion Simon and Bill Kirby, below, at another.
However the true stars of the Zoo Ball were and are members of the Women's Board; without them there would not be the magic of the annual second Friday night of July. Here are a pair of photographs of groupings from the Women's Board that ease us toward the end one century and to the edge of another.
Nancy Kelly and Myra Reilly were able to tell us that those in the top row were from left, Kimberley Orput, Liz Parker, Karen Goodyear, Denise Stephen Ginascol, seated, followed by Diane Sprenger Budny and Debbie Clamage on the ladder.
Below from left were Myra Reilly, Jennifer Lansing, Nancy Kelley, Anne Heller, Courtney Johnson and Jo Heindel.
Myra identified the three across the back in this photograph as Lynn Thompson, Sojna Larkin and Roberta Olshansky.
The four in the middle were Jo Heindel, Gale Gottlieb, Karen Goodyear and Diane Sprenger Budny
In front were Denise Stepan Ginascol, Myra Reilly and Kimberly Orput. 
Myra Reilly again, with Melissa Sage Fadim. Together they have been two of the Zoo's most steadfast supporters. The year of this photograph, 1999, Melissa directed her Sage Foundation to underwrite the Zoo Ball and Myra was Ball chairman.
This brings us almost to the present—2018. Here we have Lincoln Park Zoo President and CEO Kevin Bell at last summer's Ball with, from left Co-chair Krista Coan, Women's Board President Caroline Huebner and Co-chair Allyson Pooley.
The ladies were able to announce, 40 years after they had been barely able to donate $45,000 to the Penguin House, that the evening's net proceeds would be $1.2 million!
A Feathered Affair on July 12 will probably do as well well but—more than that—it will also be a wonderful party, a marvelous way to thoroughly enjoy the loveliest night of the year, especially following the punishing winter so many of us have survived.
Photos courtesy of the Women's Board of Lincoln Park Zoo
Author Photo: Robert F. Carl