For Nearly 30 Years, Pulitzer-Prize Winner Blair Kamin Has Shaped Opinion About Chicago's Architecture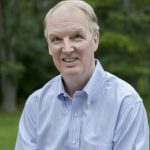 By David A. F. Sweet
When one thinks of an ideal job for a newspaper critic, a restaurant writer in Paris comes to mind. In the United States, who wouldn't want to opine on movies where the industry resides in Los Angeles, laud or lambaste Broadway plays in New York or assess the latest cellphone or Internet browser for a Silicon Valley publication?
In Chicago, Blair Kamin enjoys a similar role. The Pulitzer-Prize-winning columnist has covered architecture for the Chicago Tribune since the George H. W. Bush administration. In fact, he replaced a critic who also captured the Pulitzer Prize, Paul Gapp, giving the Tribune close to half a century of top-notch writing about unmatched architectural grandeur in the country.
Even the pandemic hasn't stopped the coverage. Kamin understands his good fortune in being able to write about architecture since construction continues, while colleagues who are theater critics and sports reporters are unable to cover plays and games.
"I have no shortage of things to write about," said Kamin, who is turning 63 in August. "Sometimes unsettled times produce the most interesting stories."
For every soaring and glorious new tower Kamin praises, there's usually an absurd architectural idea he castigates. This year, a high-line walkway down LaSalle Street unleashed scathing words from his keyboard.
"Beware the urban design flavor of the month. It's radical elective surgery that would mar a singular ensemble of skyscrapers," wrote Kamin, referring mainly to the Art Deco Board of Trade building and the columned bank structures nearby.
Of course, the Wilmette resident — who calls architecture "the inescapable art" because it is ubiquitous — once worked in one of Chicago's most recognizable buildings, the Tribune Tower, a stunning neo-Gothic edifice with powerful words about freedom of the press chiseled into its marble walls. But a few years ago, the Tribune's newsroom moved south to the old Prudential Building.
"The Prudential Building could be the box the Tribune Tower came in," said Kamin who, though he won't name a favorite building in town, said Tribune Tower is among them. "While it lacks the history and tradition of Tribune Tower, it could be worse. If we had moved to the suburbs, I don't think I'd be working here anymore."
Kamin refuses to review a building he cannot walk into. In Dubai, he was prevented from entering what has been the tallest building in the world, the Burj Kalifa. His solution? In a move that seems borrowed from an old-time newspaper movie, a friend helped him dress up in construction gear to access the structure.
"Whatever it takes to get the story," Kamin said. "There was no way I was going to Dubai and not reviewing it."
Kamin's passion for architecture emerged at Amherst College, where he graduated with honors in 1979. So it only makes sense that he crafted Amherst College: The Campus Guide. Published this year by Princeton Architectural Press, it is an architectural tour of the small campus in Western Massachusetts, which is home to some mighty architectural names, from Frederick Law Olmsted to McKim, Mead and White.
"Amherst is everything Chicago is not. It's hilly, and the tallest building may be 100 feet high," said Kamin, who has also authored a book about the gates at Harvard Yard and who received a master's degree from the Yale University School of Architecture. "As a student at Amherst, I didn't know about all of the famous architects who had worked on buildings there. Students sense they're in a special place, but they have no idea how the campus came to be."
Kamin enjoys architectural controversies, since they bring public attention. But he never expected to become the subject of controversy on a national level. When we first met at The Midway Club five years ago, behind his right shoulder hung the word "Trump" on the Trump International Hotel & Tower. The irony was profound: Though Kamin had praised the building, he eviscerated the sign. Trump then blasted Kamin as a "third-rate architectural critic" on The Today Show and claimed he had been fired. In a rare correction, The Today Show admitted Kamin had not been fired.
As he looks ahead, Kamin — whose hobbies include collecting scores of miniature buildings, such as a glass replica of Tribune Tower — knows that, given his age, he will retire sooner rather than later. Though he'll enjoy spending more time with his wife Barbara Mahany, a former Tribune reporter, and their two sons, the heralded beat will be owned by another. When he passes the baton, who he hands it to will be decided by the Tribune editors, and readers — who pepper Kamin with e-mails daily — will expect the same level of expertise.
Promised Kamin, "I'll do everything I can to get them to make the right call."
Unsung Gems columnist David A. F. Sweet can be followed on Twitter @davidafsweet. E-mail him at dafsweet@aol.com.