by Judy Carmack Bross
As The Anti-Cruelty Society celebrates its 125th anniversary and thousands of dogs and owners leash up for the BARK walk May 20 along the lakefront, Rose Fay Thomas who started it all would encourage its leaders to keep developing the extraordinary new programs benefiting Chicago's animals in need that are making this anniversary celebration so compelling.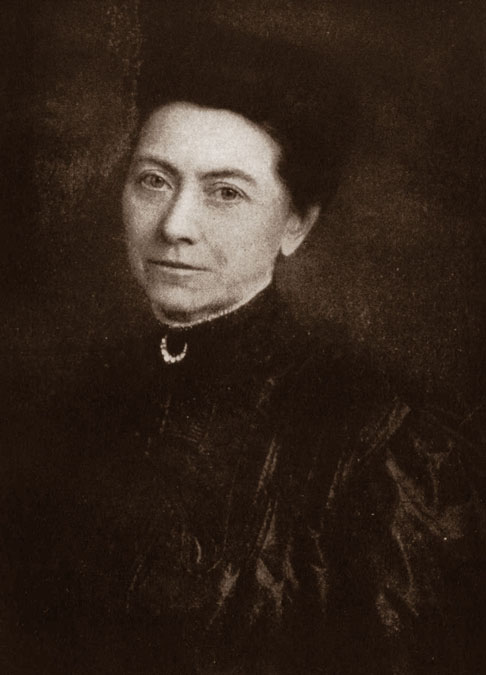 The Anti-Cruelty Society's founder and first President Rose Fay Thomas
The Anti-Cruelty statistics for 2022 show 4,263 adoptions, 1,310 pets fostered, 145,046 pet meals distributed in under–resourced communities, over 8,000 people engaged through education and outreach, and almost 62,000 volunteer hours, real tributes to Rose Fay Thomas's vision.
The four empathic women who met on January 19, 1899 to discuss Chicago's forgotten animal population knew that Rose Fay Thomas was the person to lead the organization they envisioned: a society of devoted and caring people helping animals.  Suppressing cruelty to animals, educating the public on humane treatment and creating a refuge for strays was their mission from this very first meeting. She oversaw the establishment of the first animal charity clinic in the nation. It included a barn so that horses and livestock could receive care.
Rachel Klousnitzer, a Senior Director at Anti-Cruelty, told us:
"During the 1800's there were no regulations offering support for Chicago's working animals who ferried passengers, lumber and many goods: they did everything but no one cared about them until Rose Fay Thomas spoke out."
"One of her first efforts was to have water troughs built across the city.  She was one of the first women in the country to run an organization benefiting animals, but as a woman she wasn't allowed to sign the incorporation paperwork, her husband (Chicago Symphony Orchestra Founder and First Conductor, Theodore Thomas) had to do it.  The name has been The Anti-Cruelty Society from the very first."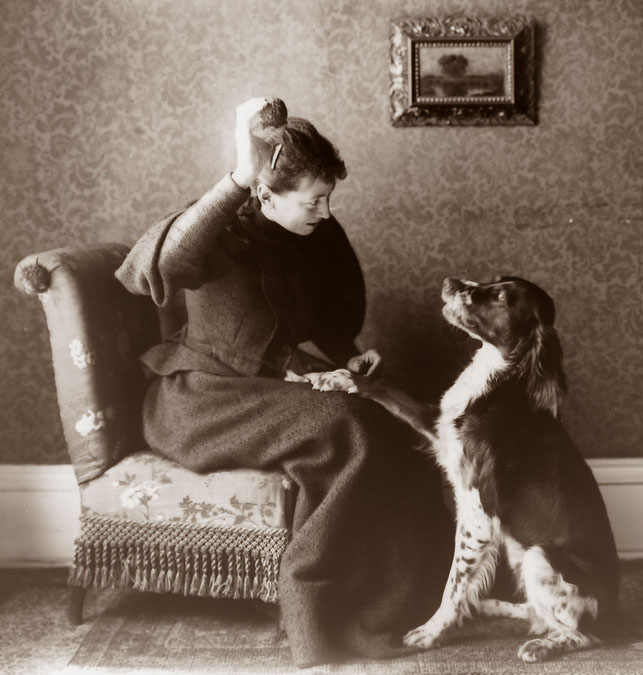 Rose Fay Thomas with her dog Dickey, photo from the Glessner House archives by George Glessner
With great pride, Thomas over saw the opening Small Animal Shelter in 1904, at 1898 N. Clark St. The shelter provided refuge and adoption services for Chicago's small animal population, with a small center opened in 1907 at its current location at Grand and LaSalle, with other locations on Bellevue and South Indiana.  
Photo of The Anti-Cruelty Society in 1910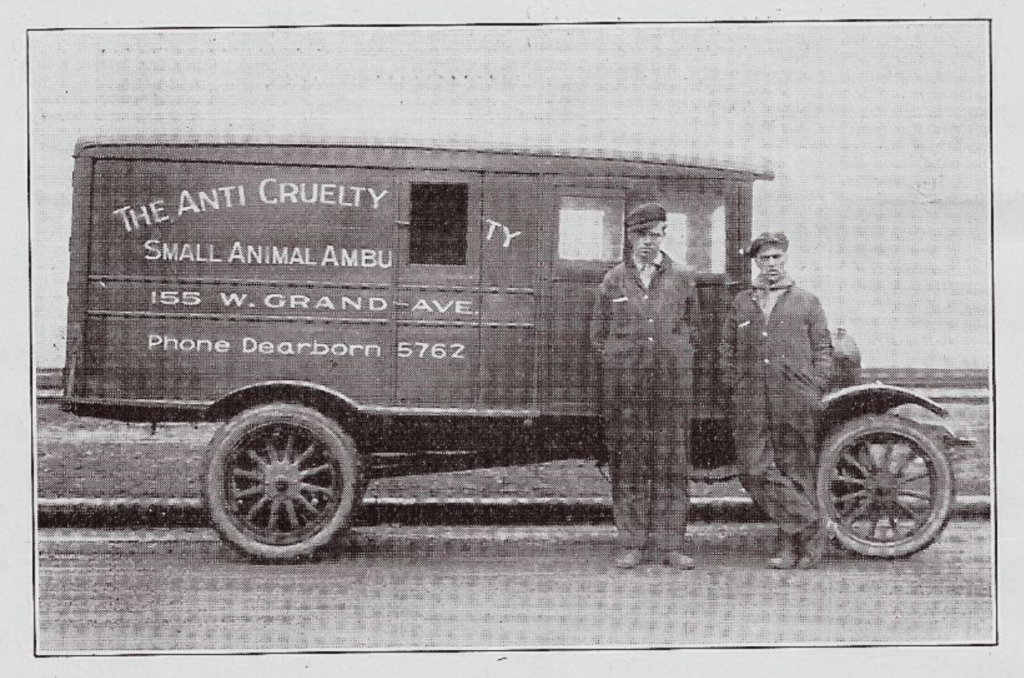 An early animal rescue truck
Rose Fay had arrived in Chicago in 1878, living at first with her brother Charles and making friends with Frances Glessner, doyenne of Prairie Avenue. In 1890 she married the nationally celebrated music director and conductor Theodore Thomas, who had brought his orchestra to Chicago annually since 1869 and founded the Chicago Symphony Orchestra. Rose proved her organizational abilities during the World's Columbian Exposition, working along side her husband.  He produced the extensive musical programs during the Fair while she organized the country's music clubs into the National Federation of Music Clubs, serving as its President until her death.  But what she cared about first and foremost was animals.
Rose Fay Thomas with her husband
William Tyre, Executive Director and Curator at Glessner House, told us:
"Rose Fay Thomas's numerous achievements are often overshadowed by those of her husband, Theodore Thomas. Nothing would have given her more pleasure. No wife ever worked harder to preserve and champion the legacy of her husband and his impact on the world of classical music. A closer examination, however, reveals that Rose was a significant figure in her own right, the Anti-Cruelty Society and the National Federation of Music Clubs being the tangible reminders of the work she launched in the 1890s that continues to inspire and enrich lives."
She remained a champion of her husband's work and in 1911 published Memoirs of Theodore Thomas. When she died in 1929, she was given a military funeral in recognition of her significant service assisting enlisted men as a director of the Soldiers and Sailors Club, becoming first woman in New England, where she had moved, and only the fourth in the United States to be accorded a military funeral up to that time.  She was interred beside her husband at Mt. Auburn Cemetery in Cambridge, Massachusetts.
Through her spirit and activism, Rose Fay Thomas created a vibrant legacy of volunteering at The Anti-Cruelty Society.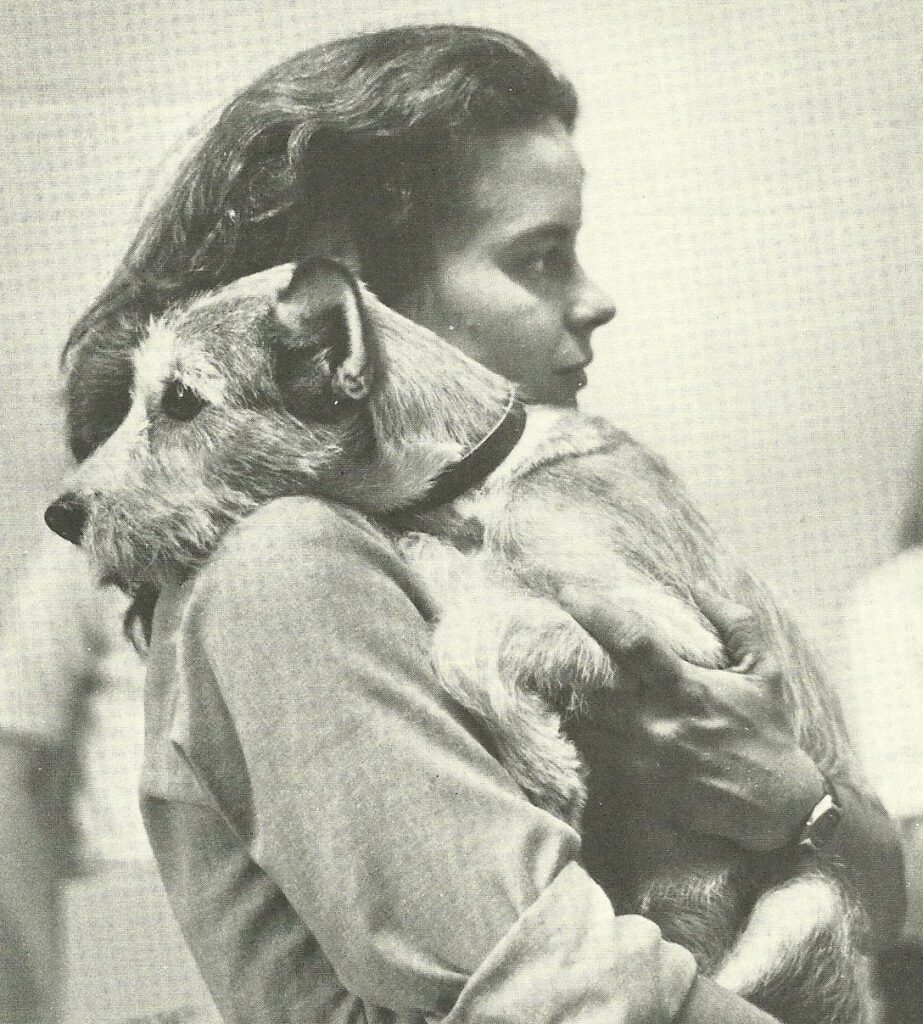 Attorney Sarah Ames described the joy she has a volunteering there on a regular basis:
 "I started volunteering for ACS after learning that ACS is so much more than just a shelter and offers a large variety of services to improve the lives of animals and people.  I very much support the mission behind it and wanted to support it with more than just money and physical donations.  
"I feel like I can make an animal immediately feel a bit better if I clean its cage, talk to it, give it a cuddle, a toy or a treat.  It's such a big reward, especially if you see animals during several visits and notice how they slowly come out of their shells and also look better.  It also increases their chances of adoption if they are not so withdrawn, which is the ultimate goal.  I particularly like to spend time with the older animals that sometimes get less attention than the cute kittens and puppies but are often even more withdrawn when their lives have been turned upside down and they find themselves in the shelter and don't understand why."
Sarah Ames with her cat Buddy, fostered and adopted from the Anti-Cruelty Society
"Aside from the fact that it feels good to see an animal relax in a freshly cleaned cage or playing with a new toy or enjoying a good cuddle, it's a great break away for me from my very different job as a corporate lawyer.  I learn new skills especially as I add new training modules, it's physical, no one asks me a legal questions and the there is no phone or email to answer and I get to meet new people all the time that whose passion is to help helpless animals as well as animal owners that have fallen on hard times and need help.
 "If you cannot or do not want to have a pet at home, but love the company of an animal and taking care of one, volunteering at ACS or being a foster for ACS is a great way to be around and care for animals without having a pet of your own.
 "ACS has so many ways to volunteer that almost anyone can find a way to join the fantastic network of volunteers.  Whether it is at the shelter, from your home or at an off-site event, there are plenty of opportunities to help out.  Volunteers can also make a great contribution to the environment by helping to upcycle and turn wine corks into cats toys, t-shirts into dogs chew toys, and old blankets and towels into bedding"
As part of Classic Chicago's celebration of The Anti-Cruelty Society's 125th anniversary we will be profiling in future issues compelling programs such as foster on the spot, dog day out where you may take a dog out of his kennel on a field day of your choice, the big dog response, the beagle rescue initiative where ACS took in 36 of the 4,000 beagles from a animal research facility where they had known great trauma, and more.
Don't miss BARK beginning at Stadium Green at Soldier's Field May 20
On May 20, the annual BARK two-mile walk along the lakefront and pup party afterwards will be another way to celebrate the 125th anniversary of the Anti-Cruelty Society. More than 1,200 dog lovers, canine companions, and people who want to help animals in need will raise critical lifesaving funds. After the walk, pups and their people can participate in a variety of fun activities including dog-friendly demonstrations, canine agility courses, pet-focused giveaways, carnival games, and family-friendly crafts. A variety of free food and beverages will be offered to attendees, as well as a complimentary beer for all 21 plus.
It is easy to imagine Rose Fay Thomas and her beloved dog Dickey being among those enthusiastic walkers showing their love for animals.
For more information about BARK and the Anti-Cruelty Society visit:  anticruelty.org