By Judy Carmack Bross
Board President Karen Terry with Trailblazer Dr. Becca Levy, author of Breaking the Age Code: How Your Beliefs About Aging Determine How Long and Well You Live
Photo credit: J.B. Spector
For its first in-person benefit in three years, The Village Chicago more than lived up to the theme of the evening—"Can't Stop the Beat!" More than 200 guests celebrated the community support network that inspires connection, purpose, and well-being for older adults and their families.
Benefit Overhead Shot
Photo Credit: J.B Spector
Held at the DePaul School of Music's Holtschneider Performance Center, the event raised $182,000, the highest in the Village's 13-year history.  Ira Kohlman and Judith Gethner served as co-chairs of the benefit.
| | |
| --- | --- |
| Liz Ware, Neil Peck, Carol Rosofsky, John & Marcia Volk |          Paula Levy and Sharon Silverman |
Photo Credit: J.B Spector
Board President Karen Terry noted: "At the Village Chicago, the beat goes on. We successfully weathered a pandemic and as an organization, we are in the strongest position in our history. As a leader in living well and long, the Village is taking on new initiatives while continuing to care for the well-being of our community."
Ira Kohlman, Karen Terry and Darcy Evon
Photo Credit: J.B Spector
A high point of the event was the awarding of three prestigious Trailblazer Awards that recognize and celebrate exceptional individuals, organizations, and authors who are changing outdated narratives on age, dismantling ageism, and have shown outstanding leadership in building an age-just society.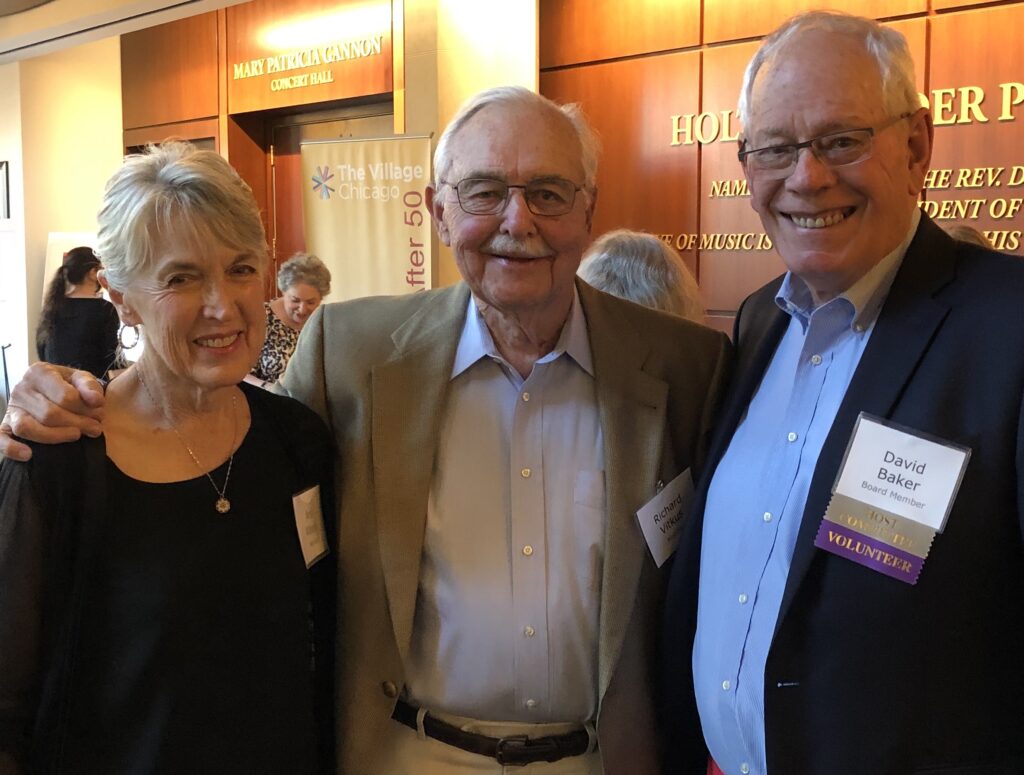 Ann Allison, Richard Vitkus and Village Board member David Baker
Photo Credit: J.B Spector
| | |
| --- | --- |
| Board Member Lois Stuckey and Staff Director Niki Fox         |    Janice Gerstein and Morissa Lewandowski |
              Photo Credit: J.B Spector
Dr. Neelum T. Aggarwal, MD, Professor in the Department of Neurological Sciences, Rush Medical College and the Rush Alzheimer's Disease Center and Director of Research at the Rush Heart Center for Women received the Trailblazer Award given to an individual. She is a long-standing voice for the participation of underrepresented groups in research, clinical trials, and public health initiatives.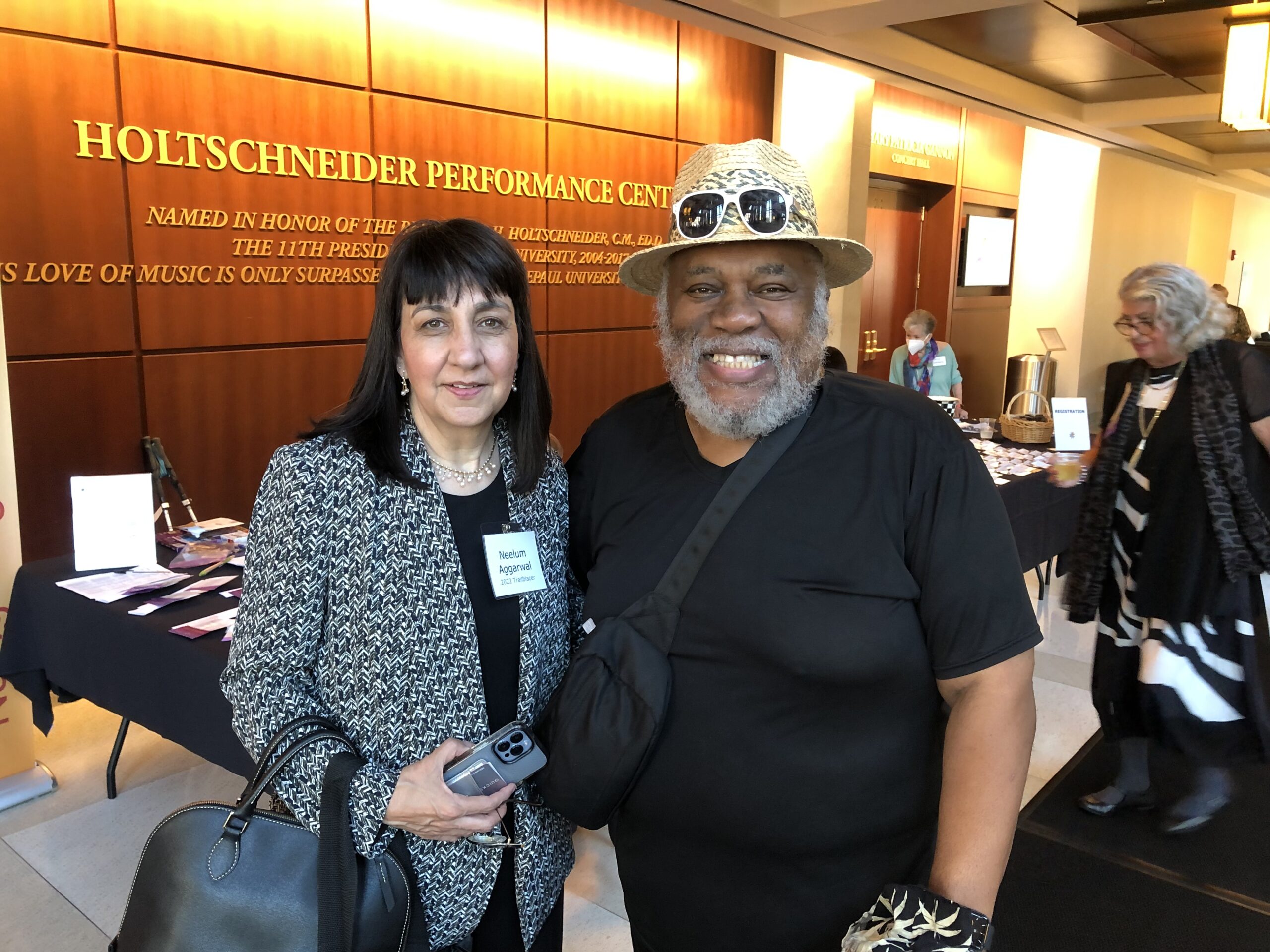 Trailblazer Dr. Neelum Aggarwal with Village Board Member Don Bell
Photo Credit: J.B Spector
The Jane Addams Senior Caucus, an organization that promotes community organizing across neighborhood, racial, religious, generational, and socioeconomic lines to improve the quality of life for vulnerable, under-served older adults was awarded the Trailblazer Award for an organization.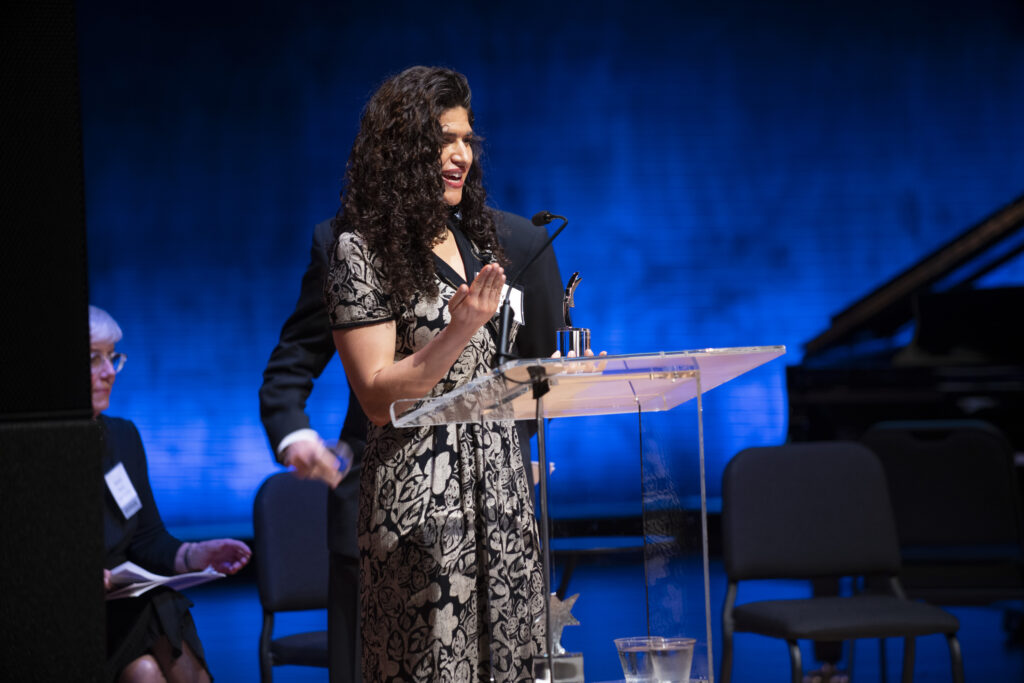 Trailblazer Lilly Lerner, Executive Director, Jane Addams Senior Caucus
Photo Credit: J.B Spector
Dr. Becca Levy, Professor of Epidemiology at the Yale School of Public Health and Professor of Psychology at Yale University and author of Breaking the Age Code: How Your Beliefs About Aging Determine How Long and Well You Live received the Trailblazer author's award for presenting a blueprint for shattering stereotypes, improving health, and creating age equity for all.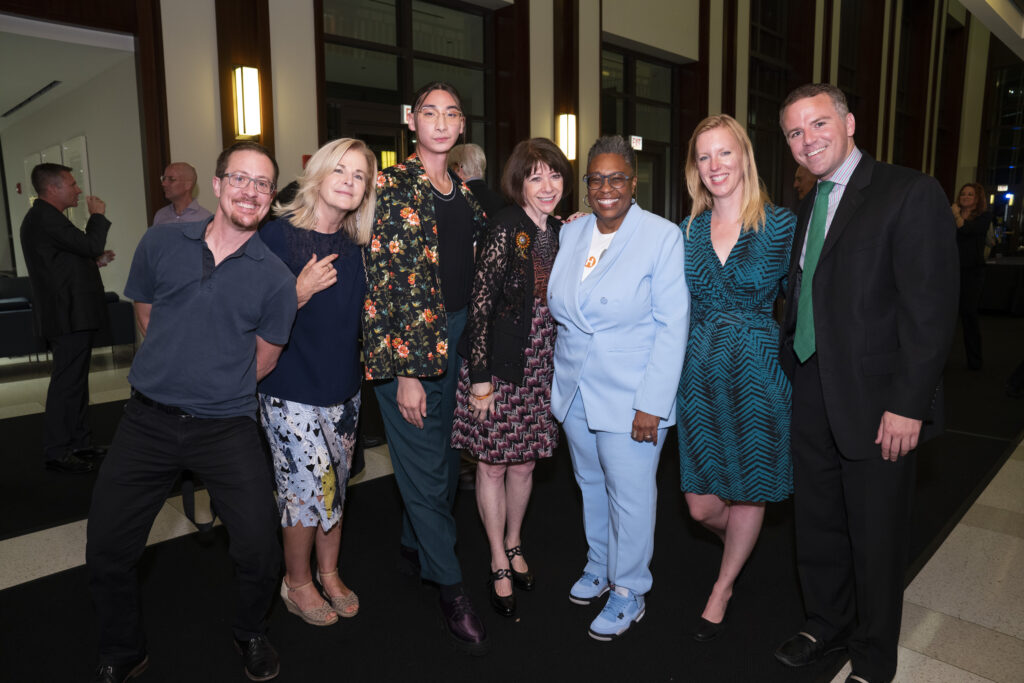 From left: unknown, Kathy Krick, unknown, Darcy Evon, Kim Hunt, Britta Larson, John Walcher
Photo Credit: J.B Spector
CEO Darcy Evon reminded the guests of the Village's purpose: "Over the past 13 years – and especially over the last three, we kept people engaged and built new programs to address pressing needs facing older adults in Chicago – programs that you won't find anywhere else."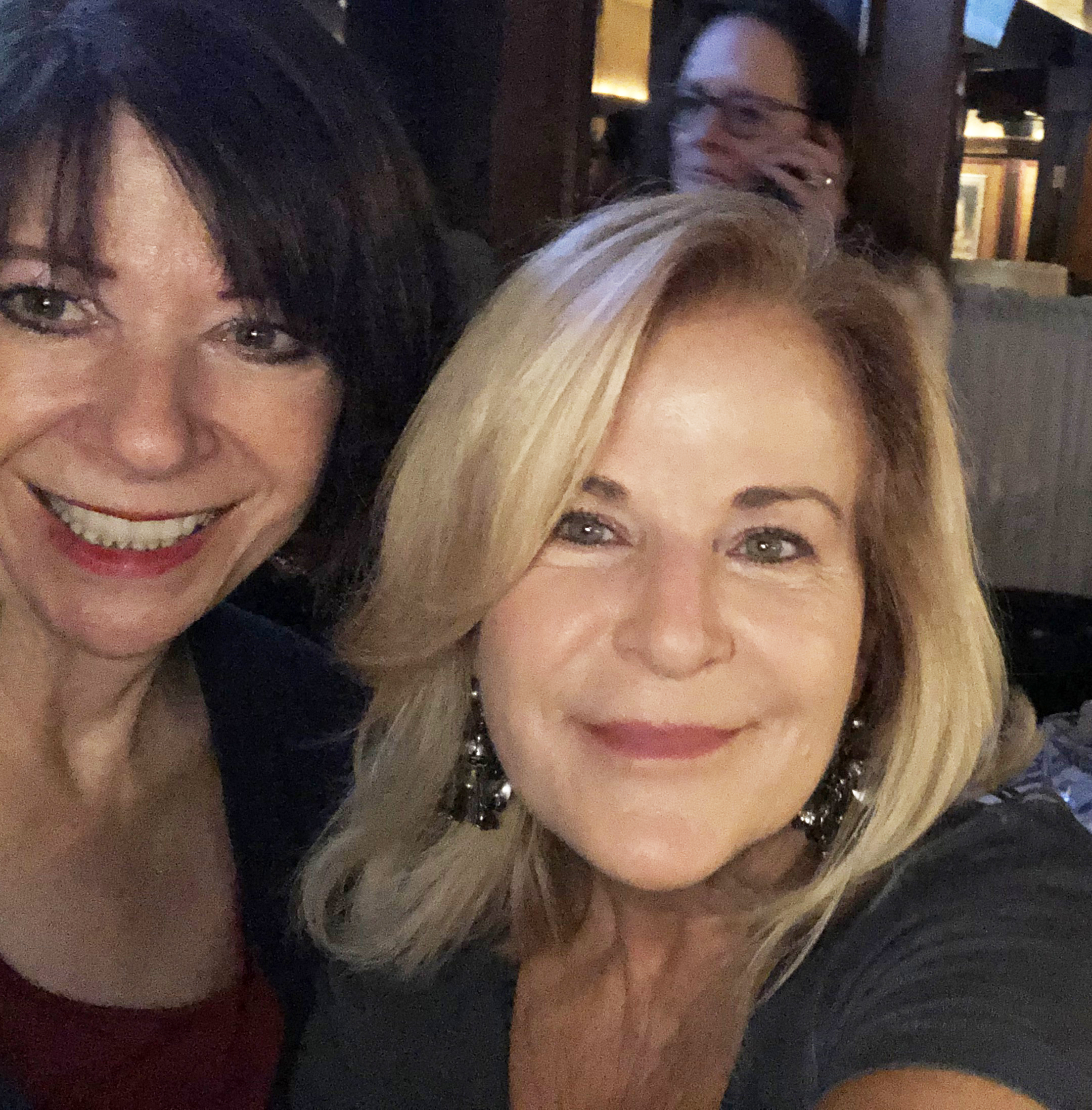 Village CEO Darcy Evon and Designer Kathy Krick
Photo Credit: J.B Spector
"We continue to serve a growing community of people of all ages and abilities. Last year alone, our remarkable staff, board, and volunteers hosted 436 events engaging hundreds of people in educational and entertaining activities that help mitigate isolation and loneliness while building lasting collaborations and friendships," she added.
"We are particularly proud of our brain health and memory loss programs that we launched in 2020 with your support. We help hundreds of individuals and families navigate life transitions — from full time work … to retirement… to finding purpose … and continuing to live our best lives possible."
 Co-Chair and Board Member Ira Kohlman
Photo Credit: J.B Spector
Vern Broders and Francee Harrington
Photo Credit: J.B Spector
Porchlight Music Theatre's performance of Broadway favorites, introduced by Artistic Director Michael Weber, brought the crowd to their feet. "It was one of the most exceptional performances I have seen," Karen Terry said of the performance.
Porchlight Performers
Photo Credit: J.B Spector
For more information about The Village Chicago visit: thevillagechicago.org