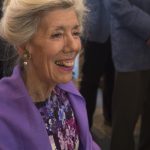 BY JUDY CARMACK BROSS
We can't imagine being serenaded on a big birthday in a more special way!
Following a soaring repertoire by internationally acclaimed violinist Rachel Barton Pine with her 7-year-old daughter, Sylvia Pine at the Holtschneider Performance Center at the DePaul School of Music, the internationally acclaimed violinist toasted The Village Chicago's 400 supporters with several unique arrangements of "Happy Birthday".  Chairs Carole Rosofsky and Estelle Spector, and auction chair Charlotte Newberger led the efforts to raise over $142,000, a new record for the group which "navigates the new longevity".
Village CEO Darcy Evon told the audience:
"We are so grateful to all who contributed as they directly support Village member services and initiatives. We are especially excited about our plans for expanded programs for members seeking employment and also for members and their families who are living with memory loss.  In no case should anyone feel alone, or unsure, or lose connection to the wider community."
To celebrate the 10th anniversary, the Village's founders Kathy and Jim Zartman, Judy Spock, Marjorie Freed, Founding Executive Director Dianne Campbell and the late Michael Spock and Harvey Freed were honored fanfare and gratitude for establishing the foundation for this thriving organization.
Village Board President Kathie Kolodgy said:
"These ten years have demonstrated that the Village's founders established something with great staying power, an organization with a culture of inclusiveness, sharing, and compassion and with the structure and the will to respond to a changing world and to members' changing needs".
The Village Chicago has almost 450 members who may choose from the over 50 events offered monthly–fascinating learning, touring, community and social opportunities.  It fulfills more than100 service requests monthly, most of them handled by skilled volunteers.  Almost 20 percent of its members receive reduced rate memberships, the exuberant focus of the Fund-a-Need paddle raise conducted by Jonathan Miller.
Gretchen Althen, Laurel Baer, Yoon Tae Chong, John Craib-Cox, Debby Forman Eichten, Angie Levenstein, Sheila Mehigan, Diana Phillips, Linda Randall, Biba Roesch, and Leatrice Berman Sandler were among those who planned the birthday celebration. The Village is committed to age-integrated workplaces, communities and social networks where everyone benefits from each other's knowledge and talents.
Members recalled that Gail Sheehy, author of Passages, named one of the most influential books of all time, spoke at the first Village benefit in 2010.
Photos by Megan Byrd
For further information about membership and opportunities visit thevillagechicago.org