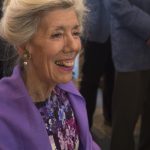 BY JUDY CARMACK BROSS
If The Village Chicago is all about navigating life after 50, Zoom has been their GPS. Constantly cutting edge in programs and new opportunities for its 460 members, making Zoom work for them is a priority well mastered.
Zooming Ahead: There's No Stopping Us Now is not only the title of their September 22 virtual benefit but also an apt description of how The Village made Zoom a way for members, donors, and friends to stay connected. And thanks to the active participation and engagement by Village staff at Zoom social and educational events and through phone contact, and by providing members with training in this newly ubiquitous technology, this important community connection has not stopped during these difficult past months.
Zoom is not only the destination for a wide variety of Village programming but the vehicle towards their fundraising objective: thanks to this virtual gathering place, developed expertise therein, and the generosity of its community, this year's benefit is expected to reach its pre-COVID goal.
With funds raised through underwriting and sponsorship, and an online action open September 10-21, the September 22 event will be free to guests. Highlights include virtual dinner tables, a presentation of Trailblazer Awards, Broadway hits and special arias performed by Lyric Opera Stage Artists, raffle prizes, and a fund-a-need drive targeted to fight against loneliness and isolation.
Executive Director Darcy Evon tells us more about how The Village stays connected: "We now have more people joining our Zoom events than we did for in-person ones. We had some members who barely used their cell phones, but the pandemic made technology a necessity. All that was needed was a little training."
She continues, "Our membership surveys have shown that previously some people felt even more isolated because they couldn't get a ride to an event or perhaps didn't feel like going in-person, either for health reasons, or they were too tired after a long work day, or they were just to busy to add another thing to their calendar. We are a cross-generational organization and now much younger and much older people are joining in via Zoom. Surveys have shown that baby boomers and Generation Zs are the most isolated in our society. The pandemic is actually amplifying our work."
Evon describes the learning curve they've faced: "When we saw around March 10th that we were heading into the pandemic and would be leaving our offices, we realized we had to do our basic preparedness in a hurry. We hadn't heard of Zoom. By March 16th we had and we knew we had to put it to work. We had daily staff calls from our homes, and I remember many circuits were busy at that time and all was so confusing. We called all our members, major donors, and partners and utilized our tech supporters. In the first two weeks, 40 people were actively using Zoom and our numbers kept doubling. After the pandemic ends we will probably offer our events both in person and virtually."
She describes the benefit, originally scheduled for June 22, as their greatest challenge. "We had never done a virtual dinner, but we decided to start with our regular potluck. Over 100 people attended and that taught us we could do a virtual benefit. We really did our research with benefit committee members, staff, and others attending Zoom benefits to see what works and what doesn't," she says.
Carol Rosofsky and Estelle Spector are benefit co-chairs and Linda Randall and Judith Gethner serve as auction and sponsorship co-Chairs.
When guests arrive, they will be directed to their virtual dinner table, which might include a surprise guest. Lyric Opera Stage Artists Pam Williams, Ken Donovan, and Carla Janzen will entertain with arias and show tunes.
Village President Karen Terry will present the annual Trailblazer Awards recognizing extraordinary leadership in changing the narrative on aging. "The awards celebrate the work of individuals and organizations that are reframing how we think and talk about the decades of life after age 50, a period that can be vital, engaged, productive, and healthy, in contrast to the stereotype of aging," Evon explains. "With more than 11,000 Americans turning 50 each day, it is vital to understand and leverage the potential of a fully age-integrated, inclusive society where everyone's strengths are appreciated, respected, and utilized."
This year's Trailblazers are physician and author Louise Aronson; community leader Ruth Ann Watkins; and Next Avenue, public media's national journalism service focused on older adults, all of whom Terry says are "shattering the silver ceiling."
Gifts from the evening's fund-a-need portion will go to programs aimed at fighting loneliness and isolation through technology, social engagement and transformational programming: "A goal is to be able to offer free tech support to those who can't afford it. We would like to collect smart phones, laptops, and iPads for those who can't afford to purchase high tech products and work with a large internet provider to see if we could obtain discounts."
A member-to-member network of friendship, engagement (technological and otherwise), and services for those over 50, The Village Chicago is focused on well-being, particularly during these challenging times. Their array of programming, extensive referral network, health and fitness initiatives, and all-important building of intergenerational relationships help bring both joy and a sense of purpose to the forefront—two things supremely appealing and affirming at any age.
For more information about Zooming Ahead: No Stopping Us Now, click here.