By Mary Ellen Christy
Anyone who as been lucky enough to have one, knows that a fantastic father is a tremendous contributor to the healthy growth and development of children.
Last weekend I saw the film, Rocket Man which graphically depicts the devastating effect of a bad father, even on someone with Elton John's talent.
Mothers and fathers are essential in a child's life, but each plays a different role. Mothers nurture and love while fathers inspire and provide.  Even in same sex couples, a successful outcome is achieved by one partner assuming each of these roles.  Good fathers teach boys how to be good men and girls how to choose the company of good men.
Good fathers share the following characteristics:
They value their wife, love her unconditionally and treat her with respect.
They are present and involved, providing both quality and "quantity" time.
They spend quality time with the whole family
They know how to say: "I'm sorry."
They Let children develop their own interests and take the time to share these interests.
They model their own behavior to ensure a positive impact on their child's behavior. They are willing to be the grown-up. Children don't need a buddy they need a father.
They value education and read to their children to promote understanding and literacy.
They provide for their families as best they can.
They teach their children to enjoy life.
They love their children unconditionally.
Father of Mary Ellen Christy
I have a tremendous appreciation for good father because I was lucky to have had one of the best.  My father was part of that "Greatest Generation".  When I was born my father was serving as a Naval Officer on an Aircraft Carrier in the Pacific theater of WWII.  I was nine months old before he held me in his arms, and I think he spent the rest of his life trying to make up that lost time to myself and my sister.  He made time every night to read to us at bedtime.  We read all classics the entire OZ series, all of Robert Louis Stevenson's adventure stories (I think he really had wanted a son), everything Mark Twain wrote and All of A.A. Milne.  Two that I have a fondness for and still have in my library are My Father's Dragon by Ruth Stiles Gannett and Brighty of Grand Canyon by Marguerite Henry.  If we were the least bit naughty, he would say "oh ladies, your behavior tells me we won't be able to read together tonight.  We loved the fact that he always called us ladies it made us feel so grown up and important.
My father loved to cook and because he never saw patients on Wednesday afternoons that became our time to cook together.  We would race home from school to see what he had planned with everything laid out as precisely in the kitchen as if we were going to perform a major operation.  His food was straight forward and of the comfort variety but just imagine when I read Ina Garten's meat loaf recipe I realized it approximated my father with a proportional mixture of beef, veal, pork and lamb mixed with a herb bread stuffing made from herbs he had dried and a variety of breads he had laid out on cookie sheets to dry for two days in the oven.  The whole mixture was bound with two fresh eggs because of course in those days the egg man came on Wednesday to deliver farm fresh eggs to your back door  – brought in a rectangular cardboard basket which he Carried over his arm.  Every week he gave me and my sister a shiny new penny and let us touch the lumps and bumps on his hands which were gnarled by what I now know to be arthritis.  We thought he was fantastic. We also had visits from the Cheeseman, the vegetable man, the milk man and of course the scissors grinder.  Each in turn was invited into the kitchen for a warm drink and my father spoke with them as if they were his colleagues engaged in the completion of an important project.  When the meatloaf was finally in the pan it was topped off with two strips of bacon and a generous layer of his homemade chili sauce.  In the process we had learned so much about measuring, mixing and combining ingredients of distinct properties but now it was time to put the meatloaf in the oven and devote ourselves to some fun.  We played games indoors if the weather was bad but spent a great deal of time outside together.  I have such fond memories of learning to ice skate on the Midway Plaisance with my father.  In fact, after my parents were both gone and my sister and I were busy preparing their house for sale, we had agreed not to argue over anything because we were so much more important to each other than mere "things".  The one time we wavered was when we saw my father's ice skates hanging from a nail in the garage.  We looked at each other and could read the other's mind knowing that this as much or maybe more than anything else in the house symbolized the wonderful childhood he had given us.  We teared up, hugged each other and put them in the Goodwill Box for someone else to enjoy as much as he had.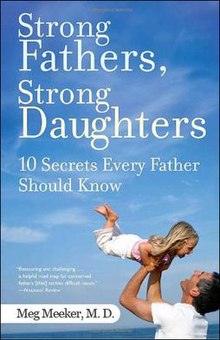 Book by Meg Meeker, M.D.
Dr. Meg Meeker M.D, wrote Strong Fathers, Strong Daughters after many years of experience in pediatric medicine but this wonderful book could have been written by Donald Smith who is a fantastically strong father with an equally  fantastic daughter, or his daughter, Jihan Murray-Smith who is better known to the school children at Saint Chrysostom's as Reverend Jiji and is also my friend and esteemed colleague. Donald was born  into a family of nine children in east St. Louis, Illinois.  He credits his many uncles and brothers with helping to form his good character. Donald's goal in life was to become a professional dancer so he followed his mentor, Katherine Dunham to Chicago where he met Patrick Henry founder of the Free Street Theater on Wells Street. Following  Patrick's untimely death, Donald assumed  the role of director.  He met and married Cookie Murray daughter of a distinguished south side family and an Alumna of Second City.  It was love at first sight and the beginning of a beautiful life-long collaboration.  When their daughter Jihan was born he began taking her to the theater everyday to be with him until she was old enough to attend preschool ( Jihan's early exposure to the world of drama has served her well, as she is an extraordinary preacher and story teller).  When Donald produced an internationally acclaimed hit The Projects, based on life in Chicago's Cabrini O'Green public housing development, his cast was made up of  Cabrini Residents.  When they took the show on tour through out Europe Jiji was right beside her dad celebrating his success.  Jiji followed in her mother's footsteps and became a fourth generation graduate of Fisk University and entered Divinity School. She is an ordained Deacon and accepted a position of Chaplain at Saint Chrysostom's church and Day School. Her dad remains one of her greatest supporters and when she was unable to get a parent to volunteer for chaperoning a youth group service project he agreed to come along and chaperone the boys in the group.  I think all were better for it. His warmth and talent as a father extend also to her friends and colleagues.  He made a homemade  chocolate cake as a surprise for my birthday, always gives me advice on anything mechanical and spent last Sunday spackling and painting the walls of the apartment Jiji and her husband were moving out of – just to make certain that the landlord gave back their security deposit.  The unconditional love and support he has given his daughter is evident in the confident and entrepreneurial spirit Jiji brings to whatever she undertakes.
Donald Smith
Donald Smith and Jihan Murray Smith
Few men, after losing their wife would be equal to the task of raising three young children after the death of their mother.  There is an old saying that "Men replace and women reorganize".  But my very dear friend, John Fornengo is not most men.  He embodies every good quality of a father listed at the beginning of this article.  John's wife was such an exceptional woman that perhaps he regarded her as irreplaceable.  He is also the rarest of men who can truly multitask.  While continuing in his role as President and Chief Risk Officer of Eckhardt Trading, John managed to be very present in his children's lives and it was always evident that they were the centerpiece of his life and he of theirs. It was he who would walk them to school in the morning and who ate dinner around a family table every night discussing school, friends and even problems with homework. He is also more fun than anyone else I know.  He makes a point of not just spending time with his own children but also with their friends.  He is a keen and interested listener.  When you enter the room at a Gold Coast party and see a large group of people gathered around someone, it is probably John who is at the center of the group because John has the capacity to make anyone feel even in a crowd like they are the only person in the room.  He has employed this talent with each of his children and as a result they have grown into interesting and talented young adults with accomplishments.  Daisy has graduated from college and is working at a gallery in New York, Augie is studying finance at the University of Edinburgh and has a summer internship in London and Ally has completed his first year of college and is an internationally ranked Racquets player. Despite their many opportunities and accomplishments, their preferred companion is so often their father.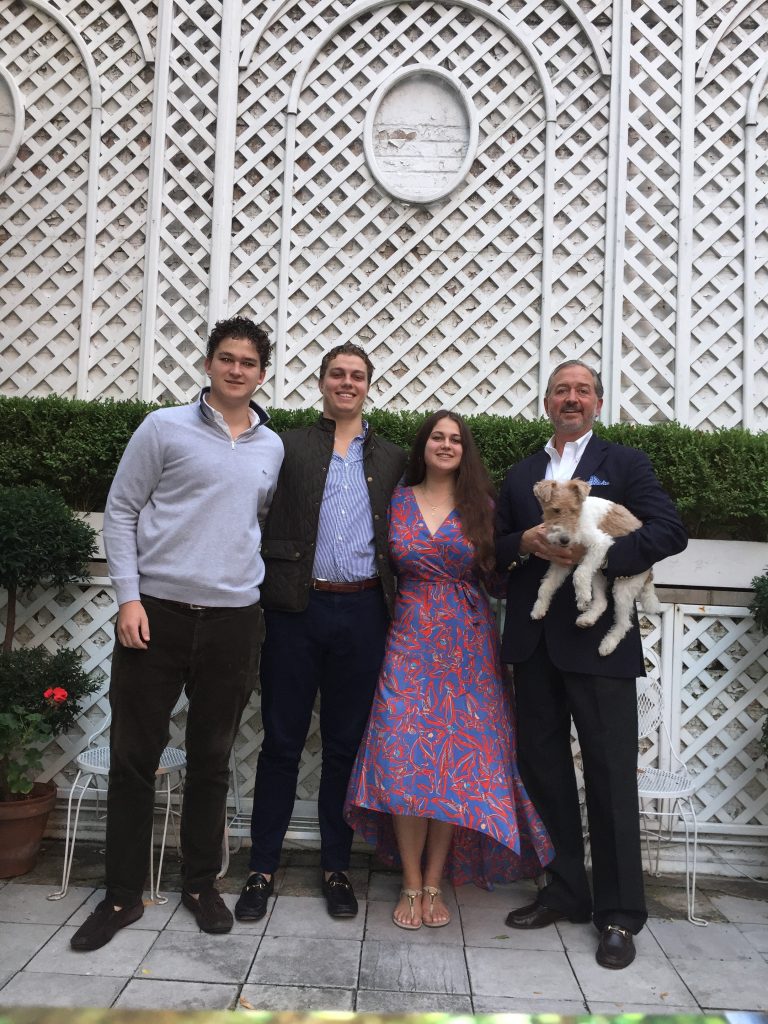 John Fornengo and Family
I can think of very little that John cannot do or would at least try to do.  He recently officiated at the wedding of his Goddaughter, after obtaining an on-line certification, he spent many hours planning the service and Daisy came home from New York to share in this wonderful day.
For those of you who are not yet fathers but are contemplating the prospect, I want to share with you a brief portion of an essay entitled On Becoming a Father by Mark Kawakami, a young man whose father abandoned the family when he was only three years of age and who is now contemplating the impending birth of his first child.
"These days, I find myself constantly floundering around and not being the ideal father that I always imagined myself to be.  Yet, there is hope derived from the feeling of unconditional love that pours out of me like the water bursting out of a broken pipe.  I have already developed this inexplicable urge to be over- protective of our son and I just know in my heart that I will never stop loving him, let alone abandon him."