By Angie and Geoff Euston
Angie and Geoff Euston on vacation in Italy
On a warm, blue August day the villages atop Tuscan hills reflected late summer's morning sun. The beautiful landscape made it easy to understand why friends and fellow Chicagoans Margot and Mark Bowen renovated a medieval villa and built a modern winery just outside the quintessential Tuscan hill town of Trequanda.  But it wasn't until our visit that we came to realize how many sleepless nights Ultima Pietra demands, along with tremendous effort and devotion.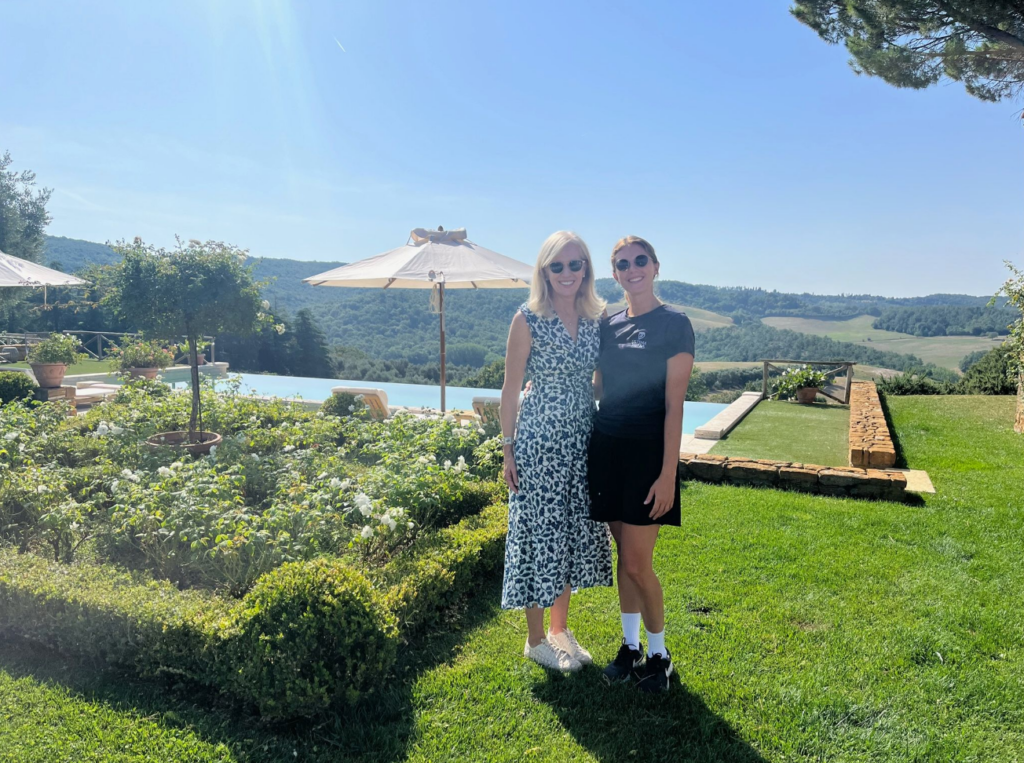 Ultima Pietra owner, Margot Bowen and Cellar Master, Corinna Banti
How did Margot and Mark make the decision to risk so much in Tuscany to become vintners and oleologists? The seeds were planted long ago when Margot studied abroad in Florence while attending Williams College.  Many trips later, Margot and Mark became enchanted with Trequanda and its surrounds.  In October of 2015, they purchased a villa in need of total redevelopment on approximately 20 acres. Those acres contained a working hayfield and ancient olive grove and with it came the vision of creating a small and focused producer of fine wines and excellent olive oil.  Margot knew it would be a Herculean effort.  She had faith that the beautiful high altitude south–facing site and ancient olive trees could produce world class wines and oil. 
Ultima Pietra's Vineyard in full glory
Immediately after their purchase in October, it was time to harvest olives.  After several days of toil harvesting by hand, Margot and Mark wondered- what have we done?  As is required in the production of the finest olive oil, the cultivar of olives went to Florence for evaluation: were the olives ready to press and create olive oil? Ultima Pietra had only a small yield that first year.  In the years since, the Bowens have spent the time required to restore the olive grove, plant a grove of young olive trees and implement organic farming practices, producing a marked increase in yields and quality.  And Margot has become a certified oleologist, the equivalent of an olive oil sommelier. 
Bringing the outdoors inside with the addition of custom arch windows
Next, Margot turned her attention to planning the vineyards that look south toward neighboring Montalcino for the red wine varietals and northeast for the white wine.  Margot and Mark researched the soils and patiently planted the vineyard to the highest quality, staying true to the land and the art of winemaking. Interestingly, their study of the soils revealed the vineyard was ideally suited for Merlot, Cabernet Franc, Cabernet Sauvignon and Chardonnay. Margot designed the 7.6 acre vineyard to be organic and biodynamic and following a three-year process, Ultima Pietra has earned its organic certification.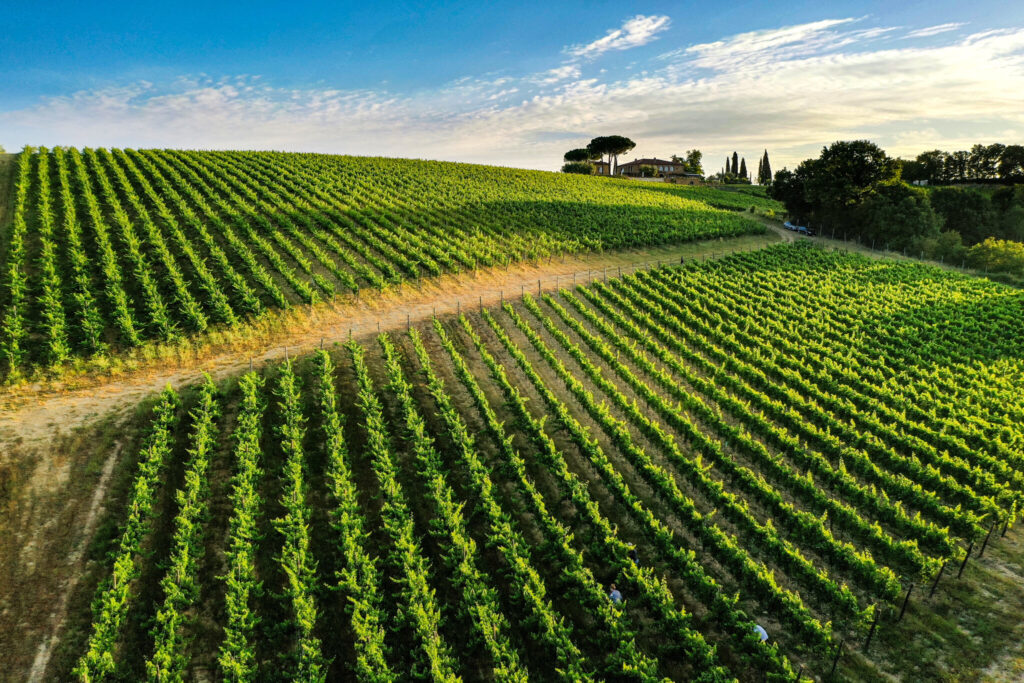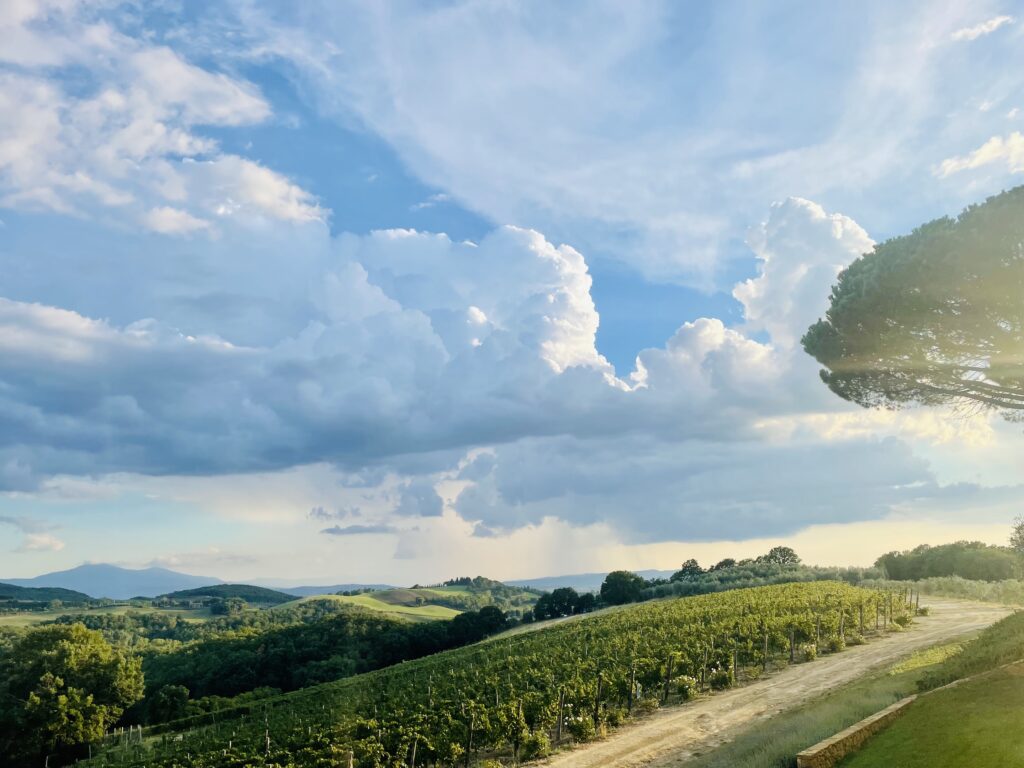 Margot's work to rebuild the winery and house is equally as impressive as her work in the field. The villa and land were the ancestral home to a family who wove fine fabrics. Margot and Mark pay homage to their predecessors including the family's coat of arms on the Ultima Pietra wine labels.
The Euston and Van Alyea Families taking in the beautiful Ultima Pietra Vineyard
Italian laws limit what's allowed in a renovation. There are even rules regarding changing the size and locations of windows and doors, which is forbidden! Margot and Mark rebuilt the villa with all the modern amenities and created amazing indoor/outdoor features where the existing brickwork and arched outdoor hallways stood. They created a guest house from the former onsite chapel, using only restored/reclaimed stones from the home and vineyard. They even converted a pigsty into a small kitchen and wine cellar near the vineyard for alfresco dining. From the house you can see the Tuscan landmark Monte Amiata and on a clear day, Siena and her medieval towers. The site, villa and gardens are truly magical!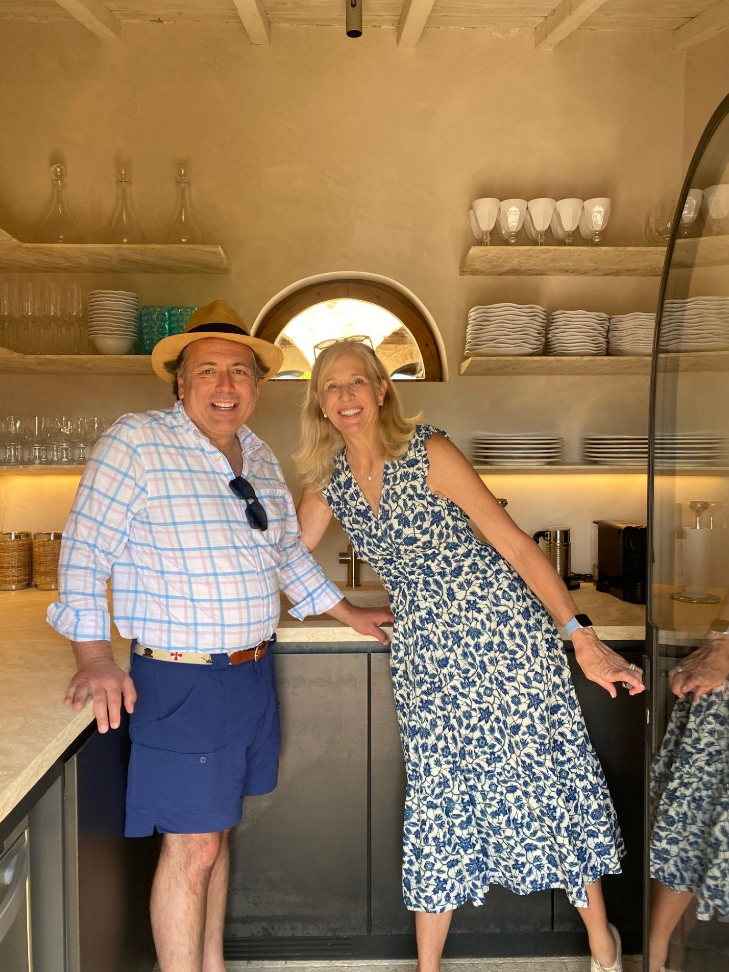 Geoff Euston with Margot Bowen in amazement touring the former Pigsty, now a cellar and outdoor prep kitchen
The purported Di Vinci glass airlock
Wine containers, called botti
Walking the vineyard with Margot and Corinna Banti, Ultima Pietra's Cellar Master, you can feel their fidelity to the land and its vines.  Corinna patiently taught us how winemakers determine when a vineyard's fruit is ready for harvest, tasting the grapes, focusing on skin and seed. We then walked down to the newly built winery to tour the wine-making facilities. Greeted by impressive vats of concrete and hand-crafted wood, Corinna explained how she and winemaker Giovanni Stella mixed modern techniques, such as the use of their in-house laboratory, with ancient ones to make Ultima Pietra's wine. (Interestingly, the Ultima Pietra team uses a purported Leonardo da Vinci invention of a glass "airlock" atop it wooden vats, limiting the wine's exposure to oxygen while allowing it to both contract and expand during aging.) 
The children getting a lesson on grape/wine readiness!
Tasting grapes in the vineyard
Our tasting began in the cellar where Corinna and Margot treated us to barrel samples of the three yet to be bottled wines in production. Each wine manifested characteristics of what it would be in a short time, foreshadowing the wines to come in our formal tasting.
Walking back to the villa after a tour of the vineyards
We then walked back up to the villa and its lovely outdoor dining space where we enjoyed Italian charcuterie, cheeses, bread and Ultima Pietra olive oil with our delicious wines. The kids "adjourned" to a well-earned swim in the picturesque pool Margot graciously offered, which they eagerly accepted on the over 100 degree day!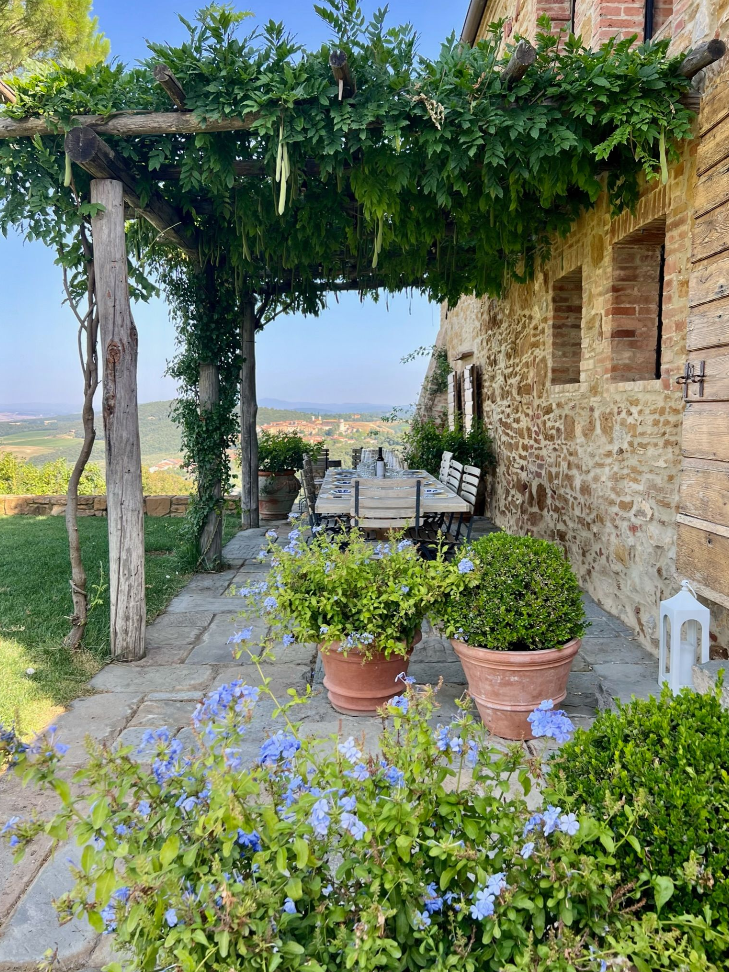 Gorgeous views from the outdoor dining table under the vine covered pergola
Margot started our tasting with the Ultima Pietra olive oil, which she is just as passionate about as her wines. Italians take their olive oil seriously, consuming approximately 12 liters per person annually versus one liter by Americans. Margot poured us a taste of their award-winning olive oil in special glasses, teaching us how to properly taste the oil, where we discovered bright green and grassy flavors and a complexity most different than what we find stateside. The Ultima Pietra olive oil is simply exceptional.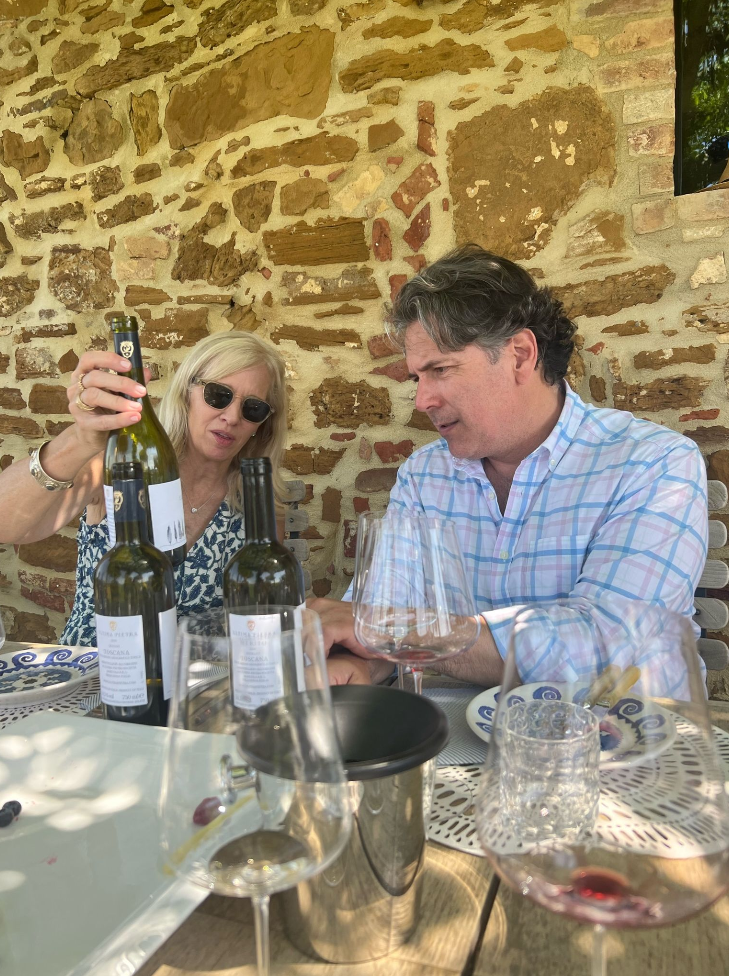 Margot discussing the differences in vintages with Geoff Euston
Margot started our wine tasting with the impressive 2021 Chardonnay, which had elegant minerality and acid, displaying beautiful citrus and a touch of tropical fruit, much more Burgundian in style than New World. We then tasted the 2020 Rosso, a blend made in the Right Bank Bordeaux tradition with equal parts Cabernet Franc and Merlot and a splash of Cabernet Sauvignon. It is a delightful, structured wine with plenty of red and black fruit that's beautiful today and will evolve in the cellar. We finished with Ultima Pietra's jewel, the 2020 Merito, a single varietal wine of Merlot. Its rich garnet color gives way to soft tannins, sophisticated red fruit and balanced acid. Like the Rosso, the Merito is delicious today and will continue to please for many years to come. 
Eight years into the Ultima Pietra adventure the accolades for the wine have begun with a glowing review from Mathew Jukes, the notable British wine critic. Some of you have been lucky enough to meet Margot and her team on a recent visit to Chicago. For those of you who haven't, there's a promise of a return when the 2022 Chardonnay and 2021 Rosso and Merito are ready to share.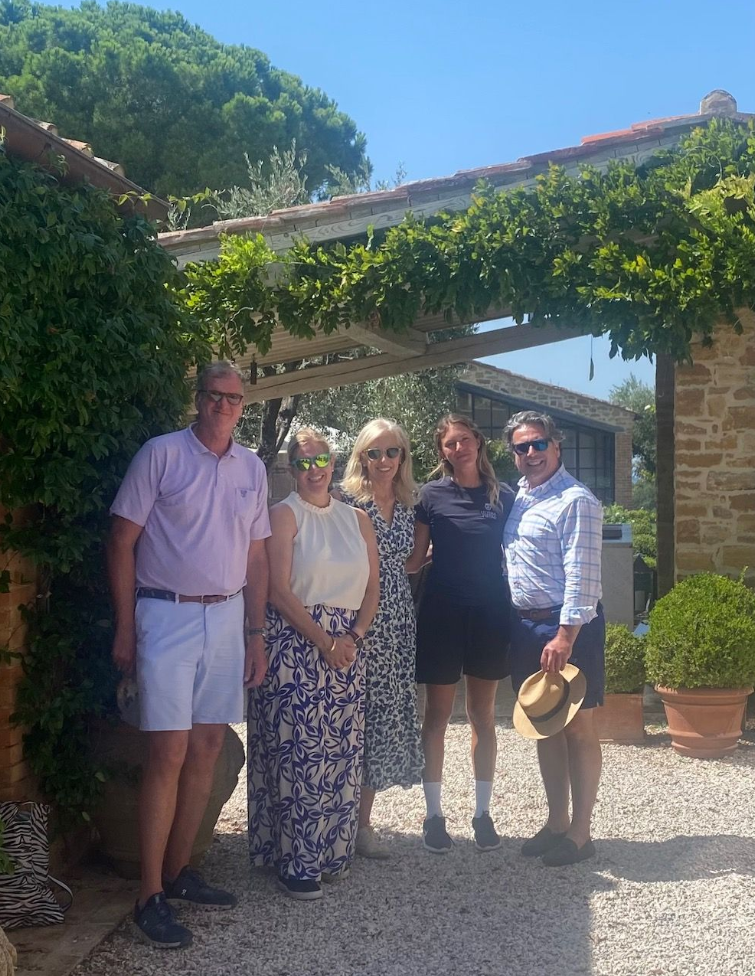 It's hard to say goodbye! Virginia and Albert Van Alyea along with Corinna Banti, Margot Bowen and Geoff Euston upon our departure
The Bowen's dedication, and that of their team, permeated every bit of the vines, olive grove and grounds of Ultima Pietra. Their honor for the land and tradition have come full circle by way of exceptional olive oil and world class wines. Ours was a memorable and special visit and we encourage you to try the wines and oil for yourselves!
Ultima Pietra: https://www.ultimapietra.com/
Matthew Jukes: https://www.matthewjukes.com/2023/07/ultima-pietra-tuscany-first-taste/