After a bustling day of work, the night was slowly coming to an end. One way to cap off the night was with a good ol' fashion comedic movie. I stumbled upon an old favorite movie of mine My Big Fat Greek Wedding, and by mere coincidence the month of August marked the 20th anniversary release of the film, so with this joyous coincidence helped sparked an idea as I kept watching the movie…and that was to try some Greek cuisine.
Greek Town was a good place to explore on where to eat, but I quickly became overwhelmed on which restaurants to pick from. That was until one of the search results led me to The Taste of Greektown 2022. It seems like the planets were a lining to bless me with such extraordinary luck, No longer did I have to ponder the question of "Do I crash a Greek wedding to grab a bite?" A festival of Greek food is a great way to try a little of everything they have to offer, no plate was to be turned down that night.
The weather that Saturday evening inexplicably became pleasant by the hour, with the faint gust of winds carrying the sizzling and crackling aromas coming from the grills and placing a sweet smoky kiss on my nose. I head towards the entrance to get in line, crowds of people lined up around each food stand, meanwhile live music was playing on the main stage near the Van Buren entrance, you can feel how great the night was going to be and it could be felt in the air. The plan of action was to give an impression of each dish and give a final highly scientific verdict each cuisine I tried. These dishes were the highlights of the night because it was all my overstuffed stomach could handle.
Mr. Greek Gyros – Chicken Soulaki on a Pita and Lemonade
First up on the list was Mr. Greek Gyros and the Lemonade stand. While lemonade isn't exactly exclusive to Greek culture, I couldn't pass up a cold refreshing freshly squeezed cup of lemonade.
Something familiar to most people minds' when it comes to Greek cuisine is the pita bread, great way to start off the night with a staple of Greek food. Truly a tried-and-true dish that is reliable and will always make me want more of it.
Verdict: 9 tridents out of 10
Athena Restaurant – Chicken Soulaki on a Stick and Greek Fries
To say the Athena Restaurant lines were heavily overcrowded, would be an understatement. No matter, long lines tend to inspire hope of uncompromising deliciousness. This time, I paired up my main dish with a side, good old fries with a Greek twist.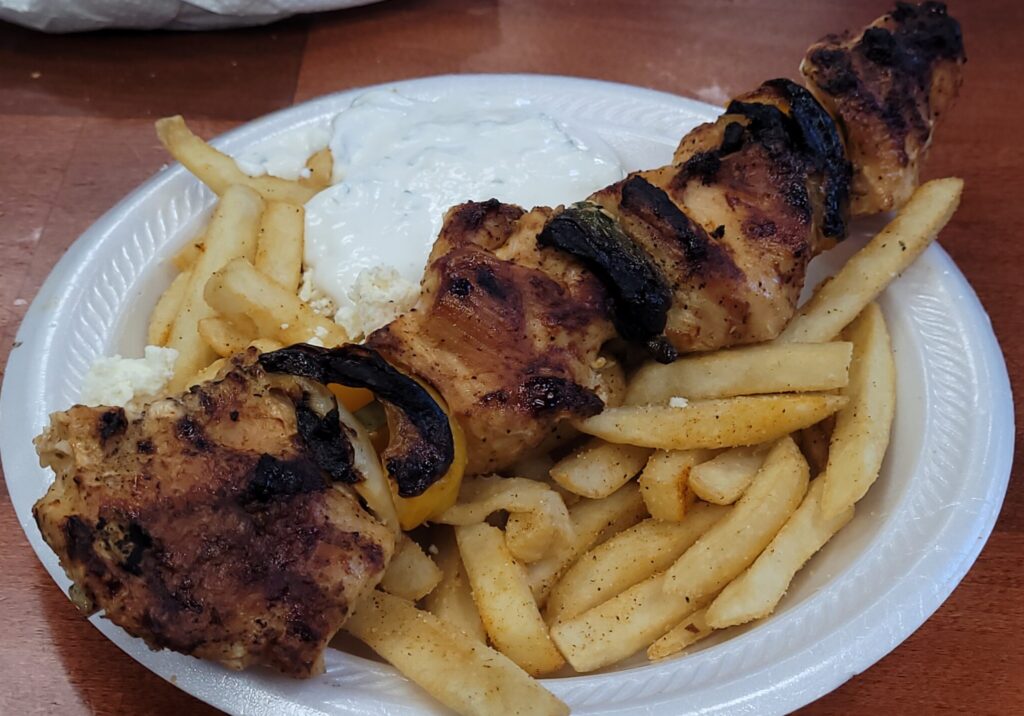 The accompanied Greek gyro dip that came with the fries made my feet levitate, the taste of freshly squeezed lemon juice with the cucumbers wasn't something I was prepared for, I now question myself as to why I didn't try this earlier.
Verdict: 7 cats in a chef's hat out of 8
Gaby's – Funnel Cake with Chocolate Ice Cream and Crushed Oreo Cookies
This isn't technically Greek food, but it's in Greektown…good enough for me. Funnel cake is a great way to finish the night. The previous dishes have taken their toll on me, it's one of those situations where my eyes were bigger than my stomach.
Luckily, there's always room for dessert. Funnel cake with the works to go out with a bang.
Verdict: 5 food comas out of 5
Chicago truly is unique of what it has to offer and quite literally what it brings to the table. There are so many cultures to explore in the city, along with their food, arts, and music. Always leaving a person who's on a quest to learn and explore, hungry for more. It's a safe bet that I'll be ready for round two next year.